SONGKRAN
Increase or decrease font size for easier reading : A+ A-
During Songkran period, fairs are organized in temples. The fair can happen during the day or the night. People visit temples and make good deeds.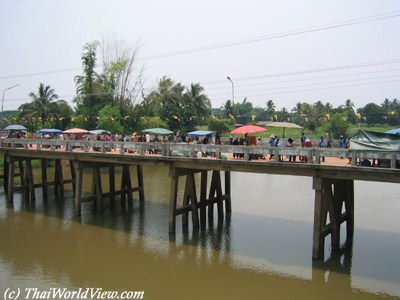 As many Thai people go to Buddhist temples during Songkran festival, many temporary shops can be found in the temple surroundings.
Traditionally Thai people visit temples, sprinkle water on the Buddha, and bless elders.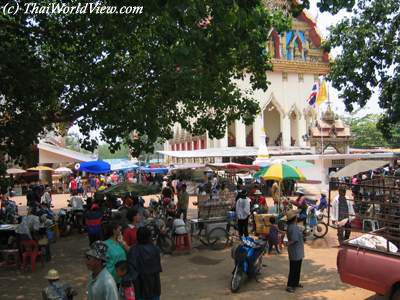 Shops are selling food, beverages, clothes, toys, CD and so on... Inside the fair, there is also dart games, balloon games, fairy wheels and so on...
Many events (music concert, Thai boxing, movies) happen in order to get money for temples.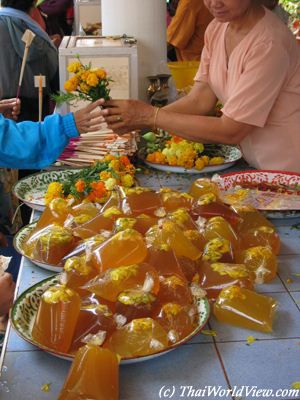 As usual, Thai people buy garlands and incense sticks. During Songkran festival they also buy holy water to purify the Buddha statues.
At the Buddhist temple, the rite of pouring water on Buddha statues, which have been previously cleaned by the monks, is performed. The ceremony is named "ROD NAM DAM HUA" or รดน้ำดำหัว. It is characterised by the pouring of water on Buddha images but also on the hands of monks and elders.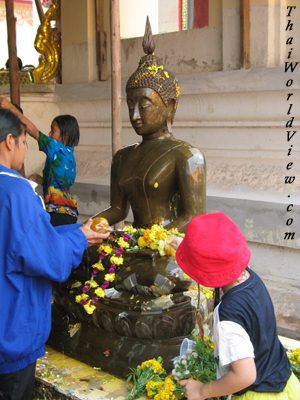 Thai Buddhist temples traditionally move what are believed to be their holiest statues to open-air pavilions during the Thai New Year to allow worshippers to sprinkle them with holy water (NAM MON -

น้ำมนต์

).
Durinf the fair, there are small stalls selling fish, birds. Freeing them is a good action.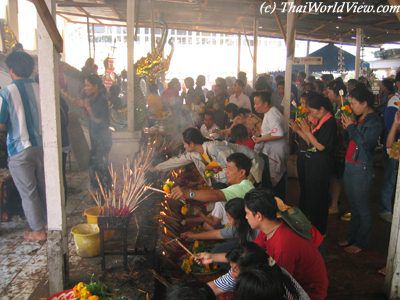 When praying and requesting a favor to Buddha, Thai people take three incense sticks, a flower and a small candle. They lit the incense sticks, kneel three times and put the incense sticks in front of the statue.
Regarding the three incense sticks, one is for the Buddha, one for the Sangha (สังฆ - Buddhist community), one for the Dharma (ธรรม - teachings of the Buddha). The flower (ดอกไม้ - orchid or lotus) symbolizes the Buddhist teachings purity. The small candle (เทียน) symbolizes comprehension enlightenment.
---
---
---