SONGKRAN
Increase or decrease font size for easier reading : A+ A-
Songkran (สงกรานต์) is the most important feast for Thai people. Songkran event normally falls on the 15th full moon but the government of Phibulsongkran fixed Songkran as the 13th of April prior to World War II. Often called "water festival", Songkran is the ancient Thai New Year's Day happening mid April. Now the official Thai New Year's Day happens the 1st January.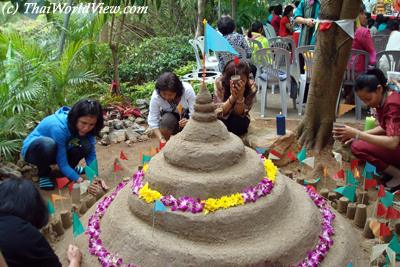 Those ladies carry on the tradition of accepting sand into the temple in order to build sand stupas.
For Songkran festival, Thai people clean everything, i.e the house, the previous year bad actions, the Buddha statues, one's own spirit. But nowadays Songkran festival is better known for its splashing water madness. Traditionally the ceremony was to pour water into the palms hands in order that bad actions, bad thoughts flow away with the water. It was a way to purify.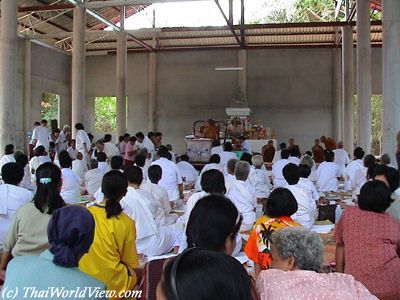 The first day of Songkran period is an important day to make good deeds. People visit temples to listen to Dharma and they also give alms to monks.
Children show their respect to elders by performing this water ceremony. Scented water is also poured over the shoulder and slowly down the back of the person. While pouring the water in this manner, people say good wishes and words of blessing for the coming New Year.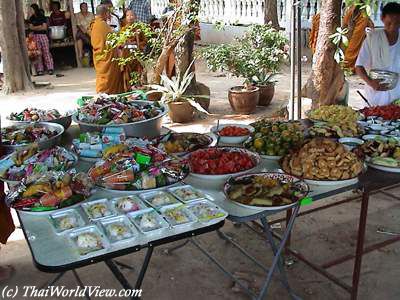 Food is offered to monks. The food left is shared by the nuns and the people offering alms.
Sonkran is a time for celebration. Young people working in Bangkok and big cities come back to the village. They return because this is an opportunity of social reunification. They meet with their family, friends and relatives within the community.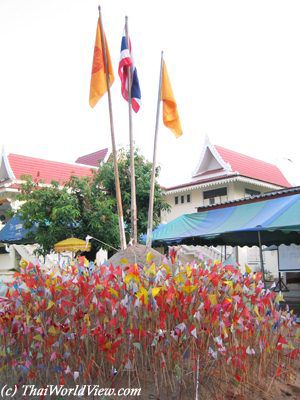 On the second day of the New Year festival, Thai people traditionaly carry sand into temples compounds in order to build a small pagoda ("PHRA CHEDI SAI" -

พระเจดีย์ทราย

). These sand piles represent personal pagodas built as part of the merit-making ritual. People leaving a temple during the previous year have taken with them temple dust. Taking sand into the temple during Songkran festival atones for what they have taken out.
People also donate flags (ธงปักทราย - "THONG PAK SAY") to sand pagoda. It is believed to bring luck and considered as a revered offering to the temple.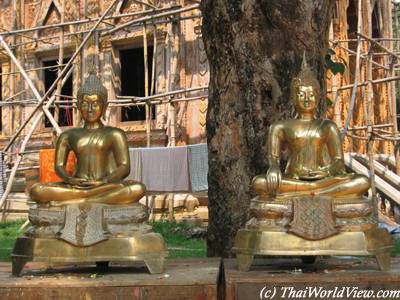 Thai Buddhist temples traditionally move what are believed to be their holiest statues to open-air pavilions during the Thai New Year to allow worshippers to sprinkle them with water.
In the past, young people poured scented water over the hands of their parents and elders to show respect. Nowadays the celebrations typically degenerate. Youths wander the streets of cities in pickup trucks throwing buckets of ice water at pedestrians and motorcyclists. Others stand on street corners shooting passers-by with high-pressure water guns.
In Buddhist temples, the rite of pouring water on Buddha statues, which have been cleaned by the monks, is performed. The ceremony is known as "ROD NAM DAM HUA" (

รดน้ำดำหัว

).
Songkran festival lasts officially three days. But it often starts one day before if the weather is very hot. All administrations and banks are closed. Most people living in Bangkok go back up-country to visit their relatives and to participate to Songkran feast. During Songkran festival there are no traffic jams in Bangkok. Many houses nationwide are put under police watch during Songkran.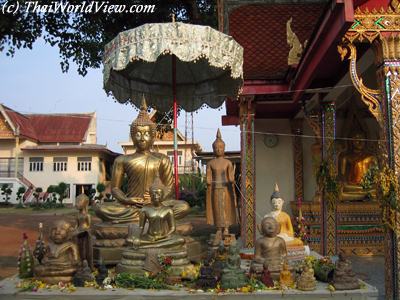 It sometimes happens that ancient Buddha statues were stolen from shrines erected outside temples to accommodate Thai worshippers. Buddhist artefacts are frequently smuggled from rural Thailand and neighbouring Cambodia to Bangkok markets, where they are often sold to foreign collectors.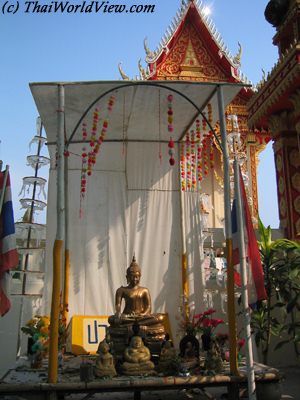 Holy Buddha statues are placed outside the main chapel. Thai people can then pay respect to them and sprinkle them.
---
---
---