SONGKRAN
Increase or decrease font size for easier reading : A+ A-
Every year there is a Songkran parade (ขบวนแห่สงกรานต์) in each Thai city.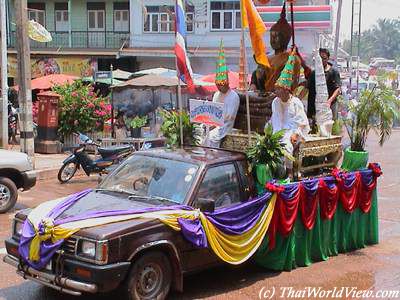 During Thai New Year parade, Buddha statues are placed in cars. People sprinkle holy water on the statue to purify them.
During Songkran festival, Thai people symbolically bathe the monks ("SONG NAM PHRA" - ทรงน้ำพระ). It is an old ritual to pay respect to monks.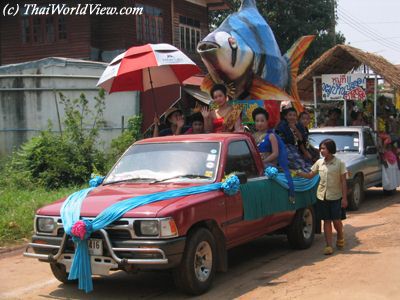 Every neighborhood decorates cars with Buddhist symbols or local symbols (buffalo, music orchestra, snake, fish and so on...) depending on the area. All decorated cars gather to the town's main Buddhist temple to participate to a contest.
Each year there is a new trend during Songkran festival. Previously the trend during Songkran festival was to wear colorful shirts with coconuts tree. A fashion trend for boys and girls was to dye hair in red, orange. In year 2015 the trend is to wear colorful goggles.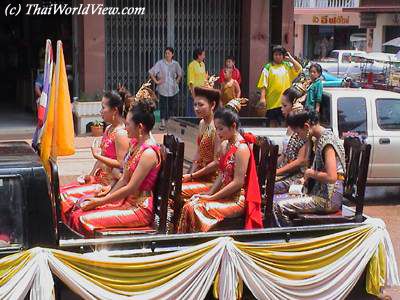 During the parade Thai women wear traditional clothes. A miss Songkran beauty contest is organized.
Many people complain that Thailand has sold his soul to tourism business and that Songran festival has lost its original spirit. Especially in Chiang mai known as the most (in)famous place for Songkran. The moats surrounding the city provide an easy way to get water. Everybody splashes crazily each other during three days. Local people say that it is not anymore "SONGKRAN" festival but "SONGKRAM" (สงกราม - war).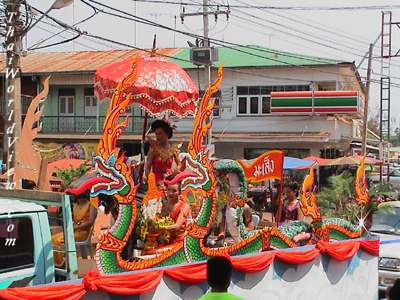 Many decorated cars are shown during the parade. Often schools demonstrate traditional dances done by pupils.
Anyway traditions are still alive even if Thai society is changing a lot. Still some people asks the authorisation to pour water on the back. Religious ceremonies are still important. When splashing people, there is some respect toward old people but not toward policemen and monks, who are soaked. After pouring water, some people still thank.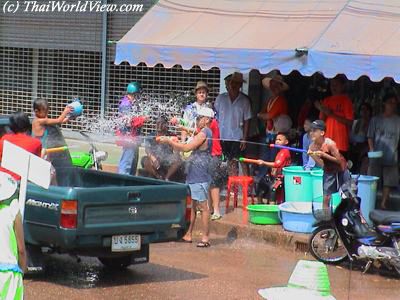 The traditional way of purification is not done anymore by sprinkling water but by using a big bucket full of water. Westerner people are sure to get two buckets. Purification rite has become a big splashing game where everybody throws water to each other from dawn to the evening.
In order to avoid previous years abuses, Chiang Mai police and local officials have been instructed to "lecture" women who wear spaghetti-strap tops and hot pants during Songkran festival and tell them to change into more appropriate clothing.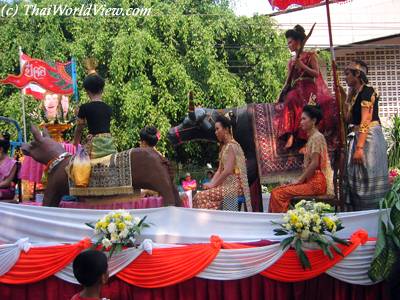 Among the festival highlights, a grand procession of floral floats carrying beautiful maidens dressed in traditional Thai costumes. Each village's own flag is carried in procession.
There are ladies dressed in regional traditional costumes holding jars of fish, birdcages or regional local symbols. The women can be flanked by men in sarongs and collarless shirts.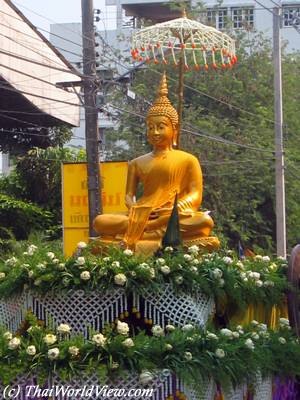 Buddha images are carried in procession through the streets of the cities. Revellers can participate in the ancient bathing ritual performed as a gesture of worship. The annual bathing ritual is a form of thanksgiving. Buddha statues are gently doused with sanctified water.
Merit-making activities, including offerings to monks, are followed by a procession escorting the Buddha images inside cities, where they are bathed with lustral waters.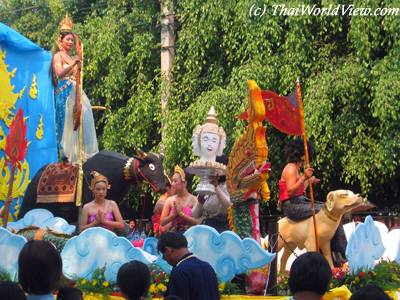 Other highlights include a Songkran Beauty Pageant. Ladies are surrounded by local symbols such as a buffalo and a naga.
Merit-making takes the form of releasing fish and birds, building sand stupas and much more. Games and water-splashing are taking place all over the city, together with boat races and a Miss Songkran parade. People can ritually bathe Buddha images at temples.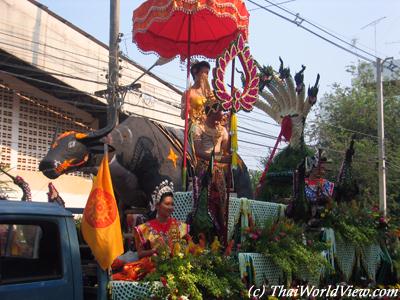 Other highlights include a Songkran Beauty Pageant. Ladies are surrounded by local symbols such as a buffalo and a naga.
In 2008, there was a decision to use a sexy girl band to promote appropriate dress during Songkran but it rose mixed reactions. The ministry has always been concerned that spaghetti-strap tops, miniskirts and hot pants, which are popular with Thai teens, are too sexually provocative when soaked with water. Ministry staff handed out booklets which mentioned what is considered proper attire, such as cotton and black clothes.
---
---
---