Increase or decrease font size for easier reading : A+ A-
MOLAM ORCHESTRA
หมอลำ or "MOLAM" music is coming from "ISAN" area (อีสาน - northeastern part of Thailand). For ceremonies such as weddings, new house blessing, new year's eve, Thai people rent a live orchestra.
Around noon, vans come and bring all stuff needed to build the "MOLAM" concert stage. Dancers and orchestra rest.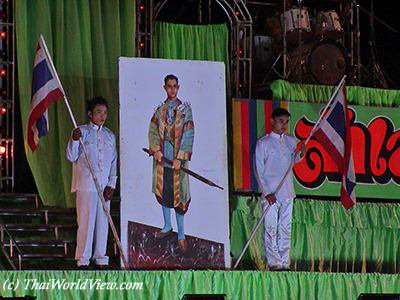 Molam orchestra starts to play late in the evening around 8.30 p.m. Before the opening, an official might say a speech. Then the King's anthem is performed.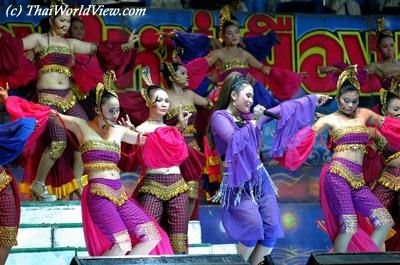 Molam orchestra performance lasts until dawn or until nobody listens or watches. The first part of the evening is an alternance between songs and comic sequences.
Live performances are often large-scale events, involving several singers, a dance troupe and comedians. The dancers often wear spectacular and glittering costumes. The singers go through several costumes changes during a whole performance.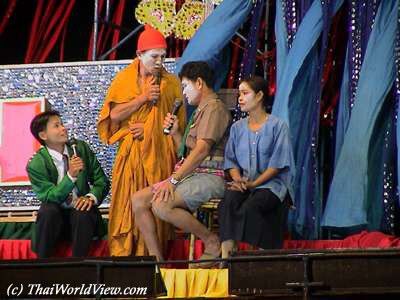 Comic sequences can joke about every themes even towards Buddhist monks. Interludes contain both visual jokes and funny dialogs. Interludes often have erotic allusions.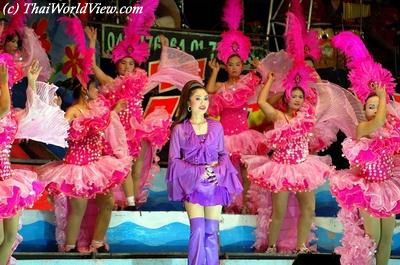 Singers alternate. For each song, dancers wear a new dress. Indeed there are two groups of dancers.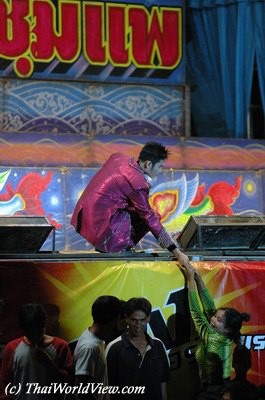 Molam performances are very popular. Even for private concerts, villagers come and gather around the scene. Food venders install their shop. Some drunk guys dance in front of the scene. They sometimes give a coin or banknote to the singer and may try, often without success, to catch her hand.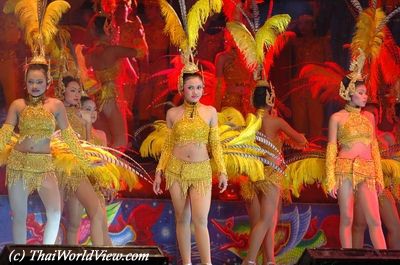 Molam dancers are often young. It is a hard job because the orchestra plays everyday during festive period.
Some children start dancing at 11 years old. They can earn 200 Baht per performance. Some children had found work as dancers through their summer holidays as it means some extra money for the new school year. Their job in the band paid for their education and even some savings in the bank. Some bands are booked every day, sometimes performing twice a day. It costs between 8000 and 13000 Baht to hire a local band per performance.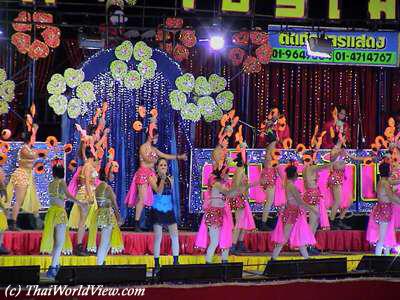 Some bands have about fifty members. Small orchestra only three dancers.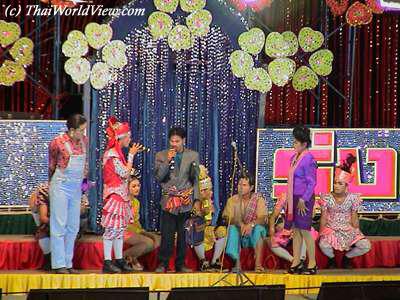 Around midnight, songs with dancers are over. The dancers have a rest. Then until dawn, the singers are narrating a story. This story is especially appreciated by old people.
In the early morning, everything is packed in vans and the orchestra is going to a new location.
---
---
---
comments powered by

Disqus
---