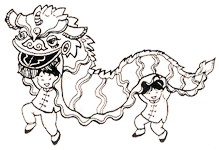 OLD TENEMENTS
When thinking about West Kowloon, most people have in mind luxury properties facing the sea but in some area like Sham Shui Po, there are still residents having an underprivileged life in old tenements.
Cheap room such as caged home arose from the sudden influx of mainland China refugees in the 1950s and 60s.

Partitioned room
New immigrant families, singletons, street-sleepers, newly emerged underprivileged groups and ethnic minorities now live in those partitioned rooms.
| | |
| --- | --- |
| Those old antennae on the rooftop have witnessed Hong Kong's pacing development over the years. | |
| | Old antennae |
Many people's dream is to quit those old tenements and to be housed in a public housing estate.

Old buildings
Rows of luxury residential high-rises are built on the Kowloon West harbor-front, monopolizing the beautiful seaviews.
| | |
| --- | --- |
| People living in patitioned rooms often clash with each other over the use of shared toilet facilities. | |
| | Shared toilet |
A spacious rooftop garden provides space for drying clothes or having a break. Modern luxury appartments only offer private rooftop.

Rooftop
| | |
| --- | --- |
| Facing expensive private housing and the long queue for public housing, many lower-income people had no choice but to erect simple structures on rooftops. | |
| | Rooftop home |
In 1990s, the Government pushes for demolition of rooftop homes and illegal premises.
A muti-partioned appartment is a unit where wooden planks or old-fashioned planks with glass paneld are used to divide the space into partitioned rooms.

Multi-partitioned rooms
People living in partitioned rooms are singletons, the elderly and poor families.
| | |
| --- | --- |
| In small multi-partitioned rooms, children don't have enough space to do their homework. They often have to study on the back stairs. | |
| | Old building |
Electric installation can be quite messy in old tenements.

Old building
---
---