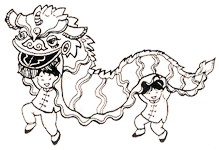 OLD TENEMENTS
When thinking about West Kowloon, most people have in mind luxury properties facing the sea but in some area like Sham Shui Po, there are still residents having an underprivileged life in old tenements.
Some old buildings have no lift. Residents need to climb the stairs, from the first floor all the way to the rooftop.

Old buildings
In year 2011 there is apartment for sale at 180M HKD in Hong Kong but also still people living in cubicle homes with a family of four occupying 125sqf and paying 2000 HKD! Especially old buildings in Kowloon West have often divided in units.
| | |
| --- | --- |
| Those standalone Chinese tenements have narrow, open and interlinked corridors. Associated to semi-open stairwell, they allow little fresh air and more sunlights into the building's units. | |
| | Old building |
Under the roof of Chinese tenements, variety of accomodation can be found, including self-contained flats, multi-partitioned rooms, self-contained rooms, rooftop homes, caged homes.

Old building
According to the Society for Community Organization, tens of thousands of elderly people, women, children, low-income singles have to live in poor accomodation such as partitioned rooms.
| | |
| --- | --- |
| If a multi-partitioned apartment has more than 12 households, then they are called "caged homes". | |
| | Old building |
Rent of partitioned room is about 1000 HKD a month. Size is about 40 to 50 sq.ft.

Old building
| | |
| --- | --- |
| In such partioned room, there is no privacy. People can hear neighbour's radio, so it can cause conflicts when some people wish to rest or sleep early. | |
| | Partitioned room |
People living in partitioned rooms have to share a kitchen. Incidents such using neighbour's cooking oil or forgetting to turn off the stove can cause real annoyance.

Shared kitchen
Some families live in a window-less 40 sq.ft. partitioned room in a shared-apartment with seven other households.
| | |
| --- | --- |
| The room has no window and the air-conditioner can be very old and noisy. | |
| | Partitioned room |
---
| | |
| --- | --- |
| Click to see more pictures | |
---
---