In Hong Kong, many shops still carry out an outdoor business such barbers, noodle stall, street food restaurants ("Dai Pai Dong"), fortune teller, papercraft master, sewer shop, refreshment shop and so on...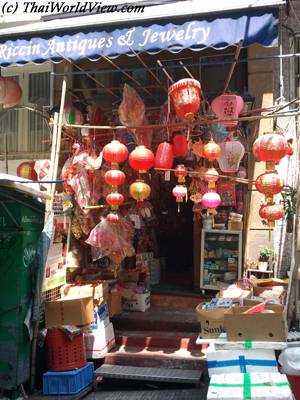 Many old traditional shops are being forced to close to make way for new towers or because they cannot afford expensive rents.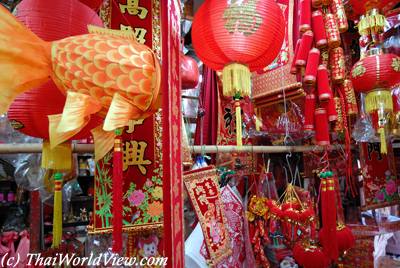 One of them was Chow Kee shop which dealt with paperwork associated with traditional ceremonies (Hungry Ghost Festival or locally known as Yu Lan festival). His shop had been on Stauton Street since one century.
The papercraft and offering store, Chow Kee, stood out due to the lanterns and Chinese decorations in various shapes of red decorating the front.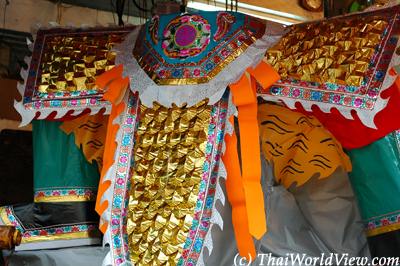 The old papercraft master born in

year 1920

made the paper effigy of the Hungry Ghost king on Aberdeen Street from scratch. During the Hungry Ghosts festival, he created a five-meter tall "Ghost King" and other figures from paper and bamboo.
In year 2008, the old papercraft master was forced out of his century-old shop because of the high rent but finally found a new shop on neighbouring Elgin Street (G/F, 14E Elgin Street, Central).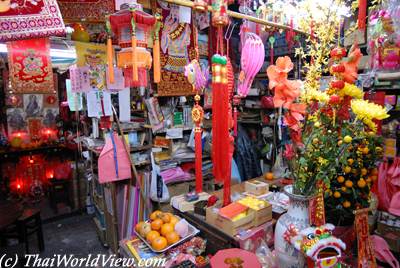 A businessman even had offered the old papercraft master a space in Tsim Sha Tsui but he preferred to stay in the neighbourhood as most of the customers were long-time residents of the neighbourhood, who dropped by on their way to shop and chattered away.
Mr Chan's skilful hands had created large paper sacrifices for traditional religious functions and delicate goldfish lanterns.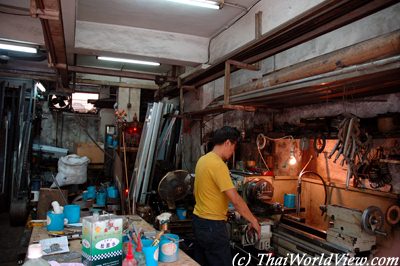 The economic boom and the lack of government backing (no cheap rental for traditional crafts) have placed many traditional festivals in danger of disappearing. There is a wish to have them recognized as intangible heritage items.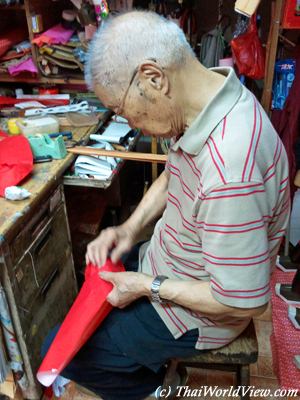 Taking such photo becomes rare because almost no generation in Hong Kong has picked up such skill nowadays.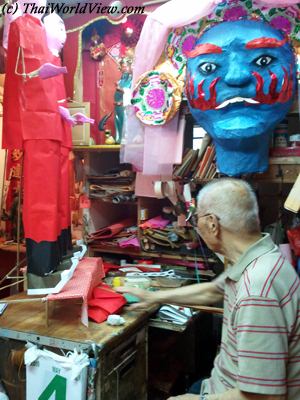 Mr Chan worked one to two hours a day. He was leaving in a shop house.
According to Mr Chan, the 1930s decade was the prime period for the ritual paper craft business.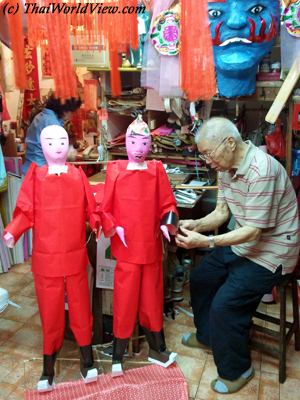 Chow Kee paper shop was located in Central district on Hong Kong island. Mr Chan, old papercraft master, was still working there. In June and July he was always working on the paper effigy of the Hell King that was displayed on Aberdeen Street during Hungry Ghost festival.
Mr Chan Kwei-chow, 95, had retired to mainland China with his wife in year 2013.
---
---
---