In Hong Kong, many shops still carry out an outdoor business such barbers, noodle stall, street food restaurants ("Dai Pai Dong"), fortune teller, sewer shop, refreshment shop and so on...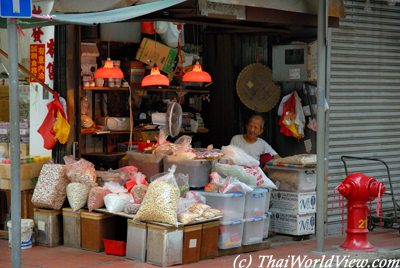 Sheung Wan is famous for its small Chinese-style shops selling dried seafood and medicinal herbs.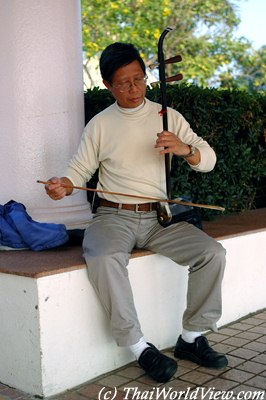 The Erhu, two stringed Violin, is one of the most widely used bowed instruments in China.
---
Dai Pai Dong system was initiated in the 1950s, for the families of "government employees who died while on employment". However, the license could not be passed on. The food is not necessarily cheaper than those in restaurants.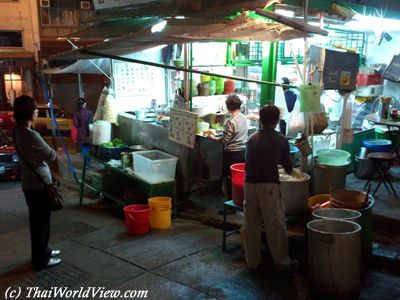 The Chinese characters for Dai Pai Dong mean literally "big licence-plate stall", referring to the size of these special restaurant licences.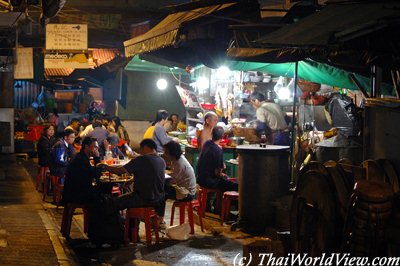 Roadside food stalls or "Dai Pai Dong" are on decline. This one is located near Central market. The future of "Dai Pai Dong" was at issue because the Food and Environmental Hygiene Department had stopped issuing new licences. Only spouses or children of stall owners could inherit licences, so if there was no spouse or child, the licence died.
Famous roadside food stalls are Lan Fong Yuen, a 55-year-old "Dai Pai Dong" in Central that still brews tea beverage the old-fashioned way and Man Yuen, a 80-year-old noodle stall in Elgin Street that was forced to closed in 2005 after its licensee died.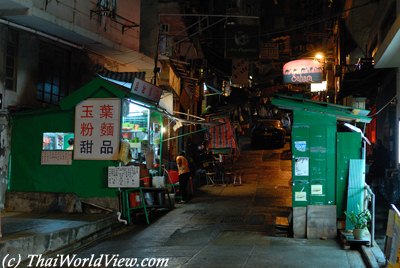 Hong Kong's 29 remaining "Dai Pai Dong" or roadside restaurants were destined to die out along with the current generation of proprietors.
Those ones on Stanley Street were forced to close for a few months, so that the government could lay some sewage pipes and electricity wiring under the road. As an incentive and as society's worry about decline of Dai Pai Dong, the owners of these are allowed to pass the license to family members.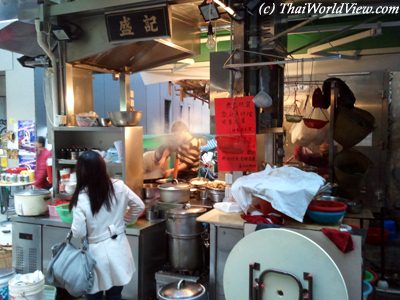 In

2010

, the six Dai Pai Dong vanished from Stanley and Gutzlaff streets in Central. Now they are back after five months of renovations. With new gas lines, sewers and electric cables installed, the old green Dai Pai Dong stalls look like stainless steel booths.
New regulation allows Dai Pai Dong licences to be passed down to the owner's children.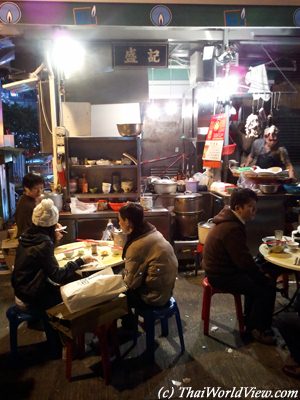 The government stopped issuing new Dai Pai Dong licences in year 1956. Just 28 Dai Pai Dong remain in Hong Kong. They are located in Central and Sham Shui Po. The new policy allowing licences to be transferred to their own children applies only to the 10 Dai Pai Dong in Central district but not the 14 Dai Pai Dong in Sham Shui Po.
Dai Pai Dongs originated in the 1940s when the city was short of restaurants and filling up with refugees after World War II. The golden age of the "Dai Pai Dong" was the 1960s, when Hong Kong had nearly 3000 of them.
---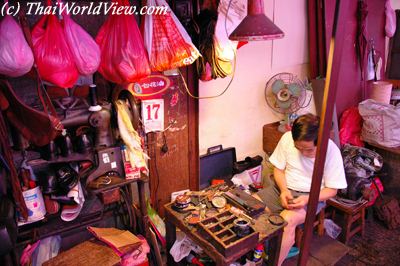 Many outdoor shoes repair can be found in Hong Kong districts.
Many shoes repair outlets are still outdoor shops offering fast and efficent repair services on the spot.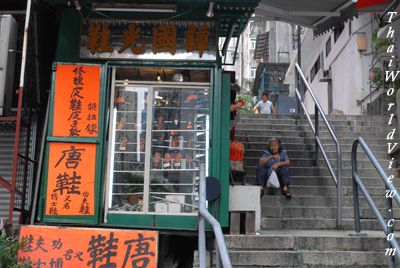 Mr Tam Kwok Kwong's shoe shop is located on Hollywood Road in Sheung Wan. It is opened for 40 years. Mr Tam Kwok Kwong still does customized shoes for a few customers but nowadays his business is mainly shoes repair.
---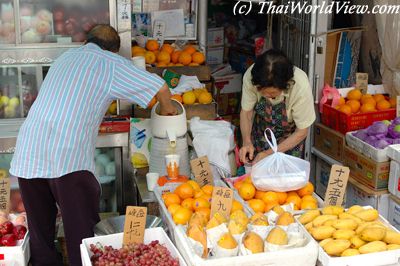 Many fruit stores can be found all around Hong Kong. They sell delicious and fresh fruit juices.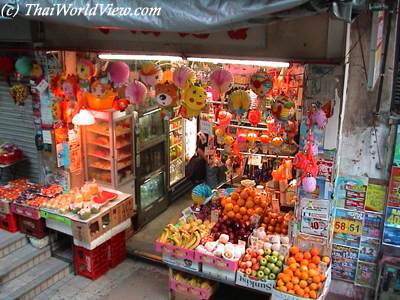 Many fruit stores can be found all around Hong Kong. They sell fresh fruits and various commodities.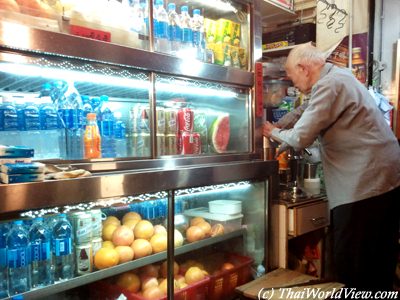 This store owner is selling fresh fruit juices in Central for 40 years. He received award from former HK chief executive, Donald Tsang.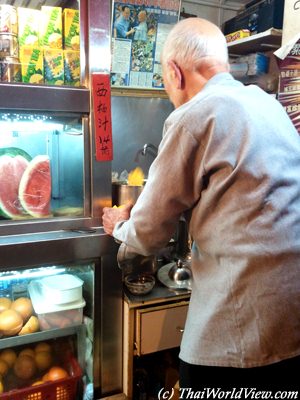 This shop is amazingly opened until very late in the evening.
Looking for fresh and cheap fruit juices? Then better look for such shops instead of the numerous 7Eleven convenient stores.
---
Chinese Chess is perhaps the most popular board game in the world, played by millions of people in China, other parts of Asia, and wherever Chinese have settled.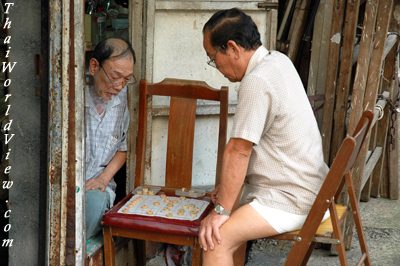 Men can often be seen playing Chinese Chess in Hong Kong or Kowloon parks.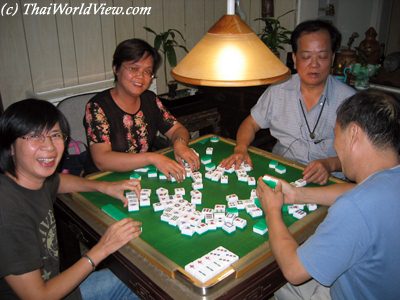 Mahjong is a part of everyday life in Hong Kong and some people can really become mahjong addicts.
---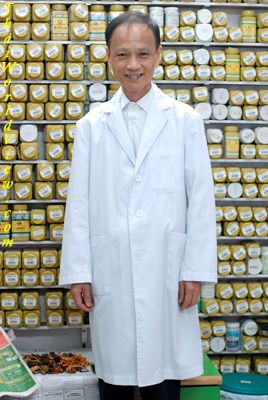 Traditional Chinese medicine is thousands of years old. Its practices include theories, diagnosis and treatments such as herbal medicine, acupuncture and massage.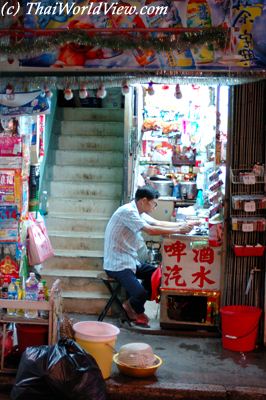 Such small outdoor shops selling basic commodities stay open very late but has difficulty to compete agains convenience stores.
---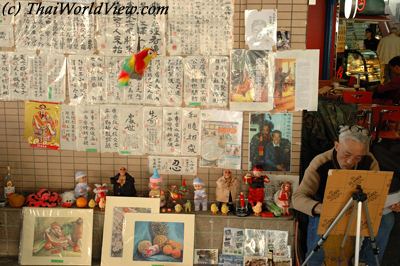 This outdoor painter is located right outside the Star Ferry exit in Tsim Sha Tsui.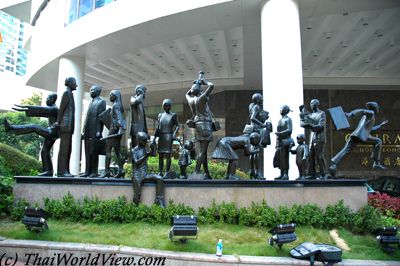 In peace or at pace, Hong Kong people go about their business in diverse ways. This is well-represented by sculptor Kirk Newman in his 1990 work Hong Kong People, which stands beside the Conrad Hotel in Admiralty.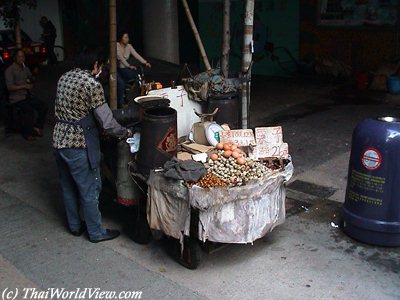 The seller is stir-frying a wok of hot chestnuts. he is also selling small duck eggs.
Two favourites for the autumn and winter season are hot chestnuts and sweet potatoes. The seller is busy stir-frying a wok of hot chestnuts.
The chestnuts are a favourite among locals.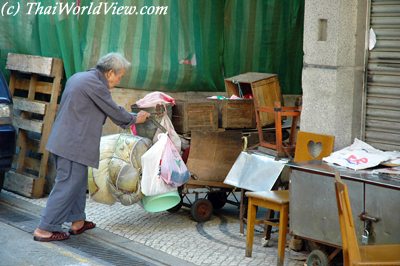 Cardboard, aluminium cans and metal are treasures in poor districts. Often elderly people can be seen pushing carts full of cardboards or looking for cans in dustbins in order to sell those materials for ten or twenty HKD a day.
Seing people pushing garbage cart and seeing them collecting paper cartons, soft-drink cans is quite common in Hong Kong and Macau.
---
---
---