TEMPLE CONSECRATION
Increase or decrease font size for easier reading : A+ A-
A timetable sample of the key events is shown as below:
Day 1: "BUAT CHI PHRAM" (

บวชชีพราหมณ์

) ceremony at night time
Day 2: "MOLAM" (

หมอลำ

) orchestra at night time
Day 3: Local theater at night time
Day 4: "MOLAM" orchestra at night time
Day 5: Local theater at night time
Day 6: "MOLAM" orchestra at night time
Day 7: Cutting thread ceremony at day time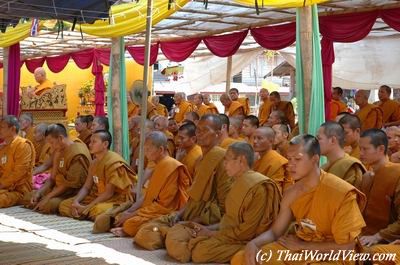 Many monks from the surrounding monasteries come to gather to this temple consecration. An eminent and old monk is narrating a Buddhist sermon.
Thai people offer monks robes and donate them to the temple. After a few prayers, blessings by monks and a walk three times around the "BOT", Thai people go inside the "BOT" (โบสถ์ - finest building inside a Buddhist temple). Shoes are removed before entering the "BOT".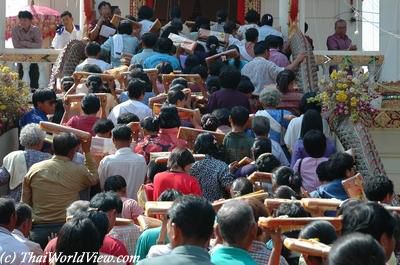 On the last day, many Thai people visit the temple to offer robes to the monks and so do good deeds ("THAM BUN" -

ทำบุญ

) towards the monks community.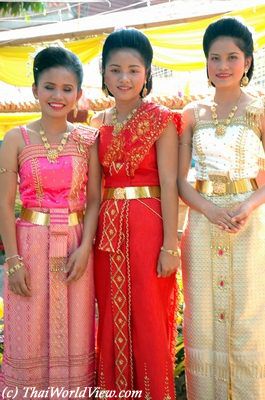 These young ladies are called

นางฟ้า

or "NANG FA". One young lady has to present near each sacred marker sphere during the cutting thread ceremony.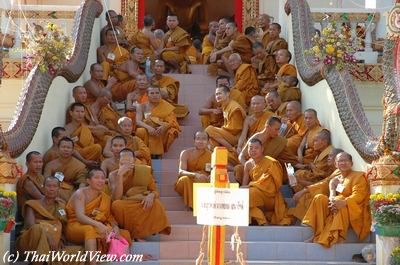 The abbot has blessed the nine sacred marker spheres. Each sphere is now holy as the abbot has narrated a few auspicious sentences for each sphere.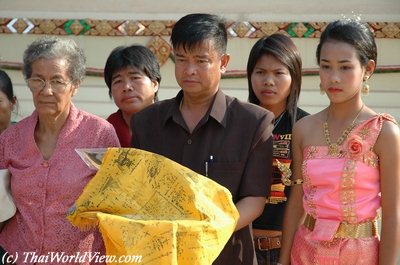 In front of each boundary stones, there is a whole Thai family. The family has made a donation to the temple and will be responsible to cut the sacred white thread holding the sphere.
The family head is holding a sacred knife enveloped inside a holy cloth. Many drawings or "YAN" (ยันต์) cover the cloth. These drawings are representing religious mystical symbols to protect objetcs from ghosts and bad spirits.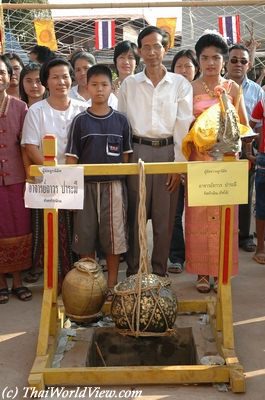 Such temple consecration happens only once, so it is an important holy event to assist. All the surrounding villages inhabitants are present.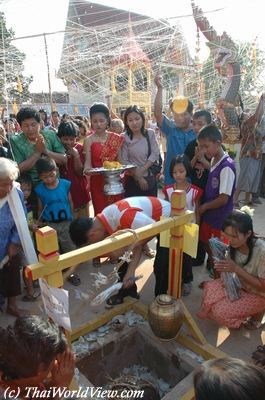 When the auspicious time happens, each family head is cutting the sacred white thread and the sphere falls into the hole. This ceremony is called "TAT WAI LUK NIMIT" (

ตัตหวายลูกนิมิด

).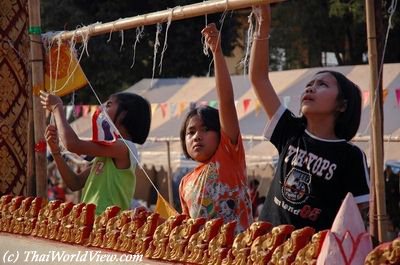 Suddently, all Thai people grab the sacred white threads that cover the Buddhist temple. In a few minutes all threads are removed.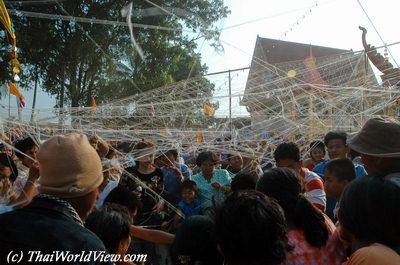 As many Buddhist ceremonies have happened during the week, these white threads are supposed to be highly sacred, so everybody wants to bring some in their home to have luck.
So on the last day, during a Buddhist ceremony, sacred marker spheres are dropped in their hole. The hole is then covered with the bounding stone.
---
---
comments powered by

Disqus
---