TEMPLE CONSECRATION
Increase or decrease font size for easier reading : A+ A-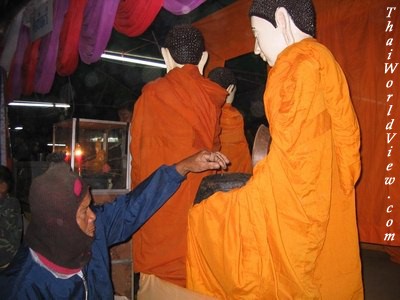 The inauguration ceremony lasts one week. Thai people can make donations everyday. During this week, there are free music concerts and outdoor cinemas.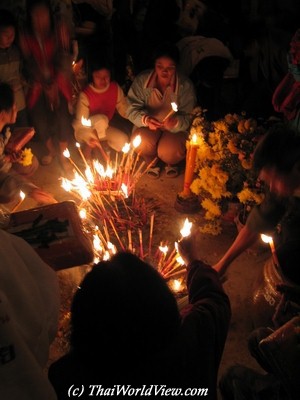 Candles and three incense sticks are lit. Buddhist prayers are done at evening time.
Thai people cover the sacred marker spheres ("LUUK NIMIT" - ลูกนิมิต) with thin gold leaves. This behavior is called "PIT THONG" (ปิดทอง)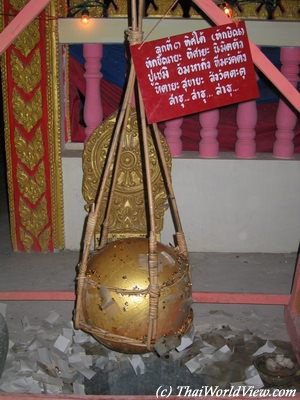 Holy items are put in the hole where the sacred marker spheres or "LUUK NIMIT" will be dropped.
One sacred marker sphere is placed in the centre of the area over a hole in the floor of the ceremonial hall for the monks to recite prayers. The eight others are placed at eight points of the compass for villagers who wish to make merit. Villagers donate valuable or symbolic objects such pencils and exercice books to symbolize learning.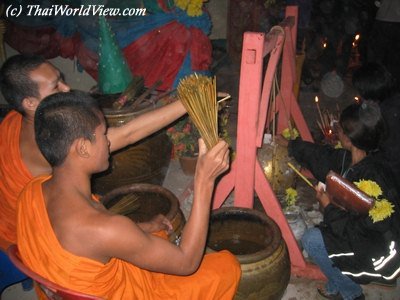 Monks give blessings to people by throwing holy water to them.
Thai people offer monks robe and donate them to the temple. After a few prayers, blessings by monks and walking three times around the "BOT" (main religious building in a Buddhist temple), Thai people go inside the "BOT". Shoes are removed before entering the "BOT".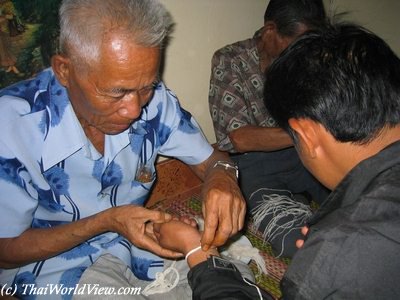 Inside the "BOT", visitors make a prayer and drop the monks robe into a symbolic hole. Thai people receive a holy thread from older people, who bless them. This small ceremony is called "PHITI BAI SRI SU KWAN" (

พิธีบ่ายศรีสู่ขวัญ

).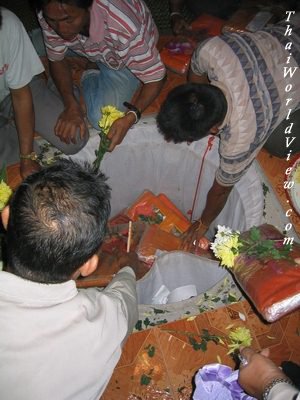 As monk robes start to fill the symbolic hole, those are removed.
Then Thai families enjoy the feast inside the temple compound. Many stands are selling food and beverage. Even alcoholic beverage such as beer can be bought inside the temple compound.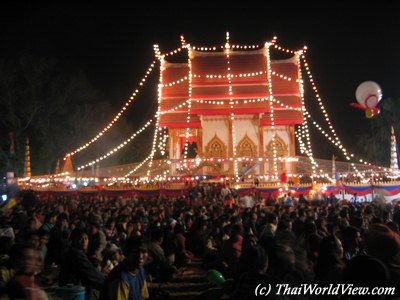 The most awaited event is the free music concert. People are waiting in front of the stage. Before the concert official opening, an official personage might say a small speech.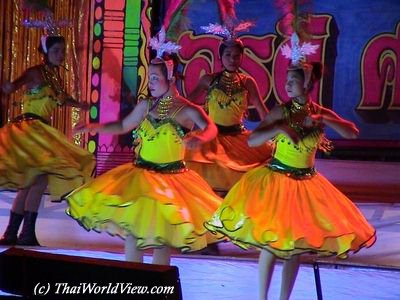 The molam concert has started. Songs and funny interludes are alternating. Young women dancers wear dazzling dresses.
Thai family can also play games such as darts and win small prizes.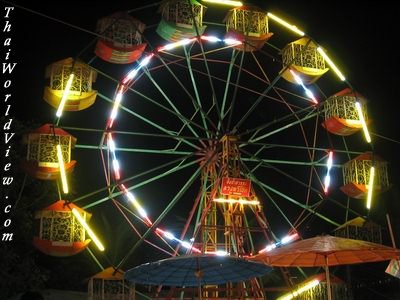 Adults and children can also enjoy a ride in a local ferris wheel (

ชิงช้าสวรรค์

).
---
---
comments powered by

Disqus
---