Takhian spirit
Increase or decrease font size for easier reading : A+ A-
ศาลเจ้าแม่ตะเคียนทอง

or "San Chao Mae Takhian Thong" is a shrine dedicated to the spirit "Mae Takhian Thong". It is located in a Buddhist temple in Nakhorn Pathom district.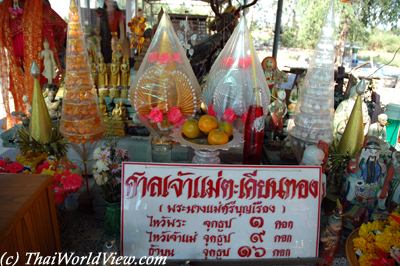 There is often a certain spirit associated to a certain type of tree such as banana tree.

นางไม้

or "NANG MAI" is a female spirit inhabiting a tree. Other famous spirits are

นางตะเคียน

or "NANG TAKHIAN" located in hopea odorata trees and

นางตานี

or "NANG TANEE" located in banana trees.
It means that a spirit inhabits the tree. Of course the tree shall not be cut without warning the spirit in order to let him find another tree.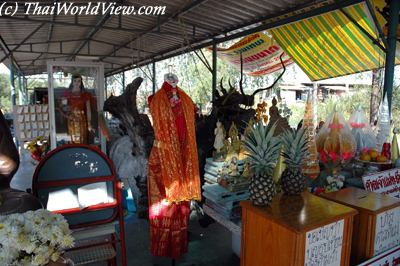 The large tree located in the shrine is believed to contain a female spirit because offerings people give to this tree are all female items.
Offerings have to be made before a takhian tree is cut down. Mae Takhian Thong gives out dreadful crying sound if proper homage is not paid to her. She sings mournful songs to attract wandering men. As men go nearer her, she will draw them in a fond embrace and squeeze the life out of them.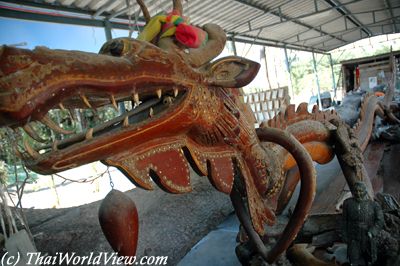 It said that villagers would report hearing crying sounds from the tree.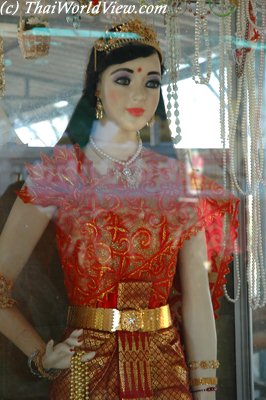 In

year 2003

THAI RATH newspaper has initiated an investigation into a story about five young women dancing half-nude to thank a haunted tree for helping them win a lottery. It turned out that the teenage girls, who are dancers from Bangkok, did not win a lottery but were hired by someone to show up at the takhian tree in Nakhon Pathom's Kamphaeng Saen district and perform the naked ritual.
The girls were hired at Bt200 each to go there and strip. The men who were watching began started to push forward causing a small stampede.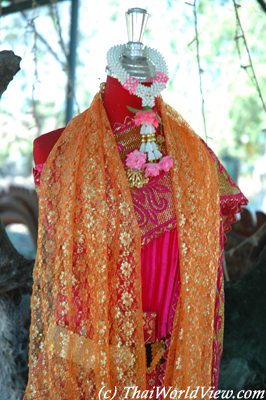 The controversial ceremony coincided with efforts by a local temple to promote the takhian tree as one that can suggest winning lottery numbers to worshippers.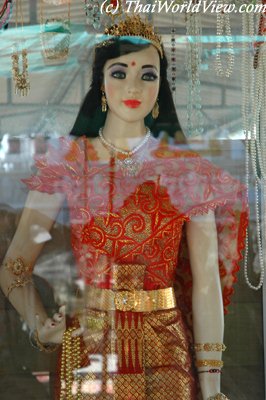 When making a pledge with the Takhian tree, worshippers should hold to their promise. Otherwise they would face a curse from the Takhian tree.
Mae Takhian Thong usually takes the form of a beauty maiden who sometimes makes a crying sound when the tree is felled.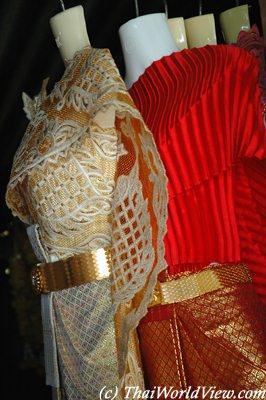 Offerings that people give to this tree are all female items, including many beautiful traditional Thai dresses.
Another "Chao Mae Takhian Tong" shrine can be found at Wat Sung, Tambon Sao Hai. It is a large pillar, which is believed to be hosted by a female spirit also. Villagers would report hearing crying sounds. Hence, the name of the Tambon as Tambon "Sao Ronghai" (crying lady) and its subsequent name of Amphoe "Sao Hai".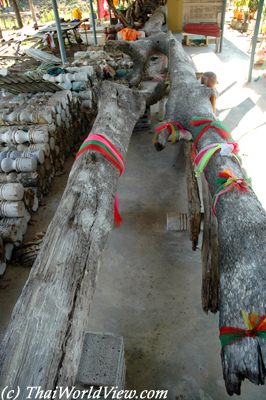 The Takhian (hopea odorata) tree is now said to dead. According to local villagers, the spirit has moved to a new tree.
Previously, Thai villagers believe that "Mae Takhian Thong" stays in old hopea trees and don't dare to use this wood to build house as it shall bring bad luck.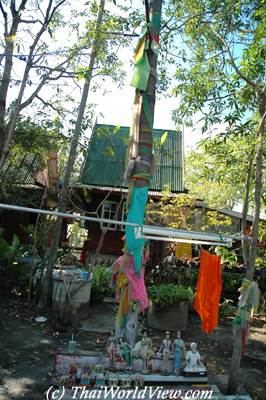 The spirit Mae Takhian Thong has now moved to this new young trees. Offrands and statuettes can be seen under the tree.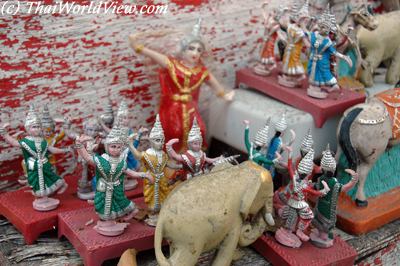 Flowers, food, drinks and also little figurines representing servants, dancers, elephants, horses, cars are given to the spirit of the tree. The dancers shall entertain him. The elephants and horses shall transport him.
---
Mae Takhian shrine located in Sattahip area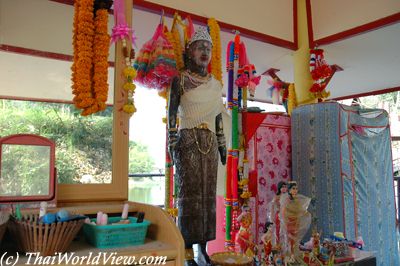 Many Thai Buddhist temples contain "Mae Takhian" shrine. Those shrines make a lot of money for the temple as the worshippers make donations through them.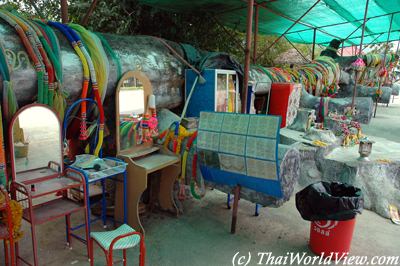 This "Mae Takhian" shrine includes many offerings related to women make-up and dressing tables.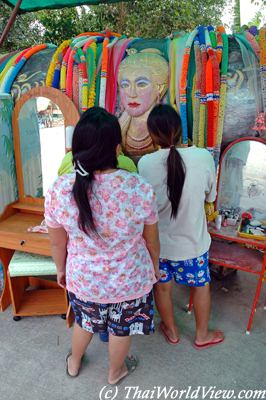 When visiting "Mae Takhian" shrine, some local people suggest to switch off mobile phones so as not to interfere with the spirit world's signal.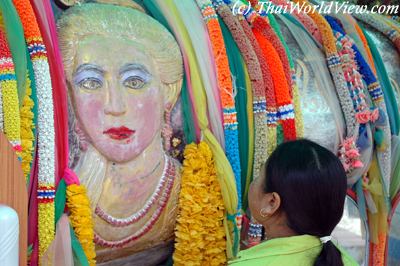 Nowadays "Chao Pho Khao Chang" shrine (

ศาลเจ้าพ่อเขาช้าง

) located in Sattahip province is famous for its "Mae Takhian" tree.


Fly there with Google Earth
Some female worshippers were told in a dream that a log's spirit journeyed on rivers. When a log came ashore, a shrine was created.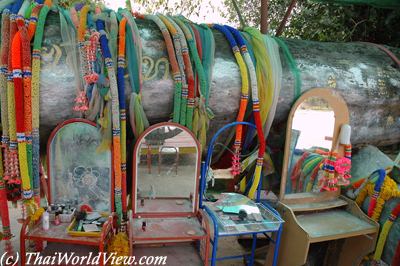 Worshippers shall rub on the "Ton Takhian" log, pray to the spirit of the log, and the lucky number magically appears on their fingertips.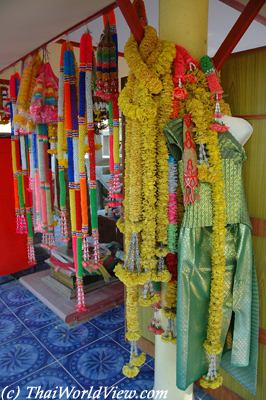 Gamblers expect that the spirit of "Mae Takhian" shall give them a lucky lottery number. Certain bookmakers are reluctant to take any bets if the customer mentions he has visited famous "Mae Takhian" shrines.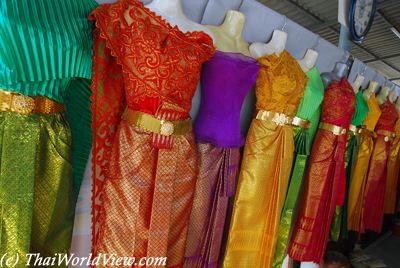 "Ton Takien" shrines are logs from hopea trees found in some Thai Buddhist temples.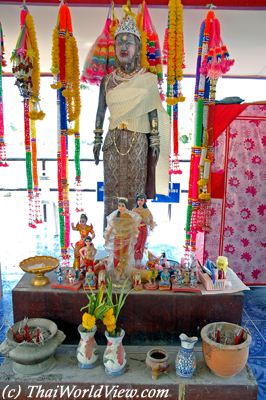 In difficult times, some worshippers travelled to many Buddhist temples and shrines in the hope it will bring them employment.
---
Mae Takhian shrine located in a forest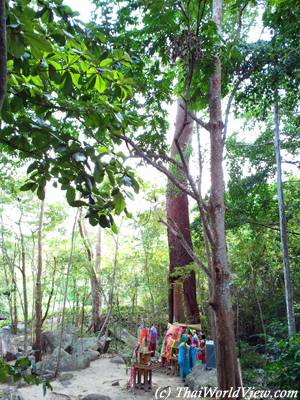 Inside tropical forests such as Huay Yang waterfall National Park, there are often many huge trees. Inside those forests, some Mae Takhian (

แม่ตะเคียน

) shrine can be found.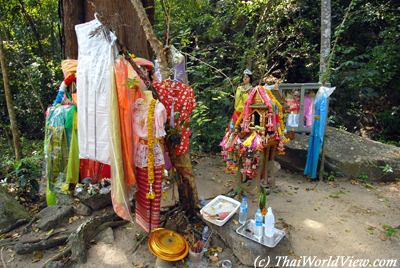 Mae Takhian is a female spirit living in a Takhian tree. Many beautiful traditional Thai dresses are offered to the spirit.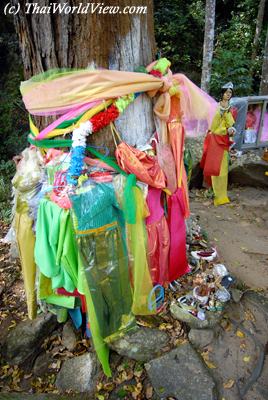 According to the legend, it is wiser for young men to avoid the spirit at nighttime as the female spirit might drag them away.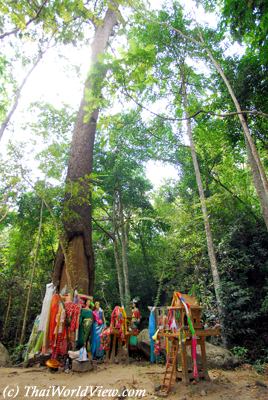 Such shrines are deep inside the forest. Sacred clothes and dresses are hanged to the huge Takhian tree.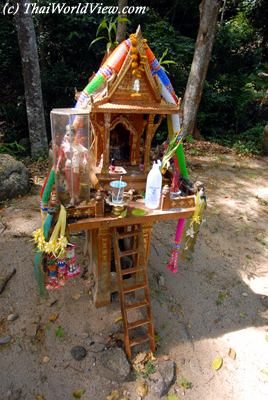 Offerings including food, garlands and water are regularly offered to Mae Takhian spirit.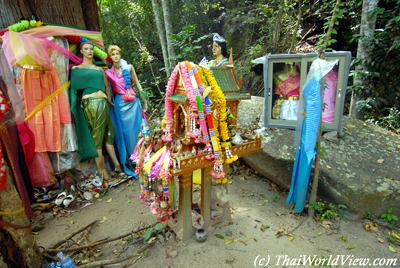 Many beautiful traditional Thai dresses are offered to the spirit. Those of them are put on models, some inside metal boxes, some still under plastic cover.
---
---
---