WAN CHAI
Increase or decrease font size for easier reading : A+ A-
Today, Wan Chai is a very busy commercial district. New high-rise commercial buildings are built on the northern shoreline where the sea was reclaimed. Wan Chai has many small Thai owned businesses such as Thai restaurants, Thai boxing centers, Thai groceries, Thai beauty salons, Thai traditional massage shops and so on...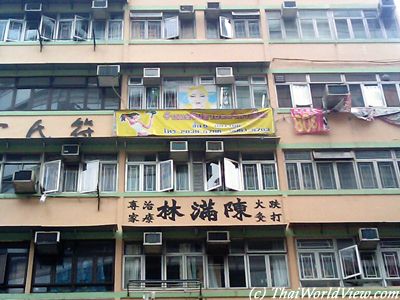 Many Thai shops are located on high floor as the rent is cheaper. This traditional Thai massage place is located in May Wah Mansion 5th floor on Johnston Road. They really stretch your limbs.
Masseuses, mostly Northeastern ("ISAN" - อีสาน) ladies, start at noon until midnight. Peak is at evening time.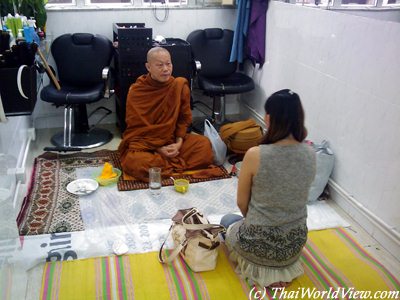 In this Thai hairdresser shop in Wan Chai, a monk "LUANG TA" (

หลวงตา

) is giving blessings to the owner and customers. He also receives alms.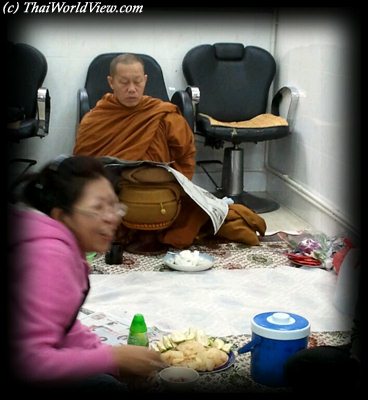 The same monk is coming every Saturday morning and leaves back to Yuen Long Thai temple before noon.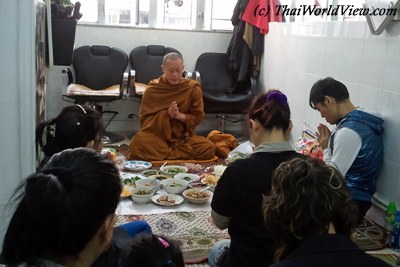 So better come after noon time to cut hair or before to enjoy the Buddhist sermon!
Many Thai restaurants can be found in Wan Chai area. Many restaurants have short time business and then close such as Pattaya Food Court & BBQ with its tasty raw prawns with chillies (กุ้งแช่น้ำปลา), Thai Delight...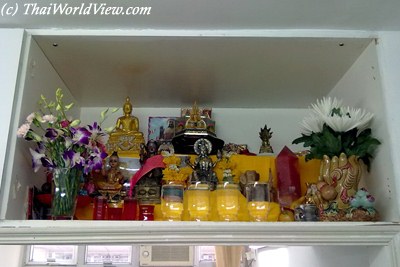 All Thai shops have a Buddhist altar. A small money tree (

เงินต้น

) is also present for donations to the Thai temple. According to Thai traditional belief, hair shall not be cut on Buddhist holy day (

วันพระ

) to preserve longevity (

จะอายุนาน

).
The beauty salon offers services (hair cut, nails polish, head massage...) for Thai people but also for local Hong Kong people.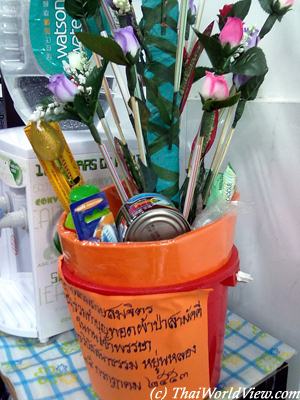 Thai traditional way of life can be found in the heart of modern Hong Kong. Lunch is taken on the floor in the shop. People come in and come out. Some read newspapers and come to have a chat. The owner is living in his shop. At night time, one of the rooms is transformed into a bedroom.
A famous bakery shop on Wan Chai Road 234 is owned by a Thai Chinese lady. It sells one of the best ice milk tea in town.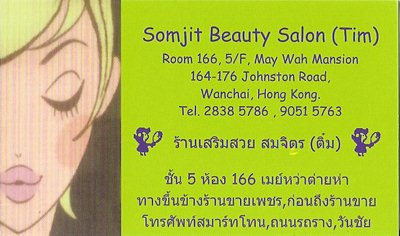 This beauty salon (

ร้านเสริมสวย

) offers various services to local Thai community.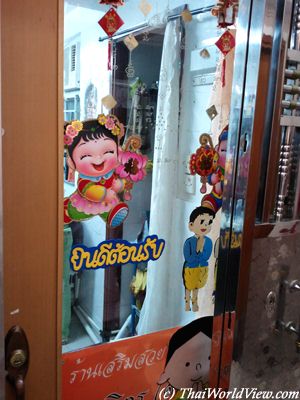 A few Thai logos remind the customers that it is a Thai shop. Sign "

ยินดีต้อนรับ

" welcomes customers.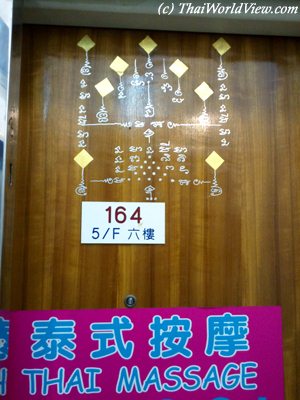 The strange signs indicates that the Thai massage shop near the beauty salon has been blessed with monks.
---
Many Thai stores can be found in Wan Chai wet market. Those stores have a restaurant in the back featuring authentic Thai food.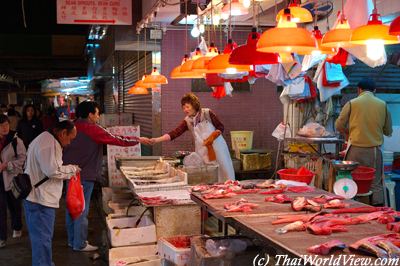 In Wan Chai market, Thai grocery stores cohabit with Chinese traditional shops.



Fly there with Google Earth
Many small Thai shops proposes money transfer from Wan Chai to Thailand. The transfer rate is much cheaper than traditional banks. It is around 40 to 50 HKD. The transfer is executed within half a day.
Looking for Thai goods? Just head up to Wan Chai wet market and enter any Thai shops.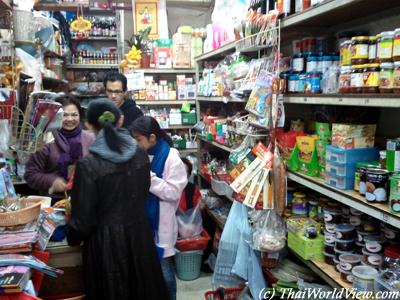 Such small Thai shops have often a small cantine at the back or on the first floor.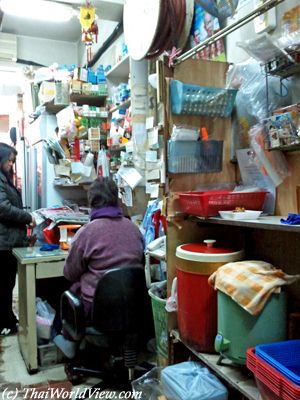 Thai dishes in such small shops are delicious, spicy, fresh, authentic and cheap.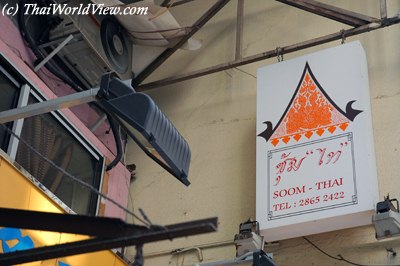 Many Thai restaurants are in or out of business swiftly. Many of them are located on high floor as the rent is cheaper.
Such restaurant do not have an official food license. They are know as "private cuisine" or "private club". You need to be a member to be accepted. Any guest entering there receives immediately a membership card.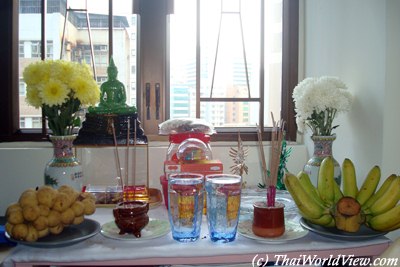 Portraits of current Thai King Rama IV or Thai King Rama V or Buddha statues can be seen in any Thai owned business.
Anyway most of those private cuisines couldn't get any official restaurant license as they have only one exit. In case of fire, two exits are mandatory by law.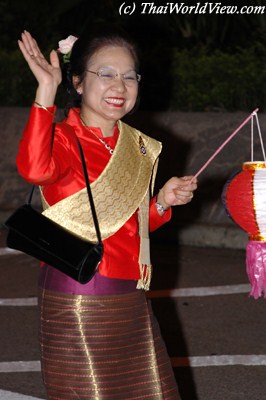 Such restaurants survive thanks to positive gossip and recommendation as they cannot make official advertisement.
Those private cuisines do also have to pay a protection fee to local mafia. When transfering the business from one Thai owner to another, there is an overtake fee (ค่าแซง) to pay. The fee can be a few tens of thousands HKD depending on the location and the daily outcome generated.
---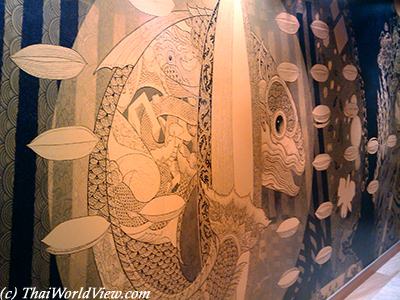 Thai Airways International main office is located at 24A United Centre, Queensway, Hong Kong.
Thai people can get 40 kilos luggages when going back from Hong Kong to Bangkok.
---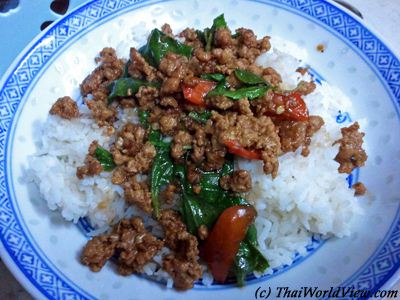 Looking for delicious Thai food? Wan Chai and Kowloon districts are recommended places.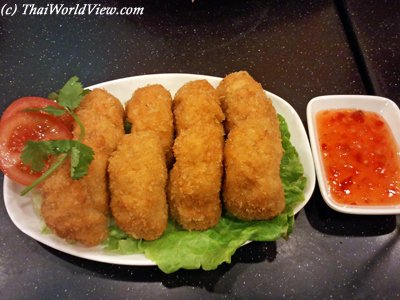 Thai Crispy Shrimp Cakes (

ทอดมันกุ้ง

) dish is always a great starter.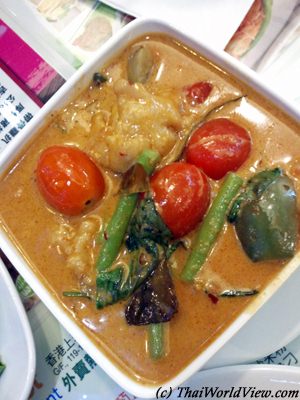 Other Thai popular dishes include curry such as red (

แกงเผ็ด

), green or yellow curry.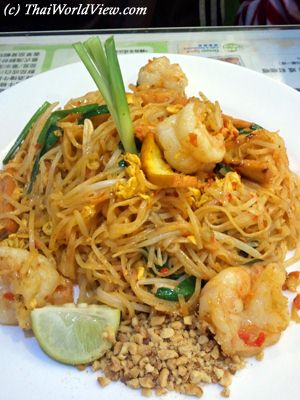 One of the most famous Thai dish is the "Phat Thai" (

ผัดไทย

), dish of stir-fried rice noodles with eggs, fish sauce, tamarind juice, red chilli, shrimps.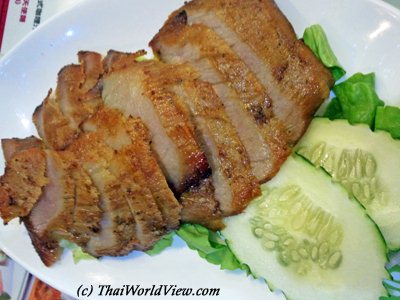 Delicious "Moo yang" (

หมูย่าง

), grilled neck of pork with a chili dip.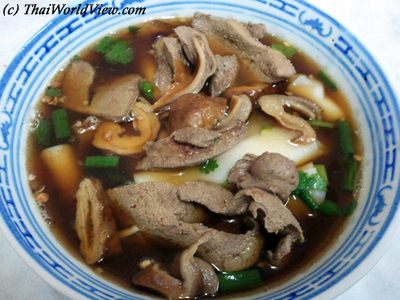 Numerous Thai soups with noodles (

ก๋วยเตี๋ยว

) can be chosen. Various kinds of noodles are available.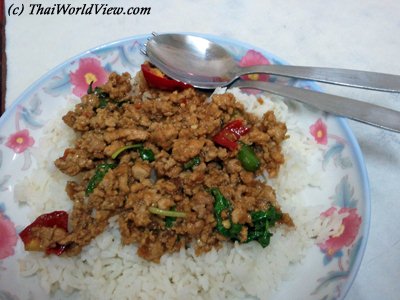 Another favorite is the delicious "Khao phat kraphao moo" (

ข้าวผัดกระเพราหมู)

, rice fried with Thai basil and minced pork.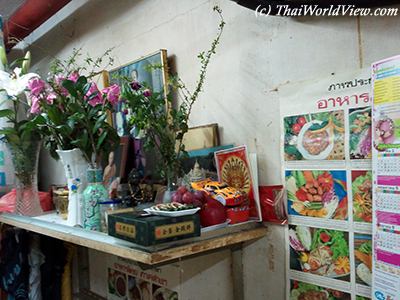 Some typical and original Thai canteens can be found on first floor of Thai shops in Wan Chai. Beautiful decoration shall not be expected but food is authentic, spicy and delicious.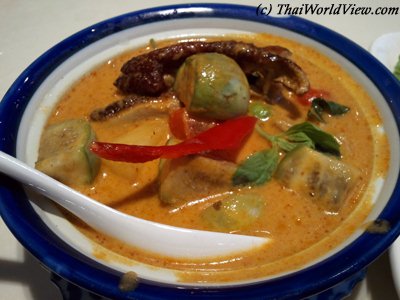 Other Thai popular dishes include Kaeng phet pet yang (

แกงเผ็ดเป็ดย่าง

), roast duck in red curry.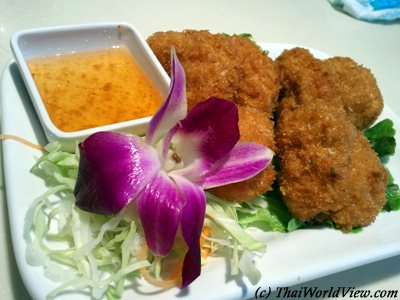 Thai Crispy Shrimp Cakes (

ทอดมันกุ้ง

) dish including the sweet plum sauce is always a great starter.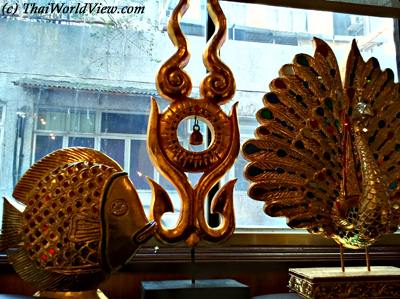 The best Thai restaurants in Wan Chai are often located in higher floor where the rent is cheaper. Nice surprises such as "Taste Thai" restaurant can be found.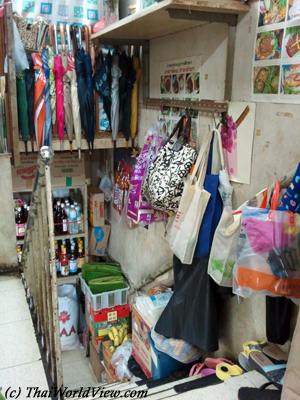 Some typical and original Thai canteens can be found on first floor of Thai shops. Normally they cater for Thai people but more and more local people enjoy their cheaper price and delicious food.
---
comments powered by

Disqus
---