LOY KRATHONG
Increase or decrease font size for easier reading : A+ A-
The feast "LOY KRATHONG" (ลอยกระทง) is a festival event that happens every year on the full moon of the 12th lunar month (first full moon day of November).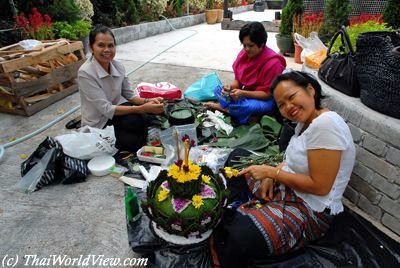 Normally Loy Krathong festival happens on the Kowloon City's playground. But this time it happens on Lantau island.



Fly there with Google Earth
Loy Krathong is as old as Thai heritage and represents a close bond between Thai culture and water.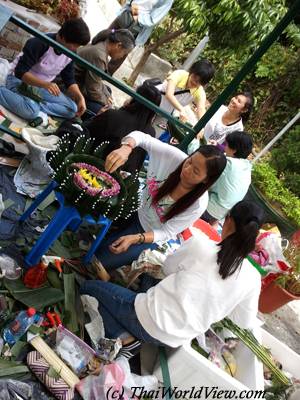 There were singers contest, the most beautiful Kratong contest and a children beauty contest.
In year 2010, the Thai "Loy Krathong" festival has moved from Kowloon City to Tung Chung (Lantau island).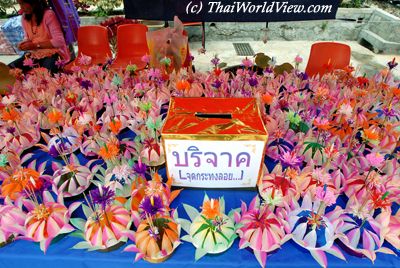 Krathongs are containers traditionally made from banana leaves and carrying offerings of incense, lotus flowers and small money.
Participants ask water spirits to sail away their troubles in their Krathongs.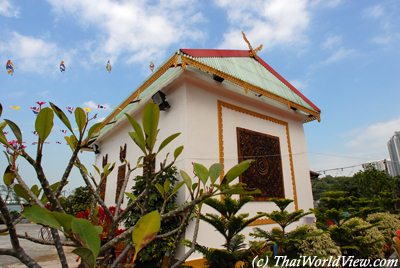 The location in Lantau is not really a Thai Buddhist temple as there is no monk. It is more a Buddhist Retreat Centre.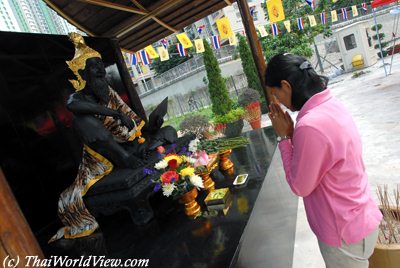 Many Buddhist statues can be found in this Buddhist Retreat Centre. Thai people pay respect to them.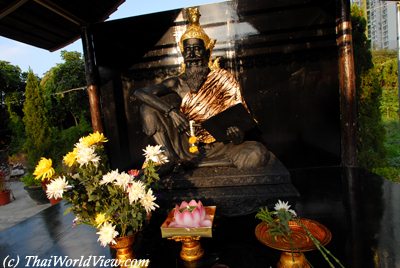 This statue represents a Thai hermit. A "REUSI" (

ฤาษี

) usually lives as an ascetic or hermit in a cave and is depicted with a white beard and wearing tiger fur.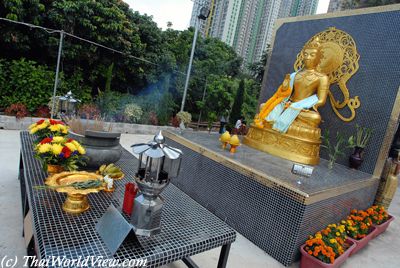 Incense sticks are burning in front of this Buddha statue. Flowers are also offered.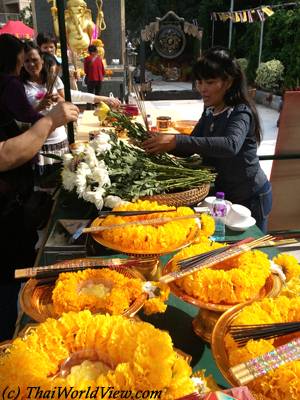 As usual during any Thai festival, Thai people pay their respect to Buddha and offer garlands.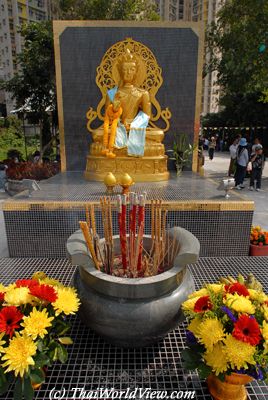 Incense sticks are burning in front of this Buddha statue. Flowers are also offered.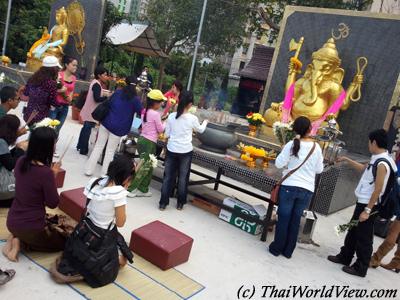 Kowloon City playground was not available so in

year 2010

, so Loy Krathong is organized in a Buddhist Retreat Centre in Tung Chung.
The "LOY KRATHONG" (ลอยกระทง) event is also celebrated outside Thailand by Thai overseas communities.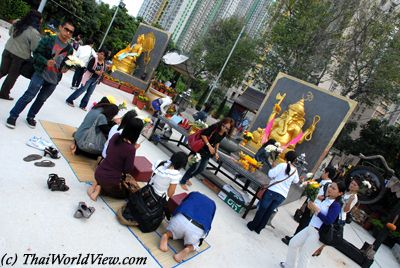 Local Thai people pay their respect to this Ganesh statue. Ganesh is often linked to the field of arts. He is also believed to be the god of good fortune.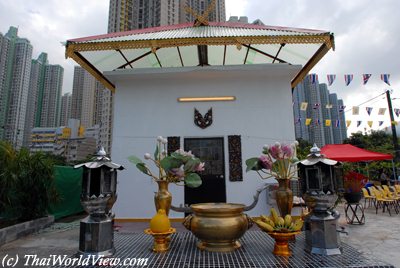 Monks are invited to give a sermon. They are having their lunch inside this shrine.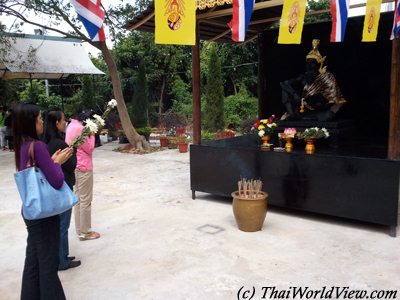 The fun is starting with Molam songs. Monks have finished their sermon. Some people give respect to local deities.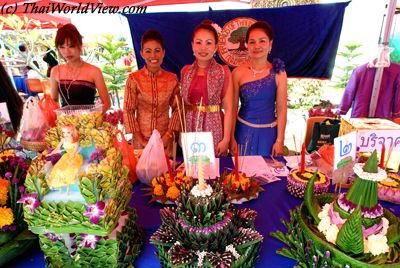 Thai women in traditional clothes are standing in front of the selection of the most beautiful Kratongs.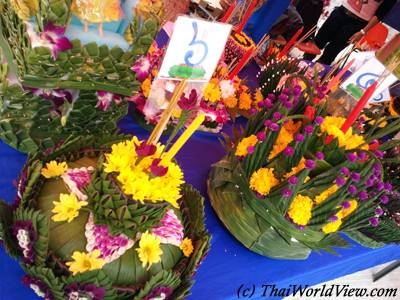 Which one will be selected as the most beautiful handmade Krathong today? The Thai consul in Hong Kong also joins the event.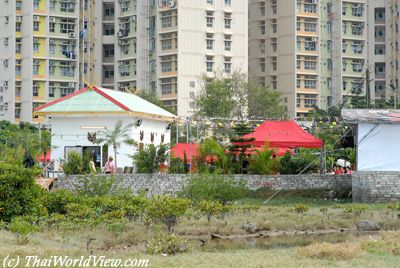 This Buddhist Retreat Centre is standing just in front of huge buildings, which are part of Tung Chung new town.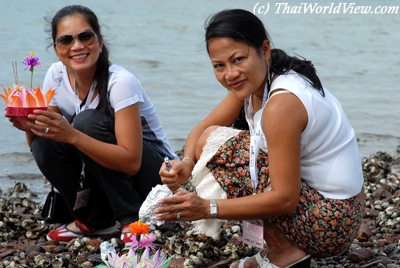 The sea is just in front of the Buddhist Retreat Centre. Thai people can then launch their beautiful Krathongs directly in the sea.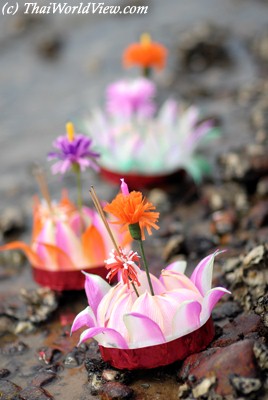 Most of the Krathongs are sent back to the shore due to the strong wind. A few of them are sailing far away.
Then all those Krathong are kept and thrown away later in bins.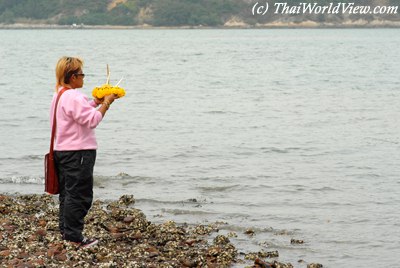 A personal and secret wish shall be done before sending the Krathong in the sea.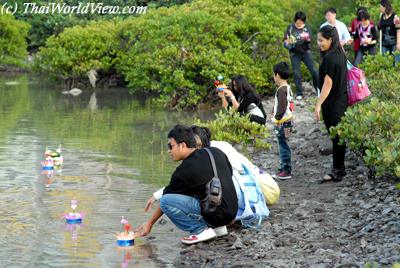 Couples can get an insight into the future of their relationships by watching whether their krathongs float together or drift apart.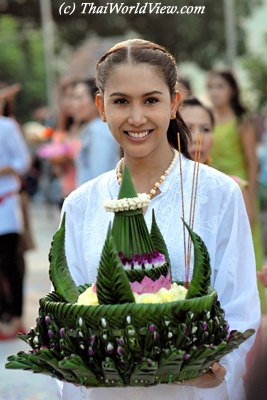 This Thai lady, owner of the Buddhist Retreat Centre, is carrying the Loy Krathong contest winner.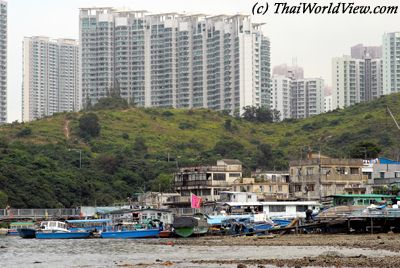 Loy Krathong location was 10mn walk from an old fishermen village, "Ma Wan Chung". This village was here before Tung Chung became a new town.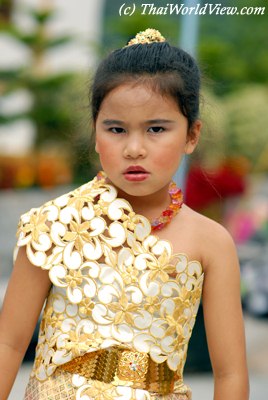 Many Thai Chinese children wear traditional clothes and join cultural dance performances.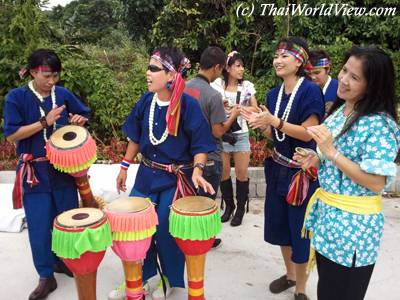 Fun, laugh, cultural performances, songs are always a good match during Loy Krathong festival.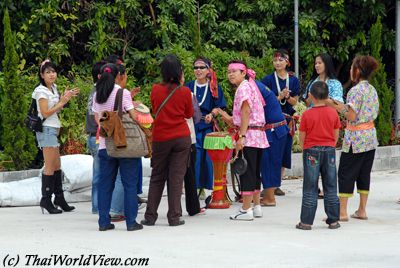 Chats are going on. It is opportunity for friends to relax and share latest news about Thailand.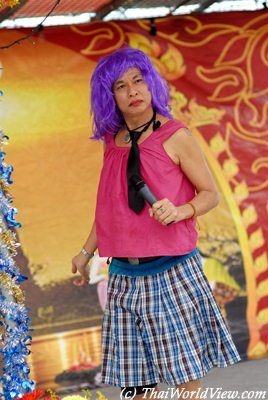 A comic section always happens during Thai festivals. A man dressed as a woman performs jokes.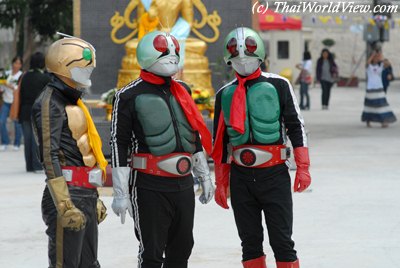 Even the Five Kamen Riders (

ไอ้มดแดง

or red ants) are here! Those Japanese characters are adaptated to Thai customs.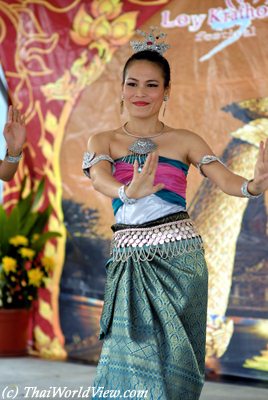 Beautiful smiling Thai ladies are successfully demonstrating their traditional dancing skills.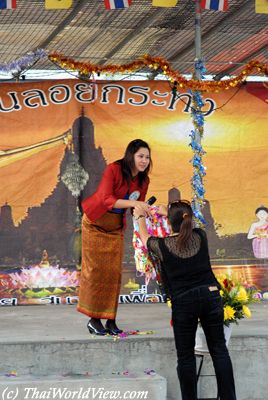 Garlands are offered to good singers. Each singer shall receive a minimum amount of garlands. If not, she may loose face if she doesn't receive any garlands!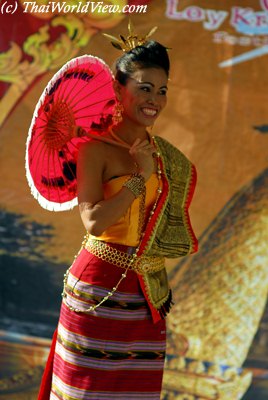 Dances with umbrellas are dances from Chiang Mai area in Northern Thailand.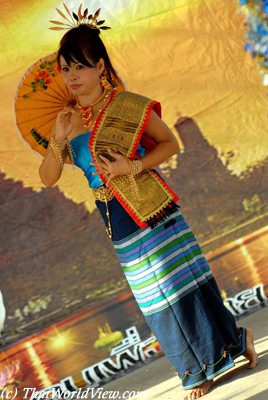 Various Thai regional dances are featured, including dances from Northern and Northeastern regions.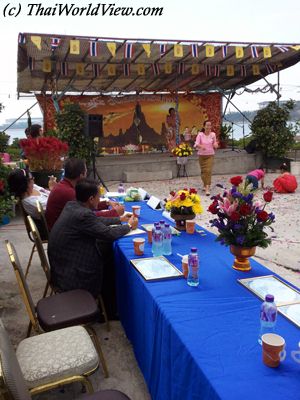 The judges are checking carefully each singer. A ticket Hong Kong - Bangkok is given for the winner. They all perform very well.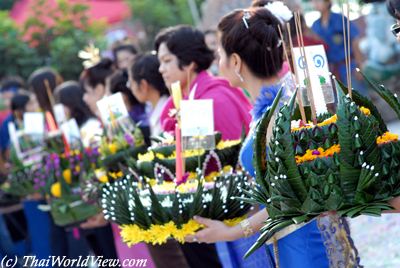 All the beautiful Krathongs are shown a last time before being sent into the sea.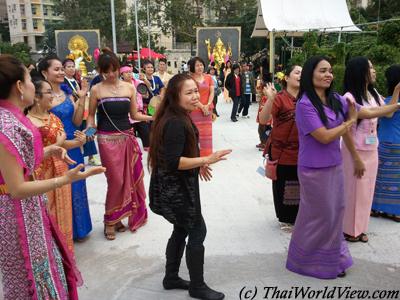 Thailand's most popular folk dance called "RAM WONG" (

รำวง

) is performed to celebrate Loy Krathong festival.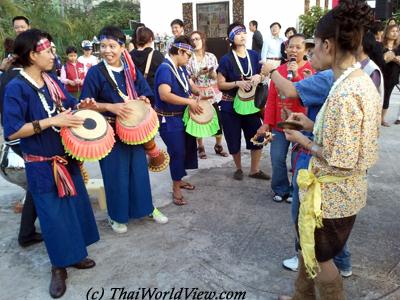 Loy Krathong festival 2010 in Hong Kong is now finished and it was great fun as usual!
---
---
comments powered by

Disqus
---