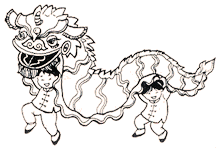 CHINESE NEW YEAR
After Wong Tai Sin Temple, the Che Kung Temple is probably the second most popular temple in Hong Kong. The Che Kung Festival, held on the third day of the Chinese New Year, sees thousands of worshippers gathering here and pray for good fortune. People will line up to burn joss sticks and turn a bronze prayer-wheel to hope for fortune in the coming year.
The temple starts to be packed on the second day of the Lunar New Year.

Che Kung Temple
In year 2006, an auspicious fortune stick was drawn for Hong Kong at the annual Lunar New Year ritual. At the Che Kung Temple in Sha Tin, the chairman picked fortune stick No75, which indicates the economy will grow and run smoothly in the Year of the Dog. It had been five years since Hong Kong saw such as auspicious stick.
| | |
| --- | --- |
| Chinese New Year is a special time to give thanks and ask for good fortune in the coming year. Hong Kong people head to Che Kung Temple to have the soothsayers predict their future. | |
| | Che Kung Temple |
Some families invite a Lion dance troupe to their home as a symbolic ritual to usher in the Lunar New Year as well as to force-evict bad spirits out of the premises.
The lion dance is an important tradition and is part of festivities like Chinese New Year.

Lion dance
| | |
| --- | --- |
| Chinese red firecrackers are on display where the deafening explosions of each firecrackers are believed to scare evil spirits away. | |
| | Lion dance |
During the Lunar New Year Festival the lion dance is common sight. The heads of these fearsome beasts are supposed to ward off evil and the graceful movements of the dancers provide a grand spectacle.

Lion dance
| | |
| --- | --- |
| It is believed that when the lion performs, it will bring to the place and the people good luck, good fortune, good health and helps to drive away the evil spirits. | |
| | Lion dance |
When people receive red enveloppe with money, they always answer with this gesture meaning "I wish you good fortune". It is the traditional way to thank during Chinese New Year festival.

I wish you good fortune
| | |
| --- | --- |
| The Lunar New Year tradition of giving bank notes in traditional red envelopes. | |
| | Red color |
---
| | | |
| --- | --- | --- |
| Click to see more pictures | | |
---
comments powered by
---