H.M. THE KING'S BIRTHDAY
Increase or decrease font size for easier reading : A+ A-
The 5th December is His Majesty the King Bhumibol Adulyadej's birthday or วันเฉลิมพระชนมพรรษา พระบาทสมเด็จพระเจ้าอยู่หัว in Thai language. This public holiday is celebrated nationwide as Father's Day ("WAN PHO HENG CHAT" - วันพ่อแห่งชาติ). The King is considered as the father of all Thai people.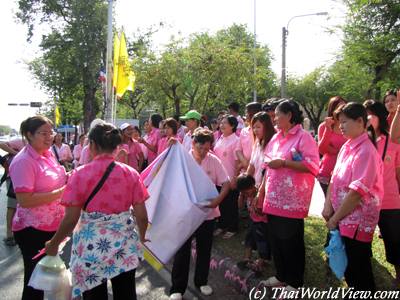 To celebrate the King's birthday in Bangkok, Thai people from all provinces are coming. Nakhon Pathom group has just arrived in Bangkok by car.
Free food, free water and free bus fare is provided to the people joining this celebration.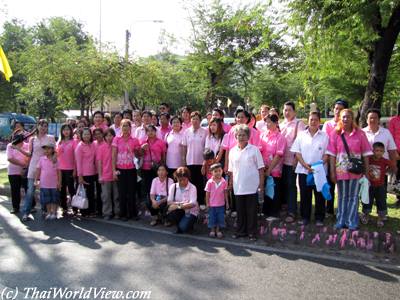 A souvenir photo is taken before the whole group is heading to their reserved location.
In fact, local functionaries such as subdistrict headman ("KAMNAN" - กำนัน) have paid for the trip expenses. Each province needs to show they were present to this major Thai event.
People gather at the Ananta Samakhom Throne Hall, a former reception hall within Dusit Palace in Bangkok.

Fly there

with

Google Earth

Ananta Samakhom Throne Hall
Thai people sit down, eat and chat together while waiting for the official celebrations to start. A good friendly atmosphere is ongoing.
A panel indicates the reserved location for each province. Thai people wear rose color clothes on the Father's day.

The King's birthday
| | |
| --- | --- |
| On each Monday, Thai people often wear yellow clothes. Since the political issues between red shirts and yellow shirts, yellow color is less popular on Monday. | |
| | The King's birthday |
Everybody has a chair. Tens of thousands of people are coming from the 76 Thai provinces.
Thai flags are distributed by some volunteers. The Thai flag ("THONG TRAI RONG" -

ธงไตรรงค์

) symbolises the monarchy (blue color), the nation (red color) and the Buddhism (white color).

The King's birthday
Huge portraits of the Thai King are displayed all over the country.

"PHAN PHUM"

items (

พานพุ่ม

) are displayed in front of the King portraits.

The King's birthday
It is a Royal way to wish good health and merit (บารมี).
On each side of the area, there are places to pray (

มีที่ไหว้

) and give respect to Buddha (

ไหว้พระ

).

The King's birthday
Huge statue of Thai King Rama V - Chulalongkorn riding a horse (

พระรูปทรงม้า

).

The King's birthday
Big panels representing the Queen and the King are displayed all over Thailand.

The King's birthday
| | |
| --- | --- |
| Music is performed during the afternoon. One big issue is the toilets that are far away :-) | |
| | The King's birthday |
First Thai people start to arrive around 1PM and but the feast shall only start around 7PM. There is a rotation in order to keep the good seats.

The King's birthday
| | |
| --- | --- |
| Many local products are on sale. Especially "One Tambon One Product" (OTOP) goods are popular. | |
| | The King's birthday |
End of afternoon is approaching and Thai people are eagerly waiting for the King's birthday feast to start.

The King's birthday
At around 7 PM, the feast starts. Big displays show the huge crowd. Unfortunately in

year 2009

, the King couldn't join as he was at hospital.

The King's birthday
Thai singers perform a show. It is always an honor for them to be invited to perform on the King's birthday. Most of the songs are related to the King.

The King's birthday
| | |
| --- | --- |
| Most of the singers are old style singers as young singers sometimes don't know how to sing such songs. | |
| | The King's birthday |
On a 3 or 4 rai (one rai -

ไร่

is 1600m

2

) surface, around one million Thai people are present.

The King's birthday
All Thai people are giving a formal greeting to the King (

ถวายพระพร

).

The King's birthday
The show has started. The long awaiting is over and lights over the palace start to switch on.

The King's birthday
| | |
| --- | --- |
| Thai flags are waved with strong vigor to celebrate the King's birthday. Many loud cheers can be heard. | |
| | The King's birthday |
Powerful lights are sent by huge projectors on the Royal palace.

The King's birthday
| | |
| --- | --- |
| Images from the King's childhood up to nowadays are projected on the palace facade. It shows the King's hardship (visiting the farmers despite hot or raining weather, despite floods, effort to help farmers to have bountiful rice crop...). | |
| | The King's birthday |
A movie projected on huge screen narrates the King's life including his period as a monk and his wedding.

The King's birthday
The event finishes with beautiful fireworks (

จุดพลุ

). All Thai people carry a small candle (

จุดเทียน

) to honor the King.

The King's birthday
The spectacle is finished at 10PM and has last 3 hours. it is time to go home in their various provinces.

The King's birthday
| | |
| --- | --- |
| Fortunately there is no traffic jam as cars were not allowed around the King palace area. | |
| | The King's birthday |
---
comments powered by

Disqus
---