THAI ROMANCE MOVIES
Increase or decrease font size for easier reading : A+ A-
Some Thai romance movies deal about revenge. Some Thai movies deal about mistress or minor wife ("MIA NOI" - เมียน้อย). Often the main wife ("MIA KLANG" - เมียกลาง) get rid of the minor wife by killing her and force her to suicide. Then a family member of the minor wife will take a revenge against the main wife. Powerful and rich Thai men sometimes have a second but unofficial wife. The man supports everything for her, supports her children but in front of the society she is not recognised. Powerful and influential men don't divorce but can have unofficially several minor wives. As long as he takes care of all of his wives it is tolerated. Of course this is the Thai male point of view.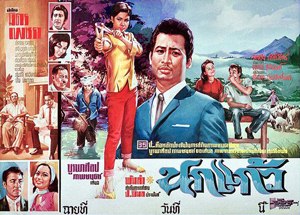 Year

: 1966



Thai title

:

นกแก้ว




English title

:



Rating

: 3/5


Director

: Phan Kam



Main actor

: Mitr Chaibancha,Adul Dulyarat,Prachuap Ruekyamdee,Lor Tok,Sukon Koewliam,Anucha Ratanaman


Main actress

: Petchara Chaowarat,Kaenjai Meenakanit,Prim Praphaporn,Sarinthip Siriwan,Manat Boonkiet
นกแก้ว is a 1969 Thai movie in 16mm format with no sound. It was directed by Phan Kam, who directed more than 60 movies in his whole career. Only 1h10mn is left. Only the first and last film reels are left. So it is difficult to understand accurately the whole story. Prachuap Ruekyamdee is Petchara's close friend. In a village on the countryside, Petchara Chaowarat catches Lor Tok trying to get fishes in their field. Sukon Koewliam is also having another comic role in the village. A grandfather in a wheel chair is talking to his son in Bangkok. As he is going old, he needs to prepare his succession. Petchara is his hidden granddaughter with another woman. The rich family siblings doesn't want her to receive anything. Anucha Rattanamarn is fiance with Kaenjai Meenakanit. They prepare a plan to disinherit Petchara. Mitr Chaibancha, the grandson, is offering flowers to the grandfather. There is a carnival in the village. Adul Dulyarat, a mysterious rich man, meets with Petchara. Petchara and Kaenchai meet also. She gives her a letter. What is inside the letter? Certainly a letter in which Petchara shall reject her rights to the heritage. Later on, Adul wants Petchara to sign a letter but she refuses so he slaps her. Adul threatens her mother to force Petchara to sign the letter. Meanwhile Mitr and Ruekyamdee enter secretly in the house where Petchara is held prisoner in order to help her. Shootings happen with ruffians but Thai police arrive on time to catch Adul. There is an important meeting to open heritage documents at the same time. Petchara arrives on time before the final signature! The grandfather was kept in the dark regarding Petchara by his own family but they all got arrested by police for forgery. Many movies names with Mitr and Petchara started with นก (bird) such as นกยูง (1969), นกแก้ว (1969), นกขมิ้น (1965) or นกน้อย (1964).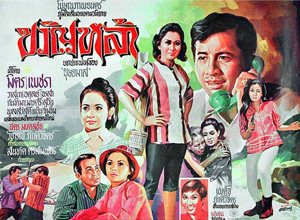 Year

: 1969



Thai title

:

ขวัญหล้า




English title

:



Rating

: 3/5


Director

:



Main actor

: Mitr Chaibancha,Adul Dulyarat,Op Boonthit,Chat Mongkolchai,Adinan Singhiran


Main actress

: Petchara Chaowarat,Orasa Isarangkul,Wassana Chalakorn,Marasri Isarangkul
Thai movie ขวัญหล้า was released in year 1969. It features Mitr Chaibancha as main actor and Petchara Chaowarat as main actress. The movie is lost in Thailand but a sequence of six minutes is left to be seen. Mitr is not seen in the remaining sequence. New star in this movie is Chat Mongkolchai. Other actors are Adul Dulyarat, Op Boonthit, Orasa Isarangkul, Wassana Chalakorn, Adinan Singhiran, ขอใจ ฤทัยประชา, กัณฑิมา ดาราพันธ์. Summary is still available from Thai star magazines. A family has a very cute daughter called Pan Kaew (Petchara). She never saw her parents as she was raised by Pa Puang. Her aunt Pa Puang is sick and so sent her to Chiang Mai in Nai Sarapee's home to be a domestic helper. In fact Pa Puang sold her! But Nai Sarapee likes her so much that she treats her like a daughter. One day when walking near the house, she hears an old man voice crying and asking for food / water. She gives him food and promises to help him again. Nai Sarapee announces to Pan Kaew that she will send her to Bangkok. In fact she is sold to a brothel (ซ่องโสเภณี / ซ่องนางโลม) for 6000 Baht. In the past, Pa Puang used to love Pan Kaew's father. But this love was not reciprocal. When Pan kaew was born, Pa Puang promised to make Pan Kaew's life as miserable as possible as a revenge against her father. Saying goodbye to the old man, he tells her to dig for an old jar and take the bracelet inside. If somebody sees this bracelet, she shall answer she is ขวัญหล้า! If this somebody has a red taint, Pan Kaew shall bring him to help the old man. In Bangkok, Pan Kaew meets Bua Riaw (Orasa). Understanding they have been sold, they try to flee. One day while the brothel owner brings Pan Kaew for her first customer, a man named Sun called her as Kwan La. Knowing Pan Kaew's father, Sun decides to help her. Meanwhile the brothel owner's son also decides to help Pan Kaew to flee. The summary ends up here.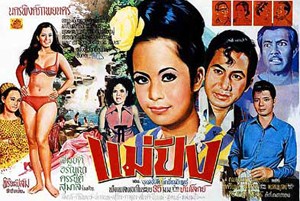 Year

: 1970



Thai title

:

แม่ปิง




English title

:



Rating

: 4/5


Director

:



Main actor

: Sombat Methanee,Sawin Sawangrat,Kanchit Kwanpracha,Sukon Koewliam,Siripong Isarangkul


Main actress

: Aranya Namwong,Chadaporn Wachirapranee,Mom Chan Phuangwan
Thai movie แม่ปิง was released in year 1970 and lasts 2h25mn. The original film is certainly longer as some parts are missing in the VCD released by Lepso. A remake called "มายาพิศวาส" was done in year 1983 with Jarunee Sooksawad. Aranya Namwong plays two roles, i.e. mother Ubon and her daughter Dokbua. The father is sick (กรรม) and invalid. Dokbua wishes to revenge her family. Dokbua simulates a car accident to get attention of Chala (Sombat Methanee). She claims coming from poor province (คนบ้านนอก) and was attracted by a false job offer in Bangkok. Chala and his brother Chet (Sawin Sawangrat) are part of a rich family. Both love Dokbua at first sight. Dokbua is hired as domestic helper in the house. Chet's father, khun Chun, is paralysed. Paen (Chadaporn Wachirapranee) is khun Chun's wife but also Chet's mistress! Chet wishes Dokbua to become his secretary. Chala spends a lot of money and is often described as lost soul (เสียชาติ) as he always borrows money from his father and his brother. Chet tries to abuse Dokbua but she refuses. The father also tries to abuse her but it fails. Chatchai (Kanchit Kwanpracha) has interest in her despite he has already a fiancee called Chaleng (สุมาลี ทองหล่อ), Chala's sister. He doesn't love his fiancee as the engagement was set up by parents and not based on real love. Another domestic helper warns Dokbua about rich people being insincere (ไม่จริงใจ). Chatchai's father, Tawat (Siripong Isarangkul), has interest into Dokbua also. Paen is trying to sell Dokbua to him. Chet tries his luck with Dokbua at night time (ต้องการเธอ) but it fails again. Chala is aware Dokbua has a hidden plan but he cannot identify it. Tawat still wants Dokbua as wife. Dokbua accepts so causing Chala's ire and treating her as นางบำเรอ. Tawat has six wives already. Dokbua accepts in order to become a countess (คุณหญิง). Chala still wonders the hidden plan of Dokbua. The father khun Chun's names Dokbua as head of the company (ล้างบาปก่อนที่จะตาย). After his death, Dokbua is given the whole heritage as he knew she is the daughter of his former enemy. Khun Chun is responsible of Dokbua's father paralysis. Other family members are shocked. Chala is shocked by Dokbua's cynicism and forces her to kiss him. Chatchai, seeing the scene, threatens to tell the truth to his father, if she refuses to become his mistress. Thatchai does not have interest in Chaleng anymore as she is now poor so she keeps indulging in alcohol. Chet tries to seduce Dokbua (หลงเสน่ห์) again causing Paen to be upset. He wishes to marry with Dokbua as she is beautiful and rich. He rejects Paen so she shots Chet with a gun and is arrested by the Police. She has become crazy. Dokbua didn't think her revenge will go that far… She gives back the whole heritage to Chala. Love finally emerges between both.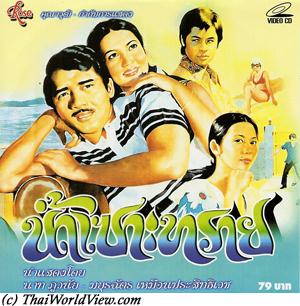 Year

: 1973



Thai title

:

น้ำเซาะทราย




English title

:



Rating

: 5/5


Director

: Wichit Khunawut



Main actor

: Nard Poowanai,Sayan Chantaraviboon


Main actress

: Mayurachath Muarnprasitivej,Wandee Sritrang,Marasri Bangchang



Buy now

:

This movie about two couples interaction. Pim (ภีม), a white-collar, and Wan (วรรณรี), a teacher, are married. Pukrong (พุดกรอง) is a rich and lonely widow (ว้าเหว่). Pong (พงษ์), a bachelor, tries to be Pukrong's sweet heart boyfriend but he is a butterfly. Pim often argues with his wife and Wan feels neglected (น้อยใจ) with Pim. Pim and Pukrong love each other secretly (รักกัน). Wan is too well-mannered (เรียบร้อย) and strict (เคร่งครัด) so Pim is fed up despite she gave her two beautiful children and takes well care of the home. They still use the polite word "ค่ะ" at the end of each sentence. Life is scheduled as a clock with Wan so Pim is fed up. Pim is a frustrated husband and arguments occur with Wan. Pim and Pukrong continue to see each other secretly in Bangkok. Pim needs to lie to Wan (ของขโมยอร่อยกว่า). As Pong continues to be her faithful admirer, he becomes annoying as Pukrong doesn't have full freedom to see Pim. Pukrong has to involve her well-off friend (ผู้ดี - คุณผู้หญิง). It highlights that Thai high society people also plays cards and have same sins. Her friend has to be involved in the lies. Pim rents a house for them to see each other freely (ความสุขของเรา) in order to avoid busy hotels and frequented restaurants. Pukrong spends a lot of money to decorate the house as she wishes a forever love. Pong knows that Pukrong flees behind the house. Pukrong wishes to see Pim every day. Wan knows her husband went out as his clothes smell perfume. Wan and Pong starts to notice. Pong is informed about the truth through a friend who saw them in a bar (เล่นรัก). Wan refuses to believe that her best friend (สุภาพบุรุษ) steal her husband love. Pukrong doesn't want a hidden love. Wan fights back to keep her husband. Can money buy everything including love? There is insinuation (พูดประโชด) between the two women and then a real verbal fight (บาปตื่นเต่น). Wan knows the truth now (ใจเป็นทรายศ). Pukrong is the bad rich high society girl versus Wan, the good teacher worried about position girl and strict mother / wife. Pukrong tells the truth to Wan. Pim has to go back to Wan due to the children. Pakrong feels left over. But it is not as easy. Wan wishes to divorce with Pim and chases him away. Finally Pim goes back to Pakrong. It is now the main wife versus the minor wife (เมียน้อย / เมียหลวง). Pong pushes Wan to fight (สู่). Pong tries to break the relationship as Pim is fed by Pukrong. Wan refuses to see a shaman (หมอผี) to help her to have Pim back. Meanwhile Pim and Pakrong are enjoying their romance. Pukrong is pregnant. Pong presents a military officer Neephon to Wan. If Pim can have a new love, why Wan cannot have one? It creates jealously on Pim's side as he doesn't want his kids to have a new father. This time Pim refuses to divorce. Pukrong has another child in America from a previous relation. She understands Pim's feelings towards his previous family and also understands he will never be able to choose so leaving things unsettled forever so Pukrong decides to go to America with her new born baby. Pim tries to resume relationship with Wan but it is too late. Wan refuses. Pim ends up alone. It is a long movie as it lasts 2h37 with a dubbed soundtrack. This movie highlights Thai society hypocrisy, i.e. Thai men can have a minor wife but the main wife cannot do anything except to complain in silence. Classical music is used in tragic moments. The scenario is inspired from a book written by author Krisna Asokesin (กฤษณา อโศกสิน), who has won the SEAWRITE prize for literature. Another movie remake was done in 1986. It was adapted as Thai TV serie many times also.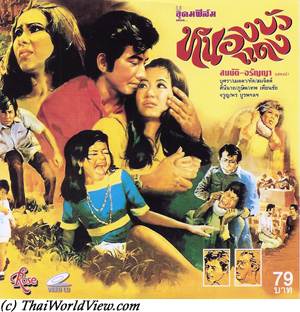 Year

: 1974



Thai title

:

หนองบัวแดง




English title

:



Rating

: 3/5


Director

: Sor Asanajinda



Main actor

: Sombat Methanee


Main actress

: Aranya Namwong,Metta Roongrat



Buy now

:

Nam's sister, Phi Luuk Nok, has suddenly and mysteriously died. Phi Luuk Nok had a few months old child. It seems she died of a heart attack (หัวใจไหว). So Nam (Aranya Namwong) decides to go to her sister's house to investigate. The house is located in Nong Bua Daeng (หนองบัวแดง). Her brother in law, Phuatai (Sombat Methanee), is a weird man having half crazy and handicapped domestic helpers (คนบ้าคนใบ้). Nam asks to see her sister's body (โลงศพ). The coffin contains a man body. Rumours said that Phi Luuk Nok was Phuatai's wife in legal name only but she had the baby with somebody else. Nam believes that Phuatai killed her sister. One night Nam becomes Phuatai's wife (ภาระผูกพัน with Phuatai) but there is no love. She starts a small revolution in the house by buying expensive furnitures and a new diamond ring (ซื้อที่จำเป็น). Many secrets are around Phuatai. He often visits a fifty years old lady called Than. Thanks to Saree's advice, Nam discovers a mysterious bungalow located in Baan Rim Dong. A defigurated man (คนหน้าผี) lives inside. His name is Toon and he is Phuatai's elder brother. Nam sister's corpse is inside a cupboard in Toon's bungalow. Toon was Phi Luuk Nok's real husband and he hid the body to avoid cremation. Toon was always crazy about women (บ้าผู้หญิง) and was disfigured by a fire when hiding from a jealous husband. Nam is now pregnant. Phuatai believes that his brother Toon is responsible also of the pregnancy. Heart-broken Nam leaves for Bangkok. Nam's father, Dam, wishes to clean his honor with a gun. When arriving in Nong Bua Daeng, Phuatai has died already. It is only a parody to protect himself but a tragedy then happens. The father kills Saree. He wants everything to be for his daughter Nam. It started 20 years ago. Dam was married with Than. They have a daughter, i.e. Nam. But Dam had a mistress so Than left him. A man called Boriphat took Dam's mistress. Dam then killed Boriphat and then Phi Luuk Nok, who is in fact the daughter of Boriphat and his mistress. Finally Dam is killed by Toon. The heavy secret is now revealed. Nam and Phuatai can now have happiness (เป็นสุขแล้ว).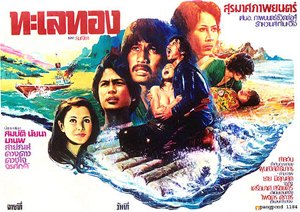 Year

: 1975



Thai title

:

ทะเลทอง




English title

:



Rating

: 4/5


Director

:



Main actor

: Sombat Methanee,Man Teeraphol,Manop Aussawathep,Sayan Chantaraviboon,Choomporn Theppitak


Main actress

: Naiyana Shewanan,Duangdao Jarujinda
Many years ago, Laem Kun Thalae (Sombat Methanee) and Mae Plae (Naiyana Shewanan) were tied to a pole, beaten and left to die in the sea. Laem Kun Thalae survived thanks to his friend Fong but Mae Plae died. Their child was left to a teacher. Many people believed they both died in the sea during high tide. The teacher has three children, i.e. one boy, Pu (Sayan Chantaraviboon), and two daughters, Nang (Naiyana Shewanan) and Neua Oon. Nang is the baby given many years ago. Nang is hard worker but Neua Oon is lazy. Sak, son of Sou (Man Teeraphol), a local ruffian, always wants to bring the two sisters out but Pu refuses and Nang is not interested to go. Sak becomes lover with Neua Oon (ได้เป็นเมีย). Kun (Sombat Methanee) and his friend Fong (Manop Aussawathep) are always seen around. Kun always helps Nang in difficult situations. Pradet (Choomporn Theppitak) is the local policeman officer but is bending to Sou. Sou wishes Pradet to arrest Kun as he is a trouble maker. Nang and Sak's two sisters (Nit and SiriPorn) are kidnapped by overseas woman traffickers. They are rescued by a boat carrying Kun, Sak and Pu. Kun decides then to keep Sak and his sisters as hostage. They take refuge on an island. Pu and Siriporn become lovers. There is a suggestion for Kun to surrender to police (มอบตัว) as Sou is following up them. Nit (Duangdao Jarujinda) promises to help as she loves Kun. Kun doesn't believe in the police fairness so he flees with Nang. As the action is taking place close to Cambodia border, their boat gets attacked by red Cambodian soldiers. They have to jump from the boat but are caught up in a storm. They are finally protected by Mae Plae's spirit (วิญญาณ) and rescued by a boat. Sou and his ruffians team capture Kun and Fong. They are ready for a final vengeance. Nit believes Kun and Laem Kun Thalae are the same individual. Situation is reversed thanks to Kun's skills. Sou, Sak and Nit are now prisoners under Kun. The policeman Pradet agrees to speak and discloses what really happens many years ago between him, Sou and Laem Kun Thalae. Finally Nang's real father is policeman Pradet. His wife Sai is Sou's younger sister. Pradet has a short relationship with Mae Plae. Through jealousy, Sai and Sou took vengeance on Mae Plae and innocent Laem Kun Thalae. So Kun and Laem Kun Thalae are the same man. Despite his initial desire for vengeance, Kun leaves it away and stays with Nang. Thai movie "Thalae Thong" (ทะเลทอง) was released in 1975.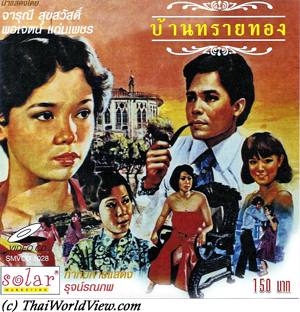 Year

: 1980



Thai title

:

บ้านทรายทอง




English title

:



Rating

: 3/5


Director

: Ruj Ronnapop



Main actor

: Porjed Kaenpetch


Main actress

: Jarunee Sooksawad,Mayurachath Muarnprasitivej,Tharika Thidathip



Buy now

:

It is a love story about a girl named Pojaman from a noble family who fights with relatives to obtain her right as the real owner of the castle. The fighting ends in happiness when she finds true love with the son of one her relatives that she is fighting with. This story has been made into a film and a television series several times in the past four decades.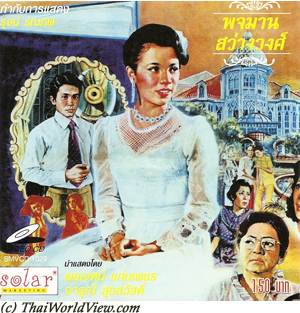 Year

: 1980



Thai title

:

พจมานสว่างวงศ์




English title

:



Rating

: 3/5


Director

: Ruj Ronnapop



Main actor

: Porjed Kaenpetch


Main actress

: Jarunee Sooksawad,Mayurachath Muarnprasitivej,Tharika Thidathip,Sarinthip Siriwan,Suphanee Jitthieng



Buy now

:

Two young new married people from Thai high society receive strong pressure from their family. The husband's mother try to persuade her son to divorce. The wife's younger sister wants to have a pleasant life without working. Will their wedding be strong enough to resist? This movie is the second part of "Baan Sai Thong".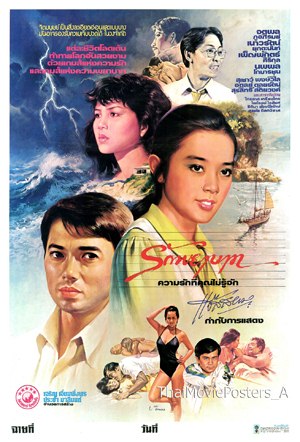 Year

: 1981



Thai title

:

รักพยาบาท




English title

:



Rating

: 3/5


Director

: แจ๊สสยาม



Main actor

: Jatuphol Poopirom,Suchao Pongwilai,Surasit Sattayawong,Krailat Kriengkrai


Main actress

: Naowarat Yooktanun,Penpak Sirikul
Thai movie รักพยาบาท was released in year 1981 and lasts 1h56mn. A remastered version was released by Five Star Production (ไฟว์สตาร์โปรดักชั่น) in the decade 2010s and shown on Thai TV cable. The movie was released under VCD format by Solar company. Movie director is แจ๊สสยาม. It was the last movie of famous Thai actor Jatuphol Poopirom, who died in a car accident on 20 March 1981. Children Pim and Paen are two close friends. They get separated as Paen is going to study in Bangkok. Reaching adult age, Pim is played by Penpak Sirikul and Paen by Naowarat Yooktanun. Both stop studies and start to work. Paen is working in Chatree (Suchao Pongwilai)'s company. Pin also finds a job in Chiang Mai. Claiming he has a letter for Pim, Pim's boss tries to rape her but he has a heart attack. Pim flees. She meets San (Jatuphol Poopirom) by hazard. He helps Pim as she does not know where to go. Finally, a romance starts between them and they become lovers. San has to go to Chiang Rai for business for three days and promises to send her to Bangkok. San has a car accident while driving to Chiang Rai. Chatree nominates Paen as his personal secretary. Pim waits but San is not coming back. She has to leave the hotel. She goes to Bangkok and faces a taxi driver, who steals her luggage. She has nowhere to go and feels hungry. She collapses and somebody brings her to hospital. The doctor (นพพล โกมารชุน) pities her and finds a job for her in his aunt's company. A romance starts. Pim is pregnant with San as father. Abortion is forbidden by law so the doctor refuses to help. He finally changes his mind but Pim has decided to do it by herself. She loses a lot of blood but luckily the doctor saves her again. She wishes to get revenge over San. Pim befriends Lin, an actress, so she wishes to become an actress. Pim meets Adul Dulyarat, a movie director, and becomes his mistress. San meets Paen. A romance starts and he wishes to marry Paen. Paen resigns from Chatree's company and gets married to San. Chatree still loves Paen but Paen considers him as a friend only. San is looking for a job but refuses to ask help from Chatree. Bancha (Surasit Sattayawong), a rich businessman, is contacted by Paen to help San. He accepts to help as he is impressed by Paen's strong love over San. Adul wishes to introduce Pim to Bancha as he plans to marry her. Pim meets San at Bancha's birthday party. Pim leaves Adul to live with Bancha and marries him. Pim does everything to make San upset. She wears the ring San offered to her and discloses who she is. They become lovers again. Pim pushes San to divorce Paen. As Paen refuses to divorce, Pim suggests to San to kill Paen. Paen announces she is pregnant, so San decides to break up with Pim. Meanwhile Bancha is also aware of the situation through Krailat Kriengkrai. Pim storms the place when San and Paen are staying. When realising that San's wife is her old friend Paen, she renounces her wish to shoot San. She wishes good luck to them. In the parking lot, she gets shot by Krailat and dies. Bancha did not forgive…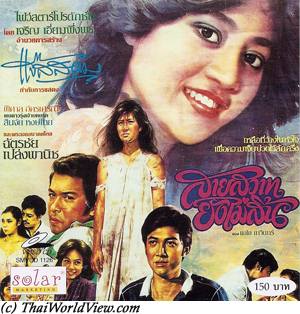 Year

: 1982



Thai title

:

สายสวาทยังไม่สิ้น




English title

:



Rating

: 3/5


Director

:



Main actor

: Chatchai Plengpanich,Pisarn Akraseranee,Suchao Pongwilai,Sor Asanajinda


Main actress

: Sinjai Hongthai
A father has got two children, i.e. a son spending his youth in bar and a daughter, and has also adopted a boy. This latter, after doing successful studies, is promoted general director of the father's company. The first son is very jealous and promises to get a revenge. Once the father is dead, he starts to destabilize the couple.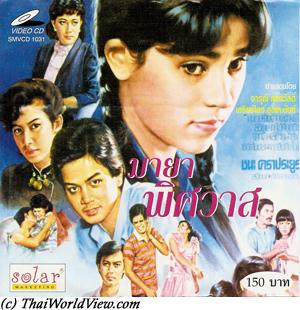 Year

: 1983



Thai title

:

มายาพิศวาส




English title

:



Rating

: 4/5


Director

: Chana Kraprayoon



Main actor

: Kriengkrai Unhanan,Suchao Pongwilai,Manop Aussawathep


Main actress

: Jarunee Sooksawad,Pissamai Wilaisak,Mayurachath Muarnprasitivej,Nipaporn Nongnuch
Dokbua (ดอกบัว), a young lady, is hurt by Chala's car. She is a poor girl coming from Chiang Mai to Bangkok in order to work but she was told a falsehood regarding the job nature. As she has nowhere to go, she can finally stay as a maid as Chala gets pity on her harsh life. Chala's HiSo family includes various members. Pen is a middle age woman. She is the new wife of Chon, who is paralyzed. Chita is Chon's sister. She never got married. Chon has three children, Chala, Chet and Lek. There is always a bad and oppressive ambiance in the family. Chala only spends money but does not earn anything. In fact Chala gives the money to a poor family. Chet and Pen are lovers. All men in the house fight over Dokbua. Pen wants to use Dokbua to take care about her paralyzed husband ardors so that she can have more free time with Chet. Dokbua played the stupid girl but she is in fact very intelligent. Only Chala knows Dokbua has entered the house with a specific idea. What is her goal and her hidden secret? This HiSo house is same as hell (นรก). People are doing bad deeds (มีบาป). Ten years ago, Chon, the father always partied in the house and brought girls. It only stopped when the father became paralyzed. Lek, the youngest daughter, has a boyfriend called Tat. Tat also tries to seduce Dokbua. Pen has a new plan and introduces Dokbua to a rich man called Tawat. Pen gets money in exchange of providing young girls to rich men. There are arguments between Tawat and Chon. Dokbua prefers to stay with Chon. Tawat takes over Chon's company as he looses face regarding Dokbua. It causes a heart attack to Chon. Dokbua talks to Chon privately on his hospital bed while he is dying. Chon is afraid about hell (กลัวนรก) due to his previous bad deeds. Before dying he updates his testament and gives nothing for his children. Everything goes for Dokbua. Chita relates Chon's story to Chala. Chon was behaving like a ruffian when he was young. After having a second kid the father starts to misbehave again with girls so the mother called Lamyong hanged up herself. Dusit was a former business associate of Chon but they had arguments. Chita and Dusit were in a love story and Chon made it broken up. Dusit later has another wife but Chon never forgave to Dusit and Dusit was shot in the back. Dokbua is Dusit's daughter. Dusit is still alive but is paralyzed. Tat still tries to seduce Dokbua as Lek is now a poor girl. Chet also tries to be nice. This hypocrisy causes Tat and Lek to break up. Pen and Chet also break up. Pen cannot stand it. Pen shots Chet and becomes crazy. Lek behaves as a bad girl. The whole family ends up in a turmoil even if Dokbua didn't intend to be such a mess. Finally Dokbua and Chala declares their love for each other. Dokbua gives all heritage to Chita. This movie highlight the high society hypocrisy. Chana Kraprayoon is famous for directing drama / romance movies and Thai TV series. This movie was adapted in a Thai TV serie in 2007. Jarunee Sooksawad got an award for her Best Actress performance in this movie.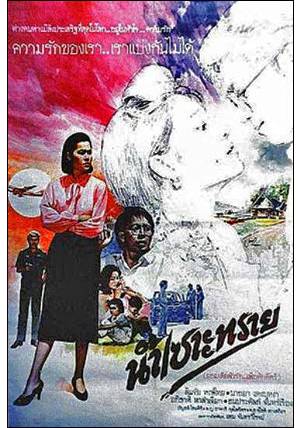 Year

: 1986



Thai title

:

น้ำเซาะทราย




English title

:



Rating

: 3/5


Director

:



Main actor

: Apichat Halamjiak


Main actress

: Sinjai Hongthai,Nardtaya DaengBunga
Teacher Wan (วรรณรี) is married with Pim (ภีม) and has two kids. She is quite old fashioned. She is a dedicated housewife, spends a lot of time to educate kids and take care of the home (เป็นคนดี). She has a high self esteem of herself as she believes she has never done anything wrong. Pim doesn't value his wife's kindness and efforts. He starts to be fed up with Wan. Wan's closest friend is Pukrong (พุดกรอง), a lonely (ความว้าเหว่) and young rich widow (แม่มาย). They know each other for 20 years. Pong, Pim's friend, tries to seduce Pukrong but she is not interested beyond friendship. Pukrong is somebody who dares (คนกล้า). Pim is seduced. Pukrong and Pim become lovers. They have to see each other in discreet places to avoid being seen by others (ขาดกันไม่ได้). Pong starts to be a nuisance as he tries to follow Pukrong everywhere so hindering her love with Pim. Pim has rent a house (บ้านของเรา) so that they can see each other discreetly and happily (รางรัก). Back home, Wan notices a perfume smell on Pim's shirt similar to Pukrong's expensive perfume. Meanwhile Pukrong has decorated "their" home with expensive furniture. Pong announces to Wan that he is aware that Pim and Pukrong are having an affair (เป็นชู้กัน). Pukrong admits in front of Wan and Pim. Pim is seen as a traitor (ผัวทรยศ). Pim is unable to make a proper decision. Wan asks for divorce (ไม่มีทางตกลง) and Pim goes back to Pukrong. Pong pushes Wan to fight back Pukrong to get her husband back (ภรรยาถูกต้อง). Pong pushes Pukrong to go out to have a new life. He presents to her a handsome and honest military colonel called Neephon. If Pim is having happiness outside why Wan cannot have happiness? Pukrong is now pregnant. Pim is upset that another man is inside Wan's life and is taking over his own duty as father. Pukrong starts to be upset by this situation and makes the link with her own son she haven't seen for years. Pukrong misses her son in America and finally decides to go there with her new born child. This way she also gives a chance to Pim and Wan couple. Wan refuses to accept Pim to come back. Pim remains alone. It is a remake of 1973 "น้ำเซาะทราย" movie. The scenario is almost identical. Sinjai Hongthai has always played the modern and liberated woman in many 1980s movies.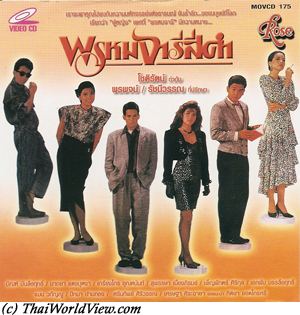 Year

: 1987



Thai title

:

พรหมจารีย์สีดำ




English title

:



Rating

: 2/5


Director

:



Main actor

: Kriengkrai Unhanan,Bin Banleurit


Main actress

: Supansa Nuengpirom,Penpak Sirikul
A young lady will soon marry a playboy handsome guy but another lady seduces him. Disappointed, the young lady tries to suicide and finally quit Thailand. Sixteen years after she comes back to Thailand and starts a revenge by luring the lady's son.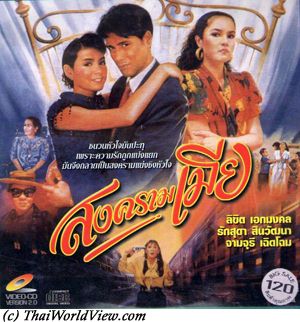 Year

: 1991



Thai title

:

สงครามเมีย




English title

:



Rating

: 3/5


Director

:



Main actor

: Likit Eakmongkol


Main actress

: Marasri Bangchang



Buy now

:

Pakpun, young rich man (ลูกเศรษฐี), has a famous and beautiful mistress called Maenma. She is a model (นางแบบ). But Pakpun is already married to Oon and has two children. Oon has a shock when learning the news from her husband but finally seems to allow (อนุญาต) and even authorises Maenma to live in the house compound (เมียดีๆ). Pakpun is coming from a rich family so it is normal for him to have a second wife (เมียน้อย / เมียหลวง). It seems unnatural that the main wife accepts so easily. A war is in preparation! It starts with a word war, i.e. why a famous beautiful model needs to steal somebody else husband instead of finding one herself? Money? ใจง่าย? Pakpun starts to feel uneasy (ไม่สบายใจ). Oon offers Maenma some money to leave away. Oon always speaks slowly and politely. Maenma loses temper very easily. Pakpun is divided between his two wives. Insults start such as 'นางบำเรอิง' (concubine) or 'Why Pakpun has to get another wife if the first wife was doing properly her duties?'. Oon has often vertigoes as she is now two months pregnant. Maenma wishes to defeat Oon. Oon asks Pakpun to become infertile (ทำหมัน) so he cannot have a child with somebody else. Maenma offers sour mangoes food as a gift but the food is poisoned to hurt the baby. Hopefully one of the maid eats the food first. The housekeeper accuses Maenma gift but Pakpun is not able to decide to break up with Maenma. Maenma needs to hurry up being pregnant even if it means using an old boyfriend to be the father! Pakpun sees them but Maenma argues Pakpun doesn't take care of her as she is only a minor wife. Her strategy is to make Pakpun jealous. This drives him crazy and he chases away Oon as he is waiting for Maenma the whole night. Upset Oon leaves the home without mentioning where she is going. Oon delivers a boy but refuses to go back to Pakpun's home. Maenma announces Pakpun that she is pregnant but Pakpun breaks up with her as the child cannot be from him as he is now infertile. The real father also refuses to take care of Maenma as he is leaving abroad a few years. Maenma is now alone. Upset she tries to shoot Oon but Pakpun uses his body as a protection wall. He is injured. Getting crazy and afraid to be sent to jail, Maenma kills herself. This movie highlights the issue of minor and main wife status in Thai society.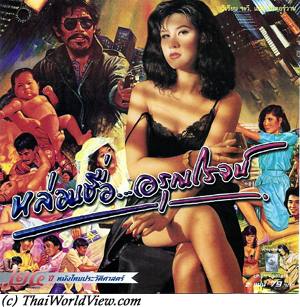 Year

: 1992



Thai title

:

หล่อนชื่ออรุณโรจน์




English title

:



Rating

: 1/5


Director

:



Main actor

:


Main actress

:
This B-grade Thai movie is about a woman called Chaowee, who is working as a callgirl. She finally married a man much older than her but her love is real. She has same age as her new husband's two children. Oran, her previous husband, is intimidating her through a secret document in order to get money from her. Asking 5 millions Baht causes her new husband's death through heart attack. Following the will, Chaowee gets more than 50% causing ire from her husband's daughter. The son tries to seduce Chaowee but without success. Oran and his friend Chatree conspire together to wreck the family by seducing the young sister. Chaowee uses her attractiveness to pursue her goals.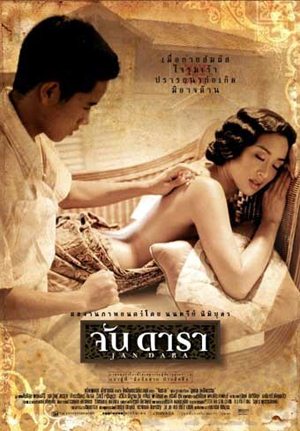 Year

: 2001



Thai title

:

จันดารา




English title

: Jan Dara



Rating

: 3/5


Director

: Nonzee Nimitbut



Main actor

: Santisuk Promsiri


Main actress

: Christy Chun



Buy now

:

Jan Dara's childhood was awful. His mother Dara died during his birth and Dara's husband hated the boy from that moment and treated him cruelty. Jan Dara grew up surrounded by immoral and licentious acts from his hated father. Dara's husband has got a daughter called Kaew with another wife and taught his daughter to hate Jan Dara as much as he did himself. Many years later when Kaew was pregnant and needed a husband, Jan Dara agreed to marry the girl but ask for ownership of the house. Now master of his own house, Jan Dara began acting as his father did. Will he ever get rid of the curse placed on his head when he was born? Christy Chung is one of Hong Kong's top actresses. Her participation facilitated the sales and the distribution of the film.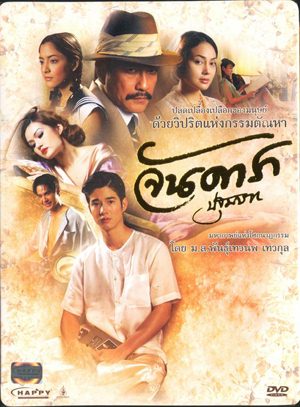 Year

: 2012



Thai title

:

จันดารา ปฐมบท




English title

: Jan Dara The Beginning



Rating

: 4/5


Director

: Pantewanop Tewakul



Main actor

: Mario Maurer,Phongphat Wachirabanjong,Chaiyapol Pupart,Kriengkrai Unhanan


Main actress

: Bongkoj Kongmalai



Buy now

:

Thai movie จันดารา ปฐมบท / Jan Dara The Beginning was released in year 2012 and lasts 2 hours. It features a beautiful picture as usual with director Pantewanop Tewakul. Khun Wang's wife, called Dara, just died during delivery. Khun Wang promises to remain single for the rest of his life. Nawat (Bongkoj Kongmalai) is the nurse hired to take care of the son. After 100 days of mourning, Khun Wang starts to behave very badly (สกปรก, ลามก) with women in his house. Nawat becomes his mistress. She is then pregnant. Khun Wang teaches his daughter Kaew to despise Jan (ไอ้จันทร์), who caused the death of Dara during pregnancy. Khun Wang hits him badly for this (ไม่ต้อง เที่ยง). Many years have passed. In year 1932, Jan (Mario Maurer) meets Aisin. Aisin has same face as his mother Dara. Ken (Chaiyapol Pupart) is Jan's close friend (เพื่อน รัก) and is a servant in their home. The movie happens same time as end of full monarchy in Thailand. Jan is a hard worker student and is not interested by girls. Since childhood, Jan and Ken have seen the father's depravation. Ken wishes to initiate Jan with women. He uses his girlfriend Soi (เปิดบริสุทธ์) to corrupt him. Aisin's father is played by Phongphat Wachirabanjong. Old lover Boonluang from Singapore comes to stay in Khun Wang's home. She has a handsome son, a young officer. Nawat is of course upset. Only Nawat protects Jan. Jan is looking for his sketch book so has to go to Boonluang room. She doesn't have the book anymore. It is with Kaew. Kaew, seeing the book, has dirty ideas so forces Ken to attach her and to make love to her. Jan misunderstands and believes it is a rape so he hits Ken. When Khun Wang goes home, he wishes to kill Ken. Jan opposes saying he is the one, who raped Kaew. Kaew also agrees this way. Khun Wang wishes to kill Jan and shouts that Jan is a son of robber (โจร) and not his own son. During the confusion, a domestic helper is killed as Nawat and Boonluang prevent Khun Wang to shoot Jan. Nawat is Jan's aunt and tells him the truth of her mother being raped by a robber many years ago. The mother, pregnant, had to marry with Khun Wang to hide the shame. Jan and Ken leave Khun Wang's home.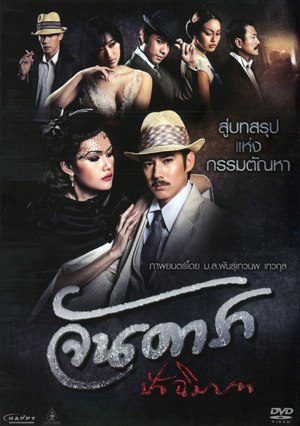 Year

: 2013



Thai title

:

จันดารา ปัจฉิมบท




English title

: Jan Dara The Finale



Rating

: 4/5


Director

: Pantewanop Tewakul



Main actor

: Mario Maurer,Chaiyapol Pupart,Kriengkrai Unhanan,Phongphat Wachirabanjong


Main actress

: Bongkoj Kongmalai



Buy now

:

Thai movie จันดารา ปัจฉิมบท - The Finale was released in year 2013 and lasts 2 hours. Jan and Ken flee to Phichit. Back to Phichit, Jana identifies that he is not a child issued from a rape but through a common agreed relationship. He learns the truth through his grandmother and a former policeman. Twenty years ago, the grandmother had no choice but to accept the conditions given by Khun Luang (สัตว์นรก) in order to marry Dara. Ken gets married and has a child. Jan keeps sending letters to Aisin. In Bangkok, Kaew continues to misbehave with men. She also starts a relationship with Krajon, the son of Bee. When Bee and Khun Luang are back from Singapore, Kaew and Krajon announce to them that they want to get married as Kaew is 3 months pregnant. The wedding is impossible as Krajon is the hidden son of Khun Luang with Bee. Bee never told the truth to them. Khun Luang has a serious attack. To solve this mess, Khun Luang has no choice but to ask Jan to marry Kaew. Per his grandmother's orders, Jan accepts but Khun Luang has to give back all the family belongings (land, house, company) that he took 20 years ago. Jan visits Aisin but she just died from disease. Jan is heart broken. Kriengkrai Unhanan is invited to the wedding of Jan and Kaew. Kaew keeps calling him Ai Jan (ไอ้จัน). Bee and Jan become lovers. Kaew is about to deliver her child (เด็กอัปรีย์). Being older, the child is identified as retarded. Jan wishes to have a child with Bee but she is now sterile. Khun Luang, seeing Jan and Bee making love, has another attack and becomes fully paralyzed. Aunt Nawat goes back to Phichit. Bee refuses to make love to Jan anymore as she was doing it only to protect Khun Luang. There was no real love with Jan. Upset, using a mask to hide his face, Jan rapes Kaew and hits Khun Luang with a whip. Ken also decides to leave for Pichit as Jan has become unlivable. War happens in Bangkok. US planes send bombs. Khun Krajon saves Khun Jan's life and dies. Khun Luang also dies. Kaew becomes a Tom, following Jan's aggression. Bee decides to leave the house. Kaew is pregnant with Jan. Complaining that Bee leaves her with Jan, Kaew gets suicide by jumping from high floor as she doesn't want to give a child to Jan. Jan ends up alone and never marries again.
---
Some Thai romance movies include some supernatural loves.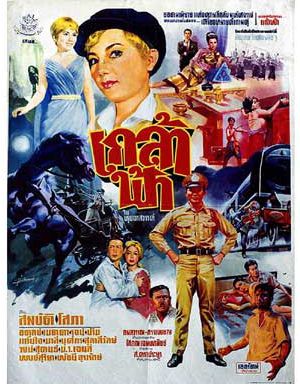 Year

: 1966



Thai title

:

เกล้าฟ้า




English title

:



Rating

: 1/5


Director

:



Main actor

: Sombat Methanee,Ruj Ronnapop,Adul Dulyarat


Main actress

: Sopha Sataporn,Prim Praphaporn,Metta Roongrat
Suey is a young man living in a remote place with a teen, an old blind grand mother and horses. He is a cart driver in Lampang. Roi (Sombat Methanee) is a policeman enquiring on local murders. Khun Kier is a doctor. The doctor wishes to know more about Suey. He finds a passage in his house that leads to a mysterious palace. Mixing reality and dream, the doctor seems to have been a king in previous life and has many women in his harem. Waen Fa was his official wife but he seduces Kae Son, a beautiful musician. Waen Fa has a son called Rom Fa. She is too excessive and wants her son's love only for her with no share with his wife Maria. Klao Fa is the daughter of Maria and Rom Fa. Maria is not able to support the pressure from Waen Fa and leaves the palace. She marries a doctor. Klao Fa has a personality problem as her parents have divorced and make their new life without her. Suey and Klao Fa are the same person. Finally Roi and Klao Fa marry together. This movie has old picture without much color. Soundtrack is new and there is no more Sombat Methanee's voice.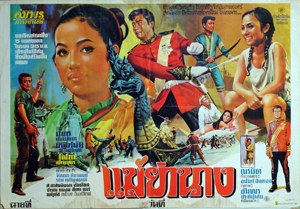 Year

: 1970



Thai title

:

แม่ย่านาง




English title

:



Rating

: 5/5


Director

: Neramit



Main actor

: Mitr Chaibancha,Sor Asanajinda,Sithao Petcharoen,Lor Tok,Preuhat Boonlong,Rong Kaomulkadee


Main actress

: Pissamai Wilaisak,Sopha Sataporn,Kaenjai Meenakanit



Buy now

:

แม่ย่านาง is a 1970 movie in VCD format featuring a still colorful picture and lasting 1h54mn. An additional 30mn reel (the reel number 2) is available through a Thai collector. Young lady Prang (Sopha Sataporn) is waiting for Jiaw (เด็กวัด) to give alms (ตักบาตร) to the monks but he doesn't come today. Jiaw (Mitr Chaibancha) is a temple boy with a kind heart (ใจบุญ) so seeing Jom and his friends trying to steal money donated to the temple, he tries to prevent them to rob money to buy alcohol. Unfortunately he gets accused by Jom so the abbot believes he is the robber. Jiaw is chased from the temple. He decides to sell food (ขายของ) with his two friends by navigating on a boat on river and canals. A mysterious spirit Mae Ya Nang (ผีหลอก) (Pissamai Wilaisak) on the boat bow helps them to get business. Jae (Kaenjai Meenakanit), a shop vendor, likes Jiaw a lot but he is not interested. Sithao Petcharoen has issues with his wife as she doesn't accept he has mistresses. Prang is seen as a young sister (น้องสาว) only by Jiaw. Jiaw seems to love his boat more than anything else despite strong interest from Jae and Prang. Jae is under a charm (ถูกเสน่ห์). A local villager has recruited a black magician (Lor Tok)(หมอผี) to make a love philter to seduce Jae. As uncle Man (พฤหัส บุญหลง - Preuhat Boonlong) breaks the spell, the black magician tries to kill uncle Man. As it fails, he sends Jom and his team protected by magic tattoos. Once again the spirit Mae Ya Nang (แม่ย่านางเรือ) protects Jiaw. In a previous life, the mysterious lady and Jiaw knew each other. The mysterious lady was a princess (ลูกหญิง). As the King's boat (พระองค์) was attacked by pirates, the King ordered Jiaw to take away the princess and to protect her. Jom, who was the head of soldiers, was treacherous to his King and killed him. Sor Asanajinda is the father of Jom. Before dying, Jiaw's friend succeeded to reach him and told the truth about Jom. Spade fighting happened between Jom and Jiaw. Jiaw won and Jom died (ทรยศ). The princess didn't trust the uncle Sor and asked Jiaw to organise their escape. Jiaw was split between his love to the princess and the love to the kingdom. The uncle Sor asked him to leave to preserve the princess. As he finally refused, he was killed by a guard. Knowing his death, the princess got suicide. Back to the present, the black magician sends Jom to kill Jiaw and the uncle Man. Prang and Jae are kidnapped by the black magician (อาจารย์). Jiaw shall avoid any bad actions (จ้องเวร จ้องกรรม) to hope being reunited with the princess one day. Jom kills the black magician as he made a love philter for himself to seduce Jae and Prang instead of doing it for Jom. Through a final fight with Jom, Jiaw is killed while protecting the abbot (in fact the king in a previous life) with his own body. Jiaw failed to protect the King in his previous life but in this life, he saves the monk. Jiaw and the princess are reunited in heaven. The 1h54mn movie is really great but the additional 30mn reel reveals additional details of the movie: Jae is upset that Jiaw prefers to sleep on the boat than with her. Jiaw helps to prevent a kidnapping of Jae. Sithao suggests Jom to visit the black magician to get spells. He is a bad guy always trying to abuse for his own purpose people asking for love philter. Through a sexy scene with an unknown veteran actress, the black magician makes a love philtre to seduce her instead of doing one for her to seduce back her husband Sithao. It is highly probable that this scene would have been cut on any VCD release. Seeing the power of love filters, they recommend the black magician to the villager trying to seduce Jae. As old movies were long, each actor / actress always had the opportunity to have his own long scene to please his fans. It is also very frequent to see Thai people onlookers in outdoor scenes such as market. It was additional potential customers to come watching in cinema to see if they were in the movie! The original movie features 5 songs but the DVD only features 1 song.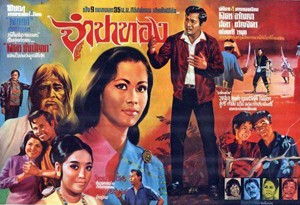 Year

: 1971



Thai title

:

จำปาทอง




English title

:



Rating

: 4/5


Director

:



Main actor

: Mitr Chaibancha,Chat Mongkolchai


Main actress

: Aranya Namwong,Wassana Chalakorn
A mother talks to her son Virathep (วีระเทพ) (Mitr Chaibancha). She tries to convince him to marry a young woman called Soraya (โสรยา) (Wassana Chalakorn) coming from a rich family also. Virathep is reluctant and flees from the house. Virathep is a former art student graduated in painting. Having a sip in a bar with a friend, Virathep helps a man (Chat Mongkolchai) beaten by a few ruffians as he was protecting a mother and his daughter. Virathep is welcomed in the mother's house. Virathep's mother is upset that he left the house. Around the forest near the house some tree nymphs (น้างไม้) wearing traditional Thai dresses and living in trees. While painting, Virathep hears Aranya (จำปาทอง) singing so he asks to do her portrait. Virathep's mother is still pushing him to marry. The original film is mute as it is in 16mm format but some songs can still be heard a bit as those parts were recorded in 35mm format. Virathep goes back to Bangkok and misses Aranya. They pray and go back to the past during Ayuthaya period. They loved each other but Virathep was killed during a fight with Burmese soldiers. Learning Virathep's death, Aranya died on the spot and her spirit (วิญญาณ) became a tree nymph. Will their love be successful this time? The mother and the girl fiancee to Virathep meet Aranya. Issues happens between them. The fiancee follows Aranya up to the forest but Aranya chases her away by making her clothes fly away. The fiancee realizes she is a ghost. As usual there are second comic relief roles in Mitr Chaibancha's 1960 movies. The mother and fiancee hire an expert (อาจารย์) to chase Aranya away. They put some magic cloth (ยันต์) on her tree to prevent her to enter it again. Aranya becomes invisible and plays tricks to the mother and fiancee. Afraid, the mother orders to cut all trees near Aranya's refuge. Meanwhile Virathep gets from another magic expert a potion. A fight erupts as Virathep tries to prevent ruffians to cut trees. Invisible tree nymphs help him as ruffians are numerous. After pouring the sacred water on Aranya, she becomes visible again. Aranya is now a human being also. First the mother rejects this union as she has a promise to fulfill with the fiancee's mother. But finally their love will win. The movie is 1h32mn left only as the last movie reel is missing. When Mitr Chaibancha came back from Hong Kong on 05 Oct 1970, a few sequences (when wearing old Ayuthaya soldier clothes) for this movie were filmed on the 06 October. Mitr Chaibancha died during an accident on 07 Oct during movie Insee Thong shooting.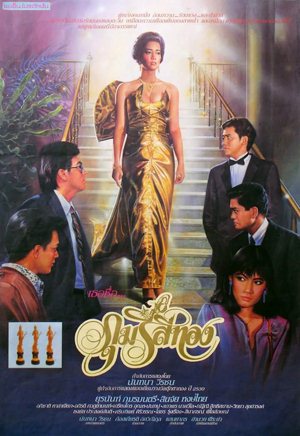 Year

: 1988



Thai title

:

ภุมรีสีทอง




English title

:



Rating

: 3/5


Director

:



Main actor

: Yuranan PamornMontri,Kriengkrai Unhanan,Apichat Halamjiak,Wittaya Sukdamrong


Main actress

: Sinjai Hongthai,Apiradee Pawaputanon,Natanee Sitthisaman,Sarinthip Siriwan
Nam Pheung (Sinjai Hongthai) and Payon are in love. Payon needs to go overseas to study. While rowing on a lake, a storm happens so they take refuge in a small cabana. They become lovers. On the day of leaving overseas, while meeting Nam Pheung at the train station, Payon is hit by a train and dies. Veteran actress Natanee Sitthisaman is the one who warns Nam Pheung. Shocked and while walking along the path, she is kidnapped by two songthaew drivers and raped. Shortly after their wrongdoing, they both die in a traffic accident. Nam Pheung's father is played by veteran actor Wittaya Sukdamrong. The movie ภุมรีสีทอง (the golden queen bee) is narrating the story of a woman that causes the death of all her lovers. Will she ever find true love? This movie received three Thai awards.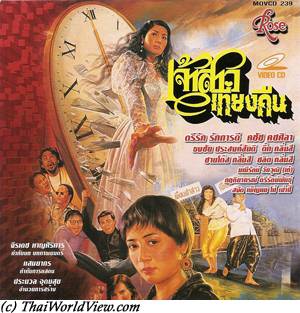 Year

: 1990



Thai title

:

เจ้าสาวเที่ยงคืน




English title

:



Rating

: 1/5


Director

:



Main actor

:


Main actress

: Trirak Rakkarndee
Two women love the same man but the jealous one get rid of her rival by killing her. But her ghost is back in order to take revenge and to prevent any woman to approach her bridegroom. Will she hurt her sister who is trying to help and console her bridegroom?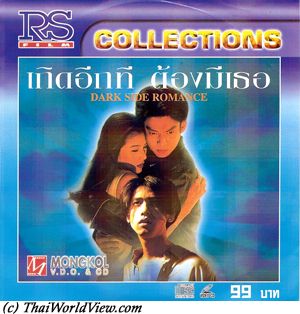 Year

: 1995



Thai title

:

เกิดอีกที ต้องมีเธอ




English title

: Dark side romance



Rating

: 4/5


Director

: Prachya Pinkaew



Main actor

:


Main actress

: Kullasatree Siripongpreeda



Buy now

:

Thai movie เกิดอีกทีต้องมีเธอ was released in year 1995 and lasts 1h51mn. Thaen feels bad because his girlfriend Bee just died. Thaen travels by bus. A lady called Phiang (Kullasatree Siripongpreeda) seats near him. The bus has an accident on the way to Chiang Mai. Both Thaen and Phiang die in the accident. They decide to continue to Chiang Mai. Humans cannot see them (วิญญาณใหม่). Once a body is cremated, the spirit can pass through objects. Phiang was coming to see her boyfriend Chen but he is now leaving to Bangkok for her funerals. At Chiang Mai train station, they find other spirits. They told them Thaen and Phiang must be back at the place they died in seven days in order to be reincarnated. The spirit needs to be free of any earthly attachment. Some rogue spirits, sicking vitality (พลังชีวิต) from other spirits, chase after them but Thaen and Phiang succeed to escape and take the train to Bangkok. Phiang looks after Chen. Phiang is going to her own funeral. Chen tries to be in contact with Phiang as he feels she is still around. Phiang is able to tell him that she is chased (ถูกตามลา) by other spirits. Chen and Thaen's friend drive a car to bring them back to Chiang Mai. They finally succeed to get back to the accident place despite the rogue spirits harming them. Real love occurs between Phiang and Thaen as Thaen is ready to sacrifice his own rebirth to save her.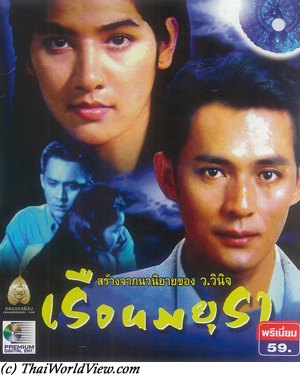 Year

: 1996



Thai title

:

เรือนมยุรา




English title

: House of the Peacock



Rating

: 4/5


Director

: Cherd Songsri



Main actor

: Saranyu Wongkrachang,Ruj Ronnapop


Main actress

: Darin Kornsakoon



Buy now

:

In 1775, a Brahmin priest casts an eclipse. It was during Ayuthaya period when fights with Burma were frequent. Lady Nok Yung and her suite stays in the house of the Peakcock (เรือนมยุรา), which is now out of the time realms and out of reach of Burmese soldiers. Lady Nok Yung made a wedding promise to a noble soldier called Wai Wongsa. Nowadays, on the way to Ayuthaya, a young man, called Pranai, just avoids bumping in a young lady crossing the road. She smiles and disappears in a tree. Is she a ghost or a tree spirit (นางไม้)? Pranai has same face as noble soldier Wai Wongsa. Pranai is the owner of a Siam antiques shop. Today it is Pranai's birthday. He is still single. His sister tries to marry him but to no avail. His sister tries to push young lady Fai. Pranai still wants to meet the mysterious girl. He stays near the tree. Nok Yung needs food for 20 people for one month. Pranai agrees to give but wants to know and understand. Nok Yung agrees to visit Ayuthaya area. She realizes that Sri Ayuthaya was burnt down. Nok Yung asks Pranai not to visit her again. Pranai learns meditation to see his past. Pranai's sister and Fai believes he is possessed by a ghost (ถูกผีเข้า). They use a sorcerer (หมอผี) to cure Pranai and chase the ghost. Meanwhile Arawee, a local young actor, lies to Yipoo, another lady staying in the house of the Peakcock, in order to seduce her by pretending he is an Ayuthaya soldier. He succeeds to enter in the house and so the spell protecting the house is broken. Inhabitants have to flee. The sorcerer and acolytes fight over the gold. Fai's father, called Fa Feun, prevents the robbing. Pranai helps Nok Yung and invites her in his home. Fa Feun loves Nok Yung and gives money to Pranai in order that he breaks up with Nok Yung. Pranai refuses and is looking for a way to send back Nok Yung into the past. Arawee is Waiwongsa's current reincarnation. Believing into karma (กรรม) and in order not to break her promise done 221 years ago, Nok Yung accepts to marry Arawee. Pranai is in despair. Finally Fa Feun convinces Arawee not to marry as Arawee is more interested in his acting career. Pranai is not willing to marry Nok Yung anymore as he believes she is too nice to live in 20th century. The house goes back to the past but Nok Yung finally stays happily with Pranai. This movie questions the old-fashioned morals that are being lost in modern Thailand. Some traditions are getting lost (smile, not speak loudly, no lies). Bangkok development threatens the country-side. We need to take care more of our heritage. The trailer is the TV serie shot in 2540.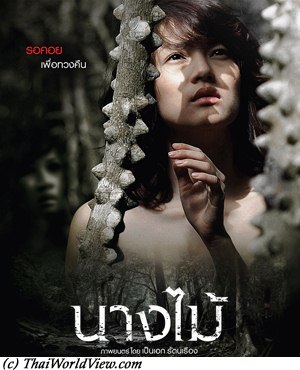 Year

: 2009



Thai title

:

นางไม้




English title

: Nymph



Rating

: 4/5


Director

: Pen-Ek Ratanaruang



Main actor

: Nopachai Chaiyanam


Main actress

:



Buy now

:

According to Thai animist beliefs, นางไม้ or "NANG MAI" is a female spirit inhabiting a tree. The movie starts with two men chasing a woman in a jungle. The camera wanders in the jungle. Only screams from the lady can be heard. Then no sound anymore. The camera continues to wander in the jungle then reaches a waterfall where the two men corpses are floating in a pond. Nok and Mae are married since a few years. Their wedding is slowing down. They go in the jungle a few days for camping. Nok is only interested in photographing trees. He finds a specific tree and starts to caress it. Mae also wanders on her side. Nok seems to be troubled as he even lost his glasses found by Mae in the jungle. One night her husband disappears. She goes to see the national park rangers. They have no explanations on the disappearance as normally beasts don't attack humans. As she wishes to stay one more night in the jungle, a ranger gives her sacred Buddha amulets for protection. She keeps calling him on mobile phone and hears weird sounds. While searching at night time, she finds one of his slippers. She collapses and is found by the rangers at morning time. Mae's boss, Korn, arrives and brings back Mae to Bangkok. They had an affair. The same evening Korn talks to his wife Noi to announce he breaks up. But Nok miraculously comes home also. He now behaves strangely, buy many trees and immaculate Mae with soil. Mae is not in hurry anymore to break up with Nok. There is a mix between Nok and Korn presence in Mae's home. Was Nok really back? She goes back to the forest to try to cut the tree. The end is resolved by the affair between Mae and Korn ending for good as requested by the spirit. Nok goes back to the forest to stay with the spirit. This movie is about about couple relationship. Nymph movie was screened in the 'Un Certain Regard' section, a category reserved for daring or unconventional works.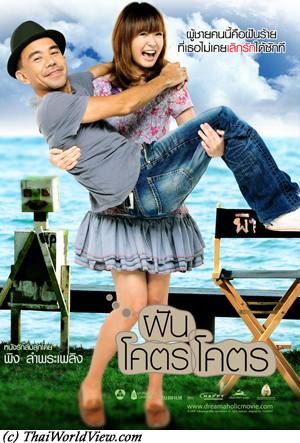 Year

: 2009



Thai title

:

ฝันโคตรโคตร




English title

: Dreamaholic



Rating

: 2/5


Director

: Ping Lumpraploeng



Main actor

: Ping Lumpraploeng


Main actress

:



Buy now

:

A street spectacle humorist (Dang), is chased by a rich and young film star (ดารา) coming to his home in Mercedes SL. Her name is Ple and she likes older men. Getting interest from Ple is like a dream for Dang as he has been single since his wife died 10 years ago. He tries to abuse from the situation. Meanwhile the reality is mixed with his own dreams. In his dreams, he is a film star. He is navigating between dream and reality not knowing which one is true. Dang behaves badly in his dreams when he is a film star. This romantic comedy highlights that we should take the chance before time is over. Ping Lumpraploeng's previous movie was Loveaholic (โคตรรักเอ็งเลย). It is famous for for having spectators laughing and crying at the same time. Ping Lumpraploeng tries a similar formula with Dreamaholic with moderate success.
---
This Thai Romance movie page 5 contains 27 records.
ThaiWorldView movie database contains 1519 records.
---
---