THAI SOCIAL MOVIES
Increase or decrease font size for easier reading : A+ A-
Social problem movies (หนังสะท้อนสังคม) produced in the 1980s presented various problems in Thai society. Most of social problem movies (หนังสะท้อนสังคม) present the problems of poor people such as prostitutes, peasants, and slum-dwellers. The protagonists are usually poor people in rural and urban areas. To fight against poverty and support their family, some women become prostitutes. This section also includes some foreign documentaries linked to prostitution in Thailand.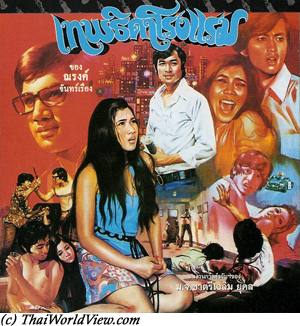 Year

: 1974



Thai title

:

เทพธิดาโรงแรม




English title

: The Angel



Rating

: 5/5


Director

: ChatriChalerm Yukol



Main actor

: Sorapong Chatree,Somphob Benjatikul


Main actress

: Wiyada Umarin
It is about Malee, a Thai country girl, coming to Bangkok and forced to prostitution. She is the hotel angel as she is very kind to everybody. This movie shows the difficult life of prostitutes, i.e. being beaten by pimps, visiting unofficial abortionist in order to terminate unwanted pregnancy, committing suicide, being forced and humiliated by customers, fearing Police, difficulty to have a stable relationship with a man, getting deadly diseases, being denigrated by Thai society. Three girls are depicted. One girl, Malee, all you have to do is give her one smack and she's willing to be a prostitute. She said it's better than working in the fields. The phrase "มาลีเป็นกะหรี่ที่สวยที่สุด" (Malee is the most beautiful prostitute) remains one of the most famous iconic sentence from this movie. It is said by Malee's pimp (Sorapong Chatree). Another girl, you have to beat her up quite a bit before she's willing to be a prostitute. And the last one, the third girl, no matter what you do she won't be a prostitute. She'll jump down, kill herself, but you can't change her. Malee continues to stick to this life because she can have a place to live, food, money to send to her parents in order to build a house. In a famous movie sequence, Malee opens her blouse many times to show her nudity to customers and then her father in the same gesture opens his new home windows paid by Malee hardship. But Malee understands that she has no future as her youth is rushing away. She is not interested by becoming a pimp and grab younger girls so she decides to study tailoring. Being cheated by her boyfriend but having her diploma, Malee can hope for a brighter life and quit this job. Finally she reclaims her dignity. ChatriChalerm Yukol lived for nine months in a brothel when he was writing "The Angel". During the popular uprising on October 14 1973, ChatriChalerm Yukol was shooting this movie, then took the camera out and filmed the demonstration on Ratchadamnoen Avenue. The footage was inserted in the film and was a big success when the movie was shown. This movie has also been registered as National Heritage per the 2016 list released by the Thai Film Archive.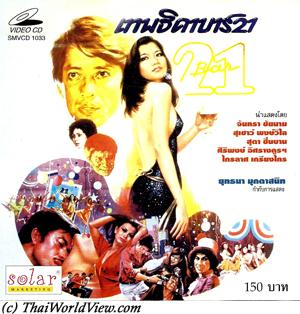 Year

: 1978



Thai title

:

เทพธิดา บาร์ 21




English title

: The Bar 21's Angel



Rating

: 5/5


Director

: Euthana Mukdasanit



Main actor

: Suchao Pongwilai,Krailat Kriengkrai


Main actress

: Chantra Chaiyanam



Buy now

:

In Bar 21, customers can forget their problems thanks to the beautiful ladies and alcohol (มาเที่ยว). Hostess Thida quits her job to stay with her four years boyfriend, Parn. Parn is younger than Thida about five years. She leaves her job to stay in Chiang Mai. Girls working in Bar 21 are called "Partner". Their dream is to be a normal person also but they are often denigrated (ดูถูกผู้หญิง). They need to get money (เกิดมาจน) but can enjoy a certain kind of freedom (เสรี). All are waiting for a new life (ชีวิตที่ดีกว่า), waiting for the day they will quit Bar 21 (ชีวิตใหม่). Linda arrives in Chiang Mai just on time for Parn's university diploma ceremony. She offers to him a beautiful watch and cash money but Parn seems to have forgotten his promise to marry her when he gets the diploma (จบแล้ว). He refuses to fulfill his promise. He is now a diploma university holder so he cannot marry a "partner" as he has now a certain status (เกียรติ). Despite she pays for his studies and now stops working for him, he refuses this love saying he cannot (ไม่มีบุญคุณ). He took advantage of her during many years. Marrying a "partner" would stain him for the whole life. He doesn't want to offer her a chance of redemption. In the train back to Bangkok, Linda is harassed by three young men taking advantage that she is a "partner" so an "easy" lady. She meets in the train two other young farmers (ทำนา), Sing and Rot, coming from countryside (บ้านนอก) and going to Bangkok to find better jobs. Sing and Rot have arguments and fight with the three young men to protect Linda. Rot is shot. The three young men cannot escape punishment despite one of them, Akom, is a son of parliament member. Linda is back to work in Bar 21. Sing is lost in Bangkok (เมืองหลวง). Sing is hungry and has no money. He meets a little girl living in a slum (สลัม). She is a small robber. Sing helps them to sell opium in the slum. Sing and the family are caught by the police (ผมไม่ผิด). There is analogy between countryside people coming to Bangkok and Linda, the "partner". They are all doing low cast jobs. Linda meets a son of a rich family, Thanong. He is really nice to her and invites her to his birthday. Linda starts to dream again (อาจเป็นคนนี้). She has a lot of fun (ดื่มเหล้าเก่ง) and happiness during this evening. After the party, Thanong asks her to help his brother Akom, who is now in jail. She should wrongly testify in front of a trial. She understands that everything was a lie. Thanong, ผู้ดี, just tries to use her. As she refuses to lie, strong arguments between values of poor people, "partner" and rich people are bitterly raised. She refuses money offered to her in order to lie. Back home, she is attacked at nighttime by two ruffians. An old man (ท่าน) helps her but he is in fact Akom's father. He succeeds to convince Linda by playing on her motherhood feeling, the possibility to do a good action and become Angel (เทพ) Thida. In the police station Linda accuses Sing. Poor people are in hell and rich people are in heaven because of money difference. Akom's father gives money to thank her but she doesn't want money but social recognition. Sing flees from police station and goes to see Linda so that she tells the truth at the trial. Sing is poor but kind hearted. She accepts as knowing she has been deceived by rich people. As Thanong just visits Linda to abuse her, Thanong and Sing fight. Sing is shot by the police. It is a dark and sad movie about poor and uneducated people abused by rich Bangkokian people. Of course Thanong stops visiting Linda. It is more a showpiece than a social study, the film is nevertheless remembered for its undaunted subjects. The film was not successful at box office but received good reviews and two awards (ตุ๊กตาทอง). It is a drama social move mixed with a musical comedy as many songs are featured. A Thai TV drama serie based on the same story was released in 1990.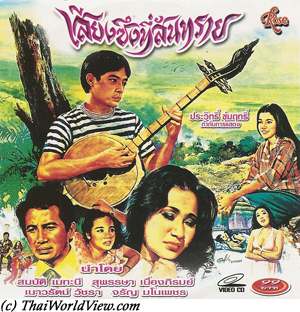 Year

: 1980



Thai title

:

เสียงซึงที่สันทราย




English title

:



Rating

: 4/5


Director

:



Main actor

: Sombat Methanee


Main actress

: Supansa Nuengpirom,Naowarat Watchara,Sarinthip Siriwan



Buy now

:

In North of Thailand, a mother has got two daughters, Pim and Kaew. Pim has been a prostitute and has now a new boyfriend. Kaew is in love with a poor peasant. The mother pushes Kaew to go to Bangkok during one year to be a prostitute in order to buy her a house and pay her debts. Pim tries to hinder her mother but has to go to Bangkok. In Bangkok, she discovers that her boyfriend is already married. She also discovers that she is sick with leprosy. Meanwhile Kaew follows her mother's order and goes to Bangkok to be come a prostitute. Pim's boyfriend left her and now takes care about Kaew. Knowing this, the boyfriend's wife throws acid on Kaew's face. Nobody becomes happy. This movie shows the good view (girls going back to their home with nice clothes, gifts to family, money to buy house) and the sad view (girls beaten by pimps, forced to have many customers and getting diseases). It also emphasizes the cruel dilemma, i.e. stays poor or loses dignity but becomes rich.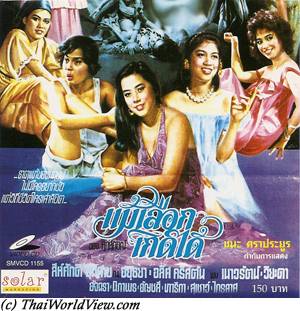 Year

: 1982



Thai title

:

แม้เลือกเกิดได้




English title

:



Rating

: 4/5


Director

: Chana Kraprayoon



Main actor

:


Main actress

: Naowarat Yooktanun,Wiyada Umarin
This movie is about prostitutes's hard life, i.e. rape, violent pimp, having a baby with no father, their life without hope and good future, the society disdain, their life as sex objects and without any consideration from their customers, the "MAMASAN" forcing to serve too many customers every night, the sadness of being old and still a prostitute, young prostitutes' suicide. One day a prostitute with a baby quits the bordel to live with a man, who really loves her. Unfortunately he is a killer ("MEU PEUN" - มือปืน). Will she ever find happiness?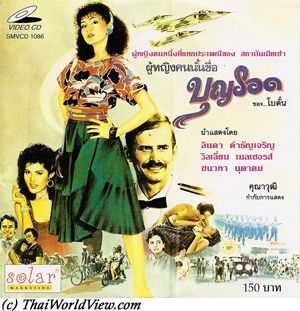 Year

: 1985



Thai title

:

ผู้หญิงคนนั้นชื่อบุญรอด




English title

: Her name is Boonrawd



Rating

: 4/5


Director

: Wichit Khunawut



Main actor

:


Main actress

: Linda Khatancharoen,Sarinthip Siriwan
Boonrawd is coming from a poor Isan family but she is proud and wants to succeed in work and family. During Vietnam war she works in a Pattaya restaurant and also opens a small bakery. An American officer, who speaks Thai language, wants to become her friend as he appreciates her strong spirit and mind. She faces the discrimination of prostitutes (Boonrawd is strong minded and refuses to become a prostitute for easy money), American GIs (they think all Thai women can be bought), Thai people (discrimination when she is seen with the American officer). Boonrawd faces pressure from her mother who wants her to become a prostitute (same as her sister) in order to pay her mother's lottery bills. She finally overcomes all difficulties and marries her American officer.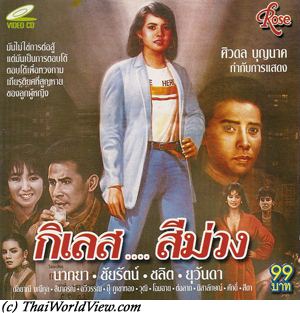 Year

: 1987



Thai title

:

กิเลสสีม่วง




English title

:



Rating

: 2/5


Director

:



Main actor

:


Main actress

: Nardtaya DaengBunga
It is about of feminist association fighting for women rights. They help women forced to prostitution, women beaten by their drunk husbands, women raped in police jails. They strongly punish the men doing bad acts. Their gaining popularity annoys a local felonious politician. This one is using gunmen to get rid of the association. Can they win?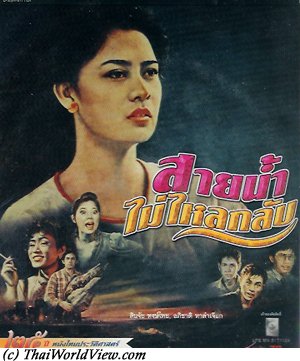 Year

: 1987



Thai title

:

สายน้ำไม่ไหลกลับ




English title

:



Rating

: 5/5


Director

:



Main actor

: Apichat Halamjiak,Somsak Chaisongkram


Main actress

: Sinjai Hongthai,Piathip Kumwong,Linda Khatancharoen
A young lady called Feun (Sinjai Hongthai) is working in a hairdresser shop and washes customers' hair. Khun Warut (Apichat Halamjiak), one customer, has interest in Feun. Phaen (Piathip Kumwong), Feun's stepmother, tries to push her to go out with Warut. Feun's father (Somsak Chaisongkram) indulges in alcohol and is seriously sick. Aniwat is Feun's close friend and wishes to marry her when he finishes his studies. Pressured by Phaen, Feun accepts a dinner invitation from Warut. Aware of this, Aniwat feels betrayed. Warut asks for Feun's hand. Phaen pushes her to accept. Troubled, she wishes to talk to Aniwat. But seeing him with another lady, she finally accepts Warut's offer. Warut starts to be more daring with Feun knowing they will marry soon. The wedding shall be a very small ceremony without Warut's parents. In fact, Warut is already married with three children. Phaen was aware. Warut and Feun don't understand each other. Feun likes to stay home but Warut likes to go to disco. Phaen is not interested in Feun's father but only in money that Warut gives to Feun. Warut doesn't come back home a few days already. While doing shopping with Warut, Warut and Feun meet Warut's wife. Feun understands that Warut lied to her (โลกลวง). She flees but is hit by a car. She is rescued by a DJ who introduces her to another lady called Luang. Feun cannot go back home as she doesn't want to be forced by Phaen again or to meet Warut again. Luang is working as a call girl. First Feun looks for normal jobs (waitress) but she still faces men harassment. She cannot find proper jobs (อยากเป็นคนดีแต่สังคมไม่ยอม). So she has finally no choice than working same as Luang as she is worried about her father. It is a difficult job as some men are crazy or violent. She enters in a whirlpool of sex and easy money. One day, one of her guest is Aniwat! Aniwat still believes Feun is a good person despite doing this job (ต้องการเงิน). Aniwat still loves Feun. Feun accepts to start a real love relationship with Aniwat. Their love is spoilt by meeting some former customers while dining and by a liver disease due to alcohol high level of consumption. Aniwat's friend tries to break this relationship. Feun's friend finds that Aniwat is already fiance with a teacher. Knowing this, she indulges in alcohol again and ends up in hospital. Despite cutting part of her liver, she will not survive long. She leaves the hospital and stays near the sea. Knowing Aniwat's wedding, she ends up in hospital again. Her friend forces Aniwat to visit her to hospital so that he can understand her real love and the pain he caused her. Feun dies in front of him. Movie สายน้ำไม่ไกลกลับ highlights society hypocrisy as it is allowed or understood that a man can have multiple mistresses but the opposite is not accepted. It highlights a society where men harassment is still excessive.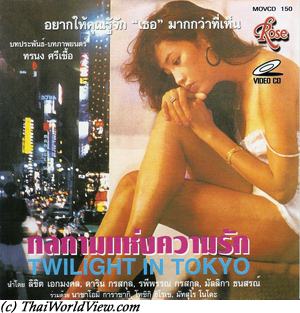 Year

: 1989



Thai title

:

กลกามแห่งความรัก




English title

: Twilight in Tokyo



Rating

: 3/5


Director

: Toranong Srichua



Main actor

: Likit Eakmongkol


Main actress

: Darin Kornsakoon
It deals about a young Thai lady, Waew, sent to Japan to become an escort girl (โสเภณี). Her parents are poor farmers. Waew is the elder sister and has decided to sell her body in Tokyo in order to support her parents and younger sister (น้องสาว). She discovers the sad life there, the huge debt to pay back. Anyway she supports her family by sending money back home. She wishes her father to build a new house instead of the shack, in which they are living. Homesick, she goes back home and discovers that her father has lost all the money she has sent due to unscrupulous investments and gambling (การพนัน), her mother has become a nun (บวชชี), her sister is partying everyday after learning that Waew is a prostitute. The younger sister's moraly is tarnished by living in Bangkok. Money has destroyed her family (เสียผู้เสียคน). Fed up by her family who doesn't understand and compassionate about her burden, she goes back to Japan. Disappointed by her pimp's selfishness, she kills herself. In 1989, the movie got Thai movie "best scenario" award (รางวัลตุ๊กตาทอง). In 1980s many Thai girls went to work as prostitutes in Japan so director Toranong Srichua wanted to show their fate through his movie. He went to Japan with a 32 people team during 15 days to shoot the movie. Even a Yakusa gang (แก๊งยากูซ่า) helped to close Shinjuku street (ถนนชินจูกุ) for 5 hours. Actress Darin Kornsakoon became famous thanks to this role. In 1980s, movies were shown in a limited number of cinemas in Bangkok. Toranong Srichua's movies often got only secondary grade cinemas but thanks to "Twilight in Tokyo" movie, the film was released in first grade cinemas and it was full at each session.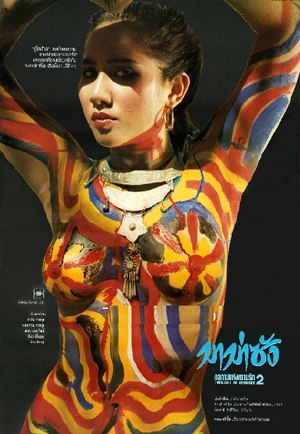 Year

: 1990



Thai title

:

มาม่าซัง กลกามแห่งความรัก 2




English title

: Twilight in Bangkok



Rating

: 1/5


Director

: Toranong Srichua



Main actor

:


Main actress

: Darin Kornsakoon
This is the second opus of "Twilight in Tokyo". The Thai lady is not dead but only hurt. Back to Bangkok, she takes revenge over her previous pimp by having her own business.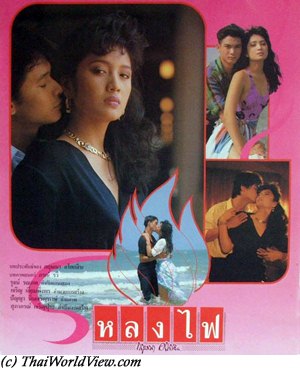 Year

: 1990



Thai title

:

หลงไฟ




English title

:



Rating

: 3/5


Director

: Ruj Ronnapop



Main actor

: Santisuk Promsiri,Waruth Woratum


Main actress

: Passorn Boonyakiat



Buy now

:

Kaew is a beautiful university student but she is coming from a poor family. Accompanying a friend for job interview, she meets a lady, Waew, that proposes her to work as escort girl and promises her easy money and life. Kaew has to leave her aunt's house as her uncle is trying to take advantage on her so she accepts to work as escort girl and gives 40% to the mamasan. She gets 30 000 Baht for the first night for the loss of virginity. She gets used to easy money. She starts to get advantage of the men that wish to marry her, her office boss and her university friend, Chon. Both of them buy her gold bracelets. Chon is a nice guy coming from country side (Santisuk Promsiri plays again a character similar to Boonchu) with only a 5000 Baht monthly salary. He even sends her money to prepare the dower. A german customer, Jacob, also proposes to marry her in Germany. But Kaew has higher goals. She is used to easy money and doesn't want to lower down her status. She starts to seduce the son of a rich family, who is already fianced. He rapidly gets fond of Kaew. The parents reject this love and enquiry on Kaew's side activities. They cut their son pocket money and his car. The relationship gets tense with Kaew as she is the one to support to him. They finally break up. Meanwhile Chon and Kaew's office boss understand they have been tricked and the police catches her. Kaew tries to have a new life but fails. Being too old for working with Waew as escort girl, she gets trapped with a brutal local pimp, who beats her and forces her to see many customers. She only escapes this hell by stabbing him. Wishing to get an easy life, she only gets pain. She finally leaves for Germany by answering positively to Jacob's offer. Arriving there, some local men take her passport and money. She understands she has been tricked in a local prostitution ring again. She needs to work hard to pay back her debt to Jacob. Fed up by this life with no future, she starts to deeply upset the local prostitution ring. Finally Jacob strangles Kaew. This movie shows the bad situation in which young Thai ladies can be trapped if they choose easy money way of life.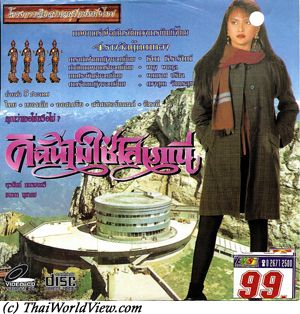 Year

: 1993



Thai title

:

ดิฉันไม่ใช่โสเภณี




English title

:



Rating

: 3/5


Director

: Payoong Payakul



Main actor

: Yuranan PamornMontri


Main actress

: Thida Thidarat



Buy now

:

It is about a young Thai lady leaving her country and going to Germany in order to find a husband through a wedding agency. It shows the harsh life of those ladies dreaming of a prince, the abuse of such wedding agency, the bad behavior of those foreigners wishing to "try" their wives before any wedding. This movie has got four Thai awards and was shot in five countries, i.e. Thailand, Germany, Italy, Switzerland and Austria. Thida Thidarat got the best actress award for this movie.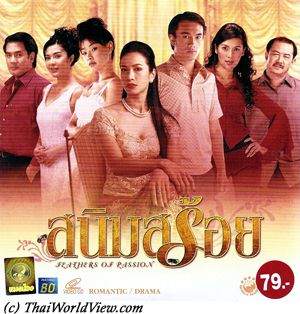 Year

: 2003



Thai title

:

สนิมสร้อย




English title

: Feathers of Passion



Rating

: 3/5


Director

:



Main actor

:


Main actress

:



Buy now

:

This movie is adapted from Thai author Rong Wongsawan's best-selling novel. It follows the lives, loves and lusts of men and women whose relationships start in a high-class brothel 50 years ago. This post-war story focuses on love and relationships between the brothel madam, a pimp, young prostitutes and customers. It relates many stories about customers that come for initiation, customers that are in a lovestory with a girl but suffer because she has to go also with other customers to gain money, customers that marry girls, girls who get diseases... The movie highlights the tough existence for those ladies without a livelihood. The story is set when the Thai government was planning to outlaw prostitution. Home-style brothels were flourishing without any competition from massage parlours and entertainment complexes. Many women were driven to prostitution to support themselves as a result of poverty and basic education. 50 years ago Thai society encouraged women to stay at home. No need to study as the future husband shall take care about them.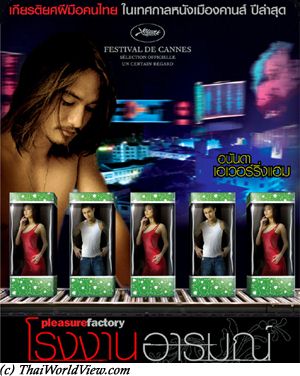 Year

: 2007



Thai title

:

โรงงานอารมณ์




English title

: Pleasure Factory



Rating

: 4/5


Director

: Ekachai Uekrongtham



Main actor

: Ananda Everingham


Main actress

:



Buy now

:

This Singaporean-Thai docudrama was shot in 2 weeks in red district Singapore Geylang. It is about two groups of people, the pleasure seekers and the pleasure providers and how their lives cross and interact. Three stories take place in parallel. In first story, two friends come together to brothel but one of them is too shy to select and go with a girl. His friend pushes him to get some experience as first time initiation. Finally he chooses a girl from Mainland China. He enquiries why she has to do such job. Her father died so she needs to support her home. Both are crying. Will she see him again? A girl shall not love her customer. In the second story, a man follow up a young girl to a hotel room. The girl is joining an older woman, who is already with a customer. It is related to initiation of the young girl as a prostitute. She discovers the brutaly of the job but gets some support from the older jaded woman. There is a temporary communion between the man and the two ladies. The jad woman listens to love songs as love is not possible for her and cries. The man brings the young girl home but the wallet is still the transactional basis. In third story, one girl has a rich patron but she is not happy. She finally brings a young guy, making his living by singing songs in the streets, with her. Both of them are drop-outs. She always gives pleasure but this time she receives. In the old days, the Geylang area used to be populated by processing factories for the coconut plantations. These days, the machines are still running at full steam but producing pleasure for those seeking it, night after night. What would happen if the pleasure factory stops and if humans stop being pleasure seeking / giving machines? Due to censure, two minutes were cut.
---
Some social problem movies (หนังสะท้อนสังคม) deal with male prostitution. First movies on this topic were ผัวเช่า and ผู้ชายขายตัว in 1974 during the three years democratic window between 1973 and 1976.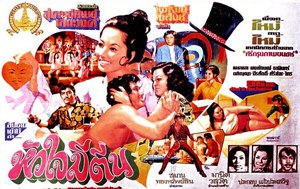 Year

: 1972



Thai title

:

หัวใจมีตีน




English title

:



Rating

: 3/5


Director

:



Main actor

: Phairoj Jaising,Krai Kanchit,Jamroon Nuatjim


Main actress

: Metta Roongrat,Wilaiwan Watthanaphanit,Sukhonthip Saneewong
Thai movie หัวใจมีตีน was released in year 1972. It features Phairoj Jaising as main actor and as Sukhonthip Saneewong (สุคนธ์ทิพย์ เสนะวงศ์) as main actress. The movie is lost in Thailand but a sequence of 6 minutes 30 seconds remains to be seen. Other actors and actresses are Metta Roongrat, นงลักษณ์, Wilaiwan Watthanaphanit, Krai Kanchit, จีระศักดิ์, ธานินทร์, อภิญญา, จำรูญ. Sukhonthip Saneewong is introduced as a new actress in this movie. She was born in 1952. This movie is about a musician but due to back luck, he ends up being a male prostitute (ผู้ชายขายตัวหรือผัวเช่า). The main actress is a bar singer trying to push the musician to write songs for her in order that he quits his current job. หัวใจมีตีน is the first song written by the musician and it becomes famous.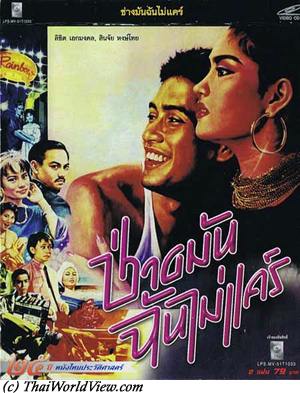 Year

: 1986



Thai title

:

ช่างมันฉันไม่แคร์




English title

: I don't care



Rating

: 4/5


Director

: Pantewanop Tewakul



Main actor

: Likit Eakmongkol


Main actress

: Sinjai Hongthai,Wiyada Umarin,Thitima Sangkapitak



Buy now

:

Pim is a very busy business woman. She is independent, smokes, drinks beer. She wears men clothes like suit and tie. She is a modern 1980s emancipated woman compared to Thai traditional standards. She only believes in herself. A young man called Bird and his friend are living together in a small flat. They have always no money. Pim needs a new model for an advertisement and is looking for one in Siam Square. She meets Bird in a cafe. Pim has a suitor called Komsan, who asks her for wedding. Pim is 30 years old already but she doesn't want to follow traditional ways, i.e. have husband, have children, stop working and stay home. So she refuses. Bird is recruited for underwear commercial shooting. Bird is younger than Pim. He follows Pim to a camping on Pattaya beach. Bird's mother needs 5000 baht. Bird needs to work again. He is Chippendales dancer in the "Rainbow" bar, a club for women, and then male prostitute for ladies. Bird is coming from Northeastern Thailand and has almost no studies knowledge. He is impressed by Pim (แม่โฆษณา) and her leadership. Pim considers herself same as prostitute selling her brain. Bird is fed up with his life as a gigolo. He only meets crazy ladies looking for sex only. One night, Komsan tries to force Pim but Bird chases him. They both tell their life. Pim has been traumatised by the Thai students massacre on 6 October 1976. Pim met Komsan during those events and loved him. But then Komsan changed a lot being mainly interested in money (เงิน) and power (อำนาจ). Regarding Bird, he is a farmer son and his real name is Wang. Pim has choice between Komsan, rich man and ละครพระเอก, and Bird. She is looking for a simple man (คนง่ายๆ). A love story starts between them. Bird is a good hearted man. Bird is often treated as a buffalo (ควาย) in his job as he is coming from countryside and doesn't have high studies knowledge. Bird leaves his job but then needs to do it again to get money to cure his sick friend. Pim's friend knows Bird. Due to jealousy, she announces Pim's relationship with Bird to Pim's boss and Komsan. But Pim doesn't care (ช่างมันฉันไม่แคร์). She quits her job and decides to stay with Bird despite society and family reprobation. The particular punch of this story, apart of from its depiction of low life in Bangkok, was provided by the fact that Pim has been a member of the young radicals in the 1970s. The 6 October 1976 students massacre in Thammasat University has never been fully investigated. When Pim meets old friends, they sing old songs for life (เพลงชีวิต) reminding them about the 1976 events.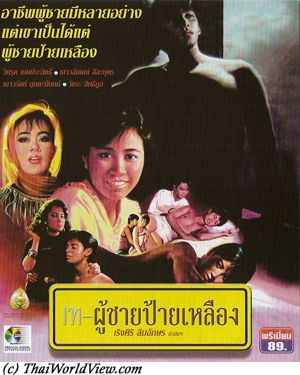 Year

: 1987



Thai title

:

เท-ผู้ชายป้ายเหลือง




English title

:



Rating

: 3/5


Director

:



Main actor

:


Main actress

: Naowarat Yooktanun,Sarinthip Siriwan
Yut is a young man selling his body to other men. He has no choice based on family survival necessity (ความจำเป็น). He is living with other men having the same job. Gik is also a poor lady student. She meets Pon that declares his love to her. Gik gets pregnant but Pon doesn't want to keep the baby. Yut meets Da (Naowarat Yooktanu), a lonely woman, who is rapidly fond of him. Da invites him to stay with his mother in her home and also pays for his studies. Da has already a baby. At the university, Yut meets another young lady called Mem. Mem is just a friend but Da is very jealeous and her love is excessive. Da is the mistress (เมียน้อย) of an older man, who is Mem's father! Yut decides to quit Da, who cannot bear it. She eats pill to die. She legates her money to him so that he can build his future through study and not through selling his body. Everybody has its own secrets and own problems. Hapiness doesn't come easily. Everybody want love and warmth (อบอุ่น). This movie highlights love misunderstandings and twisted loves between friends, children and parents.
---
Some social problem movies (หนังสะท้อนสังคม) deal about contemporary problems such as drug addiction and Aids.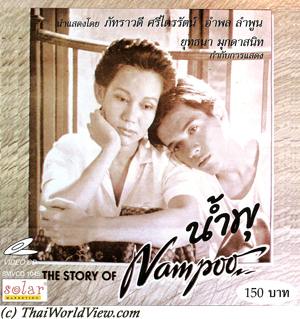 Year

: 1984



Thai title

:

น้ำพุ




English title

: The story of Nampoo



Rating

: 4/5


Director

: Euthana Mukdasanit



Main actor

: Amphol Lumpoon,Suchao Pongwilai


Main actress

:



Buy now

:

It deals about a young man entering the drug realm and his lapse until death. It is a real-life story of a teenage heroin addict, who is neglected by his middle-class parents. The former rocker turned screen star Ampol Lumpoon received Best Actor Awards for this movie. In 1984, Ampol Lumpoon snatched Best Actor award at The First Southeast Asian Film Festival for his role as a drug-addicted teenager. He eventually made his name known in 1984 with Namphoo, which broke the blockbuster record held by the classic Phlae Kao and made Bt17 million at the box office. It was to be his most successful movie. This movie was praised by critics, academics and intellectuals.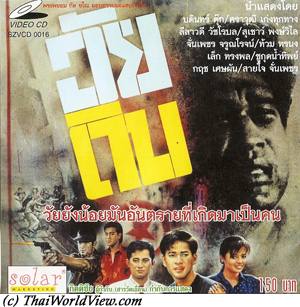 Year

: 1989



Thai title

:

วัยดิบ




English title

:



Rating

: 4/5


Director

:



Main actor

: Suchao Pongwilai


Main actress

:
Four friends at university just get their diploma. Among them, the main characters are a young lady called Na and a young man called Panit. Panit's father is a policeman. He catches people involved in drug trafficking. He disrupts drug selling gangs. His son gets university diploma (ปริญญา) but he is late to the diploma ceremony as he is always too busy. Na finds a job in a touristic hotel but Panit is still looking for a job. It is difficult to find a job nowadays. Panit meets friends involved in drug trafficking. They want him to work with them as he is worried (กลุ้มใจ) and cannot find a job. He comes back home drunk as he tried drugs. Drug dealers are freed following a procedure mistake. His friends are worried regarding Panit's new behavior. Panit shares the same flat with his father. Panit starts to take drugs (ติดยา). Panit's father is strict. There is no mother at home. The father discovers that Panit is now addicted (ทำไม). The policeman cannot understand that his son with high education can be a drug addict (ยังมีความรู้). The father forgives his son as he is also responsible of the situation by being always out of home. The policeman consults a monk. Panit continues to indulge in drugs not only joints but also heroin injections. He becomes a thug. The movie shows how drugs can change people life despite high studies if parents don't follow enough and if meet bad friends. Panit's father is suspended from the Police due to his expeditious way of working. Panit's girlfriend is raped and killed by other thugs. He takes revenge and kills accidently one thug. Meanwhile the father is reinserted in police and needs to arrest the killer (ผิดกฎหมาย). Vina is sad (เสียใจ) as her brother is dead. The thug that Panit killed is Vina's own brother! Panit is more and more addicted to drugs and has deep crisis. Vina and her friends try to help but drugs have done big ravage. Friendship (เพื่อนรัก) is still here. Panit recognises his failures (ฉันผิด) and that his father is a good man (พ่อเป็นคนดี), who follows the law (รักษากฎหมาย). Panit was his father's hope (เป็นความหวังของพ่อ). He dies when his father was going to arrest him.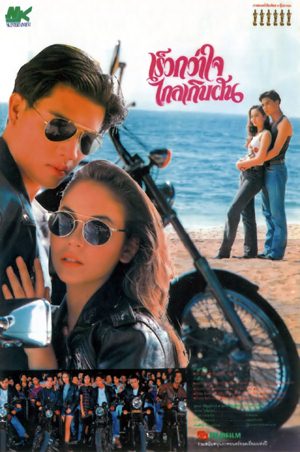 Year

: 1993



Thai title

:

เร็วกว่าใจไกลเกินฝัน




English title

:



Rating

: 3/5


Director

:



Main actor

: Suchao Pongwilai,Phairoj Jaising


Main actress

: Nat Myria,Mayura Thanabutr



Buy now

:

Thai movie เร็วกว่าใจไกลเกินฝัน was released in year 1993 and lasts 1h52mn. It was released under DVD format by company Happy Entertainment. This movie got six Thai cinema awards. Teenagers are having a bike race. Ek (เพ็ญเพชร เพ็ญกุล) helps a young lady, Kaew (นัท มีเรีย), who is aggressed by a thug. Suchao Pongwilai is Kaew's father. Her parents don't have time for her, so she is often out (เที่ยว). Kaew is trying to find back Ek. Schoolmates mention Ek can often be seen in a discotheque in Ratchada. They finally go out in a mall on the next day but Ek must be careful as Police is looking for him as bike races are illegal. As Kaew and her friends miss school a lot (ขัดเรียน), they get warned by the school director. Ek is also not happy with his family. Kaew is looking for companionship as she is lonely at home. Ek is racing with Kaew. Ek is arrested by Thai Police but wishes to continue as bike racing is a romping game for him. Kaew joins a model contest to raise interest from her parents. Her mother disapproves her daughter so Kaew flees. Ek and Kaew start a relationship. Ek continues to race. His opponent dies. Ek has to flee the Police and goes to Phuket. Kaew follows him there. Ek starts to take drugs (เล่นของ). Kaew is pregnant and worried. Ek would like Kaew to abort but she refuses. Ek's father is Phairoj Jaising. Ek's condition is getting worse as he is using strong drugs. Ek is going to brothel to buy drug. As the woman refuses to sell drugs at low price to him, a fight erupts. Ek is beaten by ruffians. Kaew brings him to hospital. Doctor finds he has Aids. Aware of it, Ek wishes to break with Kaew to ensure she can have a new life. Ek has difficulties to accept his disease (หมดทุกสิ่งทุกอย่าง). Ek breaks up with Kaew. Kaew calls her teacher as she is in despair. She is four months pregnant. She discloses the news to her parents. The mother is only worried to lose face. The father acknowledges they did bad of not taking care of their daughter. After going to hospital, Kaew is also diagnosed with Aids (เราต้องรับความจริง). Kaew is back to school. Other schoolmates suspect she has Aids as she is now very slim. Other kids try to avoid her worried about the disease. At that time people still believed they could get infected through clothes contact and using same utensils. Kaew thinks about suicide. Finally, her friends talk to her again after the teacher explains to them. Ek's mother (Mayura Thanabutr) asks Kaew to help and to ensure Ek takes his medicine. Kaew finds Ek doing motorbike. He is feeling bad (สร้างกรรมสร้างบาป). Ek wishes to join a last race. Kaew takes her child back from hospital despite nurses are unwilling. Finally, the child doesn't have Aids. Kaew cannot join Ek on time for this last race. Ek dies due to over speeding.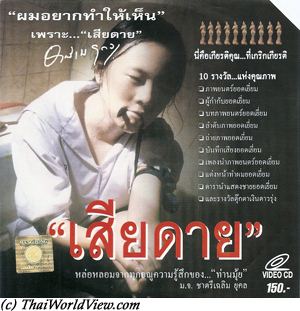 Year

: 1994



Thai title

:

เสียดาย




English title

: Sia Dai 1



Rating

: 4/5


Director

: ChatriChalerm Yukol



Main actor

: Sorapong Chatree,Krailat Kriengkrai


Main actress

: Sinaporn Philailak
The movie title means "What a pity!". It shows the useless life of teenagers, who are addicted. Most of them come from problematic families. They start sniffing glue, then switch to heroin. Some girls are even selling their body to get money to buy drugs. Some die due to overdose. Whith their parents' help and not rejection, they can hope to go back to a standard life. This movie got 10 distinctions at Thai awards. Sia Dai 1 (about urban teenagers and drug abuse) earned more than 50 million baht, while Sia Dai 2 (about Aids and discrimination) brought in less than 10 million baht.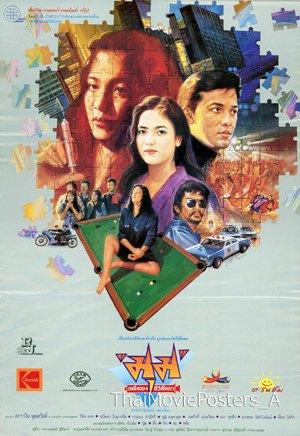 Year

: 1995



Thai title

:

มุม (หนึ่งของชีวิตใคร)




English title

:



Rating

: 4/5


Director

: สุธรรม สุริยวงศ์



Main actor

: Tuanton Kammeesri


Main actress

: Sakaojai Poonsawat
Thai movie มุม (หนึ่งของชีวิตใคร) was released in year 1995 and last 1h39mn. Movie director is สุธรรม สุริยวงศ์. It is Sakaojai Poonsawat's first movie. Teenager Mum (Sakaojai Poonsawat - สกาวใจ พูนสวัสดิ์) receives award of best student in her school, but she always looks sad. Even the Police inspector (สารวัตร), who gives her the award, notices it. Mum does not have a father and her mother Vilai (ปนัดดา โกมารทัต) is a nighttime singer. She did not come to the ceremony. She is often busy meeting Tuanton Kammeesri. She has no time for her daughter. It causes Mum to be very sad. Mum has one close friend called Ann. Ann invites Mum to a party. Mum is reluctant to go as she did not get her mother's authorization, but Ann promises to be back before midnight. Ann has already a boyfriend (แฟน). Mum meets Tom (วิทิต แลท) at the party. Meanwhile Tuanton recommends the mother to spend more time with Mum. Tom complains about adults imposing constraints to them. Everything adults do is good. Everything teens do is wrong. Those parties bring freedom to teens as there are no adults to forbid. Mum, Ann, and friends go to Pattaya. Mum drinks and smokes. A girl gives her an illicit substance. Mum starts to be addicted as her hands shake during school lessons. Tom is lazy and pushes his father (วุฒิ คงคาเขต), being a simple policeman, to give him more money. Tom and Mum become lovers. Tom joins a dance contest with a price of 50,000 THB. He wins as his teammates hit the main dancer opponent in the restroom. A photographer takes a picture of Mum kissing Tom holding the prize. The school headmaster complains to the mother Vilai as it gives a bad image of the school. The policeman warns Vilai about losing Mum (เสียคน). Vilai complains she has limited time as she is working at nighttime. Mum is jealous to see her mother giving all her love to Tuanton and none to her. She flees to another party while her mother is out. During the party, Ann sees Tom's former girlfriend, Pat, giving substance to Mum. She accuses her of trying to kill her friend Mum. A fight occurs between the two girls. Police are called by neighbors fed up with noise. The headmaster has to come as the mother Vilai is unreachable. The name of the school is tarnished two times. Vilai complains to her daughter, but Mum argues her mother is responsible for this situation as she never gave her love. She flees and takes refuge in Tom's place who quits his father. Vilai does not know how to contact her daughter. Mum is addicted and needs drugs (ติดยาเสพติด). She meets Pat to buy drugs, but the price has increased. As Mum does not have enough money, she asks Mum to become a prostitute (ขายตัว). She also gets revenge toward Mum by showing that Tom is selling himself to a foreigner to pay the drugs for his junky girlfriend. In fact, Tom and his friend rob the foreigner and flee. Meanwhile Police intervene and the drug dealer cuts Pat's throat believing she betrayed them. Meanwhile Mum flees home as she has a crisis. She does an injection, but it is an overdose. Ann discovers it and calls the mother Vilai. Mum is rushed to the hospital. It is too late as she dies from overdose. The mother blames Tom, Ann, and their friends, but she also owns her part of responsibility. The movie ends up with a message for parents to take care of their children.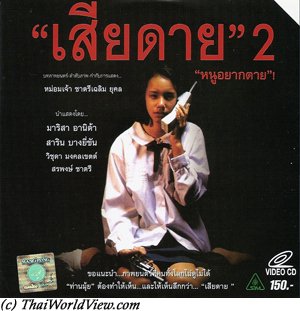 Year

: 1996



Thai title

:

เสียดาย 2




English title

: Sia Dai 2



Rating

: 3/5


Director

: ChatriChalerm Yukol



Main actor

: Sorapong Chatree


Main actress

:



Buy now

:

This second release deals about Aids. This movie shows the Thai society rejection and fear towards HIV people. The film has a informative goal as it shows a rich family confronted to Aids due to contaminated blood transfusion. It demonstrates that Aids is not limited to drug users and sex workers. It emphasizes the family love towards sick people. Sia Dai 1 (about urban teenagers and drug abuse) earned more than 50 million baht, while Sia Dai 2 (about Aids and discrimination) brought in less than 10 million baht.
---
Some social problem movies (หนังสะท้อนสังคม) deal about contemporary problems such as hill tribes' minorities issues.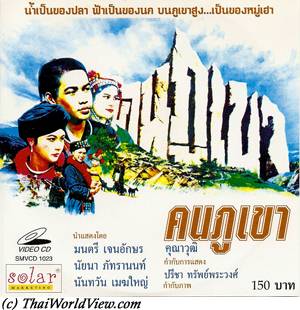 Year

: 1979



Thai title

:

คนภูเขา




English title

: Mountain People



Rating

: 5/5


Director

: Wichit Khunawut



Main actor

:


Main actress

: Nunthawan Mekyai



Buy now

:

It is about life of a highlander. Chased from his village, it narrates his struggling life. This movie shows hilltribes life (Yao, Akkha, Lao), customs and animist beliefs. It also shows the way that Thai people treat them (cheating them, corrupting them by selling them goods they don't need, encouraging them to produce opium). A VCD released by Solar Company lasts 2h05mn. A recent remastered version on VCD and DVD lasts 2h12mn.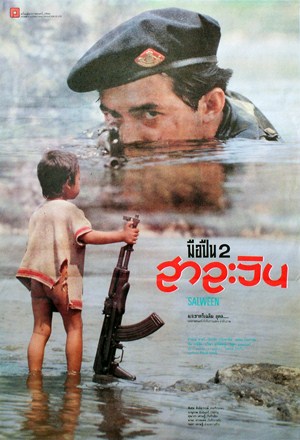 Year

: 1991



Thai title

:

มือปืน 2




English title

: Salween (Gunman II)



Rating

: 5/5


Director

: ChatriChalerm Yukol



Main actor

: Sorapong Chatree,Chatchai Plengpanich,Ron Rittichai,Sor Asanajinda,Suchao Pongwilai


Main actress

: Paweena Chareefsakul



Buy now

:

After WorldWar 2, Burma got its independance from England but the Karen minority problem was left unsolved. So an independance war between Karen and Burmese started. This movie takes place around Salween river, which the border between Thailand and Burma. Aound this area, there is no law, only guns decide. Different protagonists take part: a policeman acting like a outlaw and wishing to revenge his wife killed a few years ago, a young policeman coming from Bangkok with no experience in such difficult area, a Thai deceitful merchant playing Karen against Burmese in order to have access to rich forests full of teak logs, a Burmese general wishing to destroy the Karen stronghold around Salween river, a Karen captain wishing to defend his stronghold and giving in a wrong alliance with the Thai deceitful merchant. The war between Karen and Burmese is still going on and many people call it the forgotten genocide against the Karen people in Burma.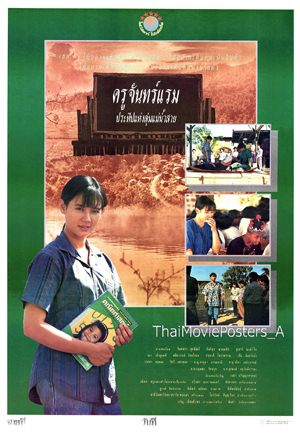 Year

: 1992



Thai title

:

ครูจันทร์แรม ประทีปแห่งลุ่มแม่น้ำสาย




English title

:



Rating

: 4/5


Director

: Phan Kam



Main actor

: Santisuk Promsiri,Suchao Pongwilai,Rong Kaomulkadee


Main actress

: Jintara Sookkapat
Thai movie ครูจันทร์แรม ประทีปแห่งลุ่มแม่น้ำสาย was released in year 1992 and lasts 1h57mn. It was released under VCD format by Solar company. A remastered version was released by Five Star Production (ไฟว์สตาร์โปรดักชั่น) in the decade 2010s and shown on Thai TV cable. Movie director is Phan Kam. Based on a true story, a young girl decides to become a teacher at 15 years old in order to promote reading awareness among mountain villagers, who cannot go to school as they are not recognized as Thai citizens. She also convinced local poor parents that children are not goods to be sold and not to listen to Bangkokians that promise false job offers. She also convinced villagers not to use drugs and young girls not to enter the flesh trade. Being a child in a poor family, Chan Raem performs very well at school and still helps her parents at home. Chan Raem sees the social issues faced by villagers, i.e. drugs selling, middle age lady trying to convince young girls to go working in Bangkok as masseuses (หมอนวด). Middle age lady uses sweet words such as gratitude (บุญคุณ) towards parents, promise of easy job, easy money. Her best friend Kam Kaew finally goes to Bangkok due to necessity (ความจำเป็น). Chan Raem cannot go to the next school level as her parents are poor. Seeing that mountain villagers' children cannot study, she decides to help. She doesn't get help from local authorities, so she does it by herself. Her father (Suchao Pongwilai) borrows 5,000 THB to help her. Local people should have knowledge and be able to read in order not to be abused by Bangkok people. Free school is open for mountain people's children and Chan Raem's parents are preparing the food for lunch time. As the number of children increases dramatically, it costs too much for the parents to bear the cost by themselves. Chan Raem convinces mountain villagers to help 1 THB a day to buy food. Rong Kaomulkadee pushes other villagers to accept. Time passes and Chan Raem becomes an adult and is played by Jintara Sookkapat. She gets help and support from her friend Santisuk Promsiri. Trees are planted. Kam Kaew is back and believes she has made the right choice to go to Bangkok. Chan Raem notices that many adults get lied to as they often sign debt contracts without reading the terms. Chan Raem invites adults to join evening lessons. Kam Kaew is back again from Bangkok. Despite having built a nice house, she has to live outside in a shack. Chan Raem learns she has AIDS stage 3 and will die soon. Her relatives reject her. Meanwhile, traffickers force young ladies to go to Bangkok as their parents sign a contract. Kam Kaew dies. Chan Raem makes an emotional speech to all parents if having a fridge is worth their child's life. Parents promise to reject traffickers. Understanding the risk caused by Chan Raem, traffickers try to oppose Chan Raem and local administration. Ruffians even mention to Thai Police that Chan Raem is running an illegal school (โรงเรียนเถื่อน). Ruffians put pressure by asking the father to pay back his debts immediately. Traffickers try to foul teacher Chan Raem by hiding drugs in the school but they are caught on time. The leader has to flee. Finally, Chan Raem's efforts are recognised. It appears in newspapers and Bangkok Bank sends a delegation to give clothes. The movie ends up as Chan Raem is going to Bangkok to get her price.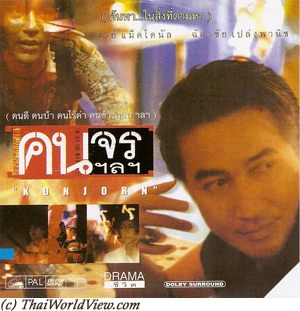 Year

: 1999



Thai title

:

คนจร




English title

: Konjorn



Rating

: 4/5


Director

: Attaporn Thaihirun



Main actor

: Chatchai Plengpanich,Ray McDonald,Suchao Pongwilai,Krailat Kriengkrai


Main actress

:
It depicts a well-to-do Thai-Chinese businessman called Mongkol, his wife, two daughters and son. Things go wrong when two Burmese immigrants hired by the family to do household work get into a fight with his son. They are arrested, but escape from the police and return to the family's house. There they kill the daughter and attack the remaining family members. Dang, a homeless man, witnesses the entire thing. Dang comes from a troubled past, his father was a police captain who was drunkard. His mother's lover subsequently murdered Dang's family. Dang, shocked by the event, became mad and started wondering the streets. As he witnesses the immigrants attack the family, he has his own uncontrollable flashbacks of his own family getting murdered. He tries to communicate with the police to tell them what he sees, but is unable to do so. He is finally the one to help the Thai-Chinese family. It puts the stress about how Thai people are oppressed by the police (i.e. ruthless policemen beating illegal Burmese immigrants, policemen asking and receiving bribes, policemen taking advantage of prostitutes, policemen modifying proofs and truth to get promotion). The multi-layer visual style might turn off normal audience but this is a rare example of avant-garde Thai indie film.
---
This Thai Social movie page 2 contains 26 records.
ThaiWorldView movie database contains 1519 records.
---
---