THAI TV SERIES
Increase or decrease font size for easier reading : A+ A-
Thai series are an excellent way to understand Thai culture and Thai society. Seniority, relations with parents, monks, civil or religious festival, Thai food, life after death, ghosts are always part of Thai TV series. TV series usually reflect the long-standing traditional values, especially the importance of the family institution, seniority and respect. Almost all Thai TV series are funny.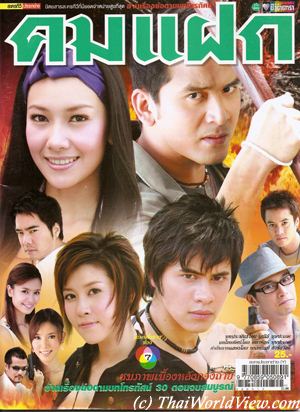 Detractors call them soap operas ("LAKHON NAM NAO" -

ละครน้ำเน่า

). It is true that most Thai TV series take place in palatial suburban estate house and that actors drive either a BMW or a Mercedes Benz. Actors are always very beautiful. Those people argue that those movies don't show reality of life and are western influenced.
Thai series or "LAKHON" (ละคร) must be viewed from a Thai point of view. Thai people want to dream. Thai people tell it is no way to watch TV series, which deal with same life as theirs. Thai people don't like films in which they must think a lot, it is not funny, not "SANUK" (สนุก).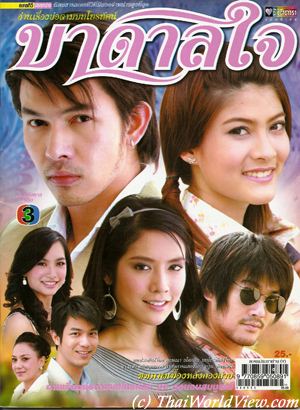 Thai TV series lasts often more than 10 episodes. Thai series are broadcasted twice a week. Each episode lasts about one hour but is broadcasted almost one hour and half due to advertising every 10 minutes. Most of TV series are about rich families, non reciprocated love, blazing jealousy, ungrateful children and overbearing parents. This is guaranteed to capture the widest audience!
Most of TV series always have a happy ending. TV series are often remakes of old TV series but with new actors and minor modifications in the scenario. To have new variations on the same themes, producers add supplementary sex, violence and vulgarity.
In Thailand, TVs are everywhere. Even in up-country administrations like post office or district council, a TV and a videotape recorder is available for people waiting (and for people working!). Also in barber shops, in small groceries and so on...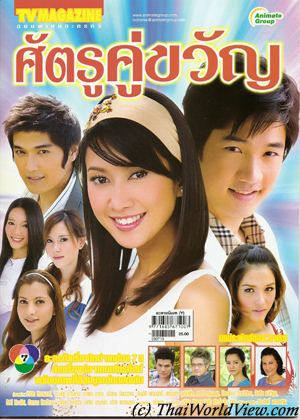 Thai serie magazines with pictures and posters are also available. They relate recent series in full details including all episodes.
Channel 7 is well known for prime-time drama from Friday to Sunday. Nowadays Thai TV series can be seen widely on YouTube.
Importance of physical aspect in Thailand can be seen with many advertisements for shampoo, beauty products.
---
These Thai terms are used for Thai TV series and Thai movies.
นางเอก

or "NANG EK" is the leading actress. A few years ago "NANG EK" was always a kind and nice person. She never kissed her boyfriend neither held his hand. Now the role of "NANG EK" is changing. In some Thai TV series she played a very bad woman.

นางอิจฉา

or "NANG ITCHA" is the bad girl. She tries everything to be the main actor's girlfriend and always tries to get rid of the leading actress. She is often a stereotypical character who does not hesitate to do bad, bad things to the leading actress including trying to steal her boyfriends before wedding.

พระเอก

or "PHRA EK" is the leading actor.

ดาวโป้

-

ดาวยั่ว

or "DAO PO" is a kind of actress which is disappearing. A few years ago, the "DAO PO" was an actress who always played the girlfriend of the Mafia boss, the jealous woman, the temptress, the prostitute or the woman dressed in sexy clothes.

ตัวตลก

or "TUA TALOK" are funny comedians that support the leading actor. Nowadays it is often a "KATOEI" (

กะเทย

- man dressed like a woman) who always has a silly but funny role to play.

ตัวกง

or "TUA KONG" are the villains.
The rich "PHRA EK" finally gets to live happily ever with the poor and pitiful "NANG EK". The nasty stepmother and her spoiled daughter ("NANG ITCHA") face their karma. Thai people are hooked on soap operas because they are fun to watch, whether they are rags to riches sagas or sad love stories. Around the 1980s this group of "TUA TALOK", "DAO PO", "TUA KONG" disappeared from Thai films but reappeared in Thai TV series.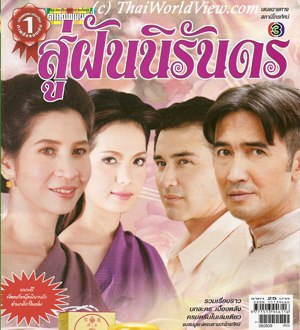 Thai TV series are popular because most people are able to identify with and respond readily to the simple messages that Thai TV series convey.
Ubiquitous soap operas advocate heroes raping their women as a means of expressing love or bad girls being gang raped as producers believe "a bad girl deserves bad things". The women's groups always complain as those TV series are suggesting to the audience that crime is acceptable in certain circumstances.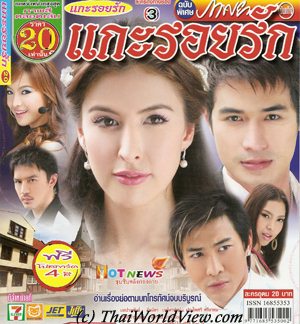 Thai TV soap operas start to be popular overseas in countries such as Cambodia.
In year 2008 Thai Airways flight attendants urged the government to remove a prime-time TV drama ("SONGKHRAM NANG FAH" - สงครามนางฟ้า) because it showed stewardesses wearing short skirts and fighting while in uniform over a male pilot. They complain the soap opera portrays hostesses in a negative light.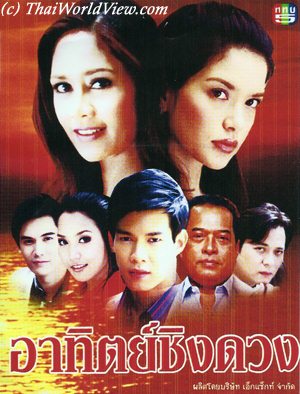 Throughout the history of Thai TV series or soap operas, classics come around and around again. The list includes "BAN SAI THONG" (

บ้านทรายทอง

), "MON RAK LUK THUNG" (

มนต์รักลูกทุ่ง

) and so on... Legendary TV series come back in a modernised version with a new set of actors. The costumes, the sets and the soundtrack change to keep up with the times. Even if the story is well known, Thai people still have fun to watch. No matter how many remakes, they always get a high rating.
In the 1960s-1980s, there was a booming movie business and a hysteria for screen actors (Mitr Chaibancha, Sombat Methanee, Sorapong Chatree, Petchara Chaowarat, Aranya Namwong, Jarunee Sooksawad...). Today, simply switching on a TV has made soaps ("LAKORN TORATAT" - ละครโทรทัศน์) more accessible than movies. Since the 1980s Thai soap operas have been very popular by being broadcasted at prime time. By the late 1980s, Thai soap operas programs came to rival Thai films in popularity.
---
Thailand has strict censorship laws on films containing nudity, sexual intercourse, smoking opium or cigarette, drinking alcohol, pointing guns on temple or any matters which might offend religious sensibilities. Censors often obscure scenes by scratching the celluloid or smudging it with a translucent gel. When actors are playing cards in TV series, a sentence displays that playing cards with money is forbidden by the law.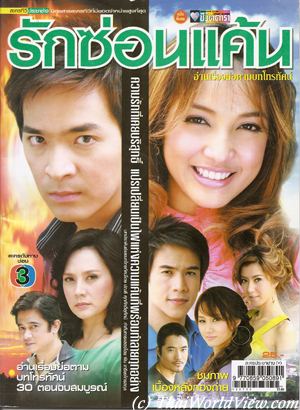 On Thai TV, Chinese, Japanese, American and Indian films are broadcasted. No sex on Thai TV but often some bloody sequences.
Thai TV have funny TV shows but some, from an occidental point of view, are "bad taste". For example "PRAKUAT NANG NGAM CHANG" (ประกวดนางงามช้าง) is a game show with only fat people.
---
In Thailand the star system fascinates Thai people. In TV games, the players are not normal persons but are almost TV stars ("DARA" or ดารา). They play in games and earn money. In most of these games, the stars have to do things that they are not used to do. Thai people like to see their stars in unhabitual position and like to see persons in embarrassing position in which they wouldn't like to be. Such games with stars also bring a lot of advertisement on the show. Thai people say that if game participants were ordinary people, nobody will watch and care.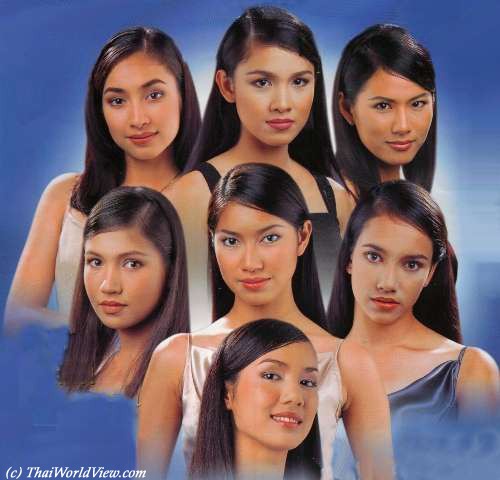 In Thai movies or Thai TV series, many Thai stars have a Thai mother and a foreign father. The case of having of Thai father and an occidental mother is seldom. Quite often Thai stars are TV or movie stars but also famous singers.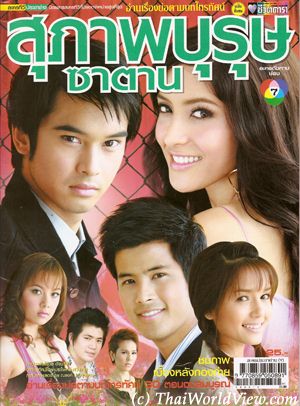 ลูกครึ่ง

or "LOOK KREUNG" are children who have a Thai parent and a foreigner parent.
Those children were not liked by Thai society after Vietnam war. There were considered as children of American GI children and prostitutes. Nowadays the majority is coming from normal Thai-foreigner weddings.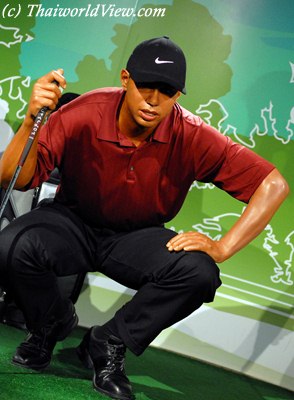 Vanessa Mae

,

Christina

,

Tiger Woods

are famous "LOOK KREUNG" (

ลูกครึ่ง

).
Nowadays in Thai society, "LOOK KREUNG" are very popular. European influence and of course American cultural influence is considerable. They represent a certain kind of perfection for Thai popular society (physical, speak at least two languages, double culture). They are more vivacious, spontaneous than Thai children because they don't care about "KRENG CHAI" (เกรงใจ - respect over elders). Miss Universe 1988 is 100 % Thai but was educated abroad in USA. Many "LOOK KREUNG" can be seen in the following domains : TV, cinema, top model, TV pub, singer. Beauty and external aspect are very important in Thai society.
Anyway Thai population is a big melting-pot with Chinese, Lao, Cambodian, Burmese, Malaysian and of course westerner influence.
---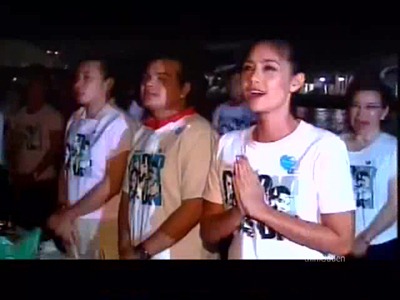 Thai filmmakers still rely on Brahmin rituals (

ขอถวายพระพร

) before shooting to ensure the success of their TV series.
The ritual (งานเลี้ยงปิดกลอง) takes place in the open. It includes preparation of lustral water (น้ำมนต์) to sprinkle at the location of the shooting to chase away bad spirits. It also includes rite of "WAI KRU" (ไหว้ครู) to pay respects to the teachers.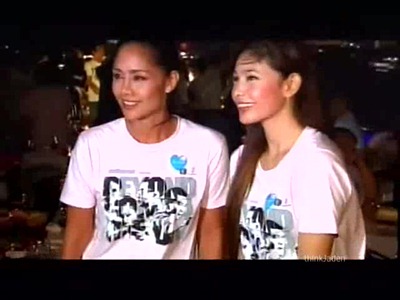 The ritual asks Indian god Ganesha, the protector of artists, to bless the operation.
Supernatural belief has always been part of mainstream Thai society. The effects are largely psychological.
---
---