THAI THEATERS
Increase or decrease font size for easier reading : A+ A-
There are still many old Thai movies standalone theaters in Thai provinces.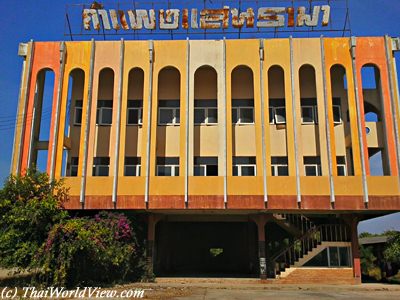 The Kamphaeng Saen Rama standalone theater is located in Nakhon Pathom province. Thai full name is

กำแพงแสนรามา

.


Fly there with Google Earth
Some initiatives from ordinary people happen to raise interest in old buildings. Shopping malls are here only to grab your money. There is no more community spirit like it happened with old standalone theaters.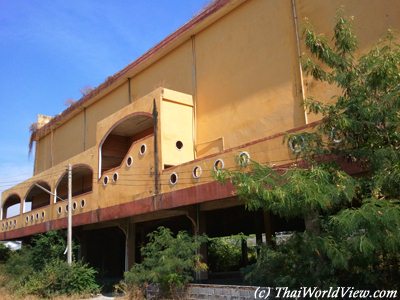 There is limited info but it seems Kamphaeng Saen Rama theater was closed since year

1999

.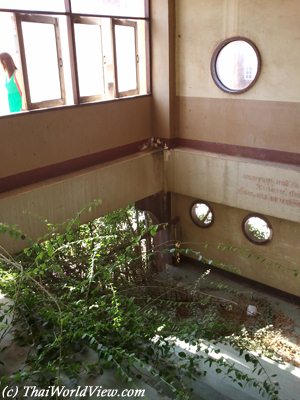 Nowaday the theater is still huge but closed. It is possible to go partly inside and on the first floor.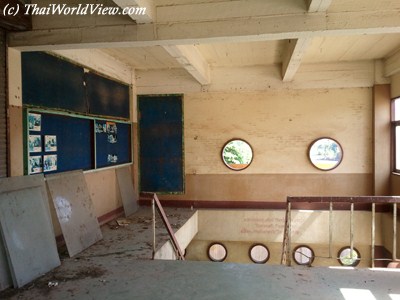 The impressive architecture, the stairs, the ceiling and huge doors are still here but the theater is closed.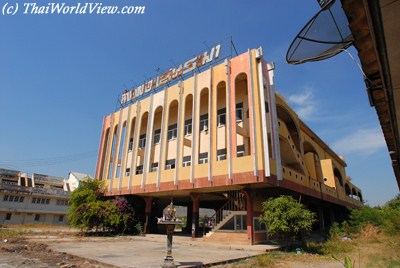 The area around Kamphaeng Saen Rama theater looks a dying area with only old buildings near the highway.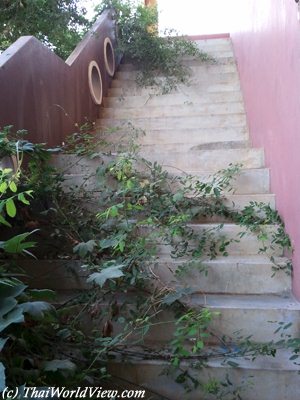 The area was certainly very lively twenty years with the theater presence. As the theater is now closed, it looks like a deserted area with small houses around.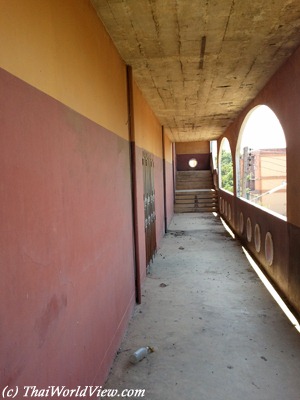 Some people living around didn't have so much info to share as they arrive after the closure. They believe the theater closed 20 years ago already.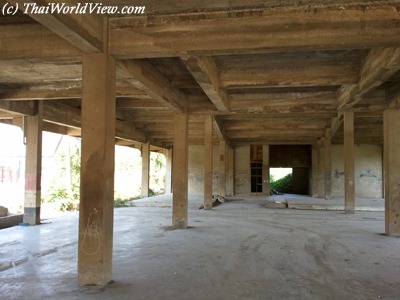 Kamphaeng Saen Rama theater is really a huge building. Maybe more than one thousand people could watch movie in this theater.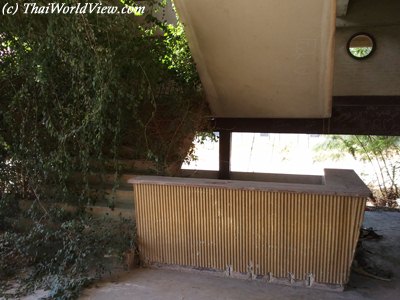 Some old relics such as this booth selling tickets, drinks or food can still be seen.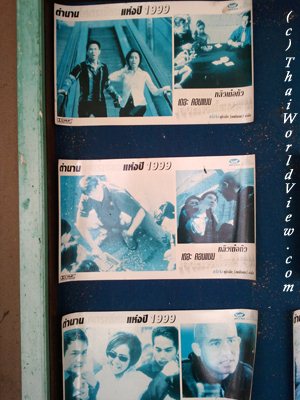 It looks like that the theater was closed in year

1999

as some still pictures of a Hong Kong movie can still be seen.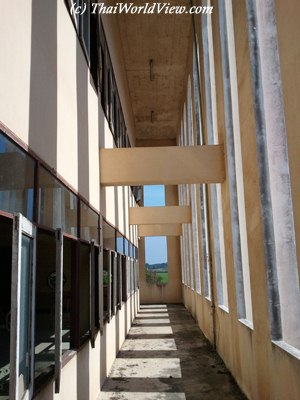 Remaining standalone theaters are under threat as the investment in digital equipment is very huge (up to 10M baht).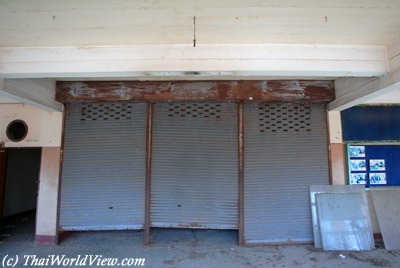 The doors leading to the theater mezzanine are closed. It is now forbidden to enter...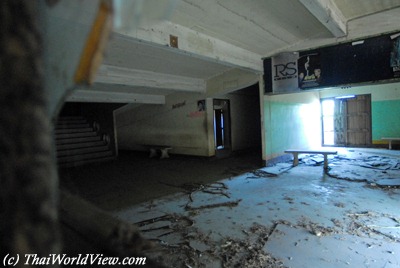 Through a small hole in the wall, it should be possible to enter into the theater mezzanine... but as the area is quite deserted, it was maybe a better choice not to go alone deeper inside...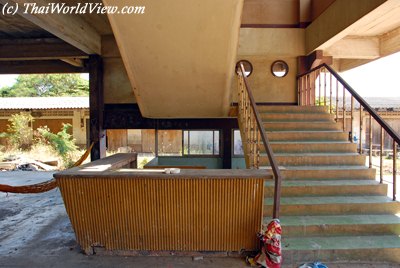 Another booth probably selling food, pop corn, drinks in the front of the stairs leading to the mezzanine.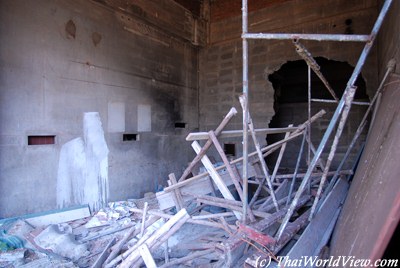 Part of Kamphaeng Saen Rama theater is in bad condition. Too bad that such building with a lot of history ends up in such sad condition.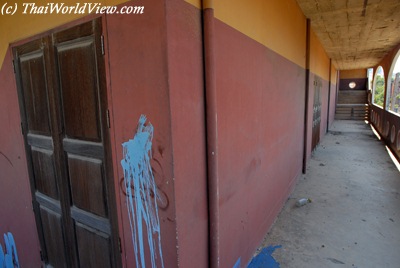 Exit doors from the mezzanine area and corridors allowing onlookers to leave the theater.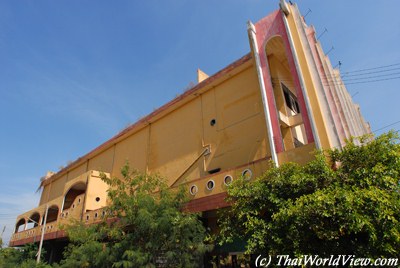 Kamphaeng Saen Rama theater architecture is really characteristic of old standalone theaters during decades 1960s~1970s. Such buildings are seldom seen nowadays as many of them are now destroyed and put out of business by multi screen complexes in malls.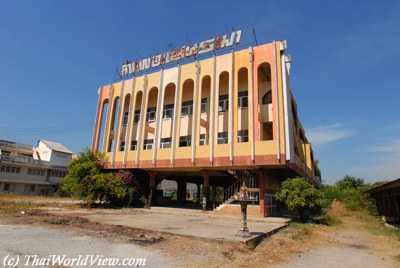 At least Kamphaeng Saen Rama theater was not transformed in another parking and destroyed up to now. Despite it is not acting as theater anymore, the old building can still be seen in Kamphaeng Saen.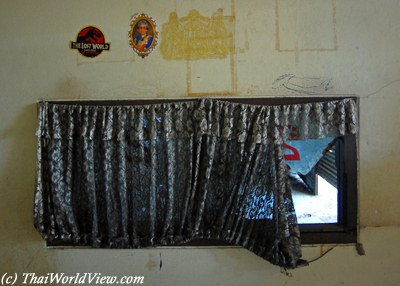 Such theater or

โรงหนังชั้น 2

in Bangkok or province could host from a few hundreds to one thousand five hundreds people. They were located near markets or bus terminal.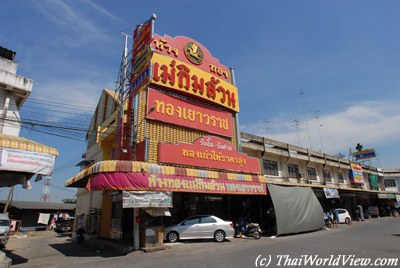 Local people said there was another old theater in Kamphaeng Saen city centre near the market. Maybe the building is already gone as nothing could be seen...
---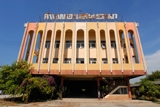 ---
---