PRIM PRAPHAPORN
Increase or decrease font size for easier reading : A+ A-
Thai actress Prim Praphaporn is born in year 1946.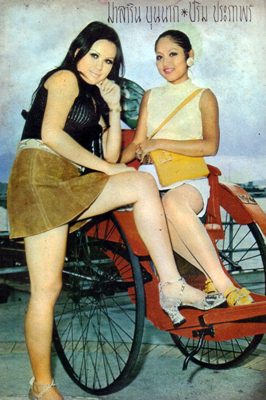 She started his career in TV series and as a model for newspapers advertisements. She played her first movie when she was 18 years old.
Her surname was นางเอกสุดแสนเซ็กซี่.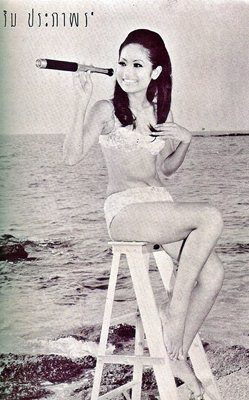 Prim Praphaporn (

ปริม ประภาพร

) starred in around 25 films from 1964 to 1974.
She played a few movies as main actress but they were not successful.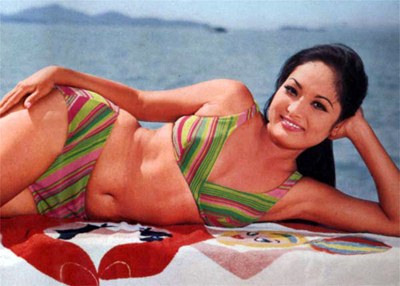 So she finally played role of jealous woman, sexy woman or friend of the main actress. With actress Petchara Chaowarat being there, it was just impossible for others actresses to rise.
After Mitr Chaibancha's death, the number of movies decreased for Prim Praphaporn.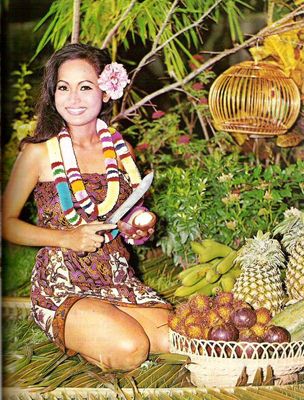 Prim Praphaporn said that playing a sexy actress in decade 1960s was different from nowadays. Actresses needed to show off curves a bit in some conventional scenes such as waterfalls bathing.
Prim Praphaporn got one award for movie รสสวาท (1974).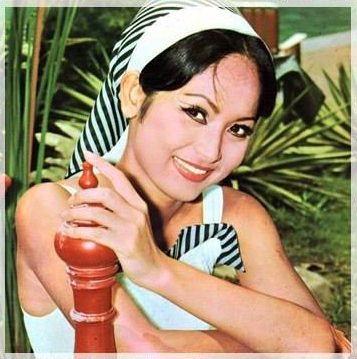 Prim Praphaporn got teaching from movies directors such as Sor Asanajinda. In decade 1960s, there was no cinema school at this time.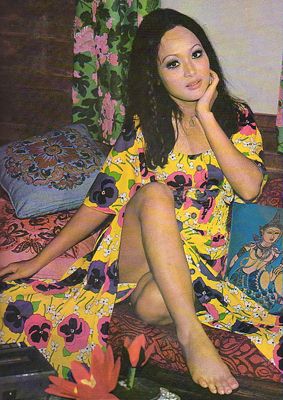 Film directors mainly use Prim as

ดาราสาวเซ็กซี่

to play the jealous lady acting in second role only. She often played role as

นางอิจฉา

(stereotypical character who does not hesitate to do bad things to the main actress such as trying to steal her boyfriend before wedding...) or as

นางร้าย ดาวยั่ว เซ็กซี่

(actress who always played the temptress or the woman who is dressed in sexy clothes).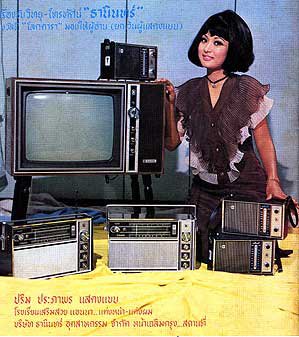 Thai actress Prim Praphaporn acting in a TV advertisement from year 1971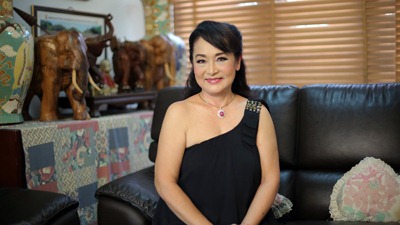 She directed at 28 years old her first movie

รสรักลมสวาท

.
---
Prim Praphaporn (1946) - ปริม ประภาพร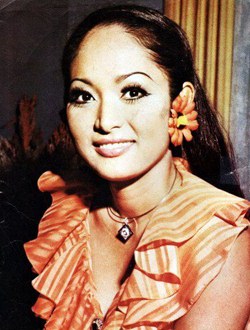 Prim Praphaporn starred in around 25 films from 1964 to 1974. Film directors mainly use Prim as ดาราสาวเซ็กซี่ to play the jealous lady acting in second role only. She often played role as "นางอิจฉา" (stereotypical character who does not hesitate to do bad things to the leading actress including trying to steal her boyfriend before wedding) or as "นางร้าย ดาวยั่ว เซ็กซี่" (actress who always played the temptress or the woman who dressed in sexy clothes).
This Prim Praphaporn movie page contains 24 records.
---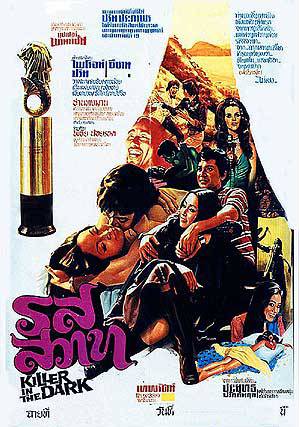 Year

: 1973



Thai title

:

รสสวาท




English title

: Killer in the dark



Rating

: 3/5


Director

:



Main actor

: Phairoj Jaising


Main actress

: Prim Praphaporn,Christine Hui Saan
Thai movie รสสวาท / Killer in the dark / 奪命客 was released in year 1973. It lasts 1h35mn. The film is still available in German language but it was originally a Thai / Hong Kong co production. A lady called Jenny (Prim Praphaporn) invites a man in her flat to make love. The movie includes very sexy daring scenes that really differ from Thai movies in the 1960s. As those scenes are played by substitutes (heads are never seen), it is probable that the Thai version never included those daring scenes. Jenny has to go back urgently to Thailand as her father just died. Van (Phairoj Jaising), Mr Lee and Linda (มิสซีซาน / Christine Hui Saan) support Jenny during this difficult time. A man kills a prostitute at nighttime with a razor after having made love to her. His face is not seen. Linda is a press reporter so she investigates. While waiting for Linda, Van sees a strange strong man with a chopping knife so he follows him. It seems to be a crazy man and a fighting erupts. Jenny finally accepts the advances of Mr Lee but another man is always peeping at her. Once Mr Lee is gone, Jenny is also killed with a razor blade. Finally police captures the strange strong man but Van doubts he is the killer. Van finds a shirt button in Jenny's room so he believes Mr Lee is the murderer as he finds a shirt with a missing button belonging to Mr Lee. Mr Lee has an alibi. Another woman is killed. Mr Lee goes again with a prostitute and she is found dead again. A button belonging to Mr Lee is again found near the dead body. Mr Lee is arrested this time. While Van is away, the killer tries to get rid of Linda. The killer chases Linda through car and her mini falls in the water. Mr Lee is then released. Police keeps Van's passport as they believe he could be involved also... Van identifies the murderer (Fong Yau) on a photo developed by Linda. The murderer gets the film roll back but kidnaps Linda to exchange her with the photo kept by Van. Chase happens between the murderer, Van, Mr Lee and the police. The final scenes are taking place in Hong Kong in an old World War 2 fort. Van finally saves Linda from the murderer. Worth to note that Phairoj Jaising's Chinese name is Poon Lok!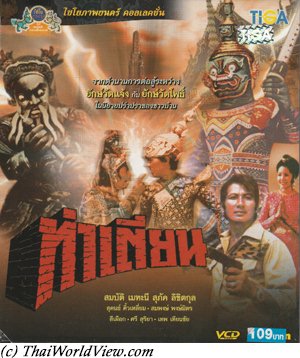 Year

: 1973



Thai title

:

ท่าเตียน




English title

:



Rating

: 4/5


Director

: Sompote Sangduenchai



Main actor

: Sombat Methanee,Sukon Koewliam,Thep Thienchai,Sompong Phonmitr


Main actress

: Prim Praphaporn



Buy now

:

Thai movie ท่าเตียน was released in year 1973 and lasts 1h40mn. It was released under VCD by company Tiga and features a colorful and sharp picture. Movie director is Sompote Sangduenchai. It was his first movie. Producer is Chaiyo Productions. The movie was successful and got 1.4M Baht revenue in Bangkok and 3M Baht in other provinces. Sompote got the movie idea when studying in Japan and seeing movies successes such as Daimajin and Godzilla. This modern movie even features film credit order at the end of the movie. A man is killed by a Yak statue as he was stealing a Buddha statue from a temple. A weird egg falls from space to the earth. The egg is rejected by a snake. It is eaten by a frog, but it causes stomach ache to the frog, so it is also rejected. The egg gets bigger and explodes. Inside the frog, there is a beautiful princess (นางงาม)(สุภัค ลิขิตกุล), named Shaba, wearing Thai traditional dress. The frog takes refuge in an elderly man's (คุณตา) home. Her gods' parents (including Prim Praphaporn) are missing their daughter. The father, Ma Sing, comes to earthen world to find her daughter. Thai comic actor Thep Thienchai appears with a western spaghetti music introduction. Allen (Sombat Methanee) and Sompong Phonmitr are scientists currently staying in a forest camp. The deity Ma Sing helps one worker, called Soda, attacked by a snake. To thank him, Allen promises to help him to find his daughter even if it is hard to believe it is a princess. Funny sequence occurs with Sompong watching two young naked ladies playing with water in a forest pond. A gorilla asks him to borrow his glasses to watch also. On the following morning, they split to look for the princess. Allen and Sompong go together but they are attacked by a rhinoceros and tiger. Ma Sing and Soda go together but they are attacked by small dragons (สัตว์ประหลาด). Soda is killed. The action is probably shot in Nan area as it features weird sand formation. Due to the danger, Ma Sing asks Allen (นาย) to go back. Sudden inondation occurs. Sompong is eaten by a crocodile. The uncle rescues Allen. Allen recovers in uncle's house thanks to the princess Shaba. The uncle tells her to be careful with Bangkokian people (ชาวกรุง, ใจบาป) but she trusts Allen. Allen and Shaba leave for Bangkok and visit Wat Arun. She goes to Wat Po with a Yak. She invites one of the Chinese guardian statues to join them. They arrive in hotel Dusit Thani. The Chinese deity wishes to go to massage (อาบอบนวด)! Misunderstanding occurs between the Yak and Chinese guardian so they start to fight (ยักษ์อาละวาด). The movie ends up by a Karma lesson.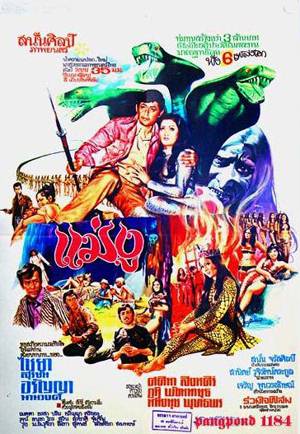 Year

: 1972



Thai title

:

แม่งู




English title

: Snake Queen



Rating

: 3/5


Director

:



Main actor

: Chaiya Suriyun,Ruj Ronnapop,Sithao Petcharoen,Sukon Koewliam,Lor Tok,Sawin Sawangrat,Krai Kanchit


Main actress

: Aranya Namwong,Metta Roongrat,Prim Praphaporn,Sasima Singsiri,Orasa Isarangkul
Booloi and Chom are chased by ruffians. They take refuge in the snake cave (ถ้ำแม่งูสักศีษ). Booloi is pregnant. Ruffians flee as the snake cave has bad reputation. Chom loses trace of his wife. Some snakes transform themselves into young ladies and help Booloi to deliver a baby girl called Haofa. 18 years have passed. Haofa (Aranya Namwong) is now a grown up adult. Haofa still misses her parents. The snake queen selects her as the next queen. This decision makes Haodam (Metta Roongrat) upset. There are fights between ladies during Haofa's crowning. The snake kingdom only includes young ladies and an old sorceress (แม่มด). No men in the cave. In Bangkok, a young man called Tira wishes to ask for young lady Mareudi's hand. Some ruffians, specialized in human trade overseas (รับแขก), keep asking Mareudi to join them for a trip to Japan. She always refuses. Tira's boss called Phanom (Chaiya Suriyun) is playing the matchmaker (เฒ่าแก่) for Pira. Phanom and Pira go to Mae Sai for scientific studies. The ruffians are also going in Mae Sai area to recruit young girls. Ruffians hear about a place near a waterfall with many beautiful girls swimming. So they are hanging around as beautiful girls have been seen bathing. The girls are then attacked by the ruffians but Phanom, being around, is helping and protecting Haofa. They are snakes but Haofa is an human being. A romance is starting between Phanom and Haofa but he cannot go in the cave as it is guarded by snakes. Haodam discloses the incident to the snake queen. According to the snake Queen's rules, nobody is allowed to meet human beings. Chom is accompanying Phanom and is still longing for his lost wife and baby. There is a funny interlude when veteran comic actor, Sithao Petcharoen, is tortured by a fat amazon. Phanom is captured when entering the cave. The Snake Queen condemns him to death but Haofa helps him to flee. Meanwhile snake hunters are back again to attack the hill around the cave. The ruffians are using experts (Lor Tok! Sukon Koewliam!) able to catch snakes (หมองู). Comic sequences happen as they are all useless to charm snakes. The ruffians finally capture the snake girls and the Queen is even shot. The end of the snake kingdom is a disaster. Phanom promises to take care of Haofa and helps to find her father. Haofa wishes to release her other snake sisters. The ruffians try to abuse the snake girls and use them as prostitutes but they transform themselves into venomous snakes. Police finally catches all the ruffians but it is too late as all snakes have been killed. Snakes are really killed and cut in this movie. Only one snake girl, Haodong, survives and she goes back to the snake cave. Haofa is finally reunited with her father. This movie can also be found under Chinese name "蛇國女王'' in China and distributed by Great China Film Co (H.K.). Different character names are used in the Chinese version (Ng Chung for Phanom, Ho Hua for Haofa, Hsiao Hua for Haodam, Chung Shan for Chom, Mei lee for Booloi). The original Thai version of แม่งู lasts 2 hours 50 minutes. The Chinese version has been reduced to 1h30mn only. "Once upon the west" soundtrack is used in the Chinese version. All songs have cut in the Chinese version. Similar to many 1960-1970s Thai movies, it features a long running time and a dozen of songs.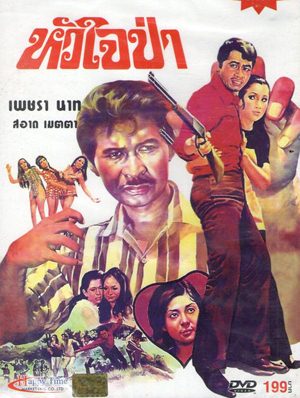 Year

: 1972



Thai title

:

หัวใจป่า




English title

:



Rating

: 3/5


Director

: Wichit Khunawut



Main actor

: Nard Poowanai,Sithao Petcharoen,Sahat Piempongsan


Main actress

: Petchara Chaowarat,Prim Praphaporn,Chosri Misommon,Metta Roongrat



Buy now

:

Thai movie หัวใจป่า was released in year 1972. It features 8 songs. Saeng (Petchara Chaowarat) is working in a nightclub as manager secretary (เลขา). Suda (Prim Praphaporn) is her close friend. The manager (เห็นใจ) tries to abuse her so she has to use a gun to protect herself. The driver accuses her of being a minor wife (เมียเก็บ) and to be responsible to have planned to kill the club manager. As police is looking for Saeng, Suda helps her to leave Bangkok. She goes in a remote area of northeast Thailand. While going to Krating, she meets Wissanoo (Nard Poowanai) with who she sympathizes. A music orchestra including Chosri Misommon joins them. On the way, some thieves including Sithao Petcharoen and led by Sahat Piempongsan stops their truck. Identifying Wissanoo as a doctor, Phi Ann (Sahat Piempongsan) orders him and Saeng, believed to be his wife, to follow them. The three ladies of the orchestra are also kidnapped. Phi Ann's wife (Metta Roongrat) called Yom is sick due to malaria (ไข้ป่า). Wissanoo gives her medicine. Phi Ann is not a bad thief as he stops his guys harassing the three ladies. Finally the three ladies have to choose by themselves their husbands! Police is coming so thieves have to move away. One of the rogue ruffians knowing that Saeng is not Wissanoo's wife harasses her. Wissanoo has to fight against him to protect Saeng. Yom wishes Phi Ann to stop being a thief. At nighttime, the rogue ruffian tries to steal Phi Ann's bounty. Following a deadly shooting, Phi Ann is injured in the leg. As the ruffians go to find food, Wissanoo and Saeng take profit to flee with Yom as Phi Ann is injured. Yot and the three ladies join them. While chased by Phi Ann, Yot is shot. Yom decides to go back to Phi Ann to ensure her child can get a father. Getting back Yom, Phi Ann stops chasing the doctor. Finally Wissanoo dismisses in order to join Saeng in Bangkok. This movie is a remake of มือโจร by director Wichit Khunawut in year 1961. The 1972 version lasts 2h22mn.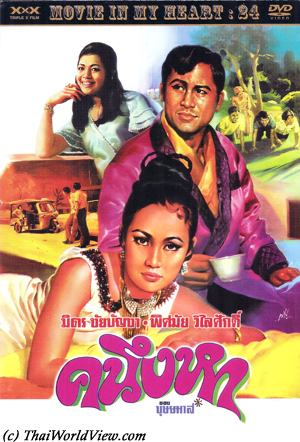 Year

: 1971



Thai title

:

คนึงหา




English title

:



Rating

: 4/5


Director

:



Main actor

: Mitr Chaibancha,Prachuap Ruekyamdee,Daonoi Duangjai,Choomporn Theppitak


Main actress

: Pissamai Wilaisak,Khomapat Attaya,Prim Praphaporn,Metta Roongrat



Buy now

:

Pum (Mitr Chaibancha) loves Deuan Chai but his parents want him to marry Prakai Fa (Khomapat Attaya), a young lady he doesn't love. Mitr consults his lawyer Pattai (Prachuap Ruekyamdee) and they set up a plan. As Deuan Chan is still studying in Japan for 8 months, they need to find a fake lady to convince the aunt (คุณหญิง) that Pum is already married to Deuan Chai and to cancel engagement with Prakai Fa. A job advertising is posted. Yai (Pissamai Wilaisak)(นางหนู), old style young lady, answers to it. Daonoi Duangjai is playing funny character as usual. The aunt is very direct (ปากร้ายใจดี). As wife and husband, Pum and Yai need to share the same room so it causes some issues. Pum's mother doesn't like Yai and wishes to cancel Pum and Deuan Chan's marriage. The mother tries to add jealousy between Pum and Yai by pretending Yai and Pattai are close together. Sathi (Metta Roongrat), close friend with Pum, has a fiance called Pirapee. Prakai Fa arrives and is shocked to discover Deuan Chan as she is supposed to get engaged with Pum. Pum is very jealous regarding Yai. It seems Yai has also a fiance (กุมาร) called Prasan (Choomporn Theppitak). In fact Yai, real name Ranaree, is coming from Songkhla and is also coming from a rich family. Her brother is Pirapee. She has to follow her parents' decision (ต้องทำตามคำสั่งของพ่อ). This movie features the last sequence in Mitr Chaibancha's life. Real Deuan Chan (Prim Praphaporn) is back so Yai prefers to leave. Pum has to disclose the truth to his aunt. The last sequence of the movie is using a replacement of the main actor as Mitr Chaibancha was already dead. Finally the movie ends happily with Pum and Yai staying together.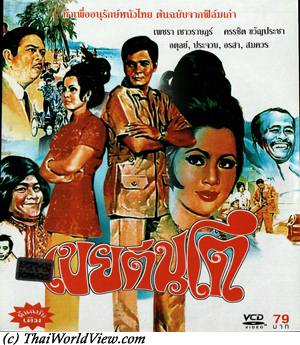 Year

: 1971



Thai title

:

เขยตีนโต




English title

:



Rating

: 3/5


Director

: Adul Dulyarat



Main actor

: Kanchit Kwanpracha,Prachuap Ruekyamdee,Lor Tok,Somkuan Krajangsat,Sukon Koewliam,Adul Dulyarat,Somchai Samipak


Main actress

: Petchara Chaowarat,Orasa Isarangkul,Prim Praphaporn,Metta Roongrat,Juree Osiri,Srisala Thongtara



Buy now

:

Kamnan Noon (Kanchit Kwanpracha) and Krok (Prachuap Ruekyamdee) (พี่ชายต่างประเทศ) are visiting a rich people house. They are welcomed by Lomjai (Petchara Chaowarat) and Iten (Orasa Isarangkul) as domestic helper. Krok comes back after 20 years in his family. He is a lost uncle's son. The uncle has disappeared 20 years ago. Despite having a letter to prove his identity, Krok is not accepted in Thao Thong lineage (ตระกูล) by the father Lom (Somkuan Krajangsat) as Krok doesn't have big feet seen as a family sign. Other family members are Srisala Thongtara (ศรีสละ ทองธารา), Juree Osiri, Prim Praphaporn. Lomjai flees and brings Krok and Noon to meet another family member who is policeman in Chumphon province. Noon and Krok get arrested and accused of kidnapping Lomjai. Noon's father gives guarantee to have them released from jail. Lomjai proposes to marry Noon to avoid him being sued by his father Lom. Neng, Sister of Noon, is played by Metta Roongrat. Noon helps Lomjai's father aggressed by ruffians. A parallel romance is starting between Neng and Lomjai's brother. Lom asks for proper traditions but once Lomjai is back to Bangkok, the wedding is cancelled. Lomjai cannot exit from home. Iten tries to help her to flee but to no avail. Krok becomes India airlines manager (ผู้จัดการ) thanks to his uncle to show to Lom his worthiness. Lom rejected Krok as he didn't want to share heritage with additional family members. Utit (Adul Dulyarat), Lom's brother, is back after recovering his memory. Lom tried to get rid of him twenty years ago. Lom's father (Lor Tok) asks him to surrender to police. Cornered, Lom kidnaps his own father and Lomjai. He finally gets arrested by the police. The movie ends up happily. This romantic drama comedy is based on family rivalry regarding heritage.The movie เขยตีนโต was released in year 1971 but it only lasts 1h23mn as some parts of the movie are missing so the story sometimes suddenly jumps from one sequence to another. The image is of bad quality and is not sharp but the movie has historical value as one of the first movies with Kanchit Kwanpracha replacing Mitr Chaibancha as main actor following Mitr premature tragic death. The poster mentions 7 songs (unfortunately cut and not available on the VCD) and 22 stars present in this movie.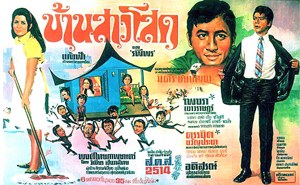 Year

: 1970



Thai title

:

บ้านสาวโสด




English title

:



Rating

: 3/5


Director

: Adul Dulyarat



Main actor

: Mitr Chaibancha,Kanchit Kwanpracha,Adul Dulyarat,Somkuan Krajangsat,Sukon Koewliam,Lor Tok,Prachuap Ruekyamdee


Main actress

: Petchara Chaowarat,Metta Roongrat,Prim Praphaporn,Juree Osiri,Orasa Isarangkul,Jomchai Jarintorn,Marasri Bangchang
บ้านสาวโสด is a Thai movie released in year 1970. It features Kanchit Kwanpracha as main actor and Petchara Chaowarat as main actress. The movie was started with Mitr Chaibancha but it was incomplete due to his premature death. So the main actor was replaced by Kanchit. Another version with Toon Hiransap and Piyamas Monayakol was released in year 1984. In 1970 Mitr Chaibancha worked in many movies in parallel. So some movies still kept one or two sequences of Mitr at the beginning of the reel as additional advertisement for the movie. Around 1 hour 30 minutes is left to be seen. Three single ladies (Metta Roongrat, Prim Praphaporn, Juree Osiri) are living together. Petchara arrives in their home. She is doing chores. Their neighbour is Kanchit Kwanpracha. Other actors are Somkuan Krajangsat, Prachuap Ruekyamdee, Orasa Isarangkul, Adul Dulyarat, Sukon Koewliam, Lor Tok, Jomchai Jarintorn. Kanchit likes Petchara very much. Funny sequences happen on beach seaside between Sukon Koewliam and Prim Praphaporn. Misunderstanding keeps happening between Kanchit and Petchara as other ladies try to seduce Kanchit. It seems that Petchara will marry Prachuap as she is disappointed by Kanchit. Finally kidnappers enter in Petchara's home but they are chased away by Kanchit and captured by Adul Dulyarat and Orasa Isarangkul. Outside the home kidnappers are there again and threaten to shoot Kanchit. Petchara stand between Kanchit and the ruffians to prevent any shootings showing her real love towards Kanchit. In fact kidnappers are this time Adul and Osara playing this trick to force their reconciliation. Six songs are featured. There are still old still pictures showing Mitr playing movie บ้านสาวโสด and the movie poster is also showing his name.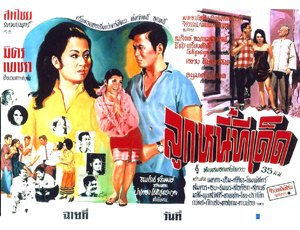 Year

: 1970



Thai title

:

ลูกหนี้ทีเด็ด




English title

:



Rating

: 3/5


Director

:



Main actor

: Mitr Chaibancha,Daonoi Duangjai,Kokheng,Op Boonthit,Somkuan Krajangsat,Sukon Koewliam,Lor Tok,Choomporn Theppitak


Main actress

: Petchara Chaowarat,Metta Roongrat,Prim Praphaporn,Khomapat Attaya,Sasithorn Phetrung,Malee Wetpraseri
Thai movie ลูกหนี้ทีเด็ด was released in year 1970. A partial sequence of 1h45mn in 16mm format is left. It is in mute state and the image is pretty damaged. After removing the damaged sequences, only 1h05mn remains to be seen. Another sequence of three songs in 35mm format lasts 9 minutes. The movie was dubbed and shown in Thai Film Archives in the shorter version of 1h05mn. The movie features 4 songs but only 3 songs are left. The poster selling point is that up to 40 different actors and actresses are present in this movie. Some of the actors are Metta Roongrat, Daonoi Duangjai, Mitr Chaibancha, Prim Praphaporn, Petchara Chaowarat, Kokheng, Op Boonthit, Somkuan Krajangsat, Sukon Koewliam, Lor Tok, Khomapat Attaya, Sasithorn Phetrung, Choomporn Theppitak, Malee Wetpraseri. Lit (Mitr Chaibancha) helps Somkuan Krajangsat and Lor Tok aggressed by ruffians. Somkuan is looking for the house of Op Boonthit so Lit helps him to find it. Wan (Metta Roongrat) is Op's granddaughter. Three friends (Lit and two comic actors) are living together. แม่ค่า Ling (Sasithorn Phetrung) tries to seduce Lit by being friendly with his friends and giving them free food. Ling's mother (Malee Wetpraseri) doesn't want her daughter to meet those poor 3 guys. Sophee, Lit's girlfriend, leaves him as he is poor. Pim (Prim Praphaporn) and Taeng (Petchara Chaowarat) take refuge in their home as rain is falling hard. Pim and Taeng are looking for lost relatives so Lit promises to help them. Policeman Sukon Koewliam and Kokheng are visiting Lit as he needs to pay back some debts. Sukhon threatens to send him to jail. Taeng helps Lit by offering her pearl necklace in order to soothe the usurer. Op Boonthit and Somkuan Krajangsat (พ่ออ้วน) complain Wan likes to go out often. Wan and Noi (Daonoi Duangjai) meet Lit and his two friends to discuss business. Lit visits Op and Somkuan's house. Lit borrows some money as he is opening a business. Wan gives money to Lit and his friends for them to be quiet. Two songs are then featured in the nightclub area. Lit is forbidding his former girlfriend Sophee to dance with Choomporn Theppitak in a nightclub. Chom (Khomapat Attaya) is also present. Lit finally punches Choomporn. Another love song is sung by Khomapat Attaya. Ling declares her love to Lit but Lit only considers her as a younger sister (น้องสาว). Op asks Lit to find his lost daughter. Lit needs to get back the pearl necklace also as Op mentions his lost daughter had such necklace. So he needs to verify if Taeng is the lost daughter or not. Chom is helping by giving money to Lit. Lit buys the necklace back from the Chinese usurier Kokheng. Finally Taeng is reunited with her family thanks to Lit. Later on, Taeng visits Lit in his house. Taeng is then singing with Lit in his house. Thanks to a sign on his chest, Lit is also identified as the lost son of Somkuan. The movie can end up happily. A movie with same name was released in year 1984 but the story is different.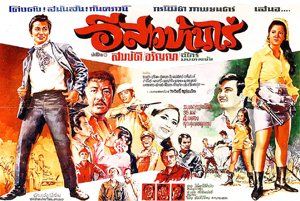 Year

: 1970



Thai title

:

อีสาวบ้านไร่




English title

:



Rating

: 3/5


Director

:



Main actor

: Sombat Methanee,Chat Mongkolchai,Anucha Ratanaman,Choomporn Theppitak,Adinan Singhiran,Chanee Yotchai,Sithao Petcharoen,Kokheng,Sukon Koewliam


Main actress

: Aranya Namwong,Prim Praphaporn,Khomapat Attaya,Marasri Isarangkul
Thai movie อีสาวบ้านไร่ was released in year 1970. It features Sombat Methanee as main actor and Aranya Namwong as main actress. The movie is lost in Thailand but a sequence of 15 minutes remains to be seen. It is a 16mm format movie so no sound is available as it requires live dubbing. A remake was released in year 1983 featuring Sorapong Chatree and Piyamas Monayakol. This movie is also lost except a trailer. Other actors and actresses include Chat Mongkolchai, Anucha Ratanaman, Prim Praphaporn, Choomporn Theppitak, Khomapat Attaya, Adinan Singhiran, โดม สิงห์โมฬี, Chanee Yotchai, Marasri Isarangkul, สาวิตรี สุวรรณจิต, เทิด, Sithao Petcharoen, Kokheng, เสนอ โกมารชุน, Sukon Koewliam. The summary is as below. Aranya is Sarinee. Her nickname is Isao (อีสาว). Sombat is Jainum. Sarinee is the land owner's daughter. Her father gets killed by the neighbour Virawilai (วรวิไล) as he refuses to sell his land. She replaces her father but her staff continues to get annoyed by the ruffians. Jainum gets hired and becomes part of the staff of Sarinee. He gives a tough lesson to the ruffians and is now responsible of the cows in the ranch. Jainum investigates on Sarinee's father death. He finds that those responsible of the murder want to build a runway for planes to bring weapons illegally inside Thailand. Love emerges between Jainum and Sarinee. Owner of ranch Virawilai tries to kidnap Sarinee to force her to transfer her land. While trying to help, Jainum is also captured but hopefully Thai police is coming behind. Ruffians flee in the mountain but Jainum follows them up in order to release Sarinee. The remaining left sequence is certainly happening in the middle of the film. Various scenes can be seen. Choomporn Theppitak is talking on a bed to a lady. Choomporn is a singer in a high end club. Sithao Petcharoen, Sukon Koewliam and two other men try to enter at nighttime in a women's dormitory. They are discovered, beaten and chased away by Prim Praphaporn. Aranya Namwong is meeting Adinan Singhiran in the countryside. He is giving her a letter. She is missing Sombat Methanee. Sombat is with Sukon Koewliam. Two ruffians including Chanee Yotchai kills a man (probably Sarinee's father) in cold blood. A four minutes trailer is also available. Additional scenes can be seen such as Chanee Yotchai trying to recover Sombat Methanee with rocks thanks to a bulldozer, various fightings involving Sombat Methanee or Aranya Namwong, Anucha Ratanaman kidnapping Aranya Namwong, Sombat Methanee fighting with Anucha Ratanaman in order to release Aranya...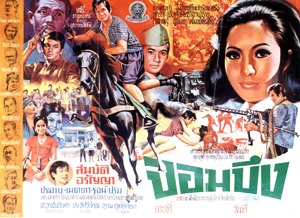 Year

: 1970



Thai title

:

จอมบึง




English title

:



Rating

: 3/5


Director

: Sor Asanajinda



Main actor

: Sombat Methanee,Prachuap Ruekyamdee,Ruj Ronnapop,Tat Ekathat,Songthong


Main actress

: Aranya Namwong,Metta Roongrat,Prim Praphaporn
Thai movie จอมบึง was released in year 1970. Main actors are Sombat Methanee and Aranya Namwong. The movie was never released on VHS / VCD / DVD formats in Thailand. The movie is still available in Thai Film Archives. Only reels 1-2-4 are available. Reel 3 is missing. It is lasting 1h22mn. Two partial reels (2-3) were also found in year 2013 thanks to a teacher and collector of old items in Songkhla area. The remaining sequence is lasting 28 minutes. It is in 35mm format as actors' voice can still be heard despite image and sound being in poor quality. The image is damaged due to water soaking (โดนน้ำ). The director is Sor Asanajinda. The movie features 16 songs according to the film poster. 6 songs have disappeared. Only 10 songs are left. Missing reel 3 in Thai Film Archives is about Sombat going to marry Prim. The ruffians lie to Sombat's father to invite him to the wedding party. They kidnap him to have a guarantee. The main actress Aranya Namwong is also captured by them. In reel 4, Sombat comes to help and rescue his father and Aranya. In a short online sequence, Aranya hits Sombat with her car. Finally, she accepts to take him in her car as he claims to be hurt. Prachuap Ruekyamdee is doing a massage to Metta Roongrat. Suddenly the car driven by Sombat arrives swiftly in their house property. Ruj Ronnapop seems to enjoy alcohol. Seeing Sombat and Aranya together causes a big ire to Metta. She tries to get back Sombat but to no avail.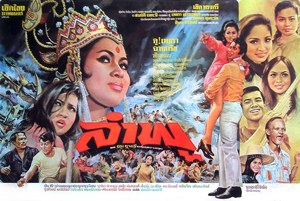 Year

: 1970



Thai title

:

ลำพู




English title

:



Rating

: 4/5


Director

: Cherd Songsri



Main actor

: Sombat Methanee,Choomporn Theppitak,Sawin Sawangrat,Lor Tok,Daonoi Duangjai,Songthong


Main actress

: Petchara Chaowarat,Prim Praphaporn
ลำพู is a Thai movie released in year 1970. 1h23mn is left so only three reels. Normally movies in decade 1960s~1970s often last two hours minimum. The picture is still colorful. The reels left are in 16mm format so the movie is mute as such format requires dubbing. Famous director Cherd Songsri is behind the camera. The below summary is based on understanding as there is no sound available. Choomporn (Choomporn Theppitak) and two young ladies, including Prim, have arguments in the market with local sellers. Few comics make fun of them. Sawin (Sawin Sawangrat), influential local man, is linked to Choomporn. Choomporn sees the comics during a fair and chases one of them. Petchara (Petchara Chaowarat) is dancing and wearing a beautiful traditional costume during this fair. Prim (Prim Praphaporn) is jealous of Petchara as Sombat (Sombat Methanee) is in relationship with Petchara. A few Isan songs are featured as singer is using a Kaen (แคน). The movie quits the countryside to the seaside where Sombat and Petchara have fun singing, playing unreal music instruments and playing in the water. Prim have arguments with Petchara while she is keeping her suitcase following her trip to seaside. Prim and Petchara are sisters? While Petchara is sick following overwork, her friends take care of her. Sombat is back from abroad. Prim wishes to become the official fiancee and to replace Petchara in Sombat's heart. She organizes Sombat's kidnapping but it fails. She finally drugs him. Meanwhile Petchara is kidnapped by Choomporn and Sawin. A huge storm is coming. Awaken, Sombat pushes back Prim and rushes to look for Petchara. People like Sawin struggles to bring their wealth with them but finally dies in house explosion following their greedy attitude. This movie is certainly one of the first Thai catastrophe movies. The movie includes real footage of a storm, i.e. Talumphuk storm in Nakhon Sri Thammarat on 27 october 1962. The severe storm called Talumphuk (ตะลุมพุก) devastated Pak Phanang coast and Talumphuk cape. It killed 769 inhabitants. Petchara falls from a passerelle during the storm. Sombat falls also during the storm. After the storm, many corpses can be seen. Sombat is looking for Petchara anxiously. She cannot be found. Petchara's friend blames Sombat. She is finally rescued by the hospital but her face is disfigured to the big delight of Prim. Petchara thinks about suicide but her mother prevents her. Sombat is still looking for Petchara despite her parents saying she has disappeared. Recognizing her clothes on a clothesline, he knows she is hiding in her parents' home. She refuses Sombat's love as she is now ugly. Sombat promises to take care and to pay for hospital bills regarding facial surgery. Prim hires Choomporn, promising sweet rewards, to pour acid on Petchara's face while she is recovering at hospital. He does so but does it on the wrong person! At a big party, Sombat is accompanied by Petchara back to her full beauty causing Prim's wrath. The movie stops here.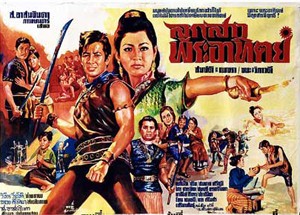 Year

: 1969



Thai title

:

ลูกสาวพระอาทิตย์




English title

:



Rating

: 2/5


Director

:



Main actor

: Sombat Methanee,Sor Asanajinda,Krai Kanchit


Main actress

: Petchara Chaowarat,Tukata Jindanuch,Prim Praphaporn



Buy now

:

A robber has a young son, called Praiwan. They save one young woman and her baby girl. In parallel, her husband, who is a king, is expelled from his kingdom and imprisoned. The baby girl is called Suriya Noi (daughter of the sun) and has a powerful necklace. Whoever wants to catch her will suffer heat and be burnt. Praiwan and Suriya Noi sympathize and have supernatural powers (ผู้วิเศษ). Finally Suriya Noi and her mother go back to the kingdom. But the mother is imprisoned and the daughter is given to another family, where she is treated as a slave. A few years have passed, Praiwan has become an adult. He searches for Suriya Noi. He is trapped by the king and his mistress, who pretends to be Suriya Noi. She wants to become the queen but the imposture is uncovered. Praiwan makes Suriya Noi pregnant. Suriya Noi has a child called Suriyan. Despite Praiwan bad behavior, Suriyan keeps gratitude (กตัญญู) over her father. A sorcerer (แม่มด) wishes to help the imposter king in order to defeat Suriya Noi and Suriyan. They can be only defeated if their husband / father kills them. The plan fails and the movie ends happily with the right king reinstalled and Praiwan, Suriya Noi and Suriyan reunited as a family. A remake was done in 1986 with Sorapong Chatree. The remake takes place in 20th century and machine guns fights have replaced sword fighting.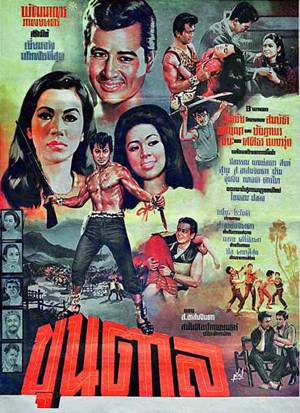 Year

: 1969



Thai title

:

ขุนตาล




English title

:



Rating

: 3/5


Director

: Sor Asanajinda



Main actor

: Sombat Methanee,Sor Asanajinda,Chana Sriubon,Luechai Natnat,Joomjim Khemlek,Sawin Sawangrat,Somkuan Krajangsat


Main actress

: Aranya Namwong,Wilaiwan Watthanaphanit,Prim Praphaporn,Chatchadaporn Laksanawed,Sasithorn Phetrung
Thai movie ขุนตาล was released in year 1969. Main actor is Sombat Methanee and main actress is Aranya Namwong. The movie is lost in Thailand but three reels remain to be seen. The whole movie is reduced to a sequence of 47 minutes so making it difficult to understand in details. Sor Asanajinda is actor and movie director. No movie summary is left to be read. The movie is in 16mm format so without sound as such format requires live dubbing. Two friends always like to fight to settle their disagreement (เพื่อนรัก). They are living in a bandit village (ชุมเสือ). One of them, called Sing (สิงห์), is having a child with Prim Praphaporn. Their son is played by Sombat Methanee. Years have passed, he is now an adult. Following some fighting, Sombat becomes the new leader and gets a crown shaped like a tiger head (มงกุฎหัวเสือ). Sombat summons a spirit doctor (หมอผี) to cure Sasitorn Phetrung (ศศิธร เพชรรุ่ง), who is blind. Some ingredients are missing. In the city, a sequence shows Chana Sriubon, Chatchadaporn Laksanawed (ชัชฎาพร), Sawin Sawangrat and Sor Asanajinda talking together. Sombat and the spirit doctor enter in Pa Sor's house to get some of the missing ingredients. Sombat meets Chadaporn and then Aranya. Wilaiwan Watthanaphanit is the mother of the two daughters, i.e. Chadaporn and Aranya. Sombat is injured by the bandit he defeated before to become the village leader. Chana Sriubon neutralises the bandit so that Sombat can run away. Luechai Natnat is then also injured in Pa Sor's house and flees. He is chased by ruffians but gets help from Sombat. Sombat comes back again to the house to have discussion with Pa Sor and ends up kidnapping Aranya and Sasitorn. Sawin and his ruffians chase them. Chana Sriubon tries to prevent them but gets neutralised. Sombat seems very unhappy over Aranya. Aranya saves Sombat's life while he is attacked again by the rogue bandit. Sawin captures Pa Sor and Chana Sriubon. Aranya asks Sombat to help Pa Sor captured by Sawin. Wilaiwan releases Chana. Luechai gets rid of Sawin. Final duel happens between Sombat and Pa Sor until they realise they are relatives (father / son?).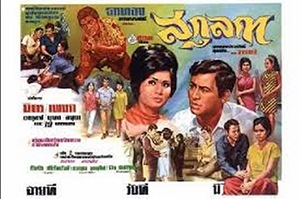 Year

: 1968



Thai title

:

สกุลกา




English title

:



Rating

: 3/5


Director

:



Main actor

: Mitr Chaibancha,Pisarn Akraseranee,Adul Dulyarat,Man Teeraphol


Main actress

: Petchara Chaowarat,Prim Praphaporn,Boosara Narumit
Dara, Deuan (Boosara Narumit) and Dao are three ladies living together. They are not rich. Deuan works in a club as a partner to earn money for her younger niece Dao (Petchara Chaowarat) to study. Anong (Mitr Chaibancha) and Poon (Pisarn Akraseranee) are brothers. The club manager (ผู้จัดการ) loves Deuan. Another young man Trin loves secretly Deuan also. The manager warns Poon about Deuan. Poon respects Deuan and helps her financially. Dara and Deuan prefer avoid coming to school events to avoid Dao losing face. A rich family wishes to adopt Dao as their daughter (อุปกรณ์) as she is coming from a poor family without a father and she has very good behavior. The parents are Kanchanarot (Adul Dulyarat) and Varee. Dara and Deuan are not willing as they have a secret animosity against this family. Anong wishes his brother to stop seeing Deuan as the manager even sent ruffians to hit Poon due to jealousy. Finally Anong sent his brother abroad for study. Wadee is Varee's daughter. It is scheduled that Anong and Wadee will certainly marry. Dara is hit by a car and dies. Kanchanarot meets Deuan. They had an affair long time ago. Kanchanarot believes Dao is his own daughter with Deuan. Choem is her old name. Meanwhile Sia, a ruffian, falls in love with Dao and offers 150 000 baht to Deuan to marry Dao. Sia and the club manager wish to take Dao and Deuan as wives. Deuan flees before the one month deadline expiry and accepts Dao to stay in Kanchanarot 's family. Valai, Varee's sister, tries to bring jealousy in Varee and Wadee's heart against Dao (จะรักมากจะลืมคนอื่น). Poon loves also Dao but got another love, Pen, while studying abroad. He requests help from his elder brother. Anong has the difficult task (พ่อซื้อ) to ask Dao's hand for his younger brother despite he loves secretly Dao. Dao cries as she also loves secretly Anong. Deuan contacts Dao and assures Anong is much better than Poon. Dao decides to marry Trin as she doesn't want to hurt Wadee. Poon and Pen finally marry. Trin refuses to marry Dao as he knows Dao doesn't love him. Finally Sia kidnaps Dao to have her becoming his wife. The movie ends tragically with Trin giving his life to protect Dao and taking the blame regarding the knife used by Deuan to stab Sia. Mothers have often similar age as daughters in old Thai movies! It was Pisarn Akraseranee first movie. A Thai TV serie สกุลกา was made in 2009 based on a similar scenario.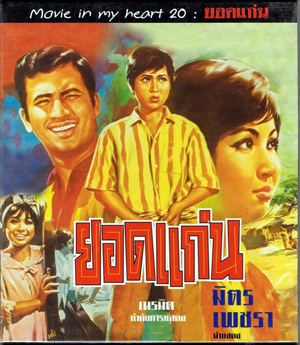 Year

: 1968



Thai title

:

ยอดแก่น




English title

:



Rating

: 4/5


Director

: Neramit



Main actor

: Mitr Chaibancha,Prachuap Ruekyamdee,Sukon Koewliam,Paen Pleumsachai


Main actress

: Petchara Chaowarat,Prim Praphaporn,Metta Roongrat,Mom Chan Phuangwan



Buy now

:

Thai movie ยอดแก่น was released in year 1968. Thai movie ยอดแก่น, directed by Neramit, lasts 1h57mn and still has colorful picture. Parts of the movie are missing. While being threatened by robbers, Khun Chak (Mitr Chaibancha) meets Raem (Petchara Chaowarat), a naughty young lady (เด็กเวร). Oon (Prim Praphaporn) is already engaged with Chak. Bancha is a bad man and Oon's aunt warns her as he is used to put drugs in drinks to abuse girls. Raem often comes to talk to Chak. Raem even gives his purse back to Chak mentioning that robbers lost it while fleeing. Raem has no mother and her father never took care of her. Chak believes Raem is a young man or a "kathoey" (กะเทย) as Raem has short hairs. In fact, Raem's father called Seua is the head of the robbers but he is not her real blood father. Finally Chak pays the father to adopt Raem (น้องบุญธรรม). Raem comes to Bangkok and helps first in domestic tasks. Arguments occur with Oon (อีเด็กบ้า). Chak asks her to stay calm (ต้องอดทน) as Oon has bad character and Raem can be bad mouth. Nit (Metta Roongrat) is engaged with Tanin (Prachuap Ruekyamdee), who is a policeman. Chak asks Tanin's help to clarify if Raem is a boy or a girl. They decide to use Nit for this task. Boramet (เด็กเกเร) is Nit's younger brother. He always spending a lot of money in gambling. He is also Oon's lover and their plan is to steal money as much as they can from Chak. Nit identifies that Raem (เด็กกะโปโล) is a girl. Oon, aware, accuses Raem to try to steal her fiance. She announces to break the engagement. Raem decides to flee the house to avoid causing trouble to Chak. Meanwhile Boramet has arguments while playing cards in an underground place and kills a man. The owner asks for 30 000 baht to keep silent. Oon, hoping to marry Boramet, is pushed away by him as he needs to find the 30 000 baht as soon as possible. Chak keeps looking for Raem. Unable to find Raem, Chak asks Raem's father, Seua. They decide to search together in Bangkok. Boramet steals his own father's money. Seua happens to be there at the same time. Fighting happens and Seua shoots Boramet. Buddhist Karma cannot be escaped as Boramet is in fact Seua's real son. Raem's real father is Khun Tiwa. Many years ago, Seua exchanges Boramet and Raem to revenge over Khun Tiwa. Bad deed causes bad act. Raem is reunited with her father Khun Tiwa and her sister Nit. Chak marries Raem.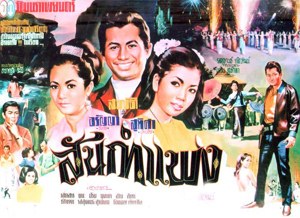 Year

: 1968



Thai title

:

สันกำแพง




English title

:



Rating

: 3/5


Director

:



Main actor

: Sombat Methanee,Chana Sriubon,Choomporn Theppitak,Sawin Sawangrat,Sithao Petcharoen


Main actress

: Aranya Namwong,Suthisa Putnuch,Prim Praphaporn
Thai movie สันกำแพง was released in year 1968. The movie is lost in Thailand but a 90 minutes sequence remains to be seen. The movie is 16mm format so in mute state as such format needs dubbing. Main actor is Sombat Methanee and there are two main actresses, i.e. Aranya Namwong and Suthisa Putnuch. Prim Praphaporn is flirting with a man. Kan (กานต์) (Sombat Methanee) and Sai Mai (สายไหม) (Aranya Namwong) are discussing together during a party. The next day, they are going to Buddhist temple (ทำบุญ) together and maybe to have a common promise. Romance is happening between them. Kan is leaving Chiang Mai by train. Primpaporn is in the same train. They have a flirt. Back to Chiang Mai, Kan is punched by the man flirting with Primpaporn. Finally Kan is reunited with Aranya through a classic scene under the rain. They take refuge in a hut due to the strong storm. They have a daughter called Sai Nam Pheung (สายน้ำผึ้ง) (Suthisa Putnuch). Prim announces to Aranya that Kan is hers. Aranya is unhappy about this news and tells it clearly to Kan. Kan blames Prim. Prim delivers a son and tries to get suicide as she cannot get Kan's love. Twenty years later, their children meet in Chiang Mai. Will they be able to have a love story after their parents' failure twenty years ago? Sombat Methanee is also playing the role of Suriyon (สุริยน) (child) and has a love story with Sai Nam Pheung. Suriyon meets Sai Nam Pheung and a romance starts during Songkran festival. Suriyon is captured by ruffians led by Choomporn Theppitak and Sawin Sawangrat. Then two Sombat Methanee can be seen on the screen, i.e. Kan and Suriyon. A fight with ruffians leader is happening in order to release Suriyon lynching on a tree by the feet. The movie features seven songs. A remake was done in year 1981 with Sorapong Chatree.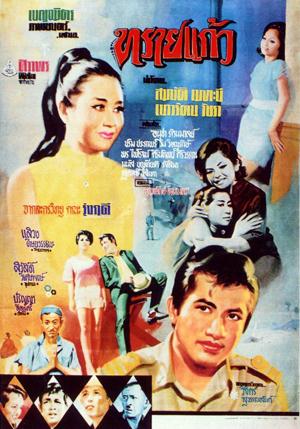 Year

: 1968



Thai title

:

ทรายแก้ว




English title

:



Rating

: 3/5


Director

:



Main actor

: Sombat Methanee,Sithao Petcharoen,Sukon Koewliam,Anucha Ratanaman


Main actress

: Naowarat Watchara,Prim Praphaporn
ทรายแก้ว is a Thai movie released in year 1968. This movie is a lost movie in Thailand as only one reel is left and it is the last reel. The reel is in 16mm format so there is no sound available as such format requires live dubbing. Previously one dubber was used in small theaters and two dubbers in big theaters. No movie summary is left. It is a romantic family drama with Sombat Methanee and Naowarat Watchara as main actors. Other actors are Sithao Petcharoen, Sukon Koewliam, Anucha Ratanaman, Prim Praphaporn. Prim Praphaporn has no more the main role but second role (นางรอง). Sombat and Anucha rescue Naowarat. Anucha kidnaps Naowarat and sends her on a boat. Following a fight with Naowarat's father, Anucha falls on his own knife and kills himself. Naowarat and Primpaporn get reunited with their father. Following a last misunderstanding, Naowarat and Sombat finally marry.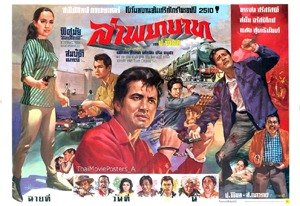 Year

: 1967



Thai title

:

ล่าพยาบาท




English title

:



Rating

: 3/5


Director

: สนั่น จรัสศิลป



Main actor

: Sombat Methanee,Taksin Jampol,Anucha Ratanaman,Chao Klaewklong,Tawan Siriwat,Sawin Sawangrat,Sithao Petcharoen


Main actress

: Pissamai Wilaisak,Prim Praphaporn,Kaenjai Meenakanit,Marasri Isarangkul,Mom Chan Phuangwan
Thai movie ล่าพยาบาท was released in year 1967. Main actors and actresses include Pissamai Wilaisak, Sombat Methanee, เสกสรร สัตยา, Taksin Jampol, Prim Praphaporn, Anucha Ratanaman, Chao Klaewklong, ชาย, Tawan Siriwat, Kaenjai Meenakanit, สุเทพ เหมือนประสิทธิเวช, Sawin Sawangrat, Sithao Petcharoen, Marasri Isarangkul, ปราณีต คุ้มเดช, Mom Chan Phuangwan, ทองฮะ, ชื้นแฉะ, บู๊ หมูตอน. Movie director is สนั่น จรัสศิลป. The film was never released on VHS / VCD / DVD format but a dubbed sequence in 16mm format can still be seen in Thailand. It was shown in Thai Film Archives in year 2019. Sombat Methanee plays a policeman.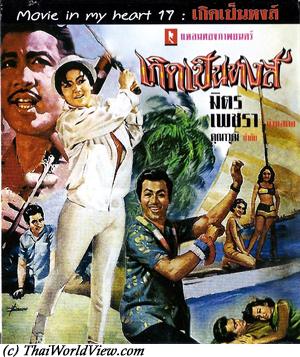 Year

: 1966



Thai title

:

เกิดเป็นหงส์




English title

:



Rating

: 4/5


Director

: Wichit Khunawut



Main actor

: Mitr Chaibancha,Prachuap Ruekyamdee,Adul Dulyarat


Main actress

: Petchara Chaowarat,Prim Praphaporn,Uamdeuan Uttsada



Buy now

:

Thiyu, a gruff cowboy, falls from his horse as it is frightened by Thula's car klaxon. So Thiyu meets with Kramon (กระหม่อม) Thula, member of Thai aristocracy. Thiyu also meets Saengson, who is Thula's faithful admirer. Thula's mother pushes her to meet rich bachelor Saengson as she has debt 2 millions baht due a failed automotive business. Thiyu's mother is dead. Pathet, his half brother, has already three wives, i.e. Kwanta, Pom and Puang. Kwanta is having an affair with Viwat, house attendant. Thiyu and Kwanta are former sweethearts (แฟน) but he broke up with her as she is only interested in money and has bad behavior (หัวใจชั่ว). Pathet saw a beautiful high society lady in Bangkok and wishes her to become another of his wives (เมียใหม่). This lady is Thula... The minor wives decide to help each other (ร่วมมือ). A friendship starts between Thiyu and Thula. Saengson wishes to marry Thula but Thula chases him away and reminds him to verify with his mum first! Rumors spread by Saengson's mother mention that Thula is bankrupted. Kwanta is pregnant and wishes to flee with Viwat. Viwat doesn't want to be responsible of this kid. Viwat resigns from his job (ลาออก). Pathet is infertile (เป็นหมัน) so others know Viwat is the father. There is an heritage issue as Thiyu never got anything when his father died. He now wishes to fight back for this heritage. Pathet offers a high salary to Thula and also offers to buy back the mother's debt. As Thula's father dies in a plane crash in Hong Kong, she accepts Pathet's offer believing it is a job offer only. Pathet believes his money will help him to get Thula's love. So the new member in Pathet's house is Thula! Thiyu is so surprised. Kwanta's parents complain to Pathet about her pregnancy. Kwanta claims Thiyu is the father! Thiyu has to accept to be the father. Both are upset. Pathet believes in money power (บูชาเงิน). There is a severe misunderstanding between Thula and Thiyu. Thula is upset Thiyu has hidden to her he has a pregnant wife already. Thiyu is upset Thula accepted to be Pathet's fourth wife. Pathet took his heritage now his love. It is more than he can endure. To make Pathet jealous, Pom and Puang claims that Thiyu and Thula love each other behind his back. His money cannot buy Thula's love and he starts to be violent with Kwanta and Puang. The house becomes a hell (เป็นนรก). Fed up being Pathet's slave, Thiyu forces Thula to flee with her. Thula is upset as it is not a situation matching her position (ฐานะหญิง). Pathet chases after them. Finally all misunderstandings are cleared between Thiyu and Thula. Pathet knows he cannot get Thula's love. Through a final gun duel with Thiyu, Pathet is shot by Puang. Pathet has paid for all the bad deeds he caused to others. It is a beautifully colorful remastered 2h22 movie.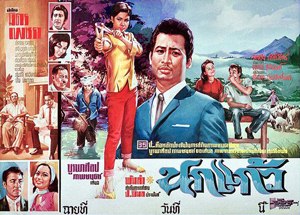 Year

: 1966



Thai title

:

นกแก้ว




English title

:



Rating

: 3/5


Director

: Phan Kam



Main actor

: Mitr Chaibancha,Adul Dulyarat,Prachuap Ruekyamdee,Lor Tok,Sukon Koewliam,Anucha Ratanaman


Main actress

: Petchara Chaowarat,Kaenjai Meenakanit,Prim Praphaporn,Sarinthip Siriwan,Manat Boonkiet
นกแก้ว is a 1969 Thai movie in 16mm format with no sound. It was directed by Phan Kam, who directed more than 60 movies in his whole career. Only 1h10mn is left. Only the first and last film reels are left. So it is difficult to understand accurately the whole story. Prachuap Ruekyamdee is Petchara's close friend. In a village on the countryside, Petchara Chaowarat catches Lor Tok trying to get fishes in their field. Sukon Koewliam is also having another comic role in the village. A grandfather in a wheel chair is talking to his son in Bangkok. As he is going old, he needs to prepare his succession. Petchara is his hidden granddaughter with another woman. The rich family siblings doesn't want her to receive anything. Anucha Rattanamarn is fiance with Kaenjai Meenakanit. They prepare a plan to disinherit Petchara. Mitr Chaibancha, the grandson, is offering flowers to the grandfather. There is a carnival in the village. Adul Dulyarat, a mysterious rich man, meets with Petchara. Petchara and Kaenchai meet also. She gives her a letter. What is inside the letter? Certainly a letter in which Petchara shall reject her rights to the heritage. Later on, Adul wants Petchara to sign a letter but she refuses so he slaps her. Adul threatens her mother to force Petchara to sign the letter. Meanwhile Mitr and Ruekyamdee enter secretly in the house where Petchara is held prisoner in order to help her. Shootings happen with ruffians but Thai police arrive on time to catch Adul. There is an important meeting to open heritage documents at the same time. Petchara arrives on time before the final signature! The grandfather was kept in the dark regarding Petchara by his own family but they all got arrested by police for forgery. Many movies names with Mitr and Petchara started with นก (bird) such as นกยูง (1969), นกแก้ว (1969), นกขมิ้น (1965) or นกน้อย (1964).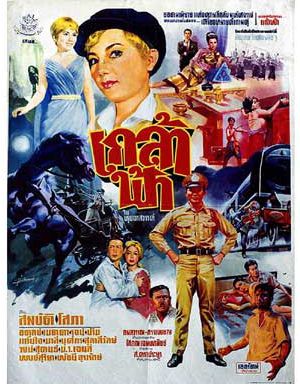 Year

: 1966



Thai title

:

เกล้าฟ้า




English title

:



Rating

: 1/5


Director

:



Main actor

: Sombat Methanee,Ruj Ronnapop,Adul Dulyarat


Main actress

: Sopha Sataporn,Prim Praphaporn,Metta Roongrat
Suey is a young man living in a remote place with a teen, an old blind grand mother and horses. He is a cart driver in Lampang. Roi (Sombat Methanee) is a policeman enquiring on local murders. Khun Kier is a doctor. The doctor wishes to know more about Suey. He finds a passage in his house that leads to a mysterious palace. Mixing reality and dream, the doctor seems to have been a king in previous life and has many women in his harem. Waen Fa was his official wife but he seduces Kae Son, a beautiful musician. Waen Fa has a son called Rom Fa. She is too excessive and wants her son's love only for her with no share with his wife Maria. Klao Fa is the daughter of Maria and Rom Fa. Maria is not able to support the pressure from Waen Fa and leaves the palace. She marries a doctor. Klao Fa has a personality problem as her parents have divorced and make their new life without her. Suey and Klao Fa are the same person. Finally Roi and Klao Fa marry together. This movie has old picture without much color. Soundtrack is new and there is no more Sombat Methanee's voice.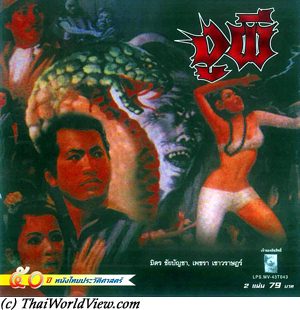 Year

: 1966



Thai title

:

งูผี




English title

:



Rating

: 2/5


Director

:



Main actor

: Mitr Chaibancha


Main actress

: Petchara Chaowarat,Prim Praphaporn
A couple is catching and selling snakes in Chiang Sen. The husband wants to catch a huge white snake (งูขาว) living in a cavern. Local people don't want to help as this snake is supposed to be a local spirit (งูเจ้าแม่). This causes his death and his wife's death. Only the young baby survives. The young baby is saved by local villagers and called Boonleua. She is educated with a younger sister called Waen Fa (Petchara Chaowarat). The movie takes place in 2453. Many young people died mysteriously. Phrakit (Mitr Chaibancha) is sent by Bangkok centralized Thai administration to enquiry on the deaths. During Songkran festival, he met with Waen Fa. Boonleua likes Phrakit also a lot and asks Waen Fa to help her. Phrakit inquiried on the deceased corpses but in coffins, bodies have disappeared and be replaced by a snake. A ghost appears to challenge Phrakit. A necromancer announces that the snake spirit was supposed to stay in the cavern. As he is now roaming outside, the spirit is killing young people. The necromancer doesn't know in which body the spirit is hiding. It is in fact in Boonleua body. Boonleua hypnotizes her sister Waen Fa to catch a young girl. Villagers believe the spirit is hiding in Waen Fa's body and try to burn her. Phrakit tries to help but he is overcome by the villagers. Boonleua, possessed by the snake spirit, kills her father who tried to save Waen Fa. Only a monk can save them by confirming that Waen Fa is not possessed by the spirit. The monk confirms that Boonleua is the one to be possessed and asks Waen Fa to put a magic necklace around her neck to neutralize the spirit. Waen Fa has pity on her sister and asks her to promise stop killing people. She does promise but fails to do so. She seduces Phrakit same as Demon Mara tactics, hypnotizes Phrakit and brings him in her cave to stay as her husband. The second part of the movie is less interesting and is mainly a forward and backward chase between the snake spirit, Waen Fa and Prakit. This old movie has a new soundtrack but a damaged image. Colors are partially gone.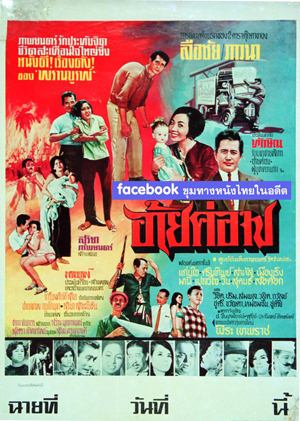 Year

: 1966



Thai title

:

อ้ายค่อม




English title

:



Rating

: 3/5


Director

:



Main actor

: Luechai Natnat,Taksin Jampol,Sukon Koewliam,Lor Tok,Preuhat Boonlong,Tawan Siriwat


Main actress

: Pawana Chanajit,Kaenjai Meenakanit,Sarinthip Siriwan,Chosri Misommon,Mom Chan Phuangwan,Prim Praphaporn
Thai movie อ้ายค่อม was released in year 1966. Main actors and actresses are Luechai Natnat, Pawana Chanajit, Taksin Jampol, Kaenjai Meenakanit, Sukon Koewliam, Lor Tok, Sarinthip Siriwan, Preuhat Boonlong, เมืองเริง, มานี, เปลวใจ, วิน, วิชิต, Prim Praphaporn, Chosri Misommon, Mom Chan Phuangwan, Tawan Siriwat. Movie director is เกรียงศักดิ์ สุริยา. The movie is lost in Thailand but a sequence in 16mm format is left to be seen. It features the movie title sequence and only lasts one minute. The image shows lotus in front of a village. Colors are lost. The movie was released again as a remake in year 1980 with Sorapong Chatree and Jarunee Suksawat.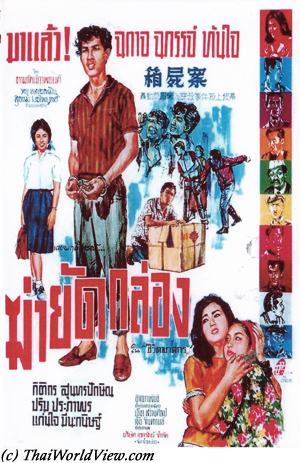 Year

: 1965



Thai title

:

ฆ่ายัดกล่อง




English title

:



Rating

: 3/5


Director

:



Main actor

: Sukon Koewliam,Krai Kanchit


Main actress

: Prim Praphaporn,Kaenjai Meenakanit,Sarinthip Siriwan
Thai movie ฆ่ายัดกล่อง is based on a case, which is a real story and occurred in year 1965. Regarding the assassin, it was จรินทร์ สิทธิธรรม ฉายา "กระทิงแดง ศิษย์พระกาฬ". The victim is teen กิมบั๊ก แซ่อึ้ง being 15 years old. He killed this teen and put the body in a box (ส่งศพมาทางรถไฟ) and throws it in a train going to Chiang Mai. As he was cooperative during investigation, he didn't get death sentence but life imprisonment. Movie director is อัจฉราพันธ์. Actors also include เมืองเริง ปัทมินทร์ and กิติกร สุนทรปักษิ. The movie lasts 1h46mn and is a 16mm film in mute format. The 16mm film has still a colorful image but it was never released commercially in Thailand so it is still in mute mode as 16mm films require live dubbing. The movie is probably incomplete as 1960s movies were often more than two hours long. The movie seems to diverge compared to the real police case. Two schoolmates including Kitikorn (กิติกร สุนทรปักษิ) are fighting together because of a female student. Sarinthip Siriwan is Kitikorn's mother. The husband is a drunkard. The son Kitikorn protects his mother. The mother and stepfather finally stab each other. Kitikorn goes to Bangkok. He meets a man and his daughter (Prim Praphaporn) as soup sellers. Prim appreciates Kitikorn. Kitikorn takes refuge in an uncle's home in Bangkok. Sukon Koewliam plays a policeman role. The two youngsters, Prim and Kitikorn, leave to stay together. Kaenjai Meenakanit meets Kitikorn and convinces him to go to hotel room. It is a trick as in the hotel room, a photographer takes a picture of them. He gets threatened by Krai Kanchit. Prim goes to Krai's house and gets some money. The young man is threatened again and understands he has been fooled by Kaenchai. A movie reel must be missing as Kitikorn is then seen at hospital with Prim, going to give birth. His child unfortunately dies. Kitikorn goes to see Kaenchai again and blames her. As she wants to get rid of him by giving him money, he hits her. He needs to buy medicine for Prim but he has no money. Kitikorn steals some goods at the pharmacy but a man is killed during the fighting. Police is involved. The police leader enquiries over Krai. Police visits Prim's home but Kitikorn flees before. Police chases him in the countryside. He hides in a Buddha cave. A monk finds him. Police asks him to surrender. Prim and his uncle ask him also. The monk convinces him to surrender.
---
---