PISARN AKRASERANEE
Increase or decrease font size for easier reading : A+ A-
Pisarn Akraseranee (พิศาล อัครเศรณี) was born in year 1945.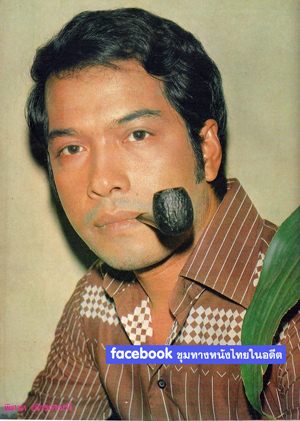 Pisarn Akraseranee played in a first movie in year 1968. He was Mitr Chaibancha's nephew in movie

สกุลกา

directed by Phan Kam.
In year 1970, Pisarn Akraseranee played Sombat Methanee's younger brother in movie เรือมนุษย์ directed by Dokdin Kalyamal.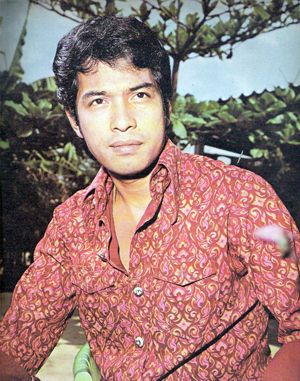 In year 1971, Pisarn Akraseranee played with Krung Srivilai in movie

ลูกยอด

. It was Krung's first movie.
In year 1975, Pisarn Akraseranee directed his first movie, i.e. วิวาห์เงินผ่อน with Yodchai Meksuwan and Naiyana Shewanan. The movie was a commercial failure.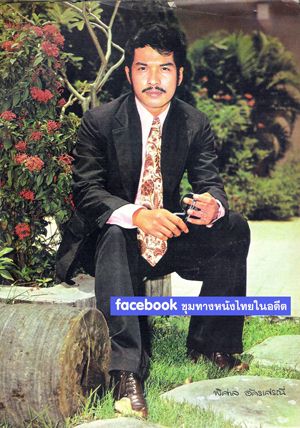 Movie

รักเอย

was the movie that helped to boost Pisarn Akraseranee's career in year 1978 as main actor. It was directed by

ม.จ.ทิพยฉัตร ฉัตรชัย

. It was a big success, so the movie director made a new movie immediately.
Thai movie มนต์รักอสูร was shot in only nine days and released in year 1978.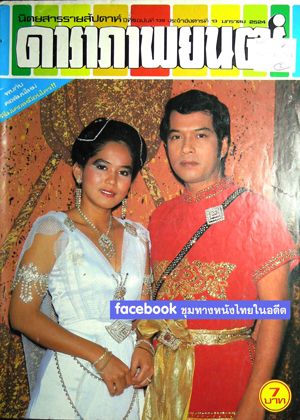 Thanks to these two movies, Pisarn became famous and was the main actor in many movies from 1978 to 1988.
Thai movie ฟ้าหลังฝน released in year 1978 was another movie with Pisarn Akraseranee as movie director. It was a success! So Pisarn Akraseranee directed many movies later on.
---
Pisarn Akraseranee (1945-2018) - พิศาล อัครเศรณี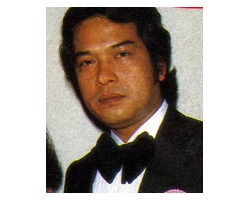 Pisarn Akraseranee is an actor and also a film director. In year 2001, his project to do a Thai historical film about Thai heroine Thao Suranaree raises serious anger from Laos
This Pisarn Akraseranee movie page contains 17 records.
---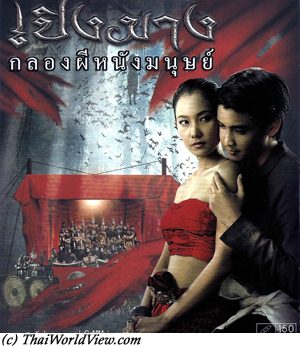 Year

: 2007



Thai title

:

เปิงมาง กลองผีหนังมนุษย์




English title

: The Haunted Drum



Rating

: 3/5


Director

:



Main actor

: Pisarn Akraseranee


Main actress

: Woranut Wongsawan



Buy now

:

Ping wishes to become a musician. He becomes a student of Master Duang, a famous master musician. Master Duang owned the mysterious drum called Peung Mang, which is said to have been made by the skin of a beautiful woman named Thip. Ping falls in love with a beautiful girl who teaches him how to master drum skills but she is in fact the ghost leaving inside the drum. Meanwhile, an arrogant musician called Muan tried to convince all the students to leave Master Duang. Some students died horribly. Even if Muan is defeated by Ping during a drum contest, things get worst and the drum becomes not only an instrument of music but also an instrument of death.



Year

: 1987



Thai title

:

สารวัตรเถื่อน




English title

:



Rating

: 3/5


Director

:



Main actor

: Chatchai Plengpanich,Pisarn Akraseranee,Uten Boonyong


Main actress

: Sinaporn Philailak
Thai movie สารวัตรเถือน was released in year 1987 and lasts 1h34mn. An honest police inspector (สารวัตร) is killed by ruffians. He was a good man (รักษาความดี). The ruffians' leader Songyot (Uten Boonyong) is trying to buy land from local villagers. When they refuse, they get killed. The police inspector's assistant called Chatien (Pisarn Akraseranee) tries to continue his legacy by refusing to bend to external influence of powerful notables. Chatchai Plengpanich arrives in the city. Being chased by ruffians, he punches four of them. Chatien is under risk to be expelled from the police as the new police inspector doesn't like him and frames him (รับสินบนง่อๆ). The new police inspector is friend with the ruffians' leader Songyot. Chatchai disrupts the ruffians' drugs trafficking. Chatchai tries to motivate Chatien to remain a good cop (เลือดและวิญญาณของจ้าเป็นตำรวจ). Chatien is fired from police but gets encouragement from Chatchai to stop drinking. Ruffians wish to know who Chatchai is (คนแปลกหน้า). A new chief district officer's assistant called Palat arrives in the city. Chatchai is finally the chief of the police station (สารวัตรใหญ่). Chatchai does the cleaning among the bad behavior of the local policemen (ตำรวจภาษาอะไร). The new police inspector is arrested. Chatien discovers that Songyot is trafficking weapons also but is then captured and tortured. Through an explosive final, Chatchai neutralises the ruffians, arrests Songyot and releases Chatien. Chatien then becomes a new local police inspector. This movie highlights the fact that Thai policemen have to do their duty towards citizen and not towards their own interest.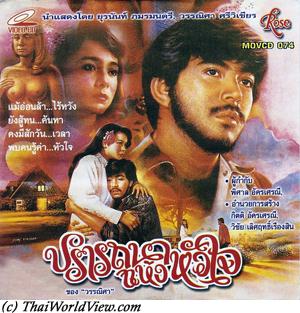 Year

: 1986



Thai title

:

ปรารถนาแห่งหัวใจ




English title

:



Rating

: 2/5


Director

:



Main actor

: Yuranan PamornMontri,Pisarn Akraseranee


Main actress

:
A mother-in-law gets rid of her daughter-in-law by pushing her in a waterfall. She wants to promote her lazy son as company CEO. But the daughter-in-law is rescued by an artist, who is heart-broken. Love emerges between both and wrong doers get punished.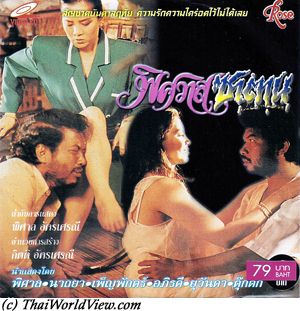 Year

: 1986



Thai title

:

พิศวาสซาตาน




English title

:



Rating

: 1/5


Director

:



Main actor

: Pisarn Akraseranee


Main actress

: Penpak Sirikul,Nardtaya DaengBunga,Apiradee Pawaputanon
A dangerous man and some teammates try to escape during a prison transfer. Only the man can escape but is seriously injured. He finally ends up in a strange house where only a few women are living. Despite his bad past, the women do believe in his redemption and will fight among each other for him.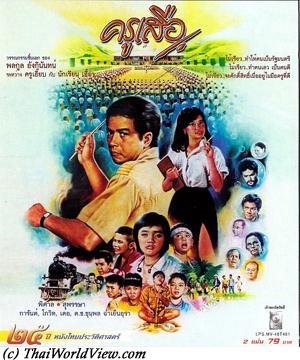 Year

: 1984



Thai title

:

ครูเสือ




English title

:



Rating

: 4/5


Director

:



Main actor

: Pisarn Akraseranee,Boo Wibunnan,Kowit Wattanakul,Der Doksadao


Main actress

: Supansa Nuengpirom
A Thai Chinese type businessman is offering land (ค่าที่ดิน) for school extension. Kru Seua (ครูใหญ่), school headmaster, is accepting on behalf of the school. Kru Seua (ครูเสือ) has a good reputation with all villagers (ครูดี). A new Bangkok sexy lady teacher Boot (ผู้ช่วย) is arriving at the school. Miss Boot has high expectations but Kru Seua reminds her that all teachers have same level, same room, same toilets as it is countryside school (โรงเรียนบ้านนอก). So all teachers have to follow the rules, show good behavior including appropriate clothing and proper speech! Kru Seua chases pupils up to the waterfall as they try to escape his mathematics lesson. Pupils are punished using the old way, i.e. beaten severely with a stick. Teacher Boot tries to intervene and to oppose but to no avail. Kru Seua is respected by the villagers but Boot believes his teaching methods are outdated (โบราณ) and promises herself to win over him. Some children behave badly, steal other people belongings or play betting games (ทำดียาก - ทำชั่วง่าย). There is even a small mafia (นักเลงแทนนักเรียน). Kru Seua encourages pupils to share food as some of them do not have enough to eat. A mother has her son Pleun, being a former convict, released from prison after three years. His wife has gone and his son is sick. He needs money. Chinese businessman's grandson comes to study at Kru Seua's school but he has a bad behavior believing he can do anything as his grandfather funds the school. Kru Seua refuses his entry as all children shall be the same in school (short hair, same uniform). The Chinese businessman argues his donations give him any right but then where is the virtue (บุญ) of doing donation if there is a hidden compensation? The child brings itching powder in the classroom. Finally unable to accept more, Kru Seua cuts himself the boy's hair very short (หน้าที่ของครู). The grandfather goes to police to fill a complain. Kru Seua refuses to bend to bad influence. Meanwhile the kid is kidnapped by Pleun. Kru Seua knows the kidnapper Pleun who is a former student in the school. Kru Seua is an easy man, eating simple food from villagers by using hands. A romance starts between Kru Seua and Boot. Boot tries to convince Kru Seua not to dismiss following the pressure he received from the Police and the Thai Chinese businessman. They finally find Pleun at old Prasat Muang Singh Khmer temple. Kru Seua convinces him to release the child and to surrender to the police. The former convict has always seen Kru Seua as his third parents (พ่อแม่ที่สาม). Kru Seua has decided to quit his job. Despite excuses from the Thai Chinese businessman and his son, despite cries from the children and Boot, Kru Seua seems inflexible. Will he change his mind? Many Thai movies produced in years 1978 to 1984 were related to teachers such as ครูชายแดน, ครูบ้านนอก, ครูสมศรี, ครูจันทร์แรม, ครูปิยะ. Teachers are always supposed to be a reference and show perfect behavior to Thai pupils.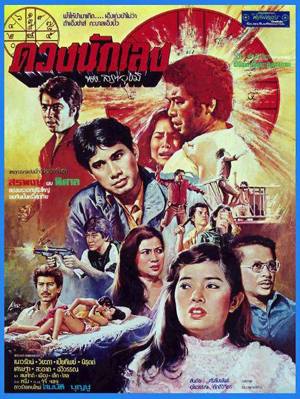 Year

: 1983



Thai title

:

ดวงนักเลง




English title

:



Rating

: 4/5


Director

: Winit Pukdeewichit



Main actor

: Sorapong Chatree,Nirut Sirijanya,Pisarn Akraseranee,Settha Sirachaya,Sahat Piempongsan


Main actress

: Wiyada Umarin,Naowarat Yooktanun,Piathip Kumwong
A mysterious man arrives on a rainy night in a remote city and enters in the hotel bar. The hotel is half owned by young lady called Chonko (Wiyada Umarin). A crazy guy (Settha Sirachaya), always drunk (ขี้เมา), asks him to avoid troubles as bad ruffians are the real leaders here. The mysterious man is called Mek Suriya (Sorapong Chatree) and plays the judiciary guy against the ruffians terrorizing the drunkard (รับรองความปลอดภัย). Alcohol and cigarette are blurred on this movie digitalized from True Cable TV. Bamrong (Nirut Sirijanya) is playing cards against ruffians but lost accusing the ruffians to cheat. Mek ensures that the fight against Bamrong and a ruffian is fair. Mek and Bamrong win back the other half of the hotel from Dang, one of the ruffian working for godfather (เจ้าพ่อ) Sagnop. Serinya (Naowarat Yooktanun) arrives in the hotel and asks help for her brother Seri (Pisarn Akraseranee) who has just been beaten by ruffians. Serinya has come to teach Sagnop's children. Serinya and Seri meet Sagnop's wife (Piathip Kumwong), Sumalee. Sagnop (Sahat Piempongsan) is a strong godfather and doesn't hesitate to punish those who try to cheat him (เก็บใช้ในเมืองผี). Sagnop sends 5 hitmen to clear the issue with Mek. Mek always pays respect (ไหว้) to his Buddhist amulet after hitting some ruffians. Ruffians terrorized the city until Mek dares resisting them. One of the ruffians hitman defies Mek for an outdoor gun duel. It is a trick as other ruffians are hidden in the bush. The hitman is finally defeated and a strong message is sent to their big boss. Mek and Bamrong are too strong to be ordinary ruffians as they are well trained. Other ruffians storm the hotel bar but get defeated again by Mek (ผมไม่เคยตาย / อยากลองดู). Serinya and Seri are undercover policemen. They love each other (คู่รัก). Bamrong and Mek decide to go to Don Luang, Sagnop's ranch, to be become his associates (ลูกน้อง). Sagnop is fond of Serinya and orders to kidnap her. Serinya has to marry with Sagnop but Sagnop is already married to Sumalee. Sumalee rescues Seri and bursts into tears follow up her many years of dispair with Sagnop. In the morning, Sumalee announced to Sagnop her decision to quit him, to go to Bangkok with her children and Seri. Sumalee is finally shot by Sagnop's ruffians as Sagnop cannot accept this. Sagnop orders to kill Seri. Mek and Bamrong, warned by Serinya, go to help him. Bamrong is Sumalee's young brother. One of Bamrong's nephew (หลาน) dies in a shoot out. Revenge is in the air... A final shoot out involving ruffians and army happens during Sagnop and Serinya's wedding. Entertaining Molam dances are featured during the wedding. Sagnop and his ruffians are defeated. Mek Suriya, the mysterious judiciary, leaves (พี่ลาก่อน). The highlight of the movie is the first movie involving two big stars, i.e. Sorapong Chatree and Pisarn Akraseranee. Movie Duang Nak Leng (ดวงนักเลง) is not available on VCD or DVD in Thailand. Some digital versions from TV are available around such as a 1h29mn from Channel 9 (cut version) and a True Move Cable TV version of 1h54mn. It feels like a Tom Yam Thai western movie.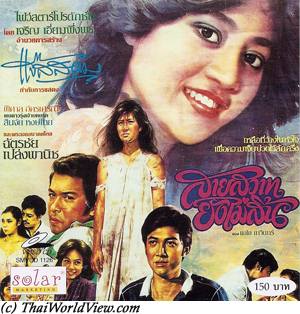 Year

: 1982



Thai title

:

สายสวาทยังไม่สิ้น




English title

:



Rating

: 3/5


Director

:



Main actor

: Chatchai Plengpanich,Pisarn Akraseranee,Suchao Pongwilai,Sor Asanajinda


Main actress

: Sinjai Hongthai
A father has got two children, i.e. a son spending his youth in bar and a daughter, and has also adopted a boy. This latter, after doing successful studies, is promoted general director of the father's company. The first son is very jealous and promises to get a revenge. Once the father is dead, he starts to destabilize the couple.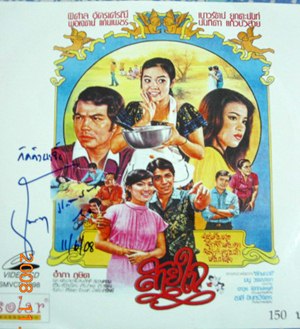 Year

: 1981



Thai title

:

สายใจ




English title

:



Rating

: 3/5


Director

:



Main actor

: Pisarn Akraseranee,Porjed Kaenpetch,Sawin Sawangrat,Somsak Chaisongkram


Main actress

: Naowarat Yooktanun,Sarinthip Siriwan,Nanthida Kaewbuasai,Ampha Pusit,Janthana Siriporn
Thai movie สายใจ was released in year 1981. It lasts 1h45mn. Yae Suk (Naowarat Yooktanun) and Den (Pisarn Akraseranee) have a car accident. They find an arrangement for the damages (ค่าเสียหาย). Her parents are Sarinthip Siriwan (คุณหญิง) and Sawin Sawangrat. Da (Nanthida Kaewbuasai) is her sister. Yae Suk is selling old items from her grandfather to allow the family to survive (หมดตัวแล้ว). But the parents either gamble the money or bet on horses. The father meet Somsak Chaisongkram and Saksit (Porjed Kaenpetch) while playing cards. The father invites them for lunch as he has the idea to marry his daughters in order to get money from the dowry (ค่าสินสมรส). A family gathering for all parties including Ampha Pusit happens to know each other. Da doesn't like Saksit as she believes he is just a gambler. He loses on purpose. Saksit pretends he can buy anything (ซื้อความนับถือความรักไม่ได้). Pho Lieng is also interested by Da and even tries to abuse her. Saksit helps her on time. They all go for a hike in the mountain but accidents occur. Finally Saksit and Da sympathize. Pho Lieng sends men to get rid of them. They have to spend the night in the forest but finally defeat the ruffians. As his daughters spent night outside home, the father claims his family name is tarnished (ขายหน้า). Da refuses to get sold (ถูกขาย). One old family friend mentions that the family name is already tarnished since a long time as the father and mother are strong gamblers. It shouldn't be the daughters' duty to pay for their gambling vice. Misunderstanding happens between Da and Saksit. Den helps to solve the issue. They finally get reunited also.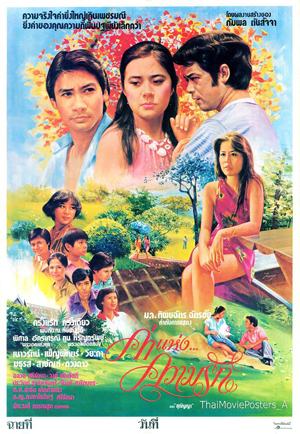 Year

: 1981



Thai title

:

ค่าแห่งความรัก




English title

:



Rating

: 3/5


Director

: ม.จ.ทิพยฉัตร ฉัตรชัย



Main actor

: Toon Hiransap,Pisarn Akraseranee,Sayan Chantaraviboon,Yuranan PamornMontri


Main actress

: Penpak Sirikul,Naowarat Yooktanun,Wiyada Umarin,Duangdao Jarujinda
Thai movie ค่าแห่งความรัก was released in year 1981 and lasts 1h36mn. Movie director is ม.จ.ทิพยฉัตร ฉัตรชัย. Actors and actresses featured are Toon Hiransap, Penpak Sirikul, Naowarat Yooktanun, Wiyada Umarin, Pisarn Akraseranee, Sayan Chantaraviboon, Duangdao Jarujinda, Yuranan PamornMontri, มธุรส รัตนา, ฉลวย ศรีรัตนา, วงศ์ ศรีสวัสดิ์, ประวิตร สุจริตจันทร์, จันตรี สาริกบุตร. Doctor Kengkrai (Toon Hiransap) is always drunk. This is due to his wife Pakpong (Penpak Sirikul) having external affairs but he is unable to divorce her as they have two kids. Sura (Naowarat Yooktanun) is Pakpong's younger sister. Piplin (Wiyada Umarin) is the eldest sister. Sut (Pisarn Akraseranee) helps Kengkrai as he has a car accident and is unable to drive drunk. Sut and Sura have arguments. Sut is hired by Kengkrai as driver and as a helper for his children. Kengkrai has two children but his wife is not taking care of them. Uncle Sut becomes a second father for the children, Moo and Maew. Arguments happen between Sut and Pakpong as she is jealous of him, being loved by her children. Sayan Chantaraviboon, from a rich Thai southern family, greets Sut. Doctor Kengkrai still has a big domain. The doctor has to sell his land as he needs money to pay his wife's debts. Phi Luang, brother in law, wishes to buy the land. Kengkrai has concerns selling the land as it belongs to his children. A mysterious rich man from south of Thailand, Khun Paradon, buys the land for 5M THB by offering higher bid than Phi Luang. The land will remain under Moo and Maew names. The brother in law is upset. Sut is upset against the rich people (ผู้ดี) as Sura listens to him (สัตว์ป่า) talking to Yot. A lost letter indicates Pakpong's bad intentions towards the doctor. Her lover finds the letter and threatens to disclose everything as she wishes to break up. Sut forces the lover to give back the letter and to disappear. Sut has a strong character. He succeeds to clear all issues and problems. Pakpong promises to change (แม่ที่ดีต่อไป). A romance between Sut and Sura is about to start (ไม่กลัวแต่ไม่ไว้ใจ). Paradon (Yuranan PamornMontri) is coming to meet Sura and asks her hand. Piplin gets beaten by her brother and the mother is upset as Pakpong didn't privilege her own family for the land sales. The mother thinks about money only. Paradon challenges Sura on the land. The real Paradon is Sut, who is doing tricks to check Sura's real heart. Sut's secret is finally disclosed and romance can blossom.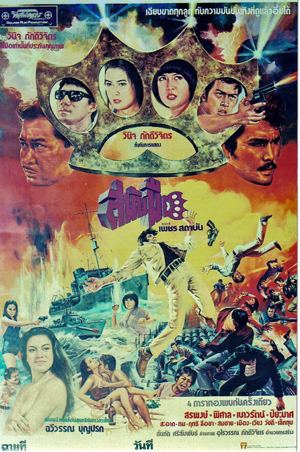 Year

: 1981



Thai title

:

สนับมือ




English title

:



Rating

: 3/5


Director

: วินิจ ภักดีวิจิตร



Main actor

: Sorapong Chatree,Pisarn Akraseranee,Rith Luecha,Sahat Piempongsan,Somchai Samipak


Main actress

: Naowarat Yooktanun,Piyamas Monayakol,Chaweewan Boonprok



Buy now

:

Thai movie สนับมือ was released in year 1981 and lasts 1h46mn. The movie was released under VCD format by TripleX company. Movie director is วินิจ ภักดีวิจิตร. Dao (Piyamas Monayakol) is a pickpocket. Ek (Sorapong Chatree) is a policeman and San (Pisarn Akraseranee) is his colleague. Dao is captured by them. Ek, having pity on her, hires her as a maid. Umarin (Naowarat Yooktanun), a policewoman, stands in Don Meuang. She tries to trick ruffian Rith Luecha, coming to get diamonds. Following failed diamond exchange at the airport, Ek chases Rith by car. Ruffians succeed to flee by motorbike. Diamonds in a suitcase are stolen by another biker. Head of the ruffians' organisation is upset that Rith failed. Boonleut (Sahat Piempongsan), Ek's boss, encourages Ek and San. Ek and Umarin shall marry. Umarin is a bit worried that Dao stays at Ek's home as a domestic helper. San is having a romance with young lady Nida (Chaweewan Boonprok) and is trying to find who is the ruffians' big boss but nobody ever saw him before. San learns that the organisation wants to get rid of Ek. A shooting in a golf course is foiled thanks to Dao. Nida informs San about a drug deal in Pattaya on a boat. Somchai Samipak, as head of police, gives instructions to Ek and others. San intercepts the ruffians going back to the beach through a speed boat. He shoots them and keeps the suitcase full of money. Meanwhile Ek and Thai police stop the boat trafficking the drugs. Dao is aware that San keeps the money and asks for 50%. San gives 1M THB to a school. Ruffians including Meuang (เมือง อพอลโล่) try to kill Ek again but they fail again. Dao uses a knuckle duster (สนับมือ) to kill one ruffian but does not disclose who she really is. Thai police wonder who is helping them. Nida is shot by Meuang. San is about to be killed also but Dao helps him. Meuang discloses to the organisation boss that Dao is the one using a knuckle duster. Ek discovers that Dao gives all her salary to her poor mother. Back to home, both Dao and Ek are captured by Rith. San uses Umarin as a bait. Umarin is captured and San follows the ruffians to know where their location is. Nai Boonleut is unveiled as the head of the secret organisation. Boonleut wants the money and his diamonds back. Meanwhile San warns Police colleagues and helps to release Ek. Thai police storm the ruffians' den. Heavy shootings happen and ruffians are neutralized.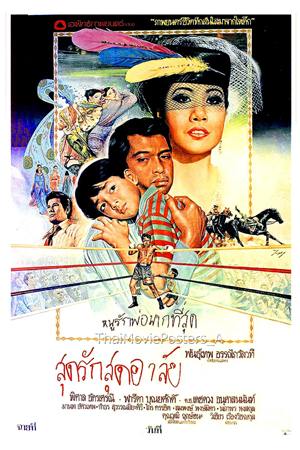 Year

: 1980



Thai title

:

สุดรักสุดอาลัย




English title

:



Rating

: 5/5


Director

: พันธุ์เทพ อรรถไกวัลวที



Main actor

: Pisarn Akraseranee,Manop Aussawathep,Krai Kanchit,Pao Porapak,Kamthorn Suwanpiyasiri,Sompong Phonmitr


Main actress

:
Thai movie สุดรักสุดอาลัย was released in year 1980 and lasts 1h55mn. It was released under VHS format. This Thai movie is based on US movie "The Champ" (1979). Movie director is พันธุ์เทพ อรรถไกวัลวที. Pisan (Pisarn Akraseranee) is a former boxing champion. He has to quit seven years ago due to a brain issue. He still has a dream to go back on the ring. He is leaving alone with his son Chapan (เดชดวง อนุศาสนนันท์), being seven years old. He is divorced with Farida (ฟารีดา บุณยศักดิ์), who left him for a richer man, i.e. Nop (Manop Aussawathep) seven years ago. Pisan often drinks and gambles (พนัน). He bets 100 Baht and wins 150 000 Baht. He buys a horse for his son as a gift. The horse joins horse racing competition. The horse falls and is injured. Being also at the horse racing club, Farinda meets Chapan, her son, for the first time. Pisan is still very upset and refuses Farinda to tell his son that she is her mother as she left them seven years ago. Pisan told Chapan that his mother was dead (ตายแล้ว). Farida knows she is guilty and wishes to take care of Chapan also. She offers expensive gifts (ของแพงๆ). Krai Kanchit and Pao Porapak manage an underground casino. While betting, Pisan and Nop meet. Nop tries to convince him that Chapan still needs a mother. Pisan refuses. 20 000 Baht debt happens as Pisan gets upset. He cannot find any friends to lend him 20 000 baht. He has to ask Farinda. Krai still comes to get the horse as he doesn't believe Pisan can pay back the debt. A fighting erupts and police catches Pisan. Pisan has to stay in jail a while. Chapan stays in Farinda's home as his father Pisan forces him to go there. He would prefer to stay with uncle Sompong Phonmitr or with นภาพร หงสกุล. Chapan, learning that Farida is his mother, rejects her as she is not living with her father anymore. Pisan even asks Farida to come back. The boxing ring manager (Kamthorn Suwanpiyasiri) accepts Pisan back as boxer despite the health risks as Pisan wants to gain money to build a future for his son (studies, house). They train together. Farida gives also support (กำลังใจ) to Pisan. Farinda decides to go back living with her son. The boxing match happens. Pisan wins the first part of the match but the youth of his opponent allows him to come back. Pisan's vision starts to alter as he gets hit at the head. He is knocked down twice but refuses to stop. He finally wins his match but collapses in the cloakroom. Before dying, he asks Chapan to stay with Farida, who is a good person (ต้องการพ่อ / ต้องการอยู่กับพ่อ).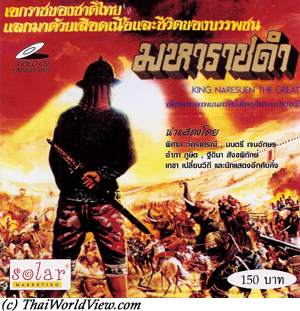 Year

: 1979



Thai title

:

มหาราชดำ




English title

: King Naresuen The Great



Rating

: 3/5


Director

: Toranong Srichua



Main actor

: Pisarn Akraseranee,Kecha Plianvithee,Somsak Chaisongkram,Pumi Patanayut


Main actress

: Ampha Pusit,Thitima Sangkapitak



Buy now

:

This movie is about King Naresuen The Great. The King Naresuan was famous for having a duel on elephants with the Burmese Crown Prince and won against him in year 1593. King Naresuan regained independence from Burma for the kingdom of Ayuthaya.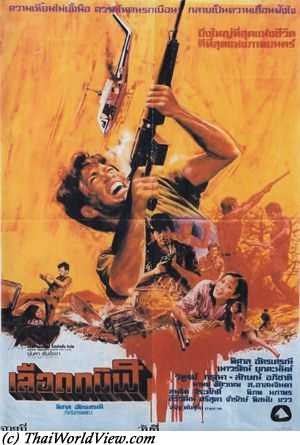 Year

: 1979



Thai title

:

เลือดทมิฬ




English title

: Revenge



Rating

: 4/5


Director

: Pisarn Akraseranee



Main actor

: Pisarn Akraseranee,Lak Apichat,Witoon Karuna,Pipop Pupinyo,Sor Asanajinda,Manop Aussawathep


Main actress

: Naowarat Yooktanun,Somjit Sapsamruey
Thai movie เลือดทมิฬ was released in year 1979 and lasts 2h04mn. The movie was never released in Thailand but a VHS with Swedish subtitles was released in decade 1980s in Sweden. This movie was also shown on Thai TV cable under a 1h32mn short version. Movie director is Pisarn Akraseranee. Movie starts with a speech about Thai soldiers protecting Thailand, Buddhism, the King and sacrificing their life to perform their duty. Da (Lak Apichat), Tong (Pisarn Akraseranee), Witoon (Witoon Karuna) are three soldiers and friends. The three friends end up in a bar during a recreation. Da fight against Wang (Pipop Pupinyo) regarding a lady. Tong is back to countryside to meet his parents Sor Asanajinda, Somjit Sapsamruey and his sister Prang. He meets Song (Naowarat Yooktanun), daughter of local mafia leader (เจ้าพ่อ) Boonleut. Boonleut wishes to get their land. Yord (Manop Aussawathep) is used as ruffian to force them. Yot (จีรศักดิ์ ปิ่นสุวรรณ) is another tough guy working for Boonleut. Sri Thong has become Yot's wife but she still loves Tong as she was forced by Yot. Today is Naowarat's birthday party. Upset that Sri Thong told the truth to Tong, Yot decides to send her working to a brothel (เข้าซ่อง). Sri Tong hangs herself following multiple rapes by Yot's men. While Tong is guarding Sri Thong's body, Boonleut, Yot and his men storm Tong's home, killing his parents and raping Prang. Tong kills two men and is now aware that Boonleut, Yot and Yord are behind. Police cannot help. Tong refuses to incinerate his parents' bodies until he has done justice himself. Prang, following shame and her parents' death, also hangs herself. Tong's life is in havoc. Tong wishes to revenge. He storms the ruffians' place and axes many of them. He then chases Yord by car and speed boat but Boonleut and his men embuscade him. Tong escapes death as police arrives at the right time. Tong flees from hospital and takes refuge in North of Thailand in Da's home. Da, Tong and Witoon are back with war weapons. They storm the ruffians' home and perform a rampage. Yot is hanged by Tong. Tong loses sanity as he shoots unarmed members of Boonleut. Yord is also killed and Song, Boonleut's daughter, is captured. Tong behaves badly with Song (เหมือนคนบ้า, สัตว์นรก, ไม่ใช่คน) but finally recognizes he is wrong as she is not responsible of her father's behavior. Song understands Tong and flees with him. Romance start between Tong and Song. Meanwhile police is chasing them as Boonleut believes Tong forces his daughter to follow him. About to be captured by Police, Thong asks Song to shoot him as he doesn't want to end up all his life in jail. Song follows him… เลือดทมิฬ is a powerful and violent movie.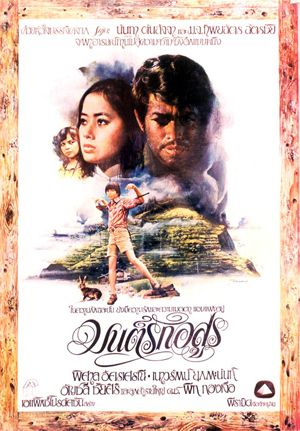 Year

: 1978



Thai title

:

มนต์รักอสูร




English title

:



Rating

: 4/5


Director

:



Main actor

: Pisarn Akraseranee,Pete Thongjure,Sompong Phonmitr


Main actress

: Naowarat Yooktanun,Sulaleewan Suwanthat,Anchalee Chaisiri
มนต์รักอสูร is a Thai movie released in year 1978. Nam Pheung (Naowarat Yooktanun) is a teacher but she needs to miss school often as her parents are sick. The father (เชาว์ แคล่วคล่อง) cannot see anymore. The mother (Sulaleewan Suwanthat) is sick also. The school headmaster (ครูใหญ่) cannot keep her in the school but proposes his help as he loves Nam Pheung. She refuses. Phan (Sompong Phonmitr) recommends Nam Pheung to Teut (Pisarn Akraseranee), a rich man looking for a domestic helper and teacher for his son. The son (Pete Thongjure) is very badly educated and doesn't listen to anybody (เด็กอาละวาด). The father is alcoholic and has a bad temper (คนใจยักษ์ใจหมา). Nam Pheung shall get 30 000 bath for one year and her parents to be sent to hospital in Bangkok so she accepts. Villagers comment that Teut bought Nam Pheung. The son Nan dislikes her as he is worried she wants to replace his deceased mother (อีตาหวาน). Despite her willingness to improve the house (better food, birds), Nan still dislikes her (เกลียดมัน, อยากเป็นแม่เลี้ยงของฉัน, พ่อเอาเป็นเมีย). The headmaster is still chasing Nam Pheung for wedding but she still refuses. Nan invents that he saw them kissing. So Teut is upset by Nam Pheung and forces her one night treating her like a slave (นาย / ทาส). Theuan (Anchalee Chaisiri), sister of the deceased wife, still dreams of making Teut her husband. She receives a letter sent by Nan asking for help. While visiting his tea factory, Teut is injured at the head. Nam Pheung is acting as nurse. Theuan hasn't a good behavior (beer, smoking) compared to Nam Pheung. Theuan arranges to chase away the domestic helpers close to Nam Pheung and Nam Pheung herself. Theuan has to do the cooking and cleaning by herself as she has chased everybody out of the house and it turns to be a disaster. Teut misses Nam Pheung. Theuan wishes to go back to Bangkok. Finally Teut declares his love to Nam Pheung and Nan considers her as his new mother. The movie is ending too fast. Probably part of the movie end has been cut. The movie is lasting 1h43mn and this version is coming from a Vhs copy. A first movie version was released in year 1954 and Thai TV series were released in years 1989 and 2004. Following the success of romantic movie รักเอย, the movie producer used the two same main actors. The movie was shot in 9 days only.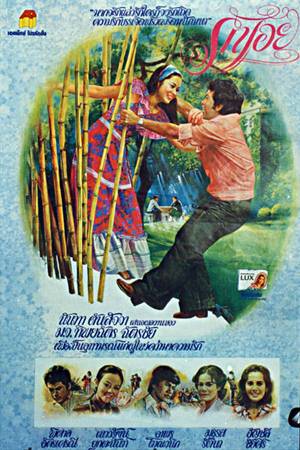 Year

: 1978



Thai title

:

รักเอย




English title

:



Rating

: 4/5


Director

:



Main actor

: Pisarn Akraseranee,Aphorn Tonawanik


Main actress

: Naowarat Yooktanun
Parun's wife, Tum (ต้อม), goes to London to visit her mum. Their couple is not doing well as Tum is easily bad tempered (หงุดหงิด). Parun takes a break and goes to Chiang Mai for one week to rest at his sister's home. Parun meets Noi (เจ้าน่อย), young lady, at Wattana's birthday. They are both coming from Thai aristocracy. Piak (เปี๊ยก) is Noi's close friend. He is the son of a housekeeper working at Noi's parents home. Piak loves secretly Noi since years. Parun is having a business in Chiang Mai sending artifacts abroad such as umbrella, carvings, silk... Parun often invites Noi to go out. It makes Piak very jealous. Love starts to emerge between Parun and Noi. Wattana asks Parun to break up with Noi before it is too late as she is still a young lady and Parun is a married man. But Parun continues his romance. Noi's father chases Parun from his home as he discovers that Parun is already married. His wife comes back from England and flies to Chiang Mai. She is pregnant. Noi cannot forget Parun. Piak, upset, has arguments with Parun as this one claims he can love two women. Parun promises to Noi to divorce with his wife to marry Noi. Noi also promises to wait for Parun. Parun doesn't know yet that his wife, Tum, is pregnant. Finally the two women meet and Parun presents his wife to Noi. Disappointed by men, Noi wishes to make a break and takes refuge in Piak's friend farm. With Piak, Noi starts to smile again. Noi cannot forget Parun but is now aware of Piak's true love. While painting landscape, Noi is bitten by a snake. Jum (จุ๋ม), also loving secretly Piak for years, helps Noi. Piak doesn't see Jum's love. Noi doesn't see Piak's love. Tum accepts to divorce with her husband as she knows there is no more love from him and Parun feels obliged to honor his promise to Noi. Piak asks to marry Noi but Noi also feels obliged to honor her promise to Parun. The domestic helper finally reveals Tum's pregnancy to Parun. Parun and Noi meet each other again and agree to cancel their promise (เลิกสัญญา). Parun and Tum are back together. Piak and Noi also. "Love can be sweet or bitter, we are still looking for it" is the conclusion of this sweet moralist Thai romance movie. A few romantic sweet songs with guitar are performed during the movie. The shooting highlights the beautiful landscapes of North of Thailand.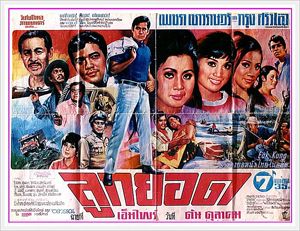 Year

: 1971



Thai title

:

ลูกยอด




English title

:



Rating

: 3/5


Director

:



Main actor

: Krung Srivilai,Sithao Petcharoen,Choomporn Theppitak,Boo Wibunnan,Pisarn Akraseranee,Preuhat Boonlong,Sukon Koewliam,Krai Kanchit


Main actress

: Petchara Chaowarat,Wassana Chalakorn,Sopha Sataporn
Thai movie 'Luk Yot' (ลูกยอด) was released in year 1971 and features Thai film superstars Krung Srivilai and Petchara Chaowara. It was Krung Srivilai's first movie. Krung was 4 years younger than Petchara so from being the younger sister (น้อง) with Mitr, Petchara becomes the older sister (พี่)! After Mitr Chaibancha's tragic death in year 1970, the Thai cinema needed new faces, new main actors to replace the void caused by Mitr's premature death. Only a two minutes trailer is remaining as the movie is lost in Thailand. A full movie summary is still available as some old Thai movie stars magazines can still be found nowadays. Various sequences can be seen during those two late minutes : Sithao Petcharoen paddling a small boat on a river and watching young ladies, shootings. Other actors / actresses include Pisarn Akraseranee, Choomporn Theppitak, Boo Wibunnan, Wassana Chalakorn, Sopha Sataporn, Preuhat Boonlong,Sukon Koewliam. 7 songs are featured in 35mm format.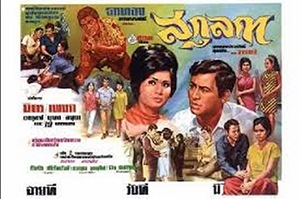 Year

: 1968



Thai title

:

สกุลกา




English title

:



Rating

: 3/5


Director

:



Main actor

: Mitr Chaibancha,Pisarn Akraseranee,Adul Dulyarat,Man Teeraphol


Main actress

: Petchara Chaowarat,Prim Praphaporn,Boosara Narumit
Dara, Deuan (Boosara Narumit) and Dao are three ladies living together. They are not rich. Deuan works in a club as a partner to earn money for her younger niece Dao (Petchara Chaowarat) to study. Anong (Mitr Chaibancha) and Poon (Pisarn Akraseranee) are brothers. The club manager (ผู้จัดการ) loves Deuan. Another young man Trin loves secretly Deuan also. The manager warns Poon about Deuan. Poon respects Deuan and helps her financially. Dara and Deuan prefer avoid coming to school events to avoid Dao losing face. A rich family wishes to adopt Dao as their daughter (อุปกรณ์) as she is coming from a poor family without a father and she has very good behavior. The parents are Kanchanarot (Adul Dulyarat) and Varee. Dara and Deuan are not willing as they have a secret animosity against this family. Anong wishes his brother to stop seeing Deuan as the manager even sent ruffians to hit Poon due to jealousy. Finally Anong sent his brother abroad for study. Wadee is Varee's daughter. It is scheduled that Anong and Wadee will certainly marry. Dara is hit by a car and dies. Kanchanarot meets Deuan. They had an affair long time ago. Kanchanarot believes Dao is his own daughter with Deuan. Choem is her old name. Meanwhile Sia, a ruffian, falls in love with Dao and offers 150 000 baht to Deuan to marry Dao. Sia and the club manager wish to take Dao and Deuan as wives. Deuan flees before the one month deadline expiry and accepts Dao to stay in Kanchanarot 's family. Valai, Varee's sister, tries to bring jealousy in Varee and Wadee's heart against Dao (จะรักมากจะลืมคนอื่น). Poon loves also Dao but got another love, Pen, while studying abroad. He requests help from his elder brother. Anong has the difficult task (พ่อซื้อ) to ask Dao's hand for his younger brother despite he loves secretly Dao. Dao cries as she also loves secretly Anong. Deuan contacts Dao and assures Anong is much better than Poon. Dao decides to marry Trin as she doesn't want to hurt Wadee. Poon and Pen finally marry. Trin refuses to marry Dao as he knows Dao doesn't love him. Finally Sia kidnaps Dao to have her becoming his wife. The movie ends tragically with Trin giving his life to protect Dao and taking the blame regarding the knife used by Deuan to stab Sia. Mothers have often similar age as daughters in old Thai movies! It was Pisarn Akraseranee first movie. A Thai TV serie สกุลกา was made in 2009 based on a similar scenario.
---
---