PRACHUAP KHIRI KHAN
Increase or decrease font size for easier reading : A+ A-
The coastal strip between Bangkok and Chumphon includes nice areas including Prachuap Khiri Khan and Bang Saphan.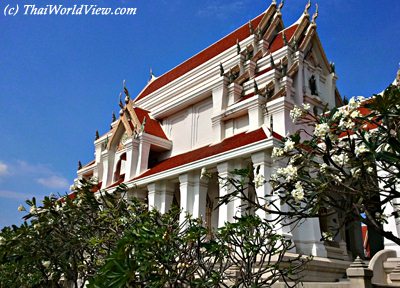 Wat Thammikaram Worawihan is located at the foot of Khao Chong Krajok mountain.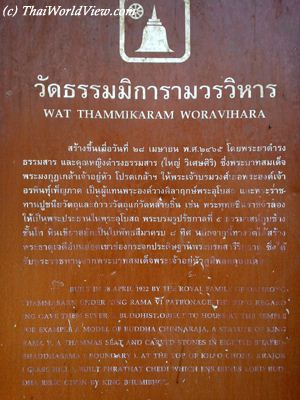 Khao Chong Krajok (

เขาช่องกระจก

) in Prachuap Kiri Khan city is called the mirror mountain.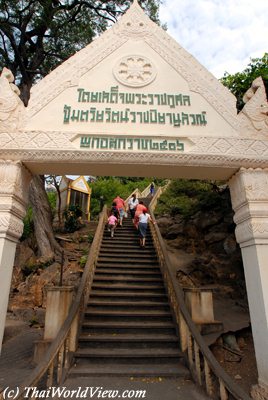 396 steps to the summit may not seem so much but when the weather is very hot, it can be very tiring.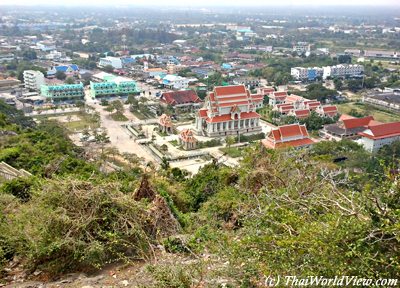 Impressive view on Wat Thammikaram Worawihan can be seen from Khao Chong Krajok walk.


Fly there with Google Earth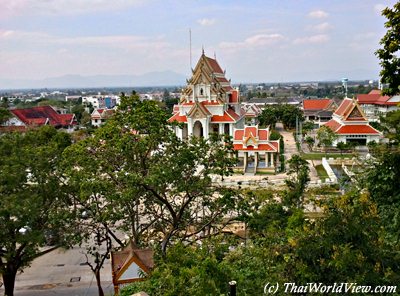 Wat Thammikaram Worawihan (

วัดเขาช่องกระจก

) is a huge and beautiful Buddhist temple.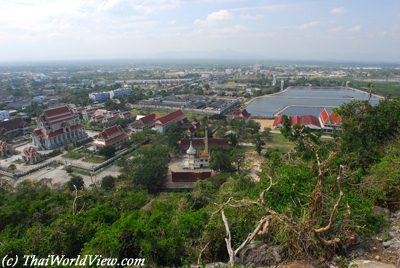 Even if Khao Chong Krajok is not so high, it offers stunning views on the surrounding flat landscape.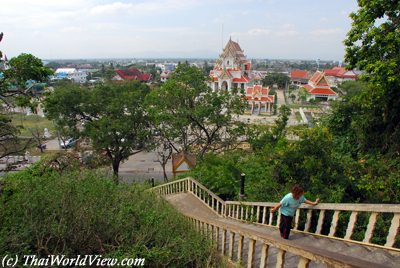 Walking up to the top of Khao Chong Krajok is popular tourist attraction.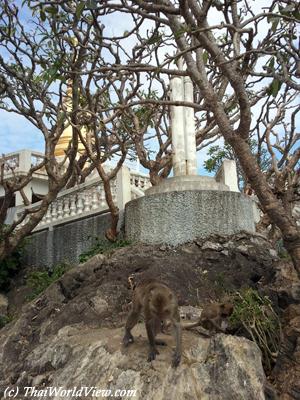 Khao Chong Krajok is a small hill located on Prachuap Kiri Khan city beach. There are 396 stairs to the top.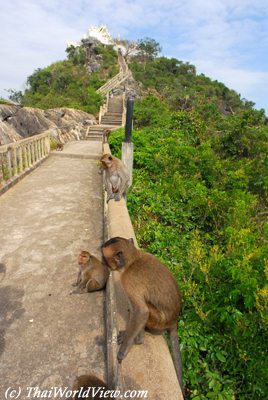 On the way to the top of the mountain, many monkeys can be found. Local vendors sell food for monkeys.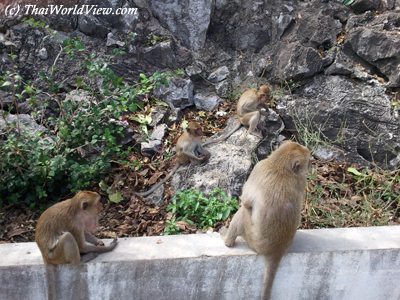 Better be safe with monkeys as some males are really big.
| | |
| --- | --- |
| This monkey is busy eating a banana so he will not try to snap anything. | |
| | Khao Chong Krajok |
Walking along the small sala with dozen of monkeys on each side is quite impressive and hoping they will stay calm!

Khao Chong Krajok
| | |
| --- | --- |
| On the top there is a small chedi holding sacred Buddha relics and a Bohdi tree from India. | |
| | Khao Chong Krajok |
From the top of the hill, there is a splendid view of Prachuap Kiri Khan city and the three bays making the city famous.

Khao Chong Krajok
| | |
| --- | --- |
| Impressive view on Ao Prachuap Bay from the top of Khao Chong Krajok mountain. | |
| | Khao Chong Krajok |
The small monastery on top of the hill has a Buddha foot print and Buddha relics.

Khao Chong Krajok
| | |
| --- | --- |
| Restoration is needed as some parts of the small monastery are not in good condition. | |
| | Khao Chong Krajok |
---
---
The small monastery on top of the hill was built by Thai King Rama VI.

Khao Chong Krajok
---
---
---