THAI NOVEL BOOKS
Increase or decrease font size for easier reading : A+ A-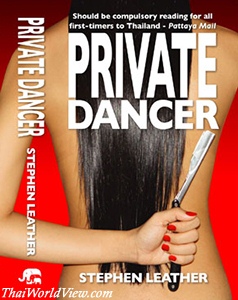 Title

: Private dancer



Author

: Stephen Leather



Publisher

: Three Elephants



Isbn

:



Year

: 1996



Language

: English



Rate

: 7/7



Type

: Novel
Summary: Pete, a young travel writer, wanders into a Bangkok go-go bar and meets the love of his life. Joy is the girl of his dreams: young, stunningly pretty, and one of the Zombie Bar's top-earning pole dancers. What follows is a roller-coaster ride of sex, drugs and deception, as Pete discovers that his very own private dancer is not all that she claims to be. And that far from being the girl of his dreams, Joy is his own personal nightmare. It gives the story from so many viewpoints, including several Thai characters.
---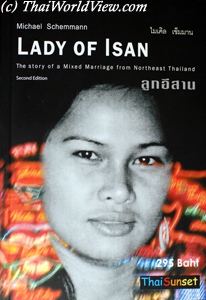 Title

: Lady of Isan



Author

: Michael Schemmann



Publisher

: ThaiSunset



Isbn

: 974-93678-7-1



Year

: Second Edition, 2007



Language

: English



Rate

: 5/7



Type

: Novel
Summary: Watcharaporn is a nineteen year-old rice farmer's daughter from Isan in search of a handsome foreigner with money and influence to help her through her life and her family out of poverty. Michael is a middle-age expatriate financial professional from Europe and North America beginning a teaching carreer at a university in Bangkok. The two meet in the night life scene of Pattaya. An eventful romance begins, sharing a sense of excitement and adventure that takes the reader through the beauty and brutality of a mixed marriage in Thailand ending in suspense. The revealing story is based on both, fact and fiction, and is a must for Thais and Expatriates contemplating, or finding themselves in, a cross-cultural relationship.
---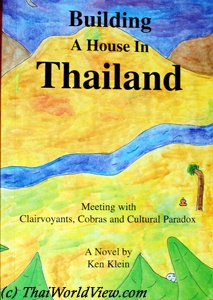 Title

: Building a house in Thailand



Author

: Ken Klein



Publisher

: Three Pagoda Press



Isbn

: 974-4801-17-4



Year

: 2006



Language

: English



Rate

: 5/7



Type

: Novel
Summary: Klein draws us in a world of clairvoyants, enterprising Bangkok bargirls, colorful ex-pats, and intricate family relationships that comprise his sometimes puzzling, often crazy, and always fascinating life in Thailand. His sharp insights into his American roots highlights profound cultural differences between East and West, while his vividly realized evocation of the sights, sounds and tastes of Thailand leave us longing to experience first-hand the sensuous pleasure of Thai foot massage, the taste of papaya salad, and the carefree delight of bobbing in the warm waves of the gulf of Siam.
---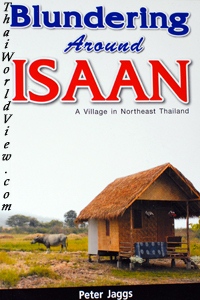 Title

: Blundering around Isaan



Author

: Peter Jaggs



Publisher

: Bangkok Book House



Isbn

: 978-974-7555-91-2



Year

: 2007



Language

: English



Rate

: 5/7



Type

: Novel
Summary: In recent years Thailand has enjoyed a remarkable rise in the number of tourists coming to visit this fascinating and beautiful country. Thailand has been discovered, and hordes of travellers are now flocking to experience the diverse culture, friendly people and delightful beaches for themselves. Despite this rapid increase in tourism, there are still villages in the Northeast of the country where things have changed little for hundreds of years. Join the author during his unexpected sojourn in Northeast Thailand and meet farmers, fishermen, spirit doctors and Thai boxers and share in his misadventures as he comes to terms with the unaffected community and way of life in a rural Isan village. Sometimes hilarious, often touching, occasionally tragic - but never dull - this book takes the reader in the heart of Northeast Thailand, and provides an insight into a traditional way of life and a culture that is fast disappearing.
---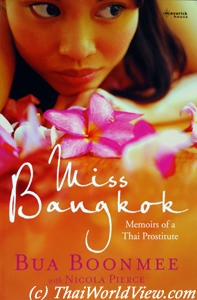 Title

: Miss Bangkok - Memoirs of a Thai Prostitute



Author

: Bua Boonmee



Publisher

: Maverick house



Isbn

: 978-1-905379-43-9



Year

: 2007



Language

: English



Rate

: 7/7



Type

: Novel
Summary: This book is a vivid, powerful and moving memoir of a life spent in prostitution in Thailand. Poor and uneducated, Bua Boonmee escaped an abusive marriage only to end up in the go-go bards of Patpong. There, in the notorious red-light district of Bangkok, she succumbed to prostitution in an effort to support her family. Bua's story is one of resilience and courage in the face of abuse and poverty. He confessions will make you laugh and cry, cringe and applaud. She will change your perception of prostitution forever.
---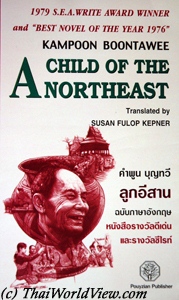 Title

: A child in the Northeast



Author

: Kampoon Boontawee



Publisher

: Pouyzian Publisher



Isbn

: 9-7897-4928-1



Year

: 1987



Language

: English



Rate

: 7/7



Type

: Novel
Summary: 1979 S.E.A write award winner and "Best novel of the year 1976". A Child of the Northeast is a novel about a year in the life of a village in Northeast Thailand during the 1930's. It is also a tale about a world scarcely known in the West: the world of "Isan", which is what the natives call their corner of Thailand. Kampoon Boontawee based this award-winning novel on memories of his own childhood in Isan during the depths of the Depression. The loving, courageous family at the center of the novel include a boy named Koon, who is about eight years old; his sisters Yee-soon, five, and Boonlai, two; and their parents, whose names we never learn. They are simply "Koon's mother" and "Koon's father", even by their friends and family. Kampoon also introduces his readers to a wider, equally unforgettable family: the relatives and neighbors who live in Koon's village. It is their bravery, their goodness of heart, and above all, their indestructible, earthy sense of humor, that shape the boy Koon's perception of the world, and his purpose in it.
---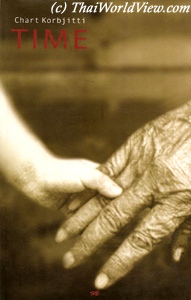 Title

: Time



Author

: Chart Korbjitti



Publisher

: Howling Books



Isbn

: 9-7897-4913-8



Year

: 2003



Language

: English



Rate

: 7/7



Type

: Novel
Summary: "Take half of dozen old women, a monk, sundry vendors, a few kids, a movie director, a madman and a half-wit; add a soda bottle and the silver shadow of lotuses; shake well; and presto: rich and taut and sweet and tart, Time, crowned by the 1994 SEA Write Award, is a mastery cocktail of laughs and tears. A must-read for all over 40-and those of all ages who want to understand the changing values of Thai society and the unchanging urges and mores of man."
---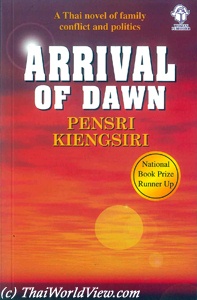 Title

: Arrival of dawn



Author

: Pensri Kiengsiri



Publisher

: Woman Publisher



Isbn

: 978-974-319-673-7



Year

: 2000



Language

: English



Rate

: 7/7



Type

: Novel
Summary: "Arrival of dawn" vividly describes three generations in a Thai-Chinese familiy living in Bangkok as they interat with each other over the course of twenty years. Pressured by her mother, the narrator takes on the role of family caretaker, and later in life realizes that her sacrifices, instead of helping, have often brought harm to herself and others. In a distinct Buddhist way, she gradually reaches serenity and understanding. In the year 2000 this book was recommended as a book that children and young people should read.
---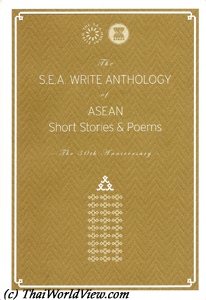 Title

: The S.E.A Write Anthology of ASEAN Short Stories and Poems



Author

: ASEAN writers



Publisher

: Silkroad Agency



Isbn

: 978-974-257-734-6



Year

: 2008



Language

: English



Rate

: 7/7



Type

: Novel
Summary: Since 1979 the S.E.A Write Awards has played a significant role in promoting and recognizing contemporary writers, dranatists, and poeyts of the ASEAN countries. It has also encouraged literary exchange and cooperation amongst ASEAN writers. To commemorate the 30th anniversary, the Organising Committee deems it appropriate that after three decades of continued success, some of the award-winning works should be translated, compiled, and published as an anthology. With the publication of such anthology, international readers would be able to appreciate these ASEAN masterpieces.
---



Title

: Four Reigns



Author

: M.R. Kukrit Pramoj



Publisher

: Silkworm books



Isbn

: 974-7100-66-5



Year

: 2007 5th edition



Language

: English



Rate

: 7/7



Type

: Novel
Summary: The Four Reigns (สี่แผ่นดิน), M.R. Kukrit's longest and best-known novel, is the rich and entertaining story of the life of Phloi and her family, both inside and outside palace walls. The story unfolds during the reign of King Chulalongkorn (King Rama V) in the closing years of the 1800s, ending in the mid 1940s with the death of his grandson, King Ananda Mahidol (King Rama VIII). Over a span of four reigns, we see the lives of minor courtiers under the absolute monarchy and watch the huge social and political changes that Thailand experienced as it opened itself up to international contact. We follow the characters against the historical backdrops of the 1932 revolution, the new constitutional monarchy, the growing Japanese presence in Thailand, the outbreak of World War II, and the allied bombing raids on Bangkok. Through the lives and relationships of Phloi and her husband and children, we experience modern Thai history in an inmate and personal way, garnering new insights into the sensibilities of an era. Four Reigns was originally written in 1953 as a newspaper serial in the Thai daily, Siam Rath. M.R. Kukrit Pramoj (1911-1995), born in Thailand and educated at Queen's college, Oxford, was a true renaissance man. He was a prime minister, politician, and elder statesman, a classical dancer, outspoken critic, journalist, and writer. He wrote more than twenty books, many of which have come modern classics. I really enjoyed reading Kukrit Pramoj's great novel 'Four Reigns' with the 1932 Siamese revolution and 1935 Rama VII abdication. It is a really enjoyable well written book. Very interesting to follow up Mae Phloi's life through various Thai kings reign and see the Thai society evolution such as short hair replaced by long hair, betel stopped to keep white teeth, foreign politics influence, unique wife instead of several wives, pha nung replaced by pha sin, children sent abroad for education, foreign medicine growing influence, cars... Two Thai TV lakorn were done in 2546 and 2534 (Chatchai Plengpanich and Jintara Sookkapa).
---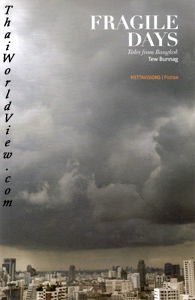 Title

: Fragile Days - Tales from Bangkok



Author

: Tew Bunnag



Publisher

: Mettavisions | Fiction



Isbn

: 978-616-90514-4-2



Year

: Second Edition 2010



Language

: English



Rate

: 7/7



Type

: Novel
Summary: Tew Bunnag's tales from Bangkok are set in the hardslums and luxurious mansions of the city and cover the lives of people in different social strata. Told with familiarity and irony these snapshots are a crisp commentary on the fragility of contemporary Thai society. Tew Bunnag's Fragile Days reflects the fragmentation of Thai society today in a world where rapid industrialization has resulted in materialism and moral confusion, and where traditional values hang in a delicate balance. Tew Bunnag writes about contradictions between contemporary and traditional life in Thailand. His published works of fiction include "Fragile Days", "After the Wave" and "The Naga's journey". The novel "Curtain of Rain" is in progress. Since 2000 he has been working for the Human Development Foundation in the slums of Bangkok. Fragile Days - Tales from Bangkok includes 10 stories often ironic but always sympathetic.
---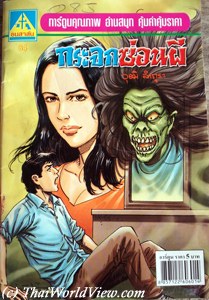 Title

: กระจกซ่อนผี



Author

:



Publisher

:



Isbn

:



Year

:



Language

: Thai



Rate

: 3/7



Type

: Novel
Summary: Those small Thai cartoon (การ์ตูน) books relate ghost stories. Those short stories such as "the ghost hiding in the mirror" are often linked to karma redemption. It is full of stories related to bad or good actions done during previous life and their consequences during current life. Stories mixing ghosts and karma are very popular. It claims to contain entertaining stories for a good price and good value! Only 5 baht! Only the cover is displayed in color, the remaining pages are in black and white color.
---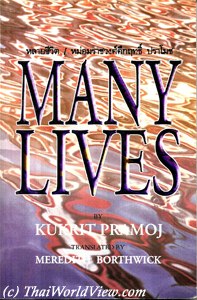 Title

: Many Lives (Lai Chiwit - หลายชีวิต)



Author

: M.R. Kukrit Pramoj



Publisher

: Silkworm books



Isbn

: 9-789747-100679



Year

: First Edition, 1996



Language

: English



Rate

: 7/7



Type

: Novel
Summary: "That night, the rain poured and wind howled, raindrops crashing like solid objects onto the ground and water. A passenger boat from Ban Phaen to Bangkok, packed with people, pressed on through the current amidst the rising clamour of the rain and storm..." The boat capsizes in the torrent, and washed up on the shore the next morning are the sodden bodies of the many passengers who lost the lives. Thus begins M.R. Kukrit Pramoj's modern classic set in the Thailand of the early 1950's. The life of each passenger who perished is retraced from birth, revealing a complex web of experience and emotions. Could their past actions have brought them to this karmic end?, the writers asks. Was death a retribution, a fulfilment, a reward, an escape, or merely the end to a long life? Meredithg Borthwick, translator, said that this book is an illuminating commentary on Thai society and its values, the pressure of change and the universality of human folly.
---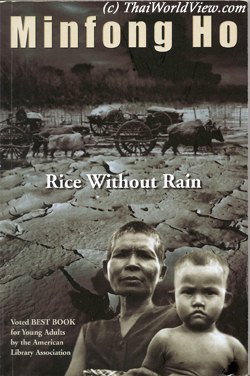 Title

: Rice Without Rain



Author

: Minfong Ho



Publisher

: Marshall Cavendish Editions



Isbn

: 978-981-261-571-8



Year

: 1986



Language

: English



Rate

: 7/7



Type

: Novel
Summary: This book was voted BEST BOOK for Young Adults by the American Library Association. Out of silent harvest, a scorched Maekong valley, comes the stirring story of Jinda, a courageous Thai girl. Her village, like others in rural Thailand, suffers from the exorbitant land rent, leaving the farmers poverty-stricken and landless. Then, students from Bangkok come to live in their midst, sowing seeds of change, leading up eventually to a student rally in Bangkok that explodes into a horrifying massacre. Through it all, through newfound love and personal tragedy, Jinda discovers her inner strengths and ultimately comes to terms with the value of life. The refreshing simplicity of Rice Without Rain, and its compassionate and deeply sensitive study of human endeavour, add to the potency of this unforgettable novel.
---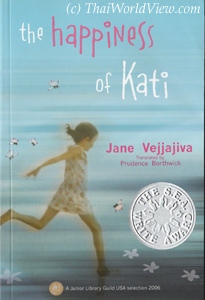 Title

: The happiness of Kati



Author

: Jane Vejjajiva



Publisher

: Piggy Bank Press



Isbn

: 974-94312-0-0



Year

: 2006



Language

: English



Rate

: 7/7



Type

: Novel
Summary: This book is part of "A Junior Library Guild USA Selection 2006". A bestseller in Thailand, this poignant and beautifully written novel is the story of a 9-year-old girl whose mother is suffering from an incurable illness. Kati's spirited response to the challenges she faces and the evovative Thai settinhd make this poetic novel especially memorable.
---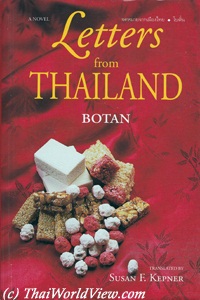 Title

: Letters from Thailand



Author

: Botan (Supa Sirisingh)



Publisher

: Silkwormbooks



Isbn

: 9-789747-551679



Year

: 2002



Language

: English



Rate

: 7/7



Type

: Novel
Summary: When the original Thai version of "Letters in Thailand" appeared in Bangkok in 1969, it was promptly awarded the SEATO Prize for Thai literature. Thirteen years later, it was translated into English to reach a much wider readership. Today, the book is still considered one of Thailand's most entertaining and enduring modern novels, and one of the few portrayals of the immigrant Chinese experience in urban Thailand. "Letters in Thailand" is the story of Tan Suang U, a young man who leaves China to make his fortune in Thailand at the close of WorldWat II, and ends up marrying, raising a family, and operating a successful business. The novel unfolds through his letters to his beloved mother in China. In Tan Suang U's lively account of his daily life in Bangkok's bustling Chinatown, larger and deeper themes emerge: his determination to succeed at business in this strange new culture; his hopes for his family. his resentment at how easily his children embrace urban Thai culture at the expense of the Chinese heritage which he holds dear; his inability to understand or adopt Thai ways; and his growing alienation from a society that is changing too fast for him.
---
ThaiWorldView Novel library contains 16 items.
ThaiWorldView library contains 162 items.
---
comments powered by

Disqus
---