BANG FAI PHAYA NAK
Increase or decrease font size for easier reading : A+ A-
The most famous "BANG FAI PHAYA NAK" (บั้งไฟพญานาค) or Naga Fireballs Festival is happening in Nongkhai province, located in Isan region - Northeast of Thailand. The highlight is the Naga fireballs, which rise up from the river and disappear into the sky.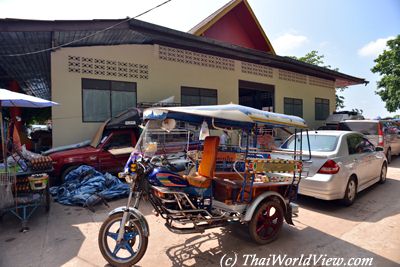 Wat Chumphon Mueang (

วัดชุมพรเมือง

) is one of the numerous Thai Buddhist temples in Phon Phisai. It is facing the Mekong river.


Fly there with Google Earth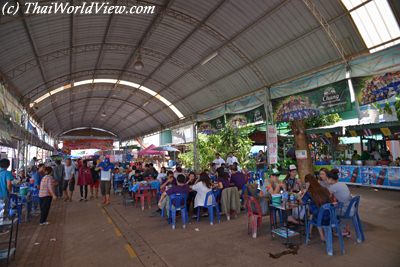 Near Wat Chumphon Mueang, there is a small Thai Lao market called

ตลาดไทย - ลาว

. It features many delicious small restaurants.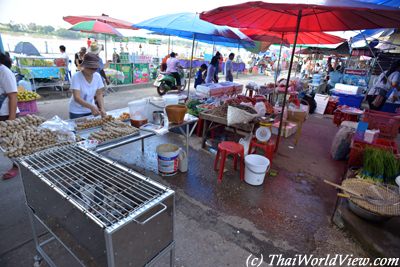 Many street food restaurants feature seafood, meat or sausages skewers.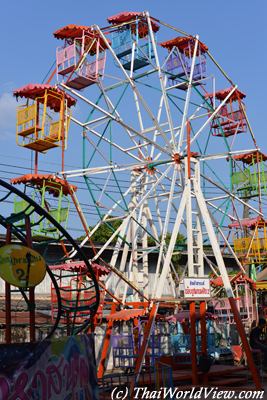 Many games for children such as ferris wheel are featured during the fair happening during the Naga Fireballs festival in Phon Phisai.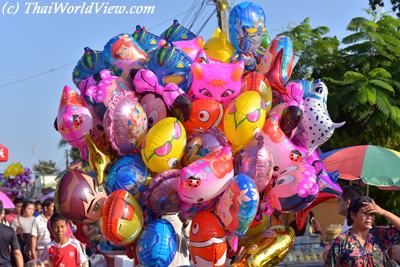 Coloful balloons are always a popular hit with children.
---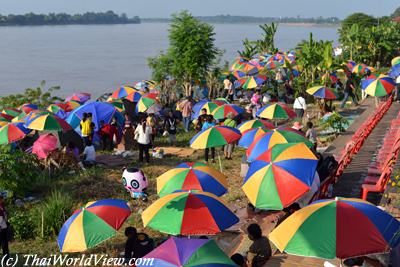 Starting during the morning, people book some seats by bringing mats and protecting themselves against the harsh sun thanks to parasols.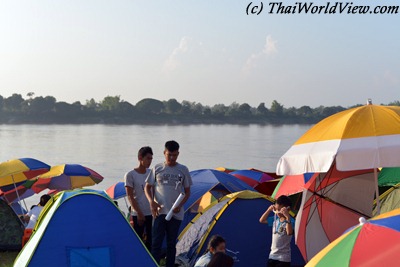 Parasols vendors are doing very good business selling them 100 baht per unit.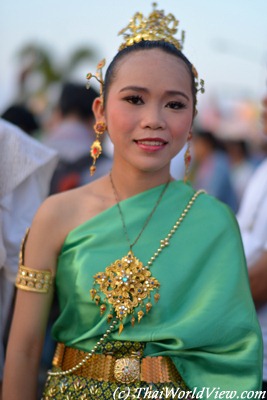 During evening time, walking around Wat Thai is very painful and slow as it is full of people. People even sit on walking alleys believing that being around Wat Thai is the best spot.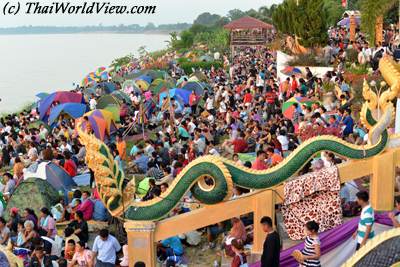 During evening time, along the Mekong river bank, people often walk on other people's mat without removing shoes. This is not appreciated by many Thai people as it shows a lack of manners (

ไม่มีมารยาท

).
---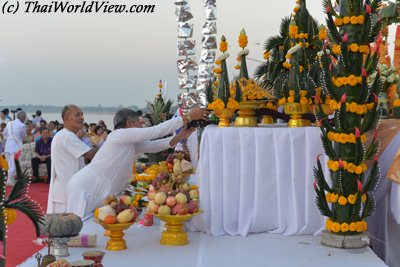 The Naga Fireballs festival officially start during the afternoon and some Brahmin priests are performing special auspicious ceremony.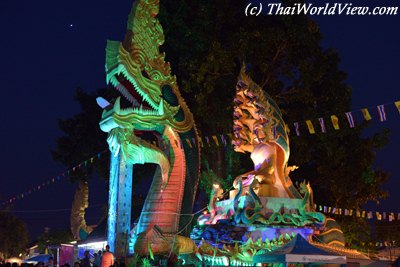 Thai Buddhist temple "WAT THAI" features wonderful lighting during nightime.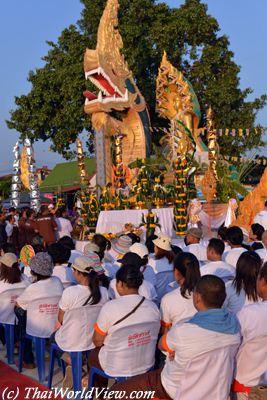 Many people are carefully watching and listening to the auspicious ceremony performed by Brahmin priests.
---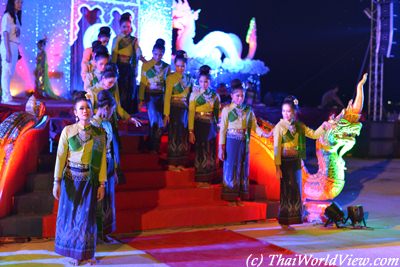 Some traditional dances do happen during evening time. Some of the performers took part to the sound and light show about Naga fireballs history happening the previous day in Nong Khai.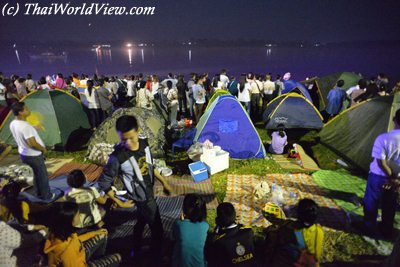 From time to time, for a short duration, small red balls can be seen. They are the famous Naga Fireballs rising from the Mekong river. The huge crowd cheers and stands to better see.
According to statistics from years 2012~2014, most popular places to see Naga fireballs (ลูกไฟ) are Nongkhai district, Phon Phisai district, Sangkhom district and Rattanawapi district. Rattanawapi district is the place where most of Naga fireballs were seen.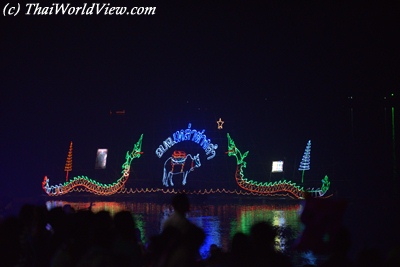 Those illuminated floating boats are very impressive during nightime. The light bulbs are made to have shapes of various Buddhist or Royal themes.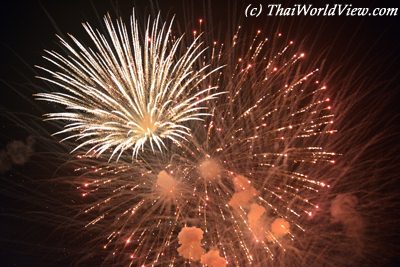 Fireworks bring additional festive mood to the Naga Fireballs festival in Phon Phisai.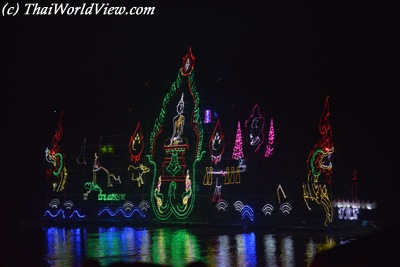 The tradition of illuminated floating boats on the Mekong River is to worship the Naga snake.
---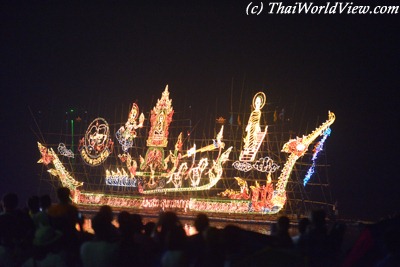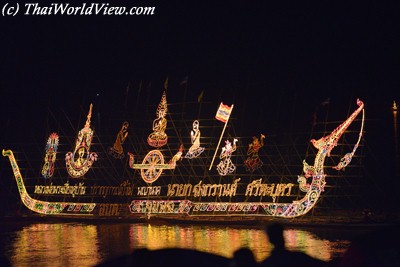 ---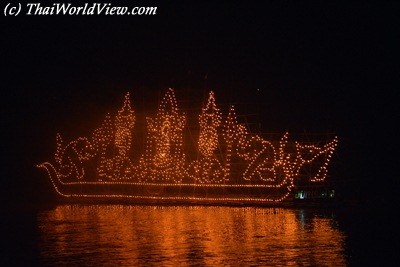 One of the many events happening during the Naga Fireballs festival in Phon Phisai is a long boats competition (

การแข่งขันเรือยาว

).
In year 2002, a hoax exposed by iTV channel suggesting that the Naga fireballs were tracer bullets fired by Laotian militia into the air caused a lot of controversy.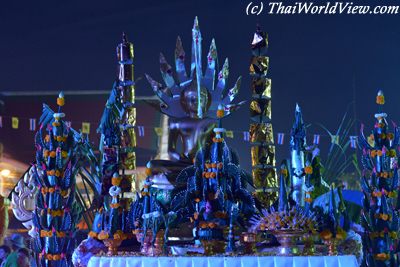 Thai movie

15 ค่ำ เดือน 11

was released in year 2002. This movie is about the Naga fireballs festival. This movie looks into the various theories behind the phenomenon. Some locals still believe in the traditional myth of the Naga, making a sacred offering to Buddha. One doctor thinks that the fireballs are natural. Another believes the phenomenon is a hoax.
Some scientists believe that the Naga fireballs are caused by methane and nitrogen. Others said it is caused by flammable phosphine gas.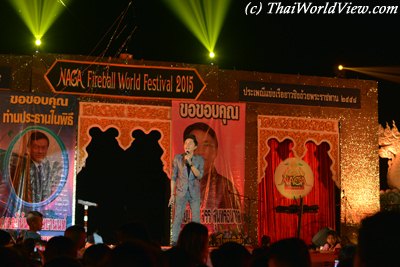 The day ends up with a live concert featuring a famous local singer.
---
---
---
---