THAI HOUSES
Build new house
H
ow to build a strong house in Thailand?
Poles have to be buried deeply up to 2m50 into the soil until rock or firm ground is found in order to have stable house foundations.

Thai house
| | |
| --- | --- |
| Up to 20 poles can be used to form a mesh. Steel is used to link the poles to have a strong mesh. | |
| | Thai Bungalows |
Then concrete is used to do a concrete screed. Concrete shall be fluid and mixed with some water to get the best quality. Then water shall be poured on the concrete during 30 days in order that the concrete is always wet. So it can rightly melt and get very strong.

Thai house
| | |
| --- | --- |
| A gap shall be kept under the concrete screed in order not to touch the soil. It will avoid to be always wet. The concrete screed shall be at least 20cm thick. | |
| | Thai Bungalows |
Then once the concrete screed is ready, bricks can be used to build the walls. Big bricks shall be preferred to small red bricks. The best is using two bricks with a gap between them in order to have the external brick absorbing the heat and the internal brick being at house ambient temperature.

Thai bricks
| | |
| --- | --- |
| Once the walls are built following the construction plan, then the roof can be added. | |
| | Thai house |
Normally in Thailand, typical houses' poles are not buried very deep. Thai people often build a small soil elevation to avoid flood and insects.

Thai spirit house
| | |
| --- | --- |
| But sometimes, Thai house owners don't let the soil elevation rest enough. So it is still possible that the soil can still move later. It then causes cracks in the walls or even the house could collapse. The concrete screed is built but is often only a few centimeters thick. | |
| | Thai Louis XIV house in Pranburi |
Many Thai house owners use only a few poles. Then steel poles are raised and the roof is immediately added even before the walls. Most of the time the small cheap red bricks are used for building the walls.

Thai Louis XIV house in Pranburi
---
| | |
| --- | --- |
| Stones are put along the shore to prevent sea erosion but it is not enough. The road erosion is worrying regarding the future of those places. | |
| | seashore |
Big complexes are built along the sea and a show case apartment is featured.

Big complex along the sea
| | |
| --- | --- |
| What happens if it failed? The first buyers pay and allow the promoter to continue the construction. It could be risky. Many tourists are targeted. | |
| | Big complex along the sea |
Many similar housing complexes started in 1990s but were stopped by the 1997 Asian Financial crisis.

Houses construction stopped
---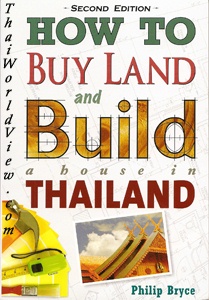 Are you considering having your own house in Thailand? A dream house that you can actually afford. This book contains essential information for anyone contemplating buying or leasing land and building a house in Thailand. It is meticulously researched and draws on expert legal and construction information from Thailand, America, Europe and Australia. Concepts, techniques and instructions are explained in simple, clear, and easy to understand language. It follows the construction of the author's 200m2 house in Ko Phangan, Thailand with over 100 paragraphs, 2D and 3D drawings and 700 English-Thai words and phrases. This book is your ultimate resource for "buying" land and building a house in Thailand.
---
| | | |
| --- | --- | --- |
| Click to see more pictures | | |
---
comments powered by
---