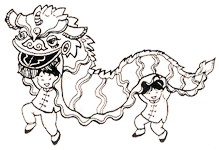 HUNG SHING
The New Territories is a region of rich traditions with a full spectrum of beliefs and customs associated mainly with seasonal celebrations, divinity and spirit worship as well as rites of passage.
During Hung Shing Festival, worshippers offer incense sticks in the temple.

Offering incense
Hung Shing is the deity who predicts the weather. So many celebrants are fishermen.
| | |
| --- | --- |
| Many worshippers come in the morning and some groups pay their respect by performing Dancing Lions or Unicorns, and offer tributes. Some associations bring their own "Fa Pau" or floral paper offerings. | |
| | Hung Shing |
Residents meet together at the temple to celebrate the occasion through a Thousand-People Bowl Meal.

Outside diner
| | |
| --- | --- |
| Shrine of flowers during Hung Shing Festival at Ho Sheung Heung. | |
| | Huge billboard |
Situated in Ho Sheung Heung, there is the ancestral hall of the Hau clan. The ancestral tablets of different generations are kept in the hall for worshiping by their descendants. The spacious ancestral hall is also used to hold village gatherings such as Hung Shing Festival. The hall was declared a monument in year 2003.
Large scale celebrations are held by the locals on the birthday of Hung Shing every year.

Huge billboard
| | |
| --- | --- |
| Opera performance begins during afternoon time. Cantonese Opera costumes are colorful, intricate, and unique. | |
| | Cantonese Opera |
Cantonese Opera is a traditional Chinese art form that involves music, singing, martial arts, acrobatics, and acting.

Cantonese Opera
---
| | | | |
| --- | --- | --- | --- |
| Click to see more pictures | | | |
---
---