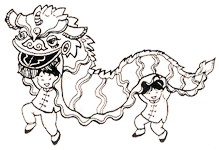 CHEUNG CHAU BUN FESTIVAL
The Cheung Chau Bun Festival is a living event with the famous scramble for lucky bread ("buns") and the colorful parade. Each year 50 000 people jam the island for the annual bun festival.
Cheung Chau Bun Festival is a religious Taoist ceremony. The Cheung Chau villagers believe the religious ceremony can appease the hungry ghosts of pirates with the sweet buns. Legend says the Cheung Chau was devastated by freak weather that superstitious villagers blamed on the ghosts of pirates.

Cheung Chau bun festival
Real buns are used for the smaller bun towers used for worship during the festival. People eat the buns after the festival is over.
The buns are traditionally part of the annual event organised to pacify spirits believed to haunt the island following an outbreak of plague in

year 1894

.

Small buns towers
Round, white, and with red characters denoting peace and safety on top, the buns are believed to work miracles for the Cheung Chau islanders.
During Cheung Chau parade, there are the famous floats that form the centrepiece mixed with teams of lion and dragon dancers and community groups.

Cheung Chau bun festival
| | |
| --- | --- |
| During the floating "children" and their costumes, local people are voicing their anger over a variety of issues. | |
| | Cheung Chau bun festival |
The parade starts from Pak Tai Temple, walks around the villages streets and ends back to the temple where tall towers covered in sweet buns have been placed.

Cheung Chau bun festival
The annual festival of Cheung Chau island is generally referred by tourists as "Bun Festival" but is traditionally called "Tai Ping Ching Chiu" by the islanders.
| | |
| --- | --- |
| The Cheung Chau Bun Festival grand parade is featuring traditional floats, colourful lions and unicorns, as well as flag dance and Chinese folk dance teams performances. | |
| | Cheung Chau bun festival |
It is called Floating Colors Parade because the children almost fly in the air.
It features a street parade of lions and dragons and Chinese opera, as well as floats with children seemingly suspended in the air, held up by cleverly concealed wires.

Cheung Chau bun festival
| | |
| --- | --- |
| Each year there is a need to find children as young as five to parade for one afternoon during the bun festival. Lai see of as much as HKD 1 000 are given. | |
| | Cheung Chau bun festival |
A set of floats has two children, one standing at the bottom and the other one "floating" on top supported by a metal frame with traditional Chinese decorative objects.
The cost of preparing one set of floats is about HKD 10 000.

Cheung Chau bun festival
---
| | | |
| --- | --- | --- |
| Click to see more pictures | | |
---
---