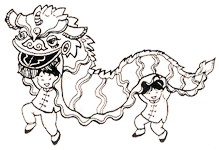 BUDDHA'S BIRTHDAY
On Buddha's birthday, Buddhists show their devotion by giving Buddha's statue a bath.
Major temples and monasteries in Hong Kong celebrate Birthday of Buddha. Po Lin Monastery on Lantau Island has the world's largest, seated, outdoor bronze Buddha.

Seated Buddha
During year 1999 Beijing embarked on celebrations marking 2000 years of Buddhism in China. A tooth relic believed by Buddhists to belong to Buddha was sent in Hong Kong where a special ceremony was held to mark Buddha's birthday.
In

year 2004

, the holiest relic of Buddhism arrived in Hong Kong to take a central part in the ceremonies honouring the Buddha's birthday. The finger relic of Sakyamuni Buddha, the founder of Buddhism, was discovered in 1987 at the Famen Buddhist Temple in Mainland China's Shaanxi Province.

Seated Buddha
In

May 2006

, Buddha's Birthday attracted more than 5500 people to an opening ceremony at the Convention and Exhibition Centre.

Buddha's Birthday
Buddha's birthday is celebrated throughout Hong Kong officially since year 1999.
| | |
| --- | --- |
| The Lotus is important in Buddhism. It symbols the enlightenment because the lotus blossoms on dirty pool. It symbolises the passage from darkness to light, the passage from ignorance to wisdom. | |
| | Lotus flowers |
Hong Kong has currently about 800 000 Buddhist disciples, making Buddhism the religion that has the largest followers in the "City of life".
A grand Buddhist service and ceremony was held to commemorate the birth of Sakyamuni, the founder of Buddhism, as monks and nuns crossed their palms and chanted Buddhist scripture.

Buddha's Birthday
---
---