THAI MARKETS
Increase or decrease font size for easier reading : A+ A-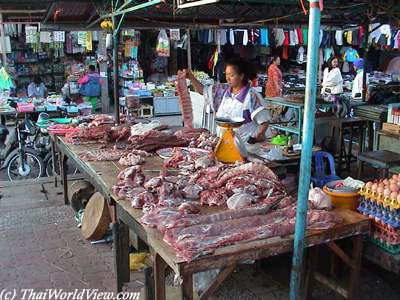 In Thai markets, meat is often sold in the open air. No refrigeration. Sometimes the vendor moves a small broom to frighten the flies. But there is no problem as meat is boiled and used in some meals like soup noodles.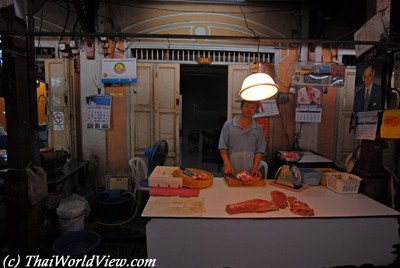 Similar outdoor butcher shops can be found in Hong Kong wet markets.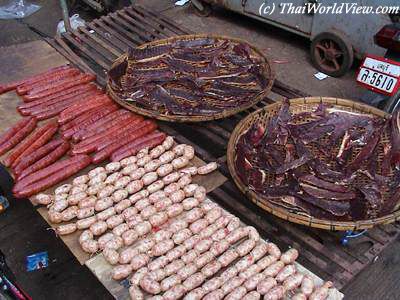 Meat dried in the sun ("NEUA DET DIAW" -

เนื้อแดดเดียว

) and ("SAI KROK" -

ใส้กรอก

) are famous in Isan area. Dog meat can be found in some towns of Northeast area, especially in Sakhon Nakhon.
---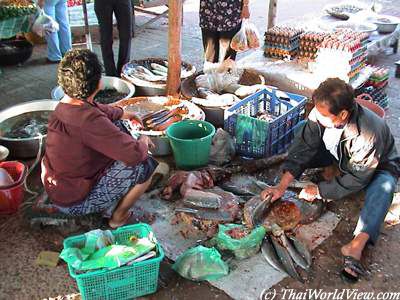 Fishes are also sold in open air. Sometimes no ice to refrigerate them. Anyway fishes are always fresh. Fishes stay in a bowl filled with water before being killed.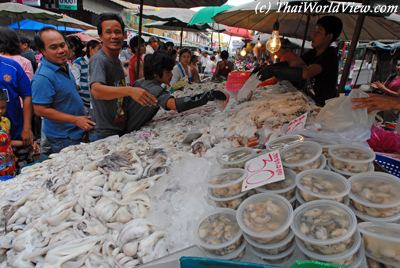 Big seafood markets such as Mahachai in Samut Sakhon Province allows getting cheaper and fresh goods directly from the fishing boats.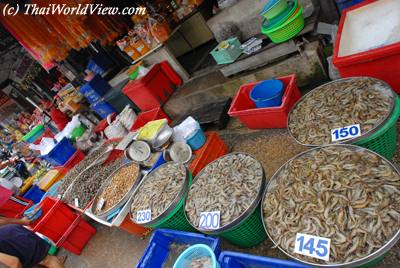 For big family gathering or village events, Thai people purchase directly in such big markets allowing huge and fresh choice.
---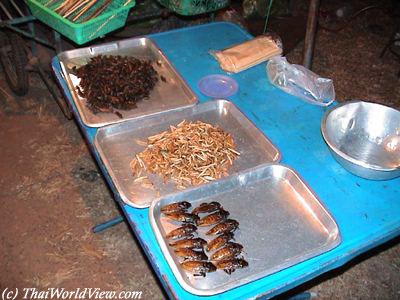 In "ISAN" area markets, it is possible to eat bugs like scorpions, grasshoppers, larva, beetles and even sometimes dogs. These days, farmers are making more by harvesting lice than rice.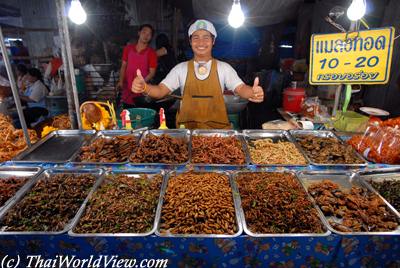 Now Bangkok residents also appreciate eating bugs. Canned grasshoppers, locusts, water beetles, crickets, silkworm pupae and ant eggs are available at the supermarket. Bangkok residents think of bugs as a healthy, low-calorie treat.
---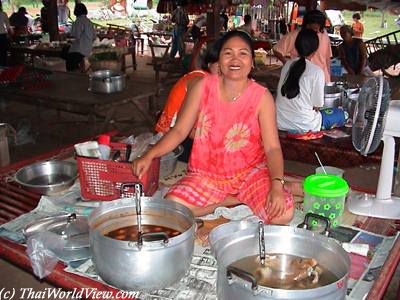 Many people buy meals in the markets such as soup, curry dish, grilled meat and eat at home.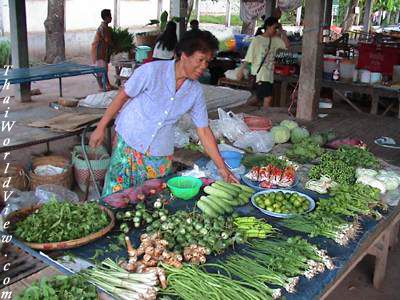 All famous vegetables, i.e coriander ("PHAK CHI" -

ผักชี

), ginger ("KING" -

ขิง

), galingale ("KA" -

ข่า

), green lemons ("MANAO" -

มะหนาว

) that highlights the Thai taste can be bought in markets.
---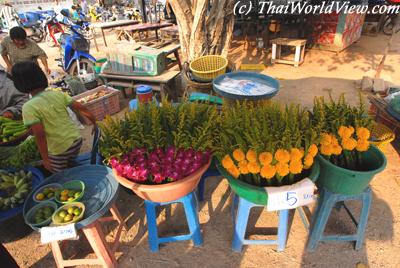 Flowers are also sold on local markets for people willing to go to Buddhist temples and offer flowers to Buddha.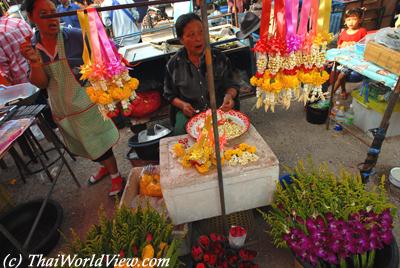 In Thai cars, there are often Buddhist amulets, King Rama 5 amulets or flowers garlands as it is supposed to bring luck while driving and to avoid accidents.
---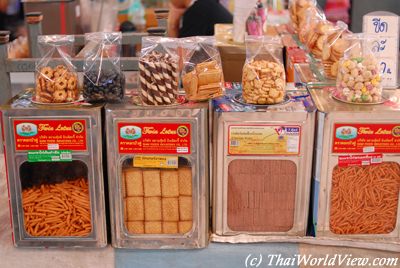 In Thai markets, there is always a shop selling delicious biscuits or crackers.
---
---
---