THAI FRUITS
Increase or decrease font size for easier reading : A+ A-
Thailand is rich of tropical fruits that make delicious desserts. During all the year tropical fruits can be found such as durian, litchi, orange, pineapple, rambutan, mangosteen, banana, longan, mango, water melon, sapodilla, coconut, papaya, custard apple, jack fruit, pomelo, guava, rose apple, crab apple... Most westerners know only these fruits in tins but they are only delicious when eaten fresh.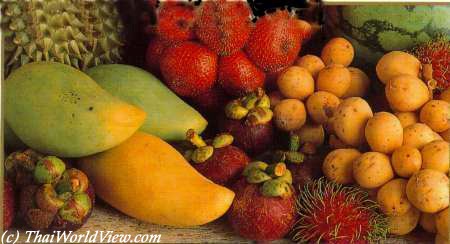 In Thailand delicious pineapples ("SAPAROT" - สับปะรด) can be found. Thailand is the world first exporter of pineapple tin cans. Some contain rambutans stuffed with pineapple.
Coconuts ("MAPHRAO" - มะพร้าว) can also be found. Coconuts can be appreciated twice, i.e. once by drinking the coconut juice and then by eating the coconut inside soft white skin. Coconut milk is also used for cooking. Koh samui island is the Thailand bigger producer of coconuts. Here monkeys learn how to grab them. There are even shows for the best monkeys.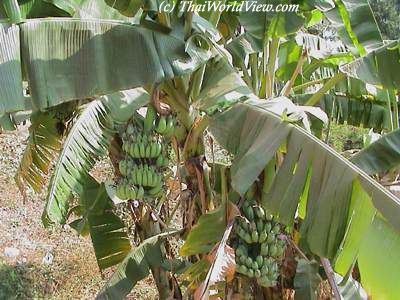 In Thailand many delicious little bananas "KLUEY" (

กลว้ย

) can be purchased. Many desserts are made with banana. One of the most famous dessert is "KLUEY BUAT CHI" (

กลว้ยบวชชี

) made of banana and coconut milk.
Villagers often grow banana trees. Bananas are considered as the most important Thai fruit. It is a fruit to eat at any time of the day. It is also used in dessert such as "KHAO TOM MAD" (ข้าวต้มมัด), i.e. sweet sticky rice with beans and bananas wrapped with banana leaves. This dessert is often used for family and community events such as religious ceremonies and rituals.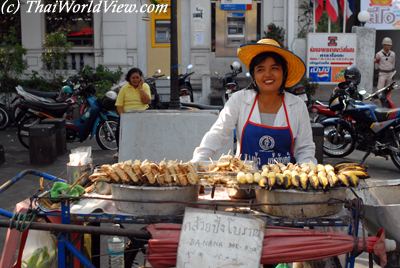 Bananas fritters ("KLUEY PING" -

กลว้ยปิ้ง

) are a popular dessert in Thailand.
Mango ("MAMUANG" - มะม่วง) can be eaten ripe (i.e. orange color) or unripe (i.e. green color) with salt and small chillies.
Thai people like to eat fruits that are not ripen and often eat them with salt. Just beware of too much spicy food, stomach of westerners are not so used like Thai people who can eat really hot and spicy food.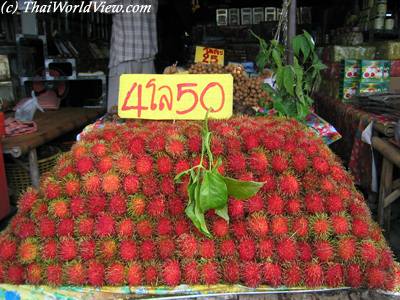 Two types of rambutans ("GNO" -

เงาะ

) can be found in Thailand:
1) Rambutan "RONG RIEN" which are sweeter and come from ChonBuri area.
2) Rambutan "CHOMPOU" (less expensive).
The mangosteen ("MANKHUT" - มังคูด) is often called the "Queen of fruits". In year 2002 the Agriculture Ministry has decided to name and promote the mangosteen as Thailand's national fruit.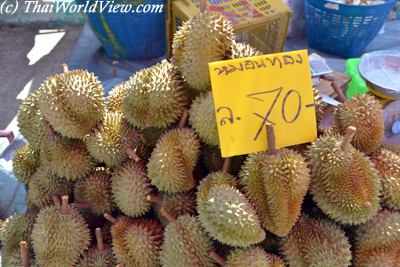 The Durian is the most famous tropical fruit. Asian people call it the "King of the fruits". Most westerners dislike it due to its strong smell.
Eat a mangosteen after a durian ("THURIEN" - ทุเรียน) and then the durian smell in the mouth is less strong.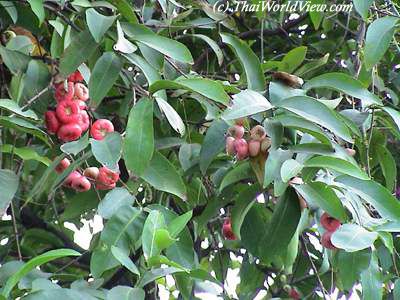 In the nature, fruits can be found in trees such as papaya, longan, banana, water melon, coconut, durian, pineapple, Thai rose apple ("CHOMPHU" -

ชมพู

).
Grapes ("AGNUN" - องุ่น) can also be found. But Thailand is not famous for its wine. Thai food is too spicy to really appreciate wine such as French wines. A cold Singha beer or plain water is enough with spicy food. In Loei province, there are vineyards offereing a wine called "Château de Loei".
The jackfruit ("KHANOON" -

ขนุน

) can be a huge fruit. Its flesh is jellow.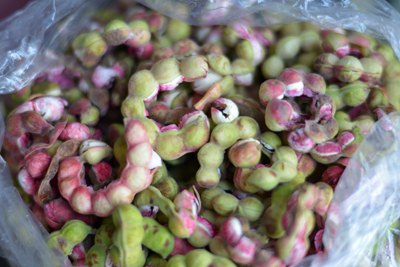 The tamarind ("MAKHAM" -

มะขาม

) is a sour fruit. Thai people likes to tamarind with sugar, salt and chili.
---
---