DEITY FESTIVAL
Increase or decrease font size for easier reading : A+ A-
Yearly Chinese deity festivals are important events for the local Chinese communities in Bangkok or provincial villages.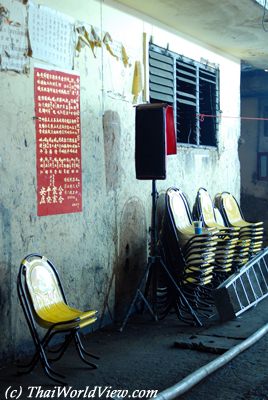 This yearly Chinese deity festival dedicated to Chao Mae Tubtim Shrine takes place in Bangkok around Christmas holidays. The shows are happening in Pathum Wan area.
Pictures on this page were taken at Chao Mae Tubtim Shrine Saphan Luang, Pathum Wan, Bangkok (ศาลเจ้าแม่ทับทิมสะพานเหลือง). This event took place from 28 Dec 2013 to 05 Jan 2014.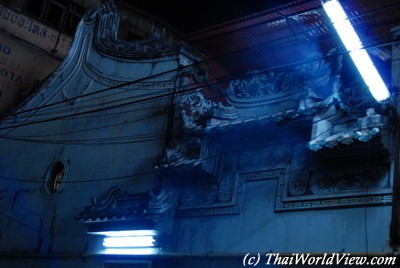 The event is happening in a neighbourhood located on the land of Chulalongkorn University. Half of the district is going to be redeveloped so maybe the 2013 event is the last one!


Fly there with Google Earth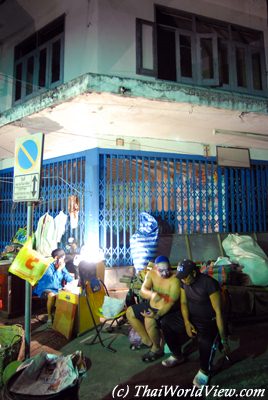 Many buildings are closed so another grassroots area is going to disappear under redevelopment business.
Rent offer is not renewed so people have to move somewhere else and the neighbourhood is going to disappear.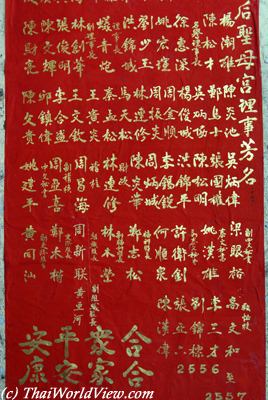 A big red advertisement announces the deity event. It displays the committee list and the names of the people part of this committee. This event is unique in Bangkok as it features two Chinese opera troupes on the opposite side of a small lane.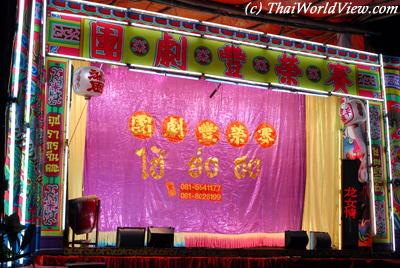 One of the troupe is famous modern Chinese opera troupe Sai Yong Hong (

คณะไซ้ย่งฮง

). The other one is called Sai Po Hong (

คณะไซ้ป้อฮง

).
Sometimes Chinese opera companies are hired not to perform in front of live audiences but also in front of invisible deities in Chinese shrines.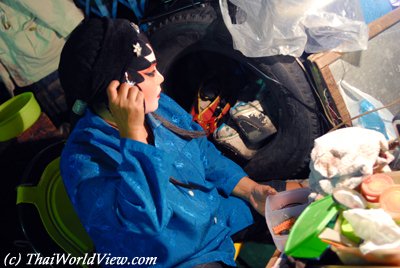 The opera performance starts 7PM30 and ends up before midnight. The artists' make up session starts around 6PM.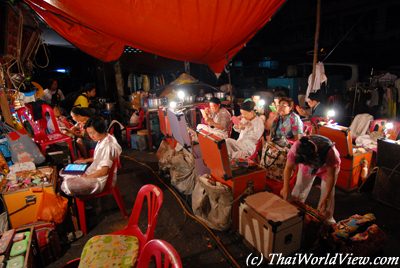 The make up area for Chinese opera artists is just behind the opera theater. It is a nice opportunity for photographers.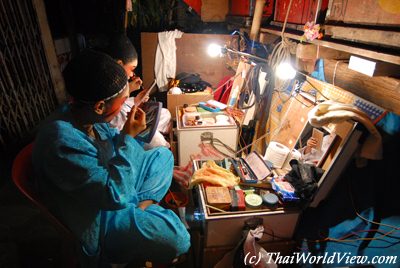 Two Chinese Opera troupes are competing (

งิ้วประชัน

) during nine days. According to Charlie Liu, Thai expert in Chinese opera, this event is the biggest opera event in Thailand.
There are still around 30 Chinese opera troupes in Thailand.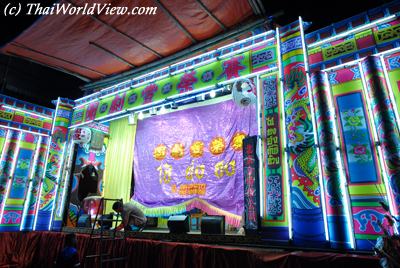 Indeed, both troupes are more cooperating than competiting. Same salary is paid to both.
Compared to Hong Kong Chinese opera, the theaters built in Thailand use much more powerful neon lights.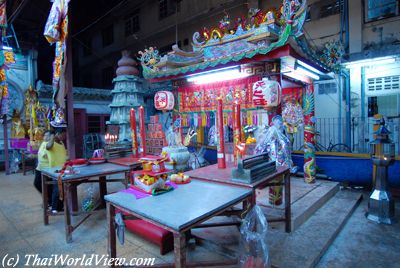 The cost to hire such Chinese opera troupe is around 30 000 baht a night. Each troupe has around 30 to 40 troupe members.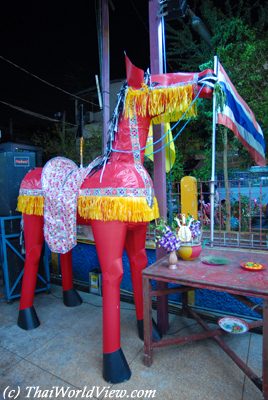 This Deity festival was a nine days festival. The pictures shown here were related to the second day only. On other days former retired singers as special guests were expected.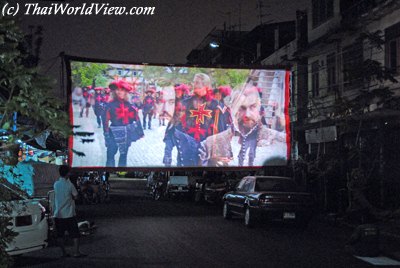 This deity festival is a big event as it also features outdoor movies projected on a huge screen.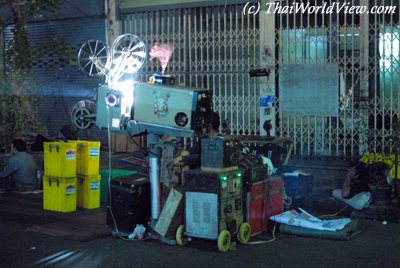 A 35mm movie projector is showing today a foreign film. Films reels are inside the yellow boxes.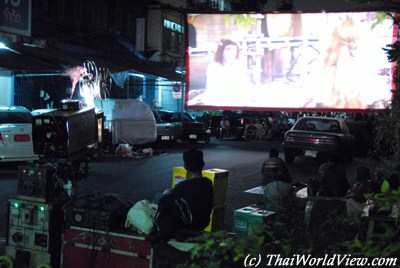 The movie projection is of course free as it is paid by the Shrine sponsor (

ศาลเจ้า

), who is also paying for the Chinese opera. Mainly teens are watching the movie.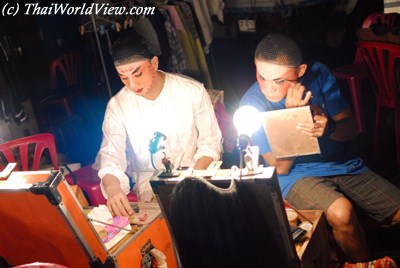 One of the performer, on the left, is transforming himself into a fish with scales through a long make up process.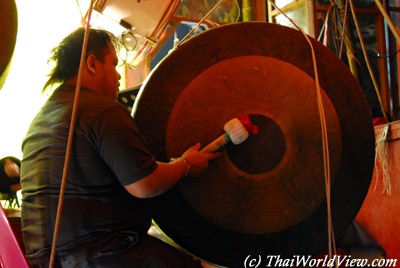 7PM already! The Chinese opera is going to start. A gong is part of the music orchestra.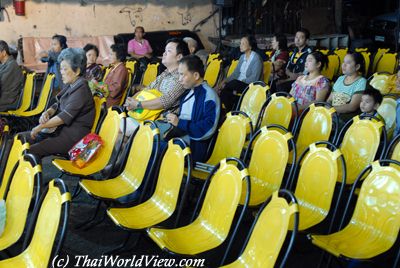 The performance is hosted in a Chinese shrine compound. Free food is given, i.e. rice soup, sweets (green bean soup) and drinks.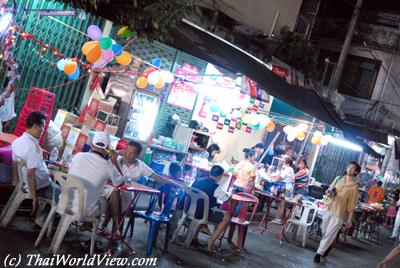 Along the small lane, many delicious restaurants can be found. The best one is maybe the one selling maw fish dish (

กระเพาะปลา

).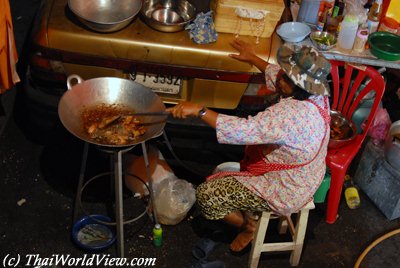 Chinese opera performers can enjoy delicious home made food from their troupe cook.
As less and less members of the Thai Chinese community take the Chinese opera performer profession, other performers have to be found. Many of them are coming from Northeast of Thailand (Isan) or even from Mainland China.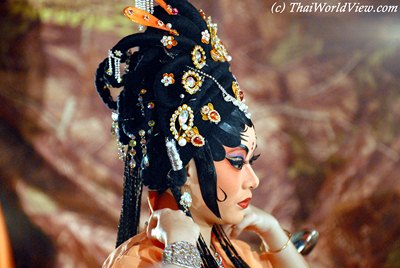 Two main performers of the Chinese opera troupe Sai Yong Hong are sisters.
Chinese opera has been losing popularity gradually. In the past, many old Chinese opera (งิ้ว) theaters were opened in Yaowarat. Many were converted into cinemas such as the China Town Rama theater (former Sri Meuang). Nowadays Chinese opera audience is mainly made of elderly people.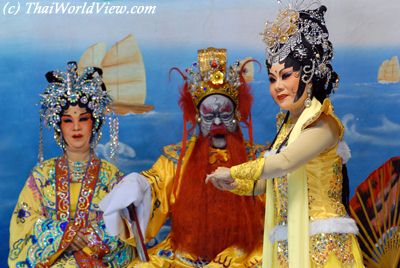 These Chinese opera female stars (何丽珠 and Xiao Bead) are coming from Mainland China. On that day they were playing the daughter of the King and her maid.
Nevertheless Chinese opera art has continued to evolve in Thailand to catch up with modern times. Nowadays Chinese opera performances are sometimes featured for important life events for the Chinese community such as wedding, shop openings... Performances are also done in the numerous Chinese shrines all over Thailand for live audiences but also in front of invisible deities in Chinese shrines!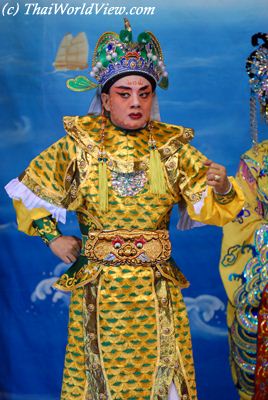 The Dragon's daughter loves a human so she hides her real identify but the fish man reveals the truth to her father.
Usage of Thai language in some Chinese opera performance is starting in order to make it accessible to a wider audience. Some Thai Chinese opera troupes also use of online websites or Facebook pages to increase people awareness and interest into their art.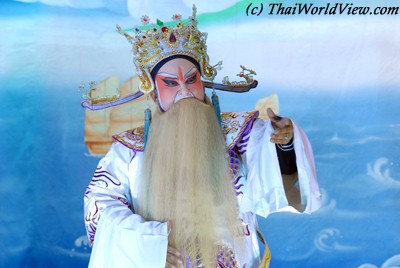 Sai Yong Hong troupe is seen as too modern by Chinese opera traditionalists. Chinese opera troupe Sai Yong Hong has a facebook page.
Some people complain they alter too much traditional outfits. Anyway such modern troupe with good looking actresses allows keeping interest from young people. If Chinese opera shall not die and not be watched only by old people, some modernity is needed to keep it alive in Thailand.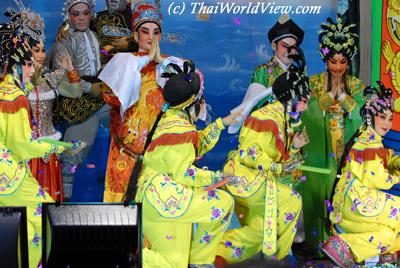 Performers greet the public during the last sequence of the opera representation.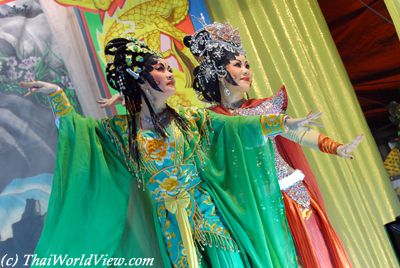 Chinese opera troupe Sai Yong Hong is much more popular than the other troupe called Sai Po Hong. Maybe it is because of younger and more beautiful performers such as Fern Joy and Joy Syh used by troupe Sai Yong Hong?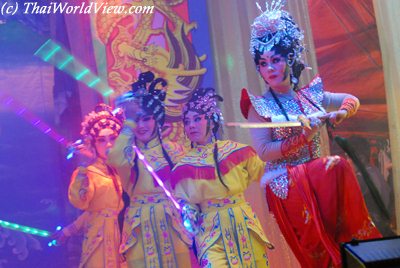 When the story is happening under the water and involving the fish man, the light is then dimmed.
---
---
comments powered by

Disqus
---