DEITY FESTIVAL
Increase or decrease font size for easier reading : A+ A-
The yearly Chinese deity festival is an important event for the local Chinese community and the whole village / district.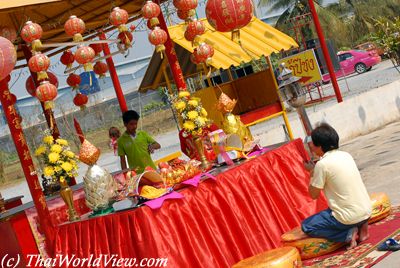 This yearly Chinese deity festival takes place in Nakhon Pathom (

นครปฐม

) around Chinese New Year.
The Thai name for this Chinese shrine is เจ้าแม่ลิ้มโกวเหนี่ยว.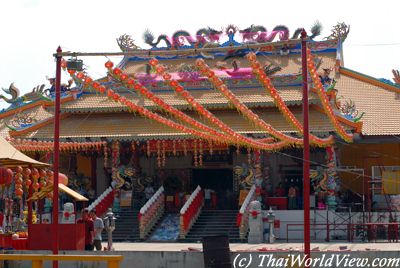 The Chinese shrine (

โรงเจจีเต็กลิ้ม

) is decorated with many red lanterns.
Many advertisements promoting the festival are displayed in Nakhon Pathom's streets.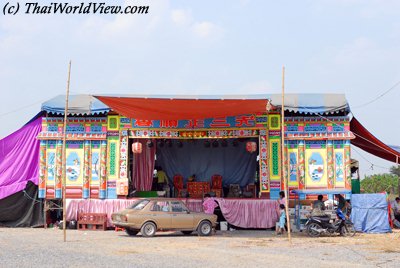 Chinese opera is called "GNIOU" (

งิ้ว

) in Thai language. Nowadays most performers are Thai actors coming from "ISAN" (

อีสาน

- northeastern part of Thailand). They don't know Chinese language meaning but learn their roles by rote learning. Chinese opera performances are made as a gift to Chinese gods.
Chinese opera companies are still hired not to perform in front of live audiences but in front of invisible deities in Chinese shrines.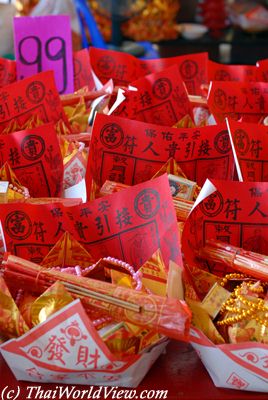 Thai Chinese people come to the shrine to worship (

บูชา

) the deity. They give red envelopes (

อังเป่า

) and golden objects.
There are three kinds of performers used in Chinese operas in Thailand:
Some are coming from Mainland China
Some are Chinese descendants in Thailand
Some are village kids sold to the troupe by poor parents. They often start by playing utility men but some of them may develop into major roles afterward.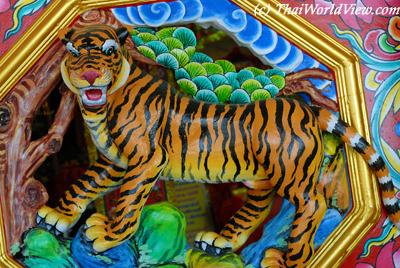 Free food is offered in a vegetarian restaurant (

โรงเจ

) opened for this specific event.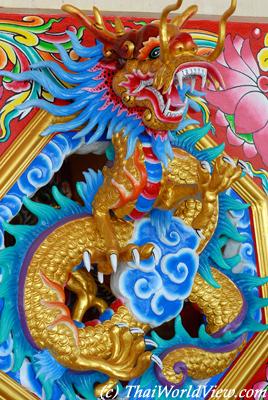 Thai Chinese people come to the shrine to also worship (

บูชา

) the sacred turtles and goats to get protection against possible accidents.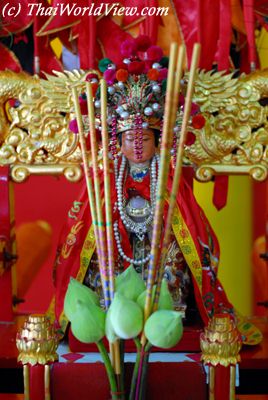 People are offering lotus flowers and joss sticks to local Chinese deities.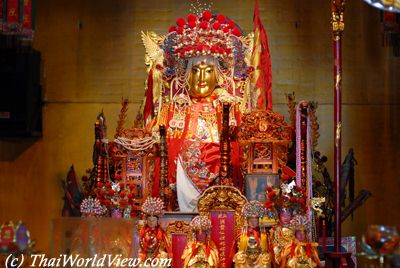 Impressive Chinese deities are covered with red and golden clothes. The deity wears a golden mask.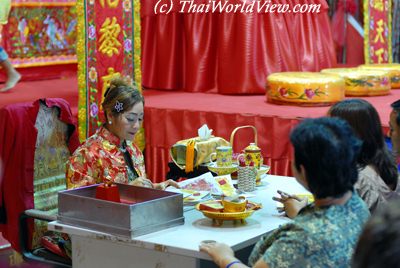 An astrologer (

หมอดู

) is here to answer to any questions (how to have good business and so on...)
The festival starts early every day at 6AM and closes at 6PM.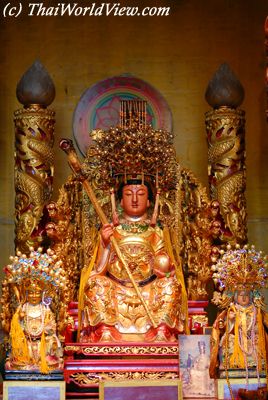 Goddess Chao Mae Lim Ko Niao is represented in many forms and various displays. Golden color is dominant.
Chinese opera performances happen at night time.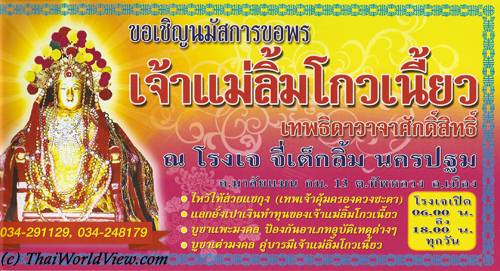 ---
---
comments powered by

Disqus
---