VEGETARIAN FESTIVAL
Increase or decrease font size for easier reading : A+ A-
The Vegetarian Festival occurs every year on first day of the ninth month of the Chinese calendar (so end of September or beginning of October). It is best known on the island of Phuket, but it's also a well-publicized and celebrated event in the larger, southern cities of Thailand.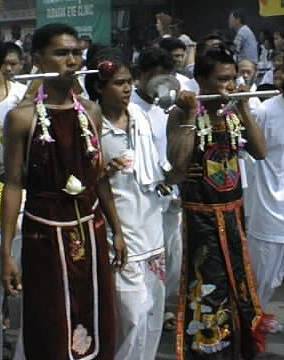 This festival includes the gathering of "spirits doctors" ("MO PHI" -

หมอผี

), who number up to 400 in Phuket alone. The "Spirits Doctors" show the power of the spirit, which reside inside their bodies, by piercing their bodies with sharp instruments. It is customary, for example, to see them walking through village and city streets with slender rods of wood, or steel, through both cheeks.
Another familiar sight is to see them walking barefoot on burning coals or climbing ladders with rungs of sharpened blades. Amazingly, they demonstrate no sign of pain and evidence but a minimum of bleeding when their bodies are pierced. The "power of the gods" is believed to be the force that enables the "Spirits Doctors" to endure these feats without feeling pain. During the festival, they walk from one Chinese Temple to another. Faithful join them and in each temple they make donation, worship Chinese gods.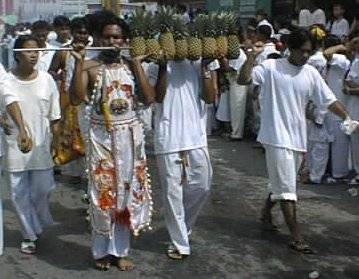 One can see entering a Chinese Temple, in Phuket, cupboards containing knives and swords that are used solely for the Vegetarian Festival. In addition, little Chinese Gods are also seen --- and these are truly frightening. During the festival, the gods are supposed to leave the statues and enter the bodies of the "Spirits Doctors," who are in a trance.
After the gods enter their bodies, the "Spirits Doctors" then begin their walking journey throughout the villages and cities. Huge crowds welcome them with shouts, applause and fireworks. The faithful give money, which is supposed to go for the upkeep and embellishment of the temples. Unfortunately, some of these monies either fail to reach the authorized persons, or be used for their intended purposes.
Some people say that the Chinese gods are angry because money is not used to embellish temples but used to build hotels, bars, discotheques, and massage lounges.
---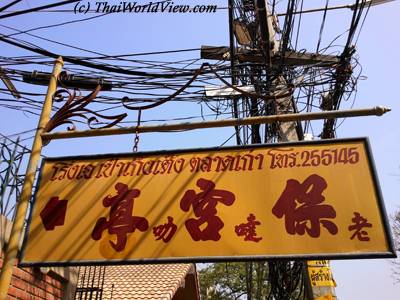 Chinese Vegetarian Halls (

โรงเจ

) are including many buildings. It features a few altars with Buddha statues, Chinese deities, a restaurant, kitchen, a small theater.
---
comments powered by

Disqus
---