CHINESE CEMETARY
Increase or decrease font size for easier reading : A+ A-
งานบำเพ็ญกุศลฝังศพ or "NGAAN BAMPHEN KUSON FANG SOP" is a Chinese ceremony in order to make merit for the deceased person.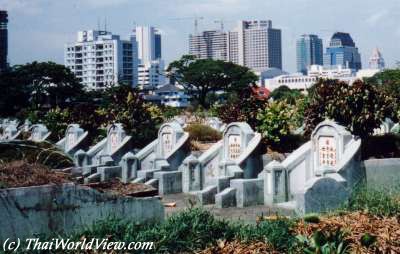 In Chinese cemetaries, white graves are aligned. Chinese cemetaries are often located on mountains.
During Chinese rites, funeral happen. Cremation happens during Buddhist rites. The Chinese ceremony is called "NGAN BAMPHEN KUSON FANG SOP". A picture with all persons that did assist to the ceremony is often shot. People are dressed in white robes during Chinese rites. Such big picture, i.e. width one meter, can be seen in Thai houses.
---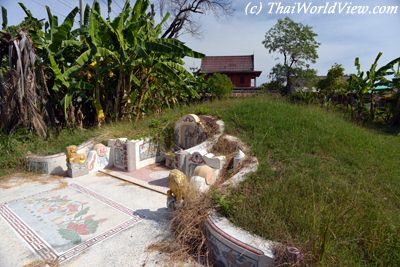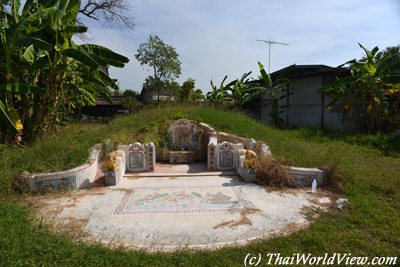 ---
CHINESE OPERA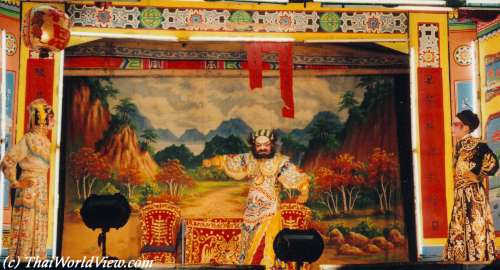 Chinese opera or theatre is called "GNIOU" (งิ้ว) in Thai language. Actors use Chinese language during "GNIOU" performances. So when Thai people go to see Chinese opera, most of them don't understand a single word but can enjoy the beautiful clothes, the actors' lyric voice.
Not so long ago, these theatres performances have popular success. It was an opportunity to go out, to have some fun. But now these performances are seldom. Younger generations prefer Thai or American movies.
But "GNIOU" performances are not dying. Now most actors are Thai actors coming from "ISAN" (อีสาน - northeastern part of Thailand). "GNIOU" performances are made to offer a gift to Chinese gods. So now performances are often made in front of a non living audience.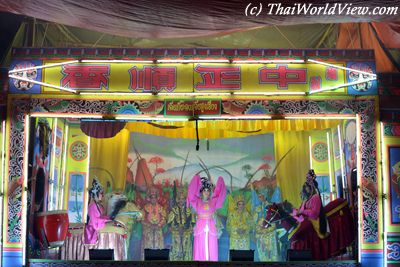 During Thai festivals, there is sometimes a mix of Chinese opera, "LIKAY" (

ลิเก

- Thai traditional song and dance drama) performances, stalls with food, offering to Chinese gods and to Buddhist statues.
Everybody go there, come back, discuss. Don't expect silence. Anyway nobody is understanding.
---
CHINESE NEW YEAR'S DAY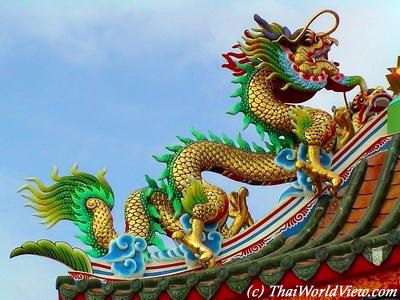 On the day before the Chinese New Year's Day, Thai-Chinese people start to make offerings to gods, their ancestors, the God of Land and the God of Luck. Offerings include steamed duck, poached fish, chicken, pork heads, fresh or canned fruit, Chinese cakes (often with durian) and vegetarian food. "DOOK MAI CHIN" (

ดอกไม้จีน

- Chinese flower) and golden paper are also offered.
For Chinese New Year's Day there are parades with impressive dragons. When the dragon passes by stores, the owner often lits crackers to ask for luck in business. People set off firecrackers to scare off "evil spirits". These crackers are 2 meters long and it takes more than one minute for the complete explosion. Protect ears !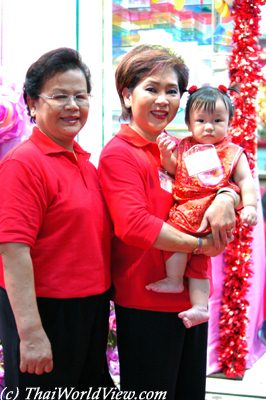 On the Chinese New Year's day, family members visit each other and give each other money red envelopes called "ANG PAO". These envelopes contain money. On this day, Chinese restaurants are very busy because all families are going out.
CHINESE MOON CAKES
เทศกาลไหว้พระจันทร์

is the Chinese ceremony "TO PRAY THE MOON".
During the month of september, it's the season for moon cakes. These are pies with durian, lotus seed, chestnut or other fillings. It is called a cake but it is not a cake from a western point of view (no cream, no chocolate). This ceremony is coming from Chinese history. When China was under the rule of Mongols, an insurrection was prepared. Small papers giving orders were hidden in cakes.
---
YAOWARAT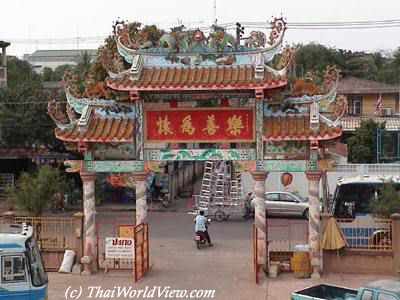 In Bangkok, there is also a Chinatown area ("YAOWARAT" -

เยาวราช

). The government hopes to turn "YAOWARAT", the home of the biggest overseas Chinese community in the world, into an internationally famous landmark. The goal is to promote Thai-Chinese culture and boost tourism.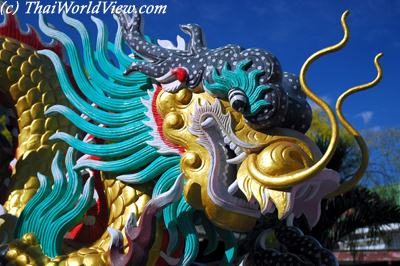 "YAOWARAT" is easily recognisable because all the shops signs are written in Chinese. In this area, there are streets where all shops provide similar services: the streets about car motors and so on... Of course many Chinese products can be found. There are also four Thai newspapers in Chinese language.
The year 2002 marked Thai Chinatown's 110th anniversary. Most of Thailand's top companies, including Charoen Pokphand Group, opened their first offices in the area.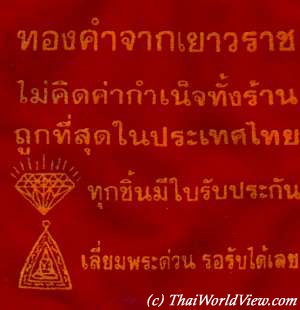 All jewellery shops are owned by Thai-Chinese people. The shop is always red, covered with Chinese ideograms and inside many gold amulets, rings, laces can be found. When a customer buy an item, the seller gives a little red sack. Often in provincial towns, jewellery shops indicate that their gold is coming from "YAOWARAT".
Chinese New Year is traditionally a time when gold sells well. Yaowarat boasts of more than 100 gold shops along a 1.5 km stretch.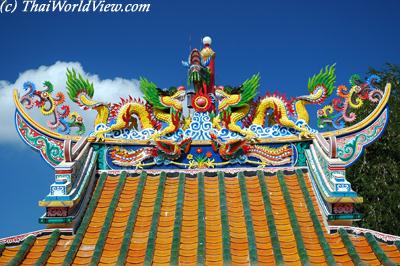 In Thai movies, Chinese descendants are often represented as shopkeepers, merchants, traders, factory owners, hotel owners, massage parlour operators and bankers. An offensive term sometimes used is "JEK" (

เจ๊ก

) for one of Chinese origin.
Another cliche is that Chinese descendants are clever and hard-working, whereas genuine Siamese prefer to take life at ease (สบาย-สบาย) to be lazy and big spenders.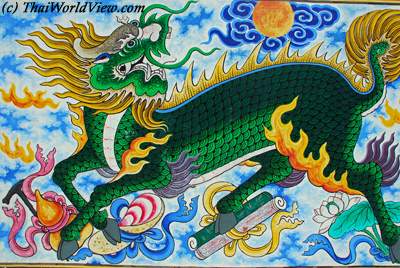 Local people believe that Yaowarat gate is the dragon's head and Yaowarat road is the dragon's body.
---
KWAN YIM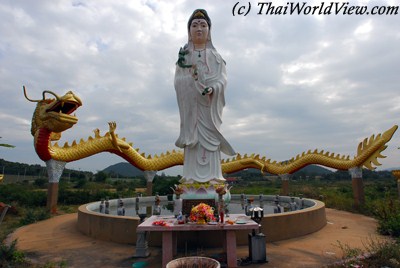 "KWAN YIM" or

เจ้าแม่กวนอิม

is the Goddess of Compassion. The dragon represents the wisdom or the guardian of wisdom.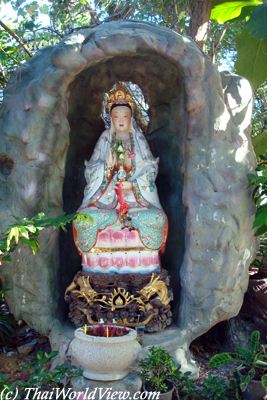 Kwan Yim is much venerated by Thais of Chinese ancestory. In her right hand is a flask from which issues an endless stream of compassion and mercy. In her left hand she holds a willow branch, symbol of fertility.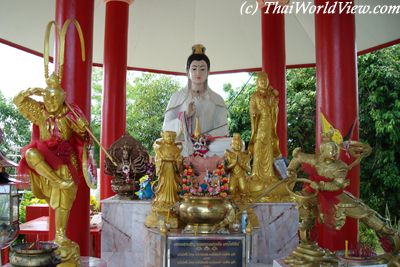 The appereance of the Chinese Kwan Yim in the Thai pantheon of important deities is an indication of the importance of the Thai/Chinese community.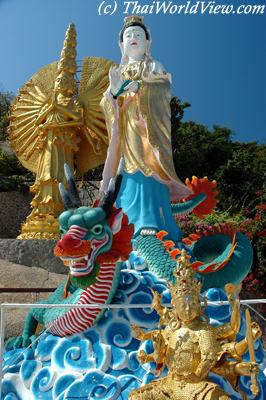 Kwan Yam is sometimes depicted in her multiple arms form. It is said that she can have thousands of arms.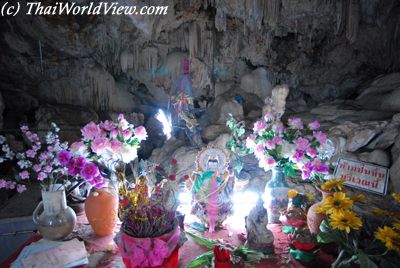 Kwan Yim statues can be found in dedicated Chinese shrines, in caves but also in Buddhist temples.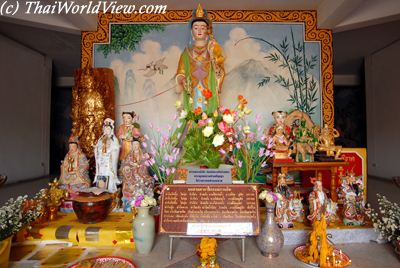 Kwan Yin, the godness of Mercy, is usually depicted dressed all in white.
---
---
comments powered by

Disqus
---