CHINESE TEMPLES
Increase or decrease font size for easier reading : A+ A-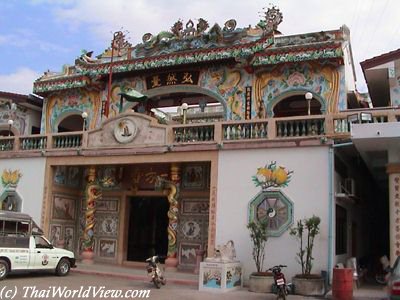 In Thailand, many Chinese ideograms can be seen. That is due to the fact that many Chinese immigrants went to Thailand last century. The integration of 5 million of Chinese immigrants by Thai society was a success due to Thai people tolerance and a similar religious background.
Chinese people are now well integrated in Thai society because they did not remain all together. Many Chinese men or women marry Thai people, so nowadays many Thai people have Chinese ancestors. On the contrary, in Indonesia or Malaysia, Chinese people remained apart from the Islamic society. In those countries, during riots, Chinese people are always blamed of economic problems.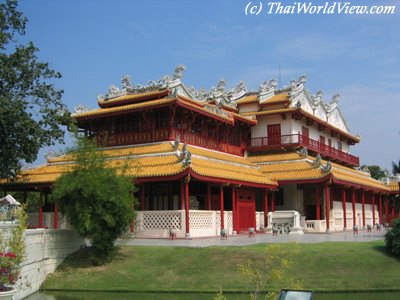 Many beautiful Chinese temples can be seen in Thailand including inside Royal residences such as "BANG PA IN" near Ayuthaya.


Fly there with Google Earth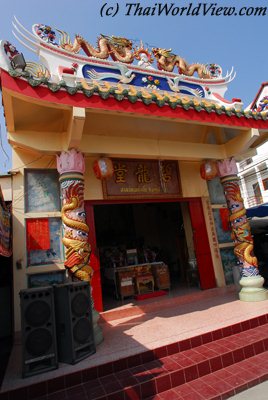 Chinese shrines are called "SAN CHAO" (

ศาลเจ้า

) in Thai language.
---
Visitors are always welcomed in Chinese temples (ศาลจีน) but they shall remove their shoes at the entrance. Sometimes in Buddhist temples ("WAT" - วัด), a Chinese shrine can be found.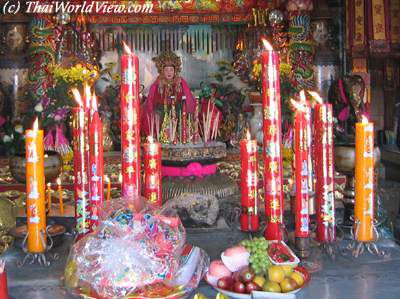 Inside Chinese temples, it is darker than in Buddhist temples. Inside there are big red candles decorated with Chinese ideograms.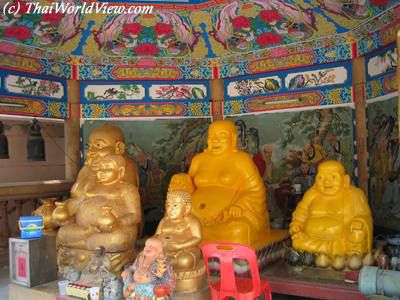 Chinese temples are colorful and decorated with curved roofs, dragons and Chinese Buddha. One Chinese representation of the Buddha is a man with a round belly, which symbolises the opulence.
---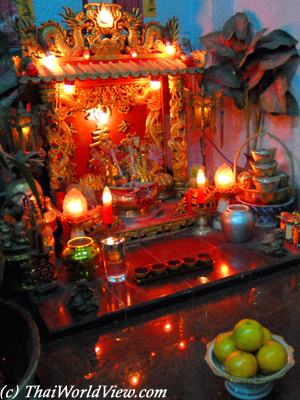 In some Thai houses, there is a small Chinese shrine to worship gods. Even some Thai people, who have no Chinese roots, have also a Chinese shrine at home. The shrine is usually red in colour and set on the floor. It represents the god who controls the ground upon which the house is built. This shrine is called Tee-Ju-Iya.
The cult and respect of ancestors is the base of the Chinese religion. So it fits well with Thai Buddhism, which also respects ancestors and helps them to have a better next life in ceremonies such as "KRUAT NAM" (กรวดน้ำ - to pour water slowly onto the ground, so that the dead might benefit from meritmaking).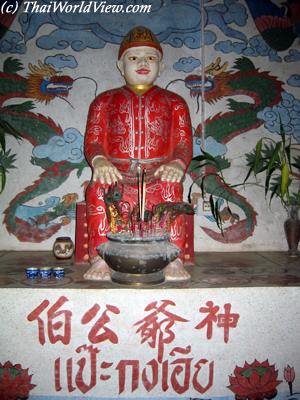 Thai Buddhist people and Thai-Chinese people make both donations to the temple but not in the same way. Thai Buddhist people give food to the monks and hope to get a better next life with such donations.
Thai-Chinese people give food to the Chinese gods in temple. A pig head is offered for key wishes. But on the contrary of Thai Buddhist traditions, people are allowed to take the food back home (and to eat it!) when the god has finished his meal.
Thai children always support their parents but it is said that Chinese children support their parents better than any other children. Many Chinese people succeeded in Thailand with their legendary habit of saving money and working hard.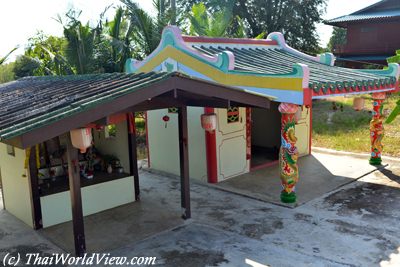 This Chinese shrine is located near a village spirit house occupied by the village spirit ("CHAO PHO" -

เจ้าพ่อ

).
---
HISTORY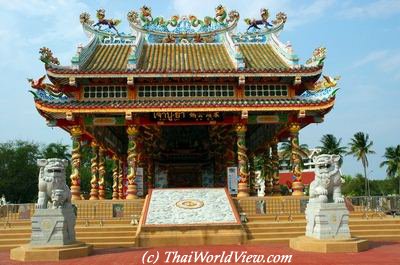 Many Chinese immigrants arrived in Thailand in

1870's

. After World War 2, there was suspicion over Thai people, who have Chinese roots. Thailand bewared of red communist China.


Fly there with Google Earth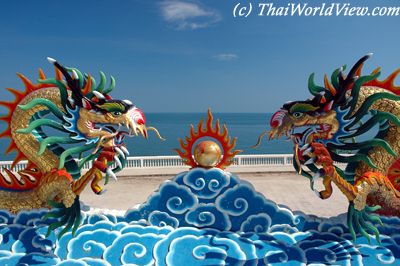 During years

1890-1910

, Thai nationalism was very sensitive with problems of lands linked to French and English imperialism. The anti-foreign sentiment was also towards Chinese community.
Chinese immigrants were numerous, i.e. 10 percent of Thai population was Chinese. First immigrants did assimilate themselves in Thai society by marriage with Thai people but the last immigrants came with whole families and did not try to integrate themselves into Thai society. They continue to speak Chinese, they send children in Chinese schools.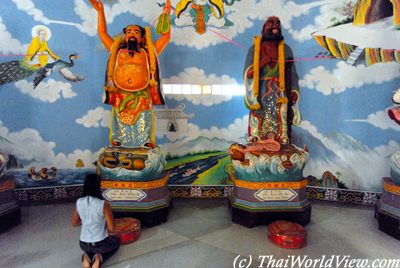 So a new law in

1909

forced all citizens to have a Thai surname. For example, if somebody is called Santhi SAWAN, Thai people say "KHUN SANTHI", foreigners say "MISTER SAWAN". In the past many persons have the same name and it was not possible to differentiate them.
That's why in Thailand almost all people have different surnames because when the law was enacted all family has to find a different surname. Still today everybody call each other with name. Surnames are only used for address or with administrations.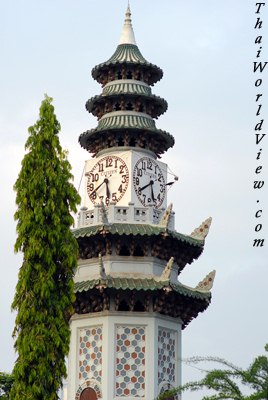 It is said that this law was also directed against Chinese community in Thailand, i.e. they have to choose to become Thai citizen with a Thai surname (i.e. they lost their Chinese identity) or to remain foreigner and then outside of Thai society. Most of all became Thai citizen.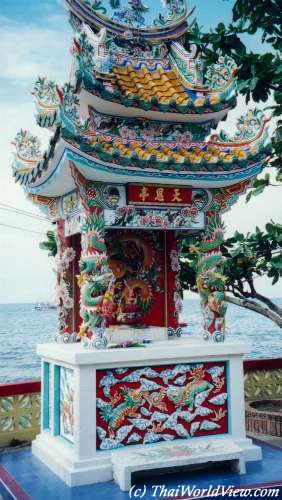 Many Thai people still have deep Chinese roots but nowadays Thai-Chinese people are fully integrated and their Chinese roots are fading away. The younger generations are deeply Thai and some young people have difficulties to read Chinese ideograms. There are still Thai-Chinese rich families that support their ancestors' old villages by giving money to schools and so on...
The Chinese blood has also helped Thai-Chinese businessmen to have contracts with China. It is said that Thailand succeeded thanks to the Chinese blood, which gave Thai people a better sense of business.
---
---
comments powered by

Disqus
---