DEITY FESTIVAL
Increase or decrease font size for easier reading : A+ A-
Yearly Chinese deity festivals are important events for the local Chinese communities in Nakhon Pathom province.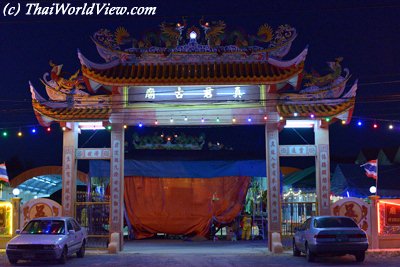 Based on lunar calendar (Month 3 Day 15), a special event is happening. It is an ancestor festival celebration (

ว่าจิงกุงไต่ตี่

).
There is a big gate in front of the Chinese shrine. Today a Chinese opera theater is standing in front of the shrine. The local deities and ancestors can enjoy Chinese Chiu Chow opera.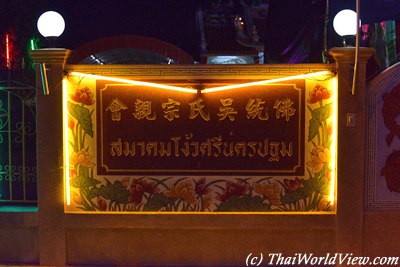 The Chinese shrine is called

ศาลเจ้าเจ็งกุงไต่ตี่

. It was created in year 1975.


Fly there with Google Earth
Pictures on this page were taken in a Chinese Shrine located in Nakhon Pathom area. This event took place on 11 April 2017.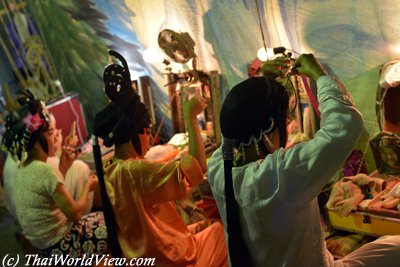 The opera performers are getting prepared in the backstage area. It is time for make-up.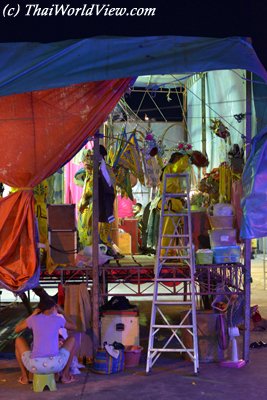 An external company builds the basement part but all the upper part (background, lights...) is brought by the opera troupe. The stairs are very basic!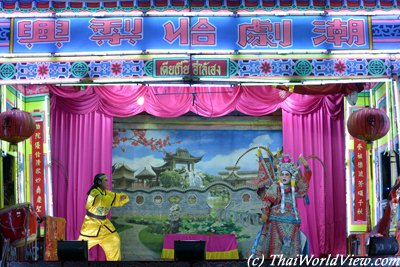 The Chinese opera performance happens during three nights. The performance starts with a standard opening mini show.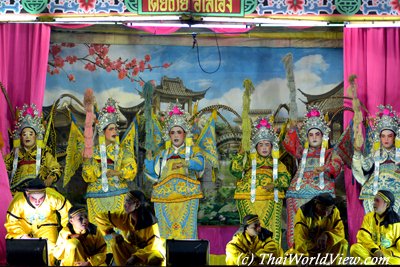 The performance starts at 7PM with the Six Warriors sequence (

หลักกกฮงเสี่ยง

).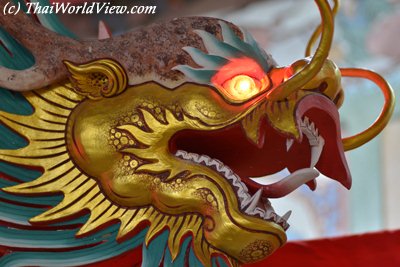 Many Chinese opera performances do happen in Nakhon Pathom province as many Chinese temples are established there.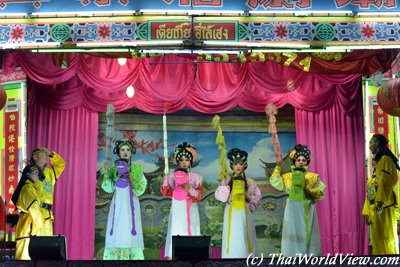 This Chinese Opera is performed by

เตี่ยเกี่ยะอี่ไล้เฮง

troupe (潮劇怡梨興 - Die Giah Lai Heng) in Nakhon Pathom.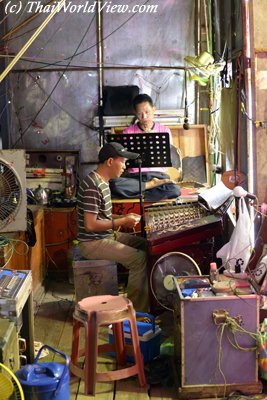 There are musicians on both sides of the backstage. It includes percussion instruments, wind instruments...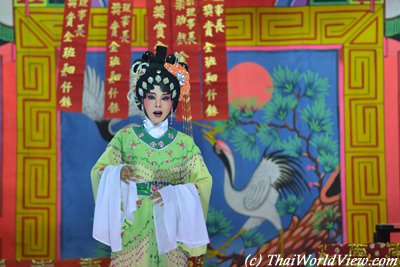 This Chinese opera troupe includes two stars from China. There is also a rising Thai star. Her name is

นิด นิด หน่อย. หน่อย

and she is 21 years old.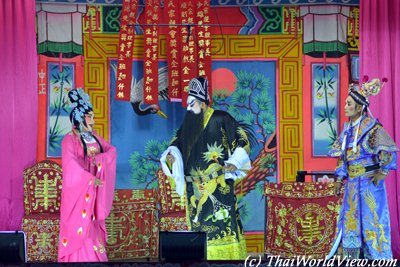 During traditional Thai New year ("SONGKRAN" -

สงกรานต์

) period, there are less opera performances in Bangkok but more on countryside.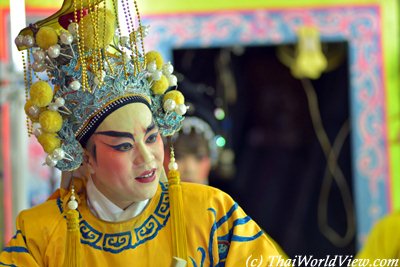 Normally there are always bigger audiences in Bangkok due to Chinese district Yaowarat presence.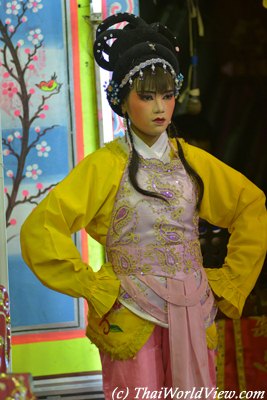 The

เตี่ยเกี่ยะอี่ไล้เฮง

troupe (潮劇怡梨興 - Die Giah Lai Heng) features between 30 to 40 people including the musicians.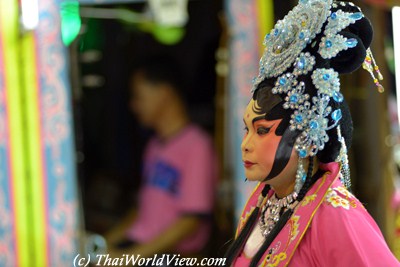 In this Chinese shrine, there is an ample space around the theater to take pictures.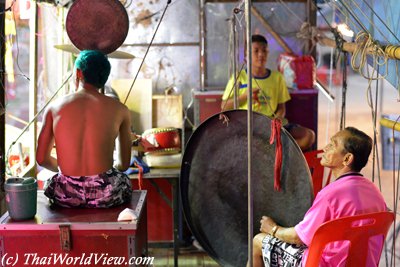 The backstage is very small so better stay outside to avoid distracting the performers' preparation.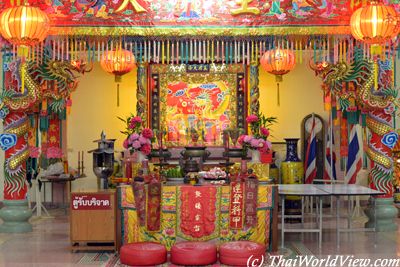 During New Year period, many Chinese Opera performances do happen in Bangkok.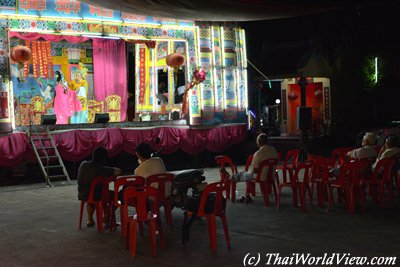 On that day, there was a little attendance as the performance is happening in province and not in Bangkok.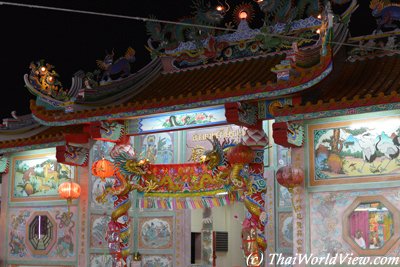 People in province prefer "LIKAY" (

ลิเก

) performances. Many of those arts are only appreciated by older people. Nevertheless young kids and even a baby were present on that day to watch for Chinese opera performance.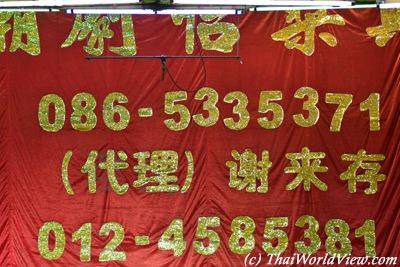 The

เตี่ยเกี่ยะอี่ไล้เฮง

troupe (潮劇怡梨興 - Die Giah Lai Heng) even features a Facebook page.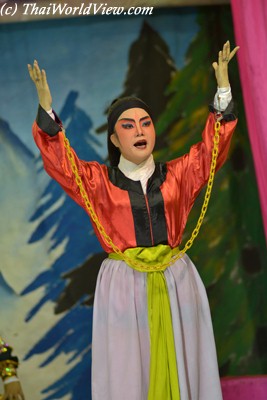 This Chinese opera performer is coming from Shanghai, China. She is a key performer of

เตี่ยเกี่ยะอี่ไล้เฮง

troupe (潮劇怡梨興 - Die Giah Lai Heng). This Chinese opera performer is called 何丽端.
Some Thainess does occur in this Chinese opera performance through a gay character bringing fun.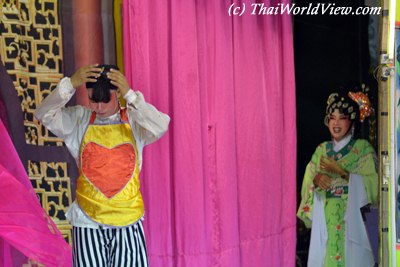 As there is less people during Chinese opera performances in province, sometimes non professional troupes reduce the performance time. It may occur that at 9PM there is no more people watching the performance.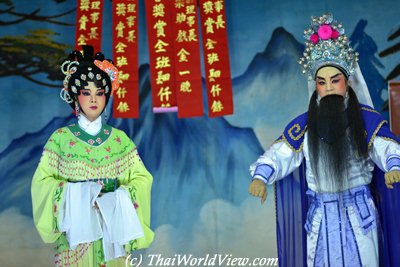 The red banners in Chinese mean "somebody sponsoring how much money". This old style practice doesn't happen anymore in Hong Kong or China.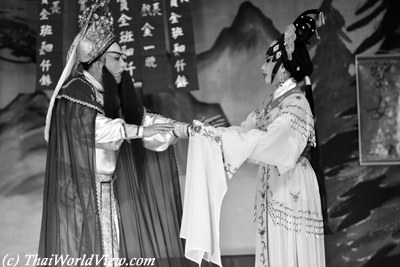 This old style practice still happens in Thailand although people tend to give the tip directly to their favorite performers in front of the stage.
This opera performance only features fighting sequences at the beginning and the end of the show.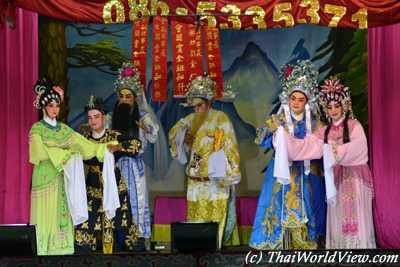 Some Chinese opera performances do happen in Thai language also. As Chinese opera performance is a dying art in Thailand, it is a way to increase interest of local people into opera.
---
---
---
comments powered by

Disqus
---