FAMOUS MONKS
Increase or decrease font size for easier reading : A+ A-
Far from the commercial stuff, far from naughty newspaper articles, there are still monks devoted to the others.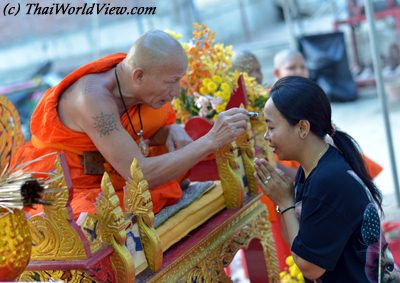 In year

2006

, the chief of the Religious Affairs Department has sought the use of state television airtime to air admirable activities of Buddhist monks. Good and decent monks still exist in Thailand despite so much news about monks being bad in the papers these days.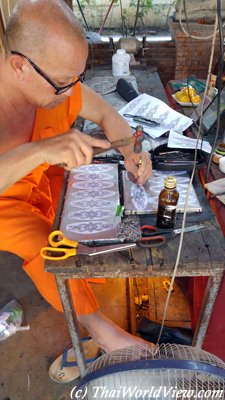 For example Thai monks in "ISAN" area are key people for the development of the area. They are often the only way for government to introduce new laws, new medicine through remote villages. Farmers listen and have faith in monks more than in the central Bangkok government. Some monks even organise and collect founds to help poor farmers to cope with everyday problems.
These monks in "ISAN" area are called development monks ("PHRA NAK PHATTANA" - พระนักพัฒนะ).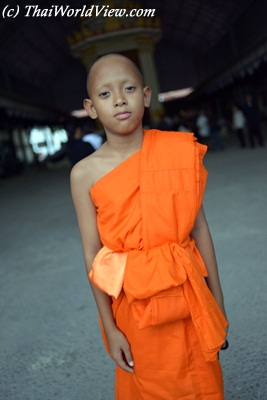 Phra Chamroon Panchan, abbot of "WAT THAM KRABOK", in Saraburi, died of kidney failure on

year 1999

at age 73. His temple was a sanctuary for drug addicts and his work won him wide respect and awards. His unique drug therapy, using herbal remedies, was one of the few ways Thai addicts could receive treatment and was effective.
For the past decade, Phra Alongkot Tikapanyoa had devoted his life to helping Thais with Aids to die with dignity near Lopburi.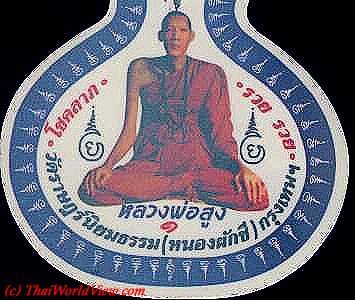 Luang Pho Sung was the abbot of "WAT DAM" in the district of Bang Kaen in Bangkok. This abbot was famous because he was the tallest monk in the world, i.e. 2m30. One of his fingers was as long as a hand! His name is quite funny and simple because "SUNG" (

สูง

) means "high" in Thai language. Since his arrival the temple had changed a lot. He died in

year 2017

at age 67.
Luang Ta Meuang is the abbot of "WAT SRI MEUANG" in NongKhai center. He is 93 years old. He is a monk since he was 12 years old. So he is highly worshipped by all inhabitants of NongKhai. He often goes outside the country in order to explain Buddhism.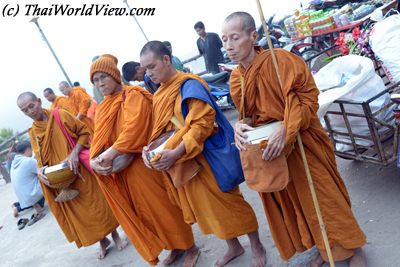 Phra Prajak Kutajitto did protect with the help of the neighbouring villagers the forest of Hua Nam Pood in the province of Buriram. Despite the threat of the loggers and influential land speculators, he did declare the forest a meditation centre and a religious sanctuary. They even tried to make him disrobed. By this action the senior monk wanted to show that through bribery, Thai forests are sold to wealthy and influential men that don't care about preservation and destroy them.
---
In year 1999 at least 5000 people queued to make donations to revered monk Luang Ta Mahabua (Udon Thani), who had raised almost a tonne of gold and more than US$1.2 million to help the debt-ridden nation. This money was given to the Bank of Thailand in order to help the country to get rid of the economic crisis.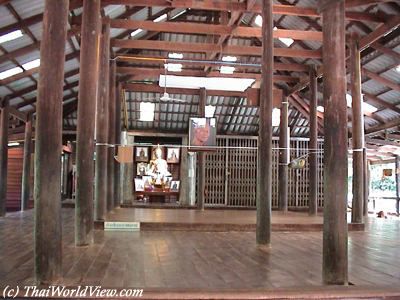 In year

2000

when the government tried to restructure the National fund deposits, Luang Ta Mahabua interfered saying that officials stole the money given by Thai people. Some criticized him for forgetting his Buddhist detachment but government stopped the fund restructuration.
In year 2001, Luang Ta Mahabua turned over 55 gold bars and $300,000 to the government. It was the latest installment of his campaign to help shore up the country. So far, he had raised $5.3 million and over two tonnes of gold.
---
Some monks in Chiang Mai area have opened schools for hill tribes young boys and girls. For example Phra Poonchai Thanwuthitho abbot of "WAT MAE PAA PHAI" received little boys from hill tribes. Little girls from tribes can study at "WAT BUDDHA DHARMA NONG HOH", whose abbot is Phra Chaiyot Chaiyaso. Those temples received in priority children from broken or poor families. Phra Suthat Wachirayano, abbot of "WAT PA DAED", offers a fine temple education for boys from disadvantaged families.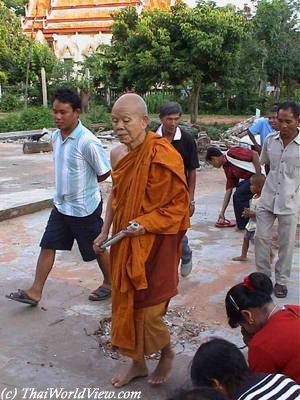 Thai people believed that Luang Phor Khoon had supernatural powers and knowledge in white magic. White magic is a good magic. On the contrary black magic is an evil magic. Highly worshipped monks are supposed to possess wisdom, knowledge and are said to master all kind of power spirits. The picture of Luang Phor Khoon Parisuttho ("WAT BAN RAI" in Chayaphum area) can be seen on many amulets, calendars, posters in every house. Sometimes with banknotes in hands !
To protect forests against logging, some monks ordain trees and wrapped them up with a thin orange cloth. Trees were then sacred. For Bouddhist people it was now impossible to harm the trees. Alas sometimes officials used another monks to defrock the trees.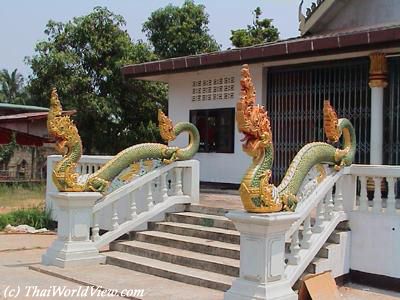 Abbot Phra Panya Nantha Bhikku, 96 years old, is the revered abbot of Wat Cholaprathan Rangsarit. He has been named the national elderly person in

2007

for his outstanding and continuing contributions to Thai society.
Abbot Phra Khru Nithes Phromkhun is the abbot of "WAT SRAI NUA" in Nakhon Sawan. He helps bad boys to learn some religious teachings so they could reflect and change their attitudes and behaviour. Boys can become novices during one year.
---
---
comments powered by

Disqus
---