Miscellaneous Spirits
Increase or decrease font size for easier reading : A+ A-
นางกวัก

- "NANG KWAK" is a spirit.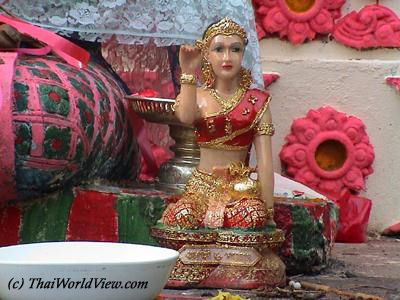 The "NANG KWAK" is a spirit supposed to bring money in the household. Its statue represents a woman in Thai traditional clothes, sitting on her knees with the right hand up and the hand making the gesture to bring money to her-self.
Fat "NANG KWAK" can also often be seen. Fat means good fortune so some people prefer to get the plump one.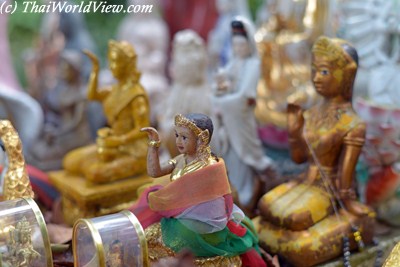 Thai people like to have "NANG KWAK" statues in their home or their shop.
---
เจ้าพ่อขุนด่าน

- "JAOPOR KHUNDAN" is a local god in Nakhon Nayok area.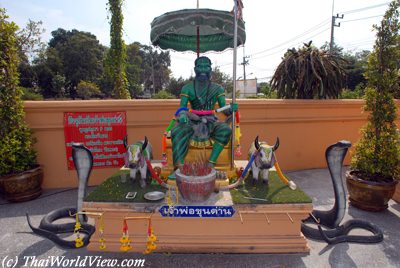 "JAOPOR KHUNDAN" (

เจ้าพ่อขุนด่าน

) is a local god. He is having a green body and is wearing a heavy beard. He is accompanied by two snakes cobras and two small bulls. To pay respect, nine incense sticks shall be used. "JAOPOR KHUNDAN" is an historical figure that helped to push back Khmer army during King Naresuan era. After his death, local people workshipped him as a god (

เทพารักษ์

).
Thai people do worhship many local gods, such as historical figures such as "JAOPOR KHUNDAN" but also famous entertainment figures such as Mitr Chaibancha or Pumpuang Duangchan.
---
ลิงค์

- "LINGAM" is a phallic image.
In the garden grounds of the Nai Lert Park Hotel in Bangkok, there is a shrine called "CHAO MAE TUPTIM", dedicated to the goddess "TUPTIM". It is said that women who pray here in a wish to become fertile for pregnancy, will return if their wish is fulfilled, and place another phallus at the shrine in thanks.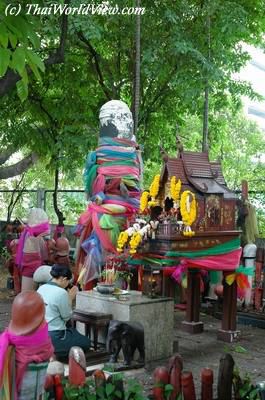 Penises abound at the shrine of goddess "TUPTIM". Most are built of wood, and are quite huge, including some which stand 10 feet tall.
Tall cylinders of stone (called "lingams") are worshipped as the phallic images of Hindu god Shiva.
Thais occasionally dangle a tiny wooden phallus from their belt or necklace, for added protection. Modern Thais are familiar with wooden penises which are sold in markets as good luck amulets. Sometimes, a shop or restaurant will display a wooden penis in a discreet location, hoping it will help business.
---
พยานาค

- "PHAJANAK" is a mystical snake living in the Mekong river.
People living close to Mekong river, especially in "ISAN" area have a strong belief in the "PHAJANAK". Thai and Lao people avoid swimming in Mekong river due to the "PHAJANAK" threat. It grabs the legs of people swimming and brings them under water to be used like servants. Some villagers have seen a "PHAJANAK" coming from the Mekong rolling around a tree.
In 1973 a strange fish was caught by American volonteers in Mekong river. It was 23 feet long. The reality is mixing up with old tales.
---
---
---