TIGER
Increase or decrease font size for easier reading : A+ A-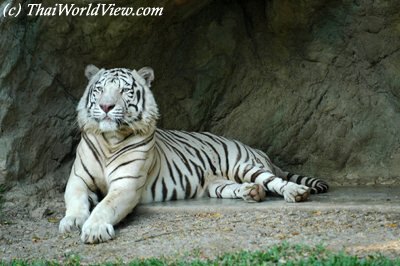 Tigers (

เสือ

) are threatened by illegal trade of their skins, bones and other body parts for use in Chinese traditional medicines. The destruction of the forests that tigers depend upon is also a major threat.
For years, people have said there are about 500 wild tigers in Thailand. There are maybe 150 left nowadays. In the park called "KHAO YAI" (in "ISAN" area, northeast of Thailand), there is maybe 10 of the majestic animals. The main predator is the human poacher.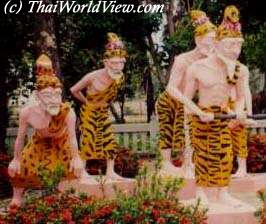 In Thai traditional culture, hermits (

ฤๅษี

) often like to wear clothes made of tiger skin. It has special powers.
Chinese Tiger balm is famous world wide and can also be found in Thailand.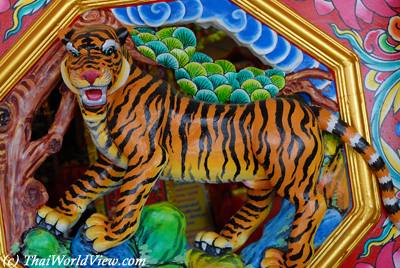 Thai wildlife officials are working hard to save Thailand's remaining tigers.
Poachers are still active in wildlife sanctuaries. In March 2011 a female tiger and her two cubs were found poisoned.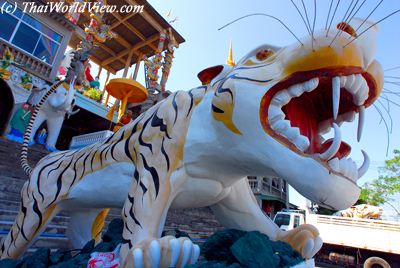 There are close to 100 tigers in 'Huai Kha Khaeng' and 'Thung Yai Naresuan' Thai wildlife sanctuaries.
There is a Thai airline called Thai Tiger Airways. It is a joint venture of Singaporean low-fare airline Tiger Airways and Thai Airways.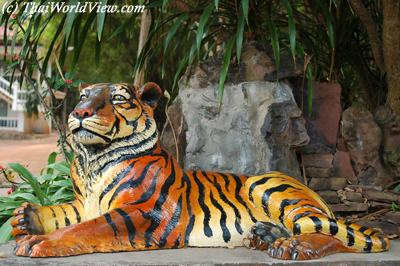 Tiger representations can often be found in Thai Buddhist temples. The tiger imposes fear and respect. It is also a symbol for power and energy.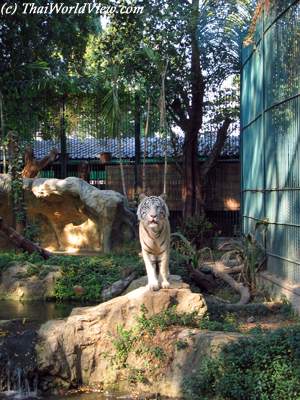 Sriracha Tiger Zoo in Pattaya features around 200 Bengal tigers. They were bred successfully by the zoo itself.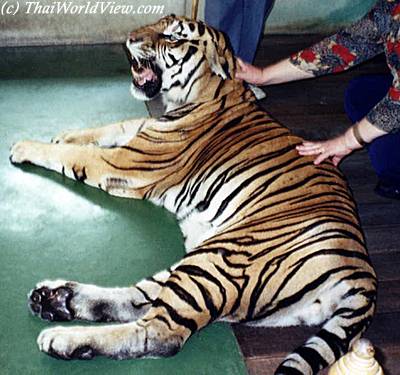 In such Tiger zoo, visitors can touch tigers and take close pictures. Such animals are never pets so it is better to be careful.
In Kanchanaburi province, there is a famous Thai Buddhist temple called "Tiger Temple" ("Wat Pa Luang Ta Bua" - วัดป่าหลวงตามหาบัว). This temple has often been critized as foreigners have to pay a high entrance fee to see tigers inside. The tigers were mentioned to be trafficked, drugged and mistreated.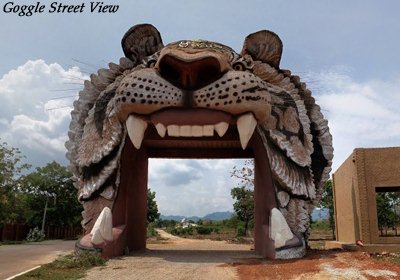 In

year 2015

, Thai autorities took decisions over this Buddhist temple. They are able to keep the tigers as no mistreatment was identified but the temple cannot gain anymore money from the tigers. The temple is responsible of the welfare of the animals.
In year 2015, the Tiger temple abbot was seriously injured by one of the tigers.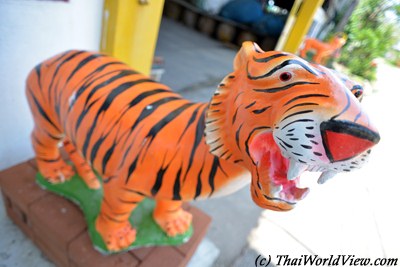 Such tiger effigy is similar to a guardian to the building. In front of Thai Buddhist temple, similar guardians statues can be sometimes be seen. They represent strength and power.
Thai scouts are called "LUUK SEUA" (ลูกเสือ). The membership badge of Thai scouts features the head of a tiger.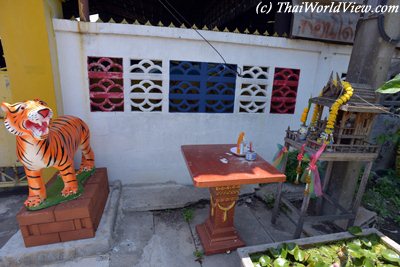 Another famous Tiger in Thailand is the golfer Tiger Wood. His mother is Thai.
---
---
comments powered by

Disqus
---