VHS
Increase or decrease font size for easier reading : A+ A-
VHS tapes (ม้วนวีดีโอเทป) were sold in Thailand starting year 1979. It started to be popular at worlwide audience level in year 1977 as TV and VHS player price started to be more affordable. A VHS player cost 50,000 to 70,000 THB.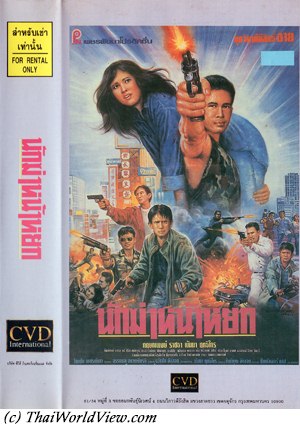 VHS tape of movie

นักฆ่าหน้าหยก

(1994)
Initially, movies released on VHS format were mainly foreign and Chinese movies. Foreign movies were often copies as, at that time, there was strong protectionism of Thai movies with a tax on foreign films.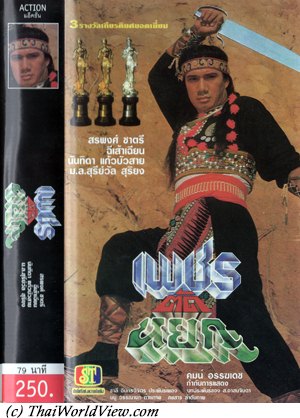 VHS tape of action movie

เพชรตัดหยก

(1982) featuring Sorapong Chatree
Renting a VHS cost 20 THB. Renting a VHS copy (เทปก๊อป) cost 10 THB. Some shops asked for a guarantee before renting VHS.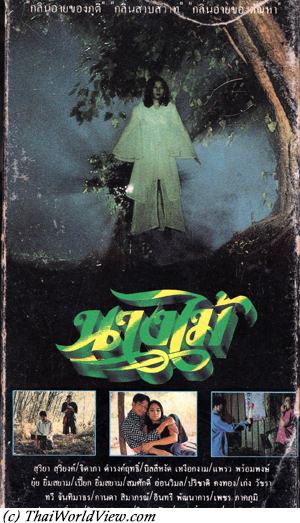 VHS tape of horror movie

นางไม้

(1996)
In year 1988, VHS tapes had to feature a mandatory sticker in order to regulate the VHS rental market. Target was to stop illegal copies done in theaters. หนังซูม ("Movie zoom") or หนังชนโรง were movies pirated in theaters by filming the screen. People walking or people talking could be seen.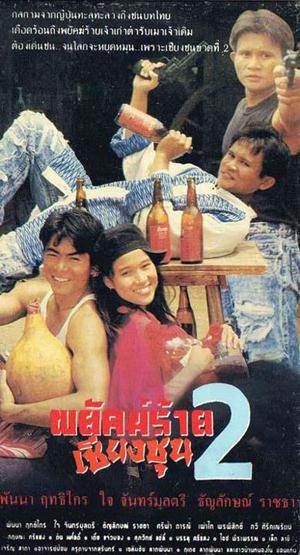 VHS tape of action movie

พยัคฆ์ร้ายเชี่ยงชุน 2

(1994) featuring Panna Rittikrai
Gradually outdoor cinema companies (หนังกลางแปลง) were killed by VHS players as people stayed at home instead of going out.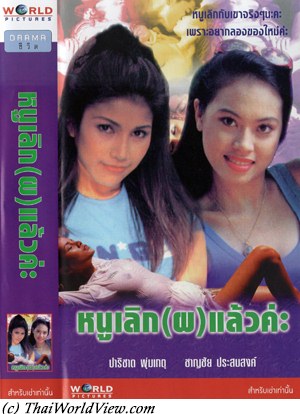 VHS tape of erotic movie

หนูเลิก (ผ) แล้วค่ะ

(1996)
Some outdoor cinema companies refused to sell back films to make VHS so some Thai movies were lost as the 35mm film finally died and no copy / no transfer of it was done.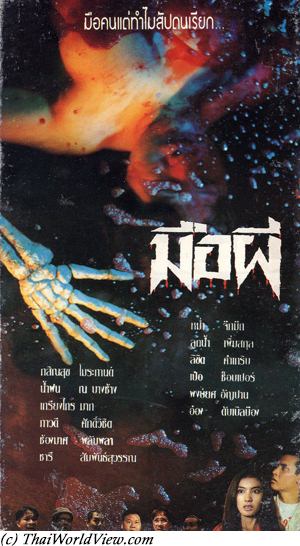 VHS tape of Thai horror movie

มือผี

(1995)
Movies support keep evolving over the years, such as 16mm, 35mm, VHS, U-Matic, betacam, VCD, DVD, Blu-Ray and finally digital (mp4...). Every ten years, movies format is changing. It started with 16mm film, 35mm film, VHS, VCD, DVD, Blu-ray...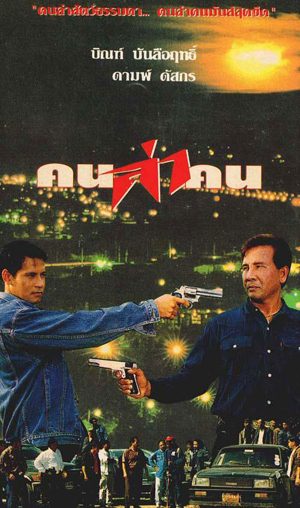 VHS tape of movie

คนล่าคน

(1996)
Some shops were recording Thai movies shown on TV CH7 such as สิงห์ล่าสิงห์ (1979) and then rent the VHS tapes. It became forbidden after year 1988.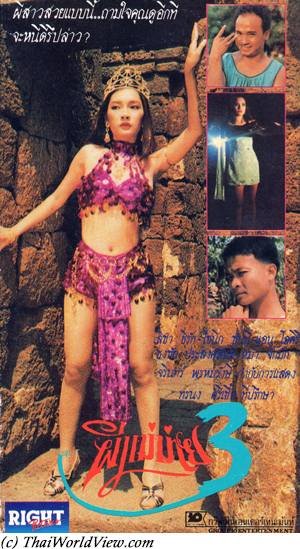 VHS tape of horror comedy movie

ผีแม่ม้าย 3

(1993)
---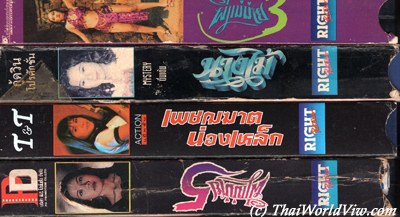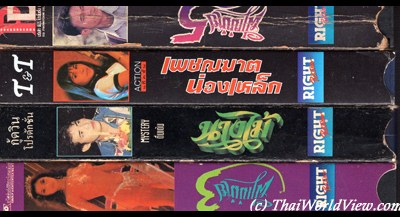 ---
During VHS business boom, many Thai companies released movies under VHS format. The main companies were เอสทีวีดีโอ (ST Video), ซีวีดี (CVD), วีอาร์ซี, โกลเด้นเวย์, โอเรียลเต็ลวีดีโอ, วีดีโอเวิล์ด, เรนโบว์พิคเจอร์, เรนโบว์ซีน, ไรท์พิคเจอร์ (RIGHT Pictures), สยามรีจีน่า, วีดีโอสแควร์ (Video Square), เอพีวีดีโอ.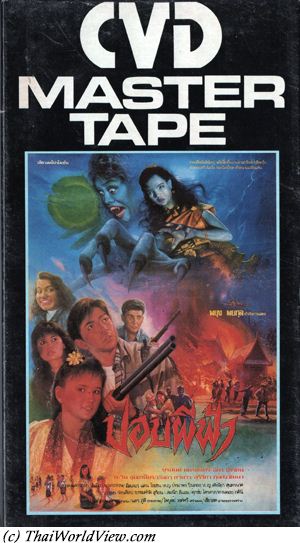 VHS tape of horror movie

ปอบผีฟ้า

(1991)
Then VCD era started end of 1996 with a boom in decade 2000s for old Thai movies.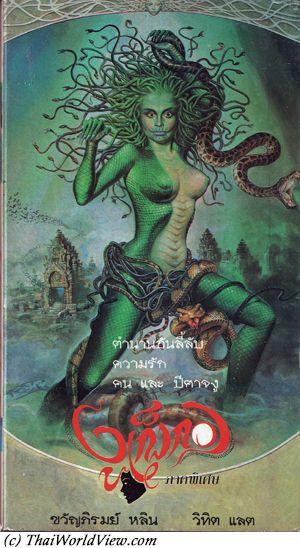 VHS tape of folklore movie

งูเก็งกอง ภาคพิเศษ

(1995)
In year 2019, old VHS are sold 30 THB only. Some collectors are still looking for them to find old Thai movies never released on VCD or DVD format, or to get a version with sharper picture compared to a VCD. A VHS can have a picture quality similar to a DVD if transfer is done properly.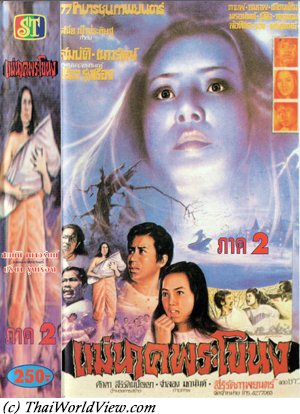 VHS tape of horror movie

แม่นาคพระโขนง

(1978)
Nowadays VHS tapes have no more value. It is worth 2 or 3 baht if a batch is purchased. Collectors, looking for rare films released in VHS but never in VCD/DVD, have to buy whole stock from former VHS stores in order to assume their passion.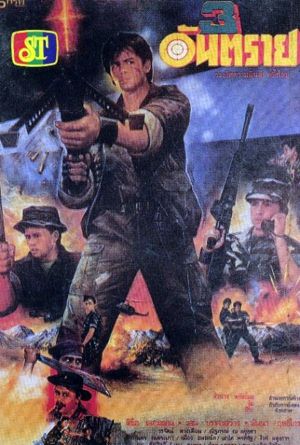 VHS tape of action movie

3 อันตราย เดนสงคราม

(1990)
A master VHS tape (มาสเตอร์วีดีโอ) had a specific process. The film was projected on a screen and a camcorder was recording it on a U-Matic tape (เทปยูเมติก). The master tape (ม้วนมาสเตอร์) was the first VHS copy of the U-Matic tape. Additional copies of the master tape were done depending on the popularity of a movie. Each time a copy was done, then the movie quality was degrading.
VHS tape of Buddhist drama movie

คนทรงเจ้า

(1989)
---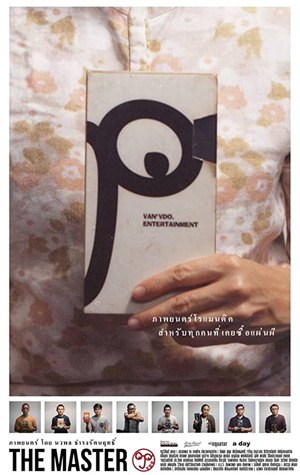 The Master (2014) is a Thai documentary about a VHS shop selling bootlegs movie in decade 1990s and helping Thai people to discover unknown cinematographic treasures.
Thai documentary "The Master" was released in year 2014 and lasts 1h16mn. It is directed by Nawapol Thamrongrattanarit. Thai students and Thai intellectuals wanted to see foreign movies, art house movies but the only way was to go to Alliance Francaise in Bangkok. A shop had opened in Silom in the decade 1990s and was selling VHS featuring art house and Indie movies. The owner was Khun Waen as he was wearing glasses. Waen was even adding subtitles to the movies. He was providing movies that could not be bought anywhere else. It were illegal copies, but it was the only way for Thai fans to be able to see such movies as streaming, YouTube, Netflix services were not existing. So, people knew they were doing something illegal, but they had no choice if they wanted to watch overseas art movies.
---
---