THAI THEATERS
Increase or decrease font size for easier reading : A+ A-
There are still many old Thai movies standalone theaters in East of Thailand.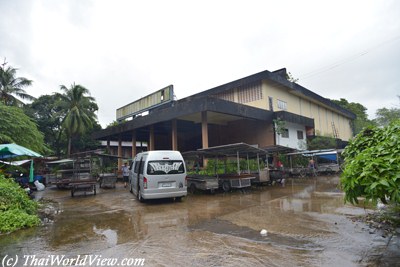 The Dara cinema standalone theater is located in Trat. Thai full name is

โรงหนังดารา

.


Fly there with Google Earth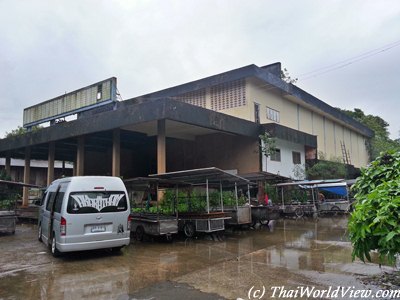 Dara cinema is closed since more than twenty years ago. The standalone theater is still here.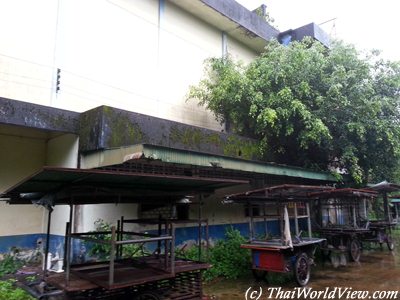 Dara cinema was the last theater in Trat. Others standalone theaters are now supermarkets bought for 10 to 20 millions baht.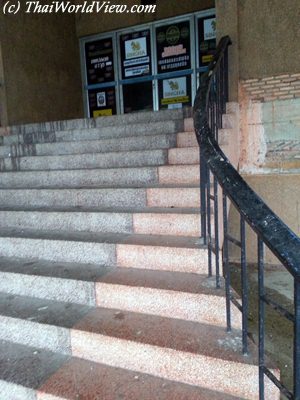 It is not possible to go inside but according to some locals, there are no more seats inside.
---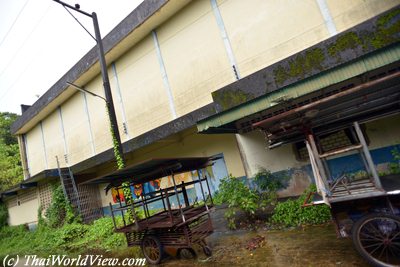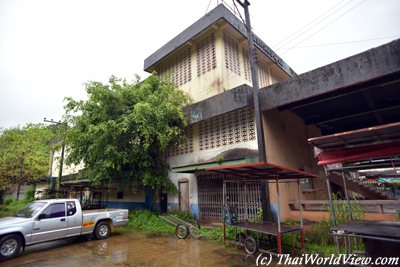 ---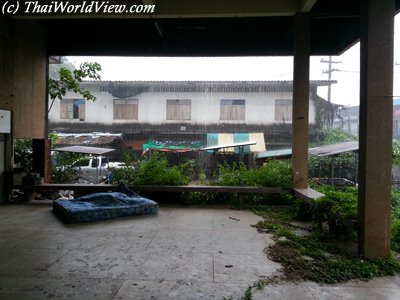 It looks like the Dara cinema former lobby is sometimes used by squatters as a bed can be seen.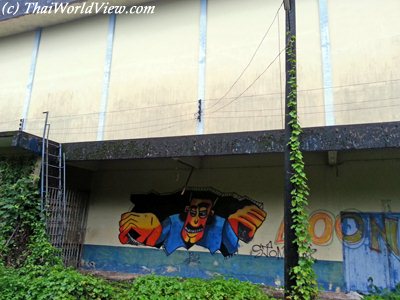 Dara cinema's walls are already tagged as building is now unused since many years.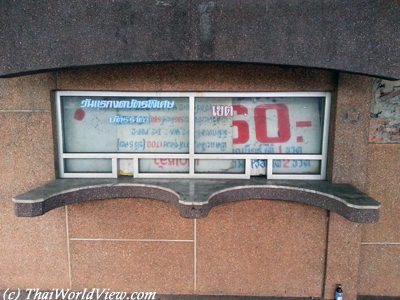 The former ticket booth still indicates a price of 50 baht.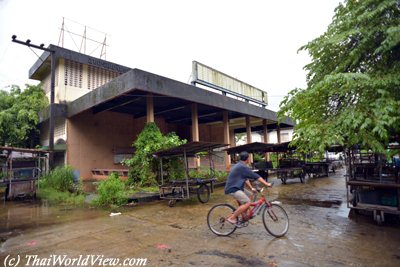 The sign to display the movie shown in the theater can still be seen but the theater name marquee is now gone.
---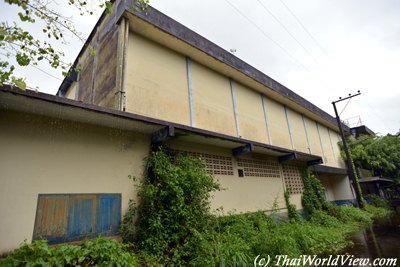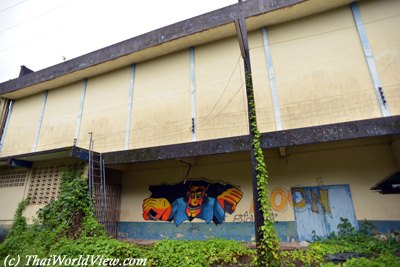 ---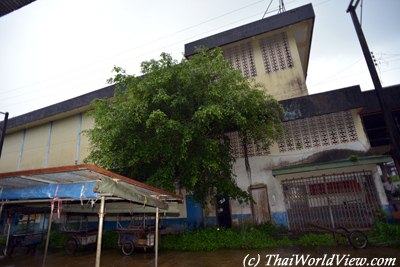 Dara cinema is still a huge building. Certainly a few hundreds people or more could sit and enjoy movies in this standalone theater.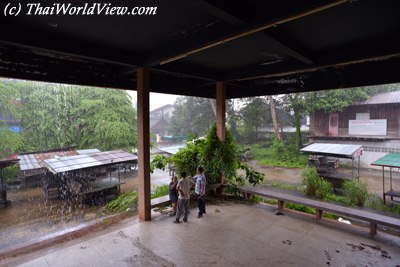 Dara cinema's lobby size remains impressive despite its closure many years ago.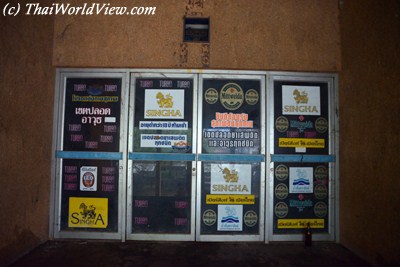 Entrance doors are still covered with Singha beer or water advertisements.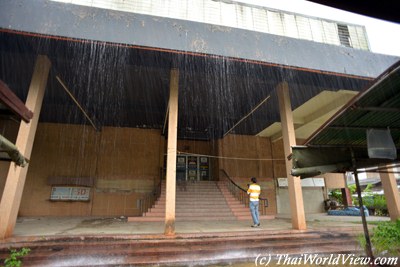 There are stalls in front of Dara cinema so a temporary market is certainly still hold regularly.
---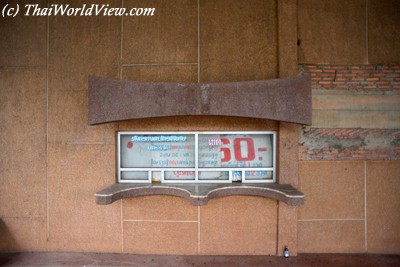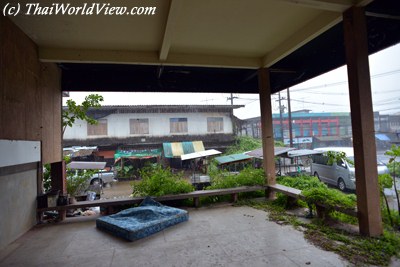 ---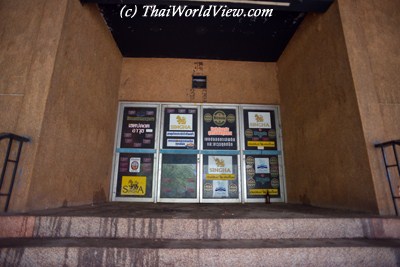 Dara cinema is nowadays closed. Maybe Dara cinema closed due to competition from theaters in malls with multiple screens or due to competition from VHS that people could enjoy at home?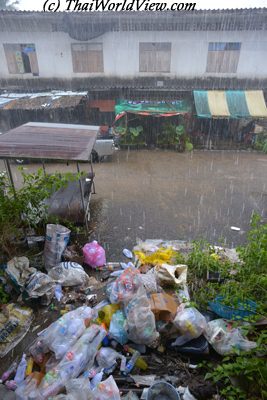 Sad end of the Dara cinema. As the owner doesn't care of the building, some people just throw their rubbish around.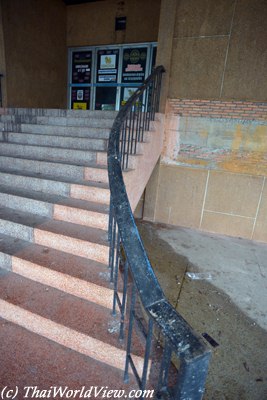 Dara cinema building is still here. One day, it will disappear if the area is renovated or upgraded with new neighbourhood.
Before Dara cinema was also known as a หนังเร่ (local form of popular folk theater).
---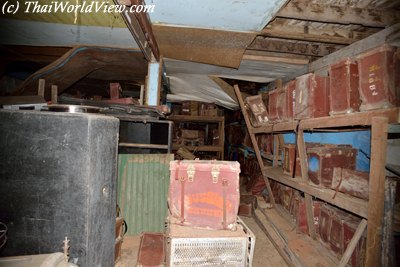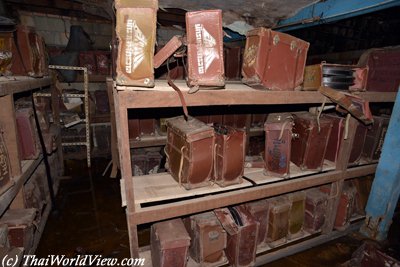 ---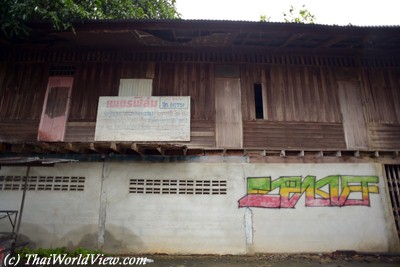 Just near Dara cinema, there is a company keeping and renting movies for open-air cinema (

หนังกลางแปลง

).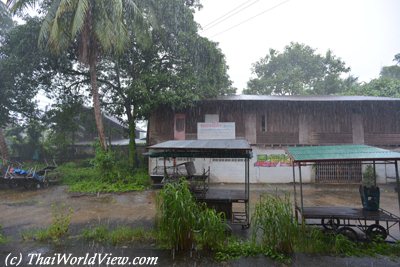 This movie company is called Phet Films (

บริการหนังเพชรฟิล์ม

).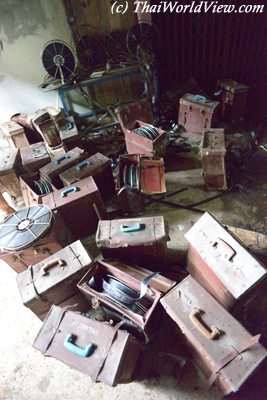 Phet Films company stores their movies in a wooden house having two stories.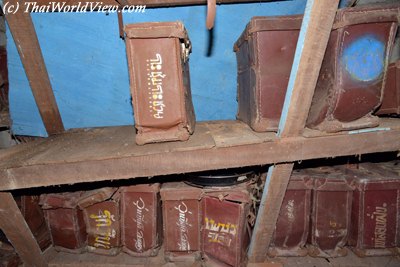 Phet Films company was storing movies for the Dara cinema in Trat and renting movies to open-air cinema local companies in Trat.
---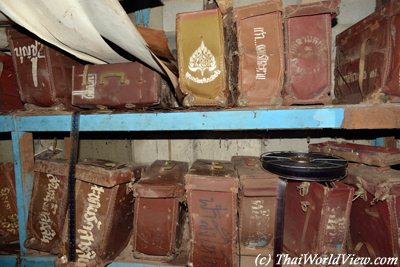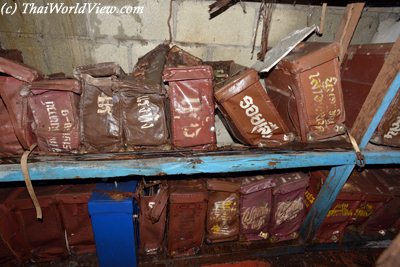 ---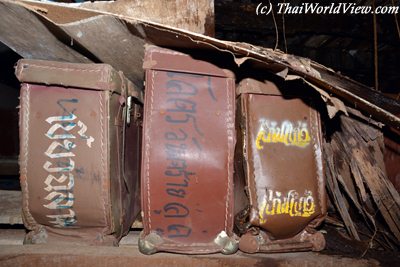 Phet Films company is still storing around 200 movies. Those are 35mm format movies.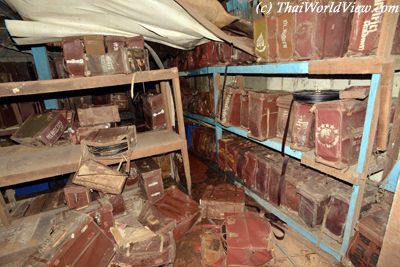 Most of these old Thai films are from 1980s and 1990s decades.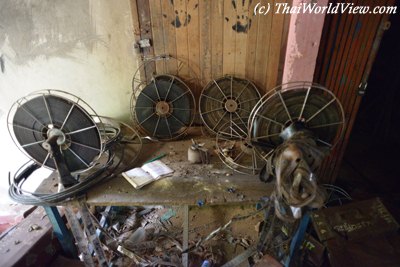 Old rewind Film Reel tool is remaining on this table. With digital movies replacing film movies, such equipment is becoming very rare.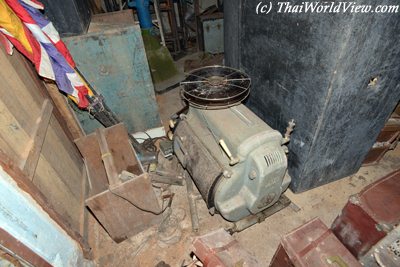 Inside the Phet Films company's hangar, various equipments related to cinema can be found such as this old projector.
---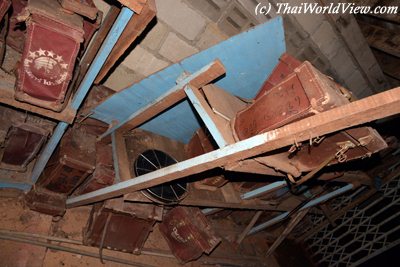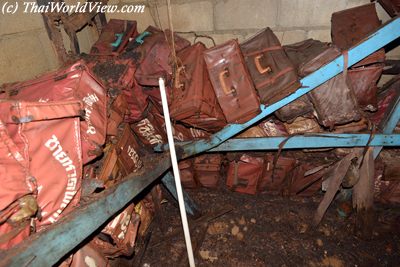 ---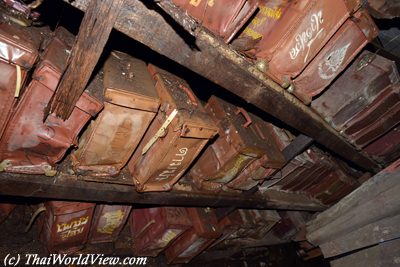 All the movies located in the hangar are damaged due to heavy rain. As above roof is damaged, rain has poured over the years on the cases.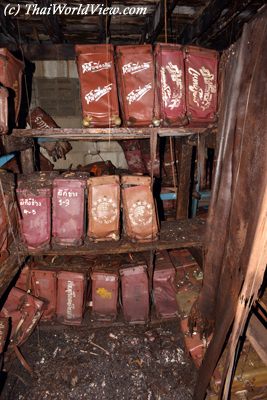 Normally each case contains three reels. A reel lasts around twenty minutes. So a movie is stored into two cases.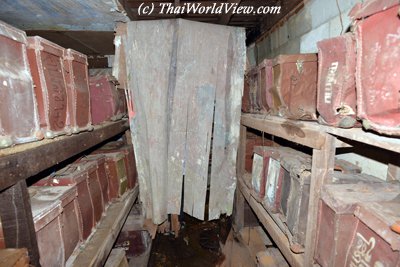 The wooden roof of the first floor is falling apart making a curtain! Humidity and heat doesn't help for old movies preservation...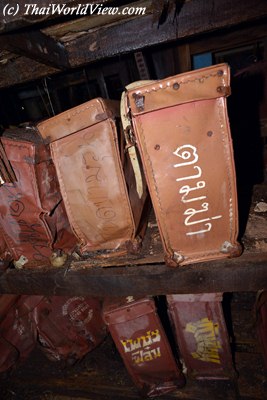 Some movie boxes are made of leather. When opening those boxes, better beware potential snakes inside. In humid condition, the leather boxes are often eaten by small white termites (

ปลวก

).
Many old Thai movies could be seen such as "Boonchu 9" or ตามฆ่า.
---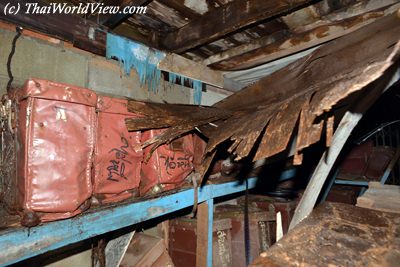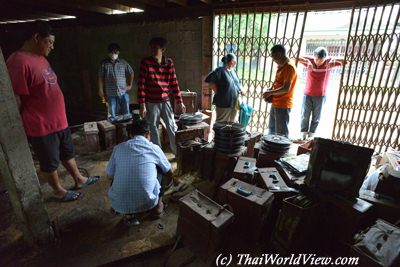 ---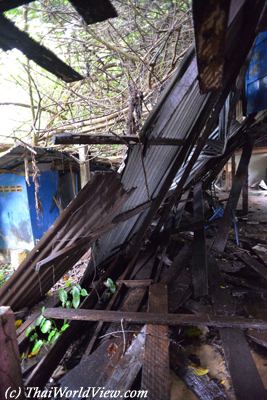 As the movies had no commercial values anymore, they remained in this building for more than twenty years. Unfortunately the building started to fall apart gradually.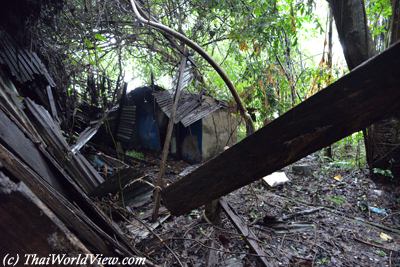 Some parts of the old building already collapsed, letting rain and humidity impact the old movies reels.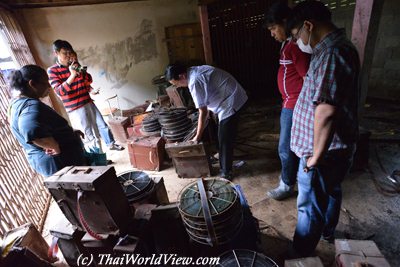 Local people are checking the old movies reels. Once a film is touched by water, image deteriorates fast. Once the film is wet but then dries later, then the film breaks easily and the image remains damaged.
The movies films have no value anymore. Some people refuse to sell them at cheap price as they believe the metal reel has still some market value. Normally it is not worth more than 150 baht.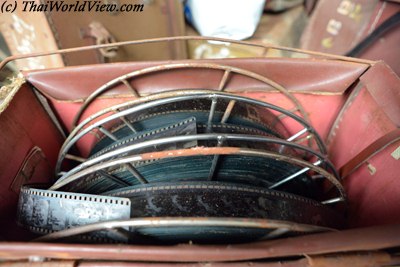 Reels of The cambodian movie The Snake Man (

งูเก็งกอง

) from 1970 could be seen. This was the 16mm version with Dy Saveth in cinemascope version.
As the movie was in a wet environment, the film pellicule was stuck together. The film was damaged for sure.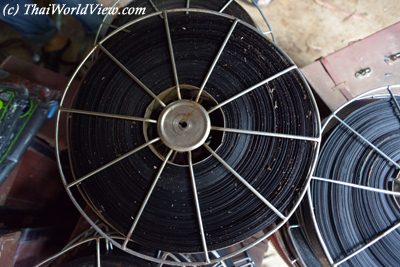 Too sad that the owner kept the old movies but didn't not take care. Normally cinemas have no movies stock as they just rent a movie for a short time and then the movie is shown in another theater. Only film companies have stock as they rent to open-air cinemas (

บริษัทหนังกลางแปลง

).
---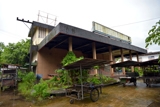 ---
---