PANNA RITTIKRAI
Increase or decrease font size for easier reading : A+ A-
Thai actor and director Panna Rittikrai remains one of the most skilled action movies actors.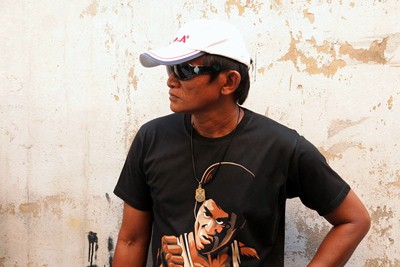 Panna Rittikrai (

พันนา ฤทธิไกร

) started to like action movies by seeing Mitr Chaibancha, Bruce Lee and then Jackie chan.
Panna Rittikrai was born in year 1961. Panna was coming from Khon Kaen in Isan area (Northeast of Thailand). When he was young, he was named as ไอ้ผีบ้า (Damned Crazy Ghost).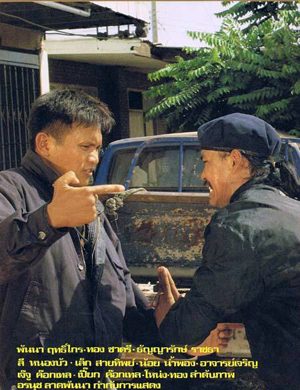 Panna Rittikrai started to play in movies from Thai director Kom Akadej (

คมน์ อรรฆเดช

) in supporting roles or stuntman (

ตัวประกอบ

). He was quite frustrated as he was unable to express fully his skills as other actors were not as good as him for action sequences. So he decided to form his own team of stuntmen, who performed realistically.
Panna Rittikrai's first movie as actor was ไอ้ผาง ร.ฟ.ท. directed by Kom Akadej in year 1982. His first movie as director was เกิดมาลุย in year 1986. Panna Rittikrai's first movie เกิดมาลุย was not successful in Bangkok.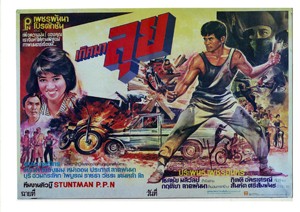 Panna sold his home to finance his first movie

เกิดมาลุย

shot in years 1985~1986. Other actors have to pay also! At the beginning, main actor was supposed to be Toon Hiransap and main actress Suriwan Suriyong but finally Isan actors were used!
Panna Rittikrai played in his own movies and directed them also. He even directed a musical movie (หนังเพลง).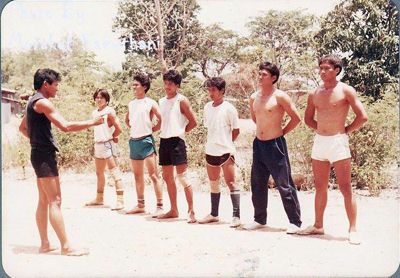 Panna Rittikrai started some small stunt roles but as he was more capable, he then directed / trained scene actions for other stars such as Suriwan Suriyong. Panna molded many young Isan youngsters to become action actors such as

วีระศาสตร์ หมื่นไวย์

and Tony Jaa (

จา พนม

).
Panna Rittikrai wrote his first scripts. It was a mix of action and fun (ตลก) through funny and exciting dubbing.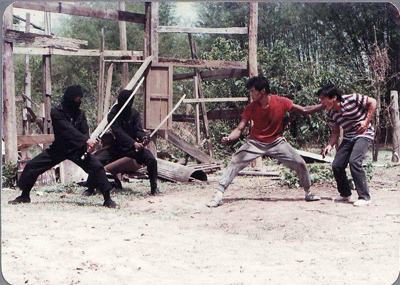 Panna Rittikrai was seen as an Isan man who fights against life for survival (

สู้ชีวิต

). He was waiting for a big studio to bring higher level production. It happened with movie "Ong Bak".
Panna Rittikrai was called as "Action Master" (พระเอกนักบู๊). He played in around 100 movies.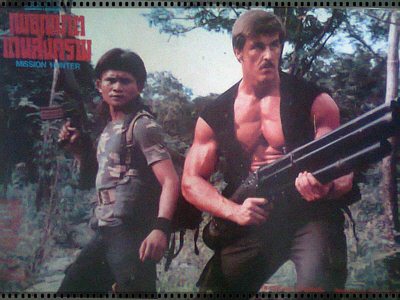 Panna Rittikrai's movies were very popular in Isan area, Northeastern part of Thailand. His movies were dubbed by a team of dubbers making them funny and exciting (

มัน

).
Panna Rittikrai got a movie reward for playing a villain (รางวัลตุ๊กตาทองดาวร้ายชาย) in year 1991.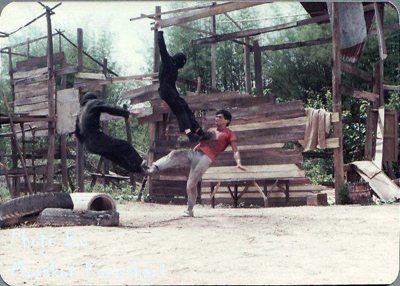 Panna Rittikrai was an actor, director, a teacher (

ครู

), who has many followers –

ลูกศิษย์

).
Critics often said that Panna Rittikrai, as a main actor, was not handsome and was mainly doing movies first for provincial people.
---
Panna Rittikrai (1961-2014) - พันนา ฤทธิไกร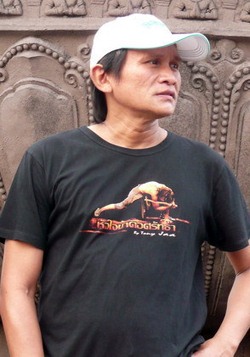 Panna Rittikrai, stunt choreography, has been well-known to play and direct low budget movies. Such B-grade action and horror movies were popular from the mid-1980s to 1997. Panna Rittikrai is born in Khon Kaen and was influenced by outdoor action movies of Mitr Chaibancha. He later became influenced by Hong Kong superstars, Bruce Lee and Jackie Chan. He became a self-taught martial arts expert. He worked with Kom Akadej in Bangkok for three years as a physical trainer for actors and also appeared in daring stunts. He later on formed in Khon Kaen his own stunt team. He forged a new style of low-budget action films which emphasised pure stunt work. Panna's Born To Fight (เกิดมาลุย - 1986) was the first of some 100 films he would produce, direct and act in over more than ten years.
This Panna Rittikrai movie page contains 28 records.
---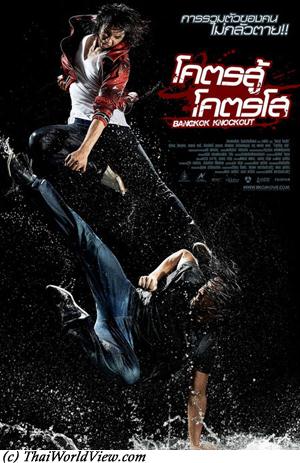 Year

: 2010



Thai title

:

โคตรสู้ โคตรโส




English title

: Bangkok Knockout



Rating

: 3/5


Director

: Panna Rittikrai



Main actor

: Panna Rittikrai,Sorapong Chatree


Main actress

: Supaksorn Chaimongkol,Pimchanok Leuwisetpaiboon



Buy now

:

Mr Sneed, a despising foreigner, and Dr Dachanon, head of arts performing department, are organizing a fight contest. Pod is the leader of one team called "Fighting Club" (Ao, Ed, Pom, Lerm, Ko, James). Two teams fight for a ring. The winning team will go to Hollywood. Pod's team celebrates their victory. But due to strong alcohol flooding during the celebration party, they have arguments with the waiters. They wake up with no phones, no cars, no motorized vehicles. They have been drugged. Some ruggedised cars try to smash them. Meanwhile Joy is kidnapped. Joy is Ram's daughter (Sorapong Chatree). Two men loves Joy, i.e. Pod and Pom. Kidnappers are masked and wear ninja clothes. They are led by Parina (Panna Rittikrai), an old art martial expert. In fact it is a wargame organised by Dr Dachanon to test the team and verify if they are really true friends. Mr Sneed is getting international gamblers to bet big money on the best fighters to win. It is game up to death. The action takes place in a disaffected factory. Ao and Ed win against three opponents. James and Pom move to the wrong side due to money matters. Strong group fights take place and finally the "Fighting Club" team wins. A final fight against master Parina happens. Pod's mum is held captured to influence him negatively. Anyway they defeat the master as he needs some respiratory medicine. A final epic fight happens on moving trucks. Gamblers are also punished. Panna Rittikrai trained actor Tony Jaa so fights are always intense and real. Some acrobatic jumps on motorbikes or high jumps from buildings are really impressive. The movie scenario is simple but Panna Rittikrai's fans want to see true fights only. This movie is similar to video game concept.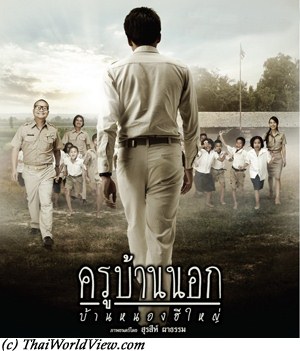 Year

: 2010



Thai title

:

ครูบ้านนอก




English title

: To Sir, With Love



Rating

: 4/5


Director

: Surasee Phatham



Main actor

: Mum Jokmok,Panna Rittikrai


Main actress

:



Buy now

:

Surasee Phatham has directed a remake of his own movie in 2009 as he was never happy with the number of details that were edited out. In "Rural Teacher" movie remake, most of the actors speak Isan / Lao language. The story is the same but many details have been changed. For the complete story, please read the above 1978 "Rural teacher" movie review. The village name has changed from Baan Nong Ma Wo (บ้านหนองหมาว้อ) to Baan Nong Hi Yai (บ้านหนองฮีใหญ่). The movie features many Isan country side ceremonies and customs such as lying by a fire after a child birth (to purify of all poisons and influences from ghosts), food (frog, snake, rice alcohol - เหล้าขาว). It reminds a bit of "A Child of the Northeast" ("LUK ISAN" - ลูกอีสาน) movie. Teacher Piya is now called Teacher Pichet. Teacher Pichit is now called Teacher Somchat. The headmaster is more funny and is played by actor Mum Jokmok. Famous action director Panna Rittikrai is also having a role as a strange man living away from the village. The headmaster plays lottery while teaching pupils. The children often miss school as they need to work for their parents or parents have no money to buy school uniforms for them. There are no chairs for children to sit. The headmaster and teacher Somchat need to ride horse to go to city. They need to buy their own teacher clothes. Pichet has pushed for the school modernization. New clothes offered by the local influential man owning the illegal logging concession. The main actor, Pichet Kongkarn, is a singer. He is singing a few songs related to Isan people leaving their village to go to work in cities and leaving behind grandparents to take care of babies, related to forest kindness (บุญคุณของป่า) or related to knowledge (ความรู้) and kindness (ความดี). Ruffians wear mask to frighten the villagers (ผีหลอก) so that they don't mingle inside the forest. Pichet finds poison in the forest. It is used by ruffians for people to get sick. Pichet finds the huge logging concession. The journalist head doesn't dare publishing the news and pictures. Pichet and the headmaster motivate the villagers to fight against the ruffians. A young journalist finally dares editing the news. Villagers fight with ruffians and one villager is shot. Panna Rittikrai can even show his fighting skills. The movie ends tragically for the teacher. The new version was released 2 days before National Teachers Day (วันครู) in 2010. The Culture Ministry, regarded "Kru Baan Nok" as a promotional tool and provided some support. As expected the movie didn't raise as much interest as 31 years ago as Thai society has evolved. Thai film industry has become more and more centralized with a Bangkok mindset. Politics and social commentary are now divorced from pure entertainment movies. Students and young people are not concerned about politics as they used to be. The movie might have been more successful if the remake was taking place in 2010 and talked about modern issues as corruption and hitmen are still present nowadays. In 1978, teacher Thim Bun-ing was shot after denouncing a bribery at the school construction of his village in Satuek District (Buriram). A teacher and activist, Khru Thim fought hard to see that Isan children had more educational opportunities and more efficient educational programmes. A group of teachers in Isan, wanting to keep his ideology alive, established the Foundation in his memory in 1983. Maybe "The Rural Teacher" movie was based on this real story.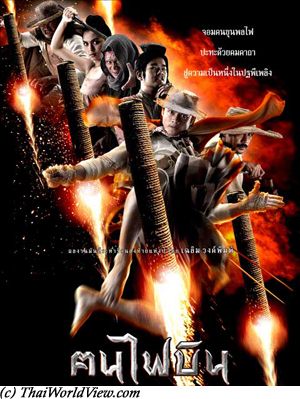 Year

: 2006



Thai title

:

ฅนไฟบิน




English title

: Dynamite Warrior



Rating

: 3/5


Director

:



Main actor

: Panna Rittikrai


Main actress

:



Buy now

:

At the end of 19th century, Lord Waeng Sirikorn is capturing and stealing Buffalos. He is selling them to a slaughter house. The rarity of buffalos is boosting his business of steamed tractors. He is using criminals to kill cattle traders and steal their buffalos. Siang is a mysterious local Robin Woods stealing buffalos from dishonest traders in order to give them to poor people. Siang is skilled in martial arts and fireworks usage. He learnt those skills by being involved in firework assembly for the Isan yearly festival called "Bun Bang Fai" (ประเพณีบุญบั้งไฟ). Siang is looking for revenge against trader Sing as he believed Sing killed his parents before. Trader Sing is also a powerful wizard. Lord Waeng needs to get rid of trader Sing to get his buffalos. He asks support from Black wizard, who was a friend of Sing twenty years ago and by lying, he also convinced Siang to help him. By using the blood of a virgin, they make Sing loosing his power. Finally it was Black wizard who killed Siang's parents. Sing and Siang then unite to defeat Black wizard and lord Waeng. The movie uses some recipes from popular movie Ong Bak as the movie producer is Prachya Pinkaew, who directed Ong Bak. Sometimes the movie has some flavors of former Western spaghetti movies. The movie takes place in Isan, northeast area of Thailand.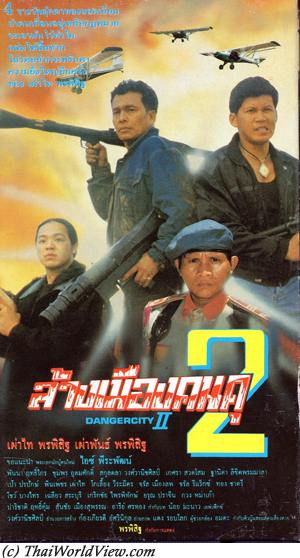 Year

: 1997



Thai title

:

ล้างเมืองคนดุ 2




English title

: Dangercity II



Rating

: 3/5


Director

:



Main actor

: Panna Rittikrai,Pao Porapak


Main actress

:
Thai movie ล้างเมืองคนดุ 2 / Dangercity II was released in year 1997. It lasts 85mn. It was released under VCD format by Thai company Lepso but it doesn't feature a very sharp picture. It was also released under VHS format many years ago. Before dying, a father recognizes he kidnapped his two children, Paopan and Ai, when they were just born. Many years passed. Ruffians attack a resort under construction. Police inspector Prai (สารวัตรใจเพชร) (เผ่าไท พรพิสิฐ) uses a plane to arrive on site and gets support from Police officer Paopan (เผ่าพันธุ์ พรพิสิฐ). Ruffians are pushed back and flee in the jungle. Panna Rittikrai is one of the ruffians' leaders. Police officer Paopan has to ordain (บวช) to honor his father memory. Shootings do happen during the ordination ceremony as ruffians are looking for revenge. Police inspector Prai chases the shooter up to an outdoor cinema (หนังกลางแปลง). Prai asks Paopan to stay calm and to continue being a monk. He will manage the ruffians by himself. The big boss Choomporn is looking for war weapons (อาวุฒิสงคราม). Phayak (Pao Porapak), as hitman, is hired to get rid of other ruffians' opponents. A young man, called Ai, (ไอซ์ พีระพัฒน์ - his first movie) comes to visit the monk, his younger brother. His target is to catch the ruffians. The resort's owner is kidnapped by Panna and his ruffians during his birthday celebration. As the owner refuses to collaborate, the leader Choomporn asks Phayak to kidnap the daughter. The young man, part of CIA, meets Prai and they start working together. The daughter is kidnapped. The supermarket owner Ploy, Prai's sweetheart, is also kidnapped. Police inspector Prai, police officer Paopan and the young man Ai finally storm the camp. Panna, Phayak and the leader Choomporn are killed. There is an excessive use of action as the heroes always succeed to escape the grenades and bullets but it remains a full action-packed movie targeted for Thai provinces. Other actors and actresses include สกุลตา. Dangercity I was released in year 1992. The movie Dangercity II got four Thai cinema awards in 1997.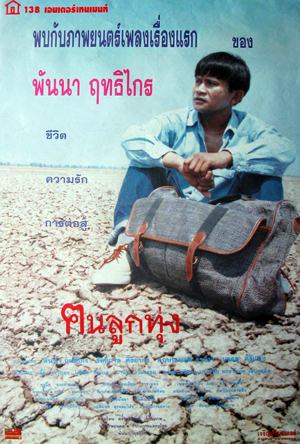 Year

: 1996



Thai title

:

ฅนลูกทุ่ง




English title

:



Rating

: 3/5


Director

: Panna Rittikrai



Main actor

: Panna Rittikrai,Krissanapong Rachata


Main actress

:
Thai movie ฅนลูกทุ่ง was released in year 1996. The movie is lasting 1h23mn. Panna Rittikrai is well known for its action movies but less for such romantic comedy. The movie is shot in Isan language. Many songs sung by Panna are featured in this movie. Panna was nicknamed as นักร้องเสียงเด็ก. This movie could be the "Mon Rak Luuk Thung" (มนต์รักลูกทุ่ง) of Isan with songs and gags. Kamoon (Panna Rittikrai) loves one of the village young lady called Nam Oi. One Bangkokian man is coming to the village hoping to get pure girls. The village lady is agressed by the two villagers. The Bangkok guy helped by two bodyguards including (Krissanapong Rachata) chases them away. The guy proposes a job to Nam Oi in Bangkok. The mother is reluctant but the father wishes to receive the money given as enticement. Finally Nam Oi accepts in order to support her older parents (ตอบแทนบุญคุณพ่อแม่). Panna is on the way to request Nam Oi's hand through an engagement procession parade but the Bangkok man is taking her with him. Panna realises she is gone. Under a misunderstanding, Pana believes she goes willingly with the Bangkok guy as a boyfriend. He tries to stop them but gets heavily beaten by the two bodyguards. An old teacher takes pity on Kamoon and teaches him martial arts. Meanwhile Nam Oi flees her job in Bangkok understanding the evil behaviour of the Bangkokian guy. She reaches her village as the same time as the ruffians chasing them. Kamoon is ready for a fight to protect her. As the Bangkokian guy claims a contract was signed and money given, the villagers help each other and gather the amount of money due per the contract. It shows the strong solidarity of Isan people and their continuous fight against life as living conditions are harsh in poor Isan. The Bangkokian guy sure to win proposes a fighting against his bodyguards with Nam Oi's hand and the contract sum as rewards. This time, Kamoon wins easily and the Bangkok guy accepts his defeat.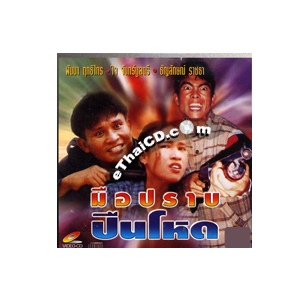 Year

: 1996



Thai title

:

มือปราบปืนโหด




English title

: Hard Gun



Rating

: 3/5


Director

: Panna Rittikrai



Main actor

: Panna Rittikrai,Tony Jaa,Jai Juntamooltree


Main actress

:



Buy now

:

Thai movie มือปราบปืนโหด (Hard Gun) was released in year 1996. It lasts 1h22mn. A group of four ruffians led by พี่ Biaw (Panna Rittikrai) needs to stay in a house until the police stops looking for them following a robbery. It shall be their last job. Nom is always complaining. Police led by inspector Phitak (Jai Juntamooltree) finds them and surrounds the house. Two ruffians get shot by Phitak including Nom, who is Biaw's younger brother. Upset that Nom is dead, Biaw shots Phitak but only injures him and flees. Phitak recovers and goes back to his uncle's home (พ่อบุญธรรม). His uncle is a local policeman. The uncle, following the death of his wife, keeps drinking alcohol. He fails to save his wife used as hostage by a ruffian. Biaw still wishes to get revenge over Phitak. He goes with Tony (Tony Jaa) up to the small city to kill Phitak. Once he finds Phitak, he shots without hurting him and kidnaps the uncle's daughter, Ann. The movie ends up with art martial fightings between Tony and Phitak as Phitak tries to release Ann. Biaw is so sure that Tony cannot be defeated but Phitak succeeds. The uncle this time doesn't fail and saves his daughter threatened by Biaw. The uncle starts a new life with confidence recovered and stops drinking alcohol. There is a mix of action and humour as Phitak is also facing local ruffians in the city. There are gags reminding Baan Phi Pop movies serie and such movies were targeted for Isan area, Northeast of Thailand.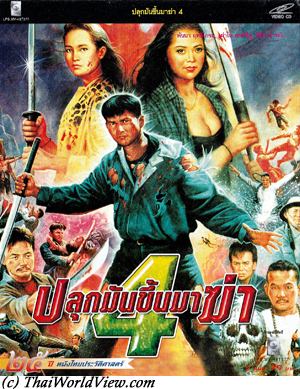 Year

: 1994



Thai title

:

ปลุกมันขึ้นมาฆ่า 4




English title

: Spirited Killer



Rating

: 3/5


Director

:



Main actor

: Panna Rittikrai,Krissanapong Rachata,Jai Juntamooltree


Main actress

:



Buy now

:

Thai movie ปลุกมันขึ้นมาฆ่า 4 was released in year 1994 and it lasts 86 minutes. In a village, a local shaman (หมอผี), called Duang, makes a ceremony (พิธี) to do a special medicine (ยาศักสิท) allowing old ladies to be young again (อมตะ) and young lads to be invincible. Two elderly people die by drinking the potion. As the others wish to inform the village leader (ผู้ใหญ่บ้าน), Duan kills them also. Only Piek (Jai Juntamooltree) succeeds to flee. The village headman (นายเจริญ สาดา) asks villagers to gather blades to get rid of shaman Duang. They catch him before he can cross the Mekong to Laos. Villagers hit him many times and his body falls in the river. Five years have passed. Farmers listening to Molam songs are attacked by a sole thief (โจร)(Panna Rittikrai) very strong in martial arts and blade fighting. Most of farmers are killed. Meanwhile Piek is listening Molam (หมอลำ) song by beautiful singer Fa. Piek claims he can handle this robber himself. Meanwhile some students from Japan and Thailand interested by the remote village are attacked by robbers. Krissanapong Rachata and a young lady push them away. The robbers are later killed by Panna. In parallel, a group of men are looking for special holy artifact in the village. They are attacked by Panna. Among them, Tony Jaa offers an unfortunate heroic resistance against Panna but this latter seems invincible as blades cannot hurt him. They believe he is an evil spirit (ผีดิบ). Later on, Piek tries to stop Panna but to no avail. A group of 20 people go outside the village to fight against the evil spirit and to identify his weaknesses. The evil spirit is in fact piloted by Duang, looking for revenge. All strong fighters unite against Duang and Panna. Finally a wise man gives a magic blade to Piek allowing to defeat and kill Duang. Without special powers, Panna is also defeated. In the second part of his actor career, Panna Rittikrai was often playing the bad guy.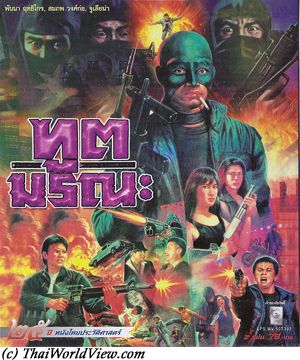 Year

: 1993



Thai title

:

ฑูตมรณะ มันส์เต็มพิกัด




English title

:



Rating

: 3/5


Director

: Panna Rittikrai



Main actor

: Panna Rittikrai,Krissanapong Rachata,Sompop Wong Ko


Main actress

:



Buy now

:

Thai movie ฑูตมรณะ มันส์เต็มพิกัด was released in year 1993 and lasts 1h18mn. It was released on VCD by Lepso (1h19mn) and of course on 35mm film (1h18mn). A man gives instruction to a hitman (มือปืน) by leaving a paper in a jar in a disaffected building. The hitman, wearing a mask, kills a few people in a house. Despite being busy with his girlfriend, Sia (เสี่ย) Manit has to meet Arun. Sia Manit uses Arun (Sompop Wong Ko) to convince villagers to sell their land as he plans to resell it to Japanese investors planning to build factories. Arun uses the local village leader (ผู้ใหญ่) to convince villagers. Each time, another buyer called Kamnoon had proposed more money than Arun, i.e. 150 000 baht for one rai so Arun is very upset. Some villagers such as Thaem (Panna Rittikrai) are not interested to sell (ไม่ขาย). Normally the land is only 40 000 baht per rai so there is certainly a hidden plan behind this offer. Sia Manit agrees to increase the price to 200 000 baht per rai. He calls his favorite hitman, i.e. his own girlfriend, for help also. Meanwhile Arun gathers his men including Jackie (Krissanapong Rachata). Arun sends his men to give a lesson to Kamnoon and to ask him to stop trying to buy the land. As a revenge, Kamnoon hires his usual masked hitman. Thaem and his friend Kon are facing Arun's ruffians but push them back. Kamnon's hitman starts to kill a few men linked to Arun. Sia Manit is very upset as Arun and his team always fail. Kamnoon proposes a deal to Sia Manit to share benefits but Sia Manit plans to trick him. Kamnoon asks his hitman to get rid of Sia Manit and Arun. Kot is killed. Sia Manit, his girlfriend, Kamnoon end up in the disaffected building and shoot at each other. The masked hitman intervenes and is in fact Arun! He shots Sia Manit, his girlfriend and Kamnoon hoping to get the whole deal for him. Thaem has called the Thai police. Refusing to surrender to Police, Arun gets shot. Such movie is precursor of Ong Bak movies with Tony Jaa. Panna Rittikrai is former B grade movies maestro and stunt choreographer of Ong-Bak. A Thai TV serie on Channel 7 with same title "ทูตมรณะ" was released in 1990 with Sorapong Chatree, Sombat Methanee, Rith Luecha, Suchao Pongwilai and Jarunee Sooksawad.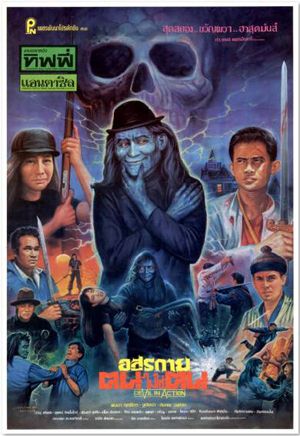 Year

: 1993



Thai title

:

อสูรกาย คนไม่ใช่คน




English title

:



Rating

: 2/5


Director

:



Main actor

: Panna Rittikrai,Krissanapong Rachata,Sompop Wong Ko,Kim


Main actress

:
Thai movie อสูรกาย คนไม่ใช่คน was released in year 1993 and lasts 1h22mn. It was released under VHS format. Kam and Panna Rittikrai are both novices (ลูกศิษ) of deceased master (อาจานร์). Panna and Kam have a fight as Kam claims Panna and the master were always unfair to him. Kam is defeated and flees. He is helped by an uncle and his daughter. He claims to have been attacked by robbers (โจรป่า) to get pity from them. The uncle provides him a methodology to become invincible, but he needs to spend one year in meditation. Meanwhile a group of friends including Krissanapong Rachata decides to spend good time in Loei area. Krissanapong meets there his uncle (Sompop Wong Ko). They cannot enter in the forest as it is deemed as a dangerous place. Finally, they convince the village leader (นายเจริญ สาดา) to let them go there. They are doing camping in the forest. They face another group led by Kim (กิม) trying to rob them. There is extensive comedy part in this action movie. The father is killed as Kam wakes up one year later after meditation. He has become an invincible monster with a green face. Her daughter wishes to revenge. Fighting occurs with the robbers. A few friends and robbers are killed by the monster (ผีดิบ). As they cannot defeat him, the first advice is to flee (หนีไป! Finally, they unite together to defeat the monster (ตัวปิศาส) but it fails. Panna comes back and brainstorms with the lady to find a solution. Krissanapong reuses the same herbal plants to become invincible and be able to fight again the green monster. He finally succeeds to defeat him.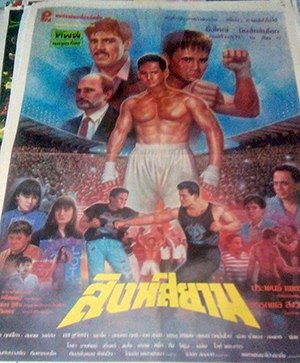 Year

: 1992



Thai title

:

สิงห์สยาม




English title

: King of the ring



Rating

: 3/5


Director

:



Main actor

: Panna Rittikrai,Krissanapong Rachata,Christoph Klüppel


Main actress

:



Buy now

:

Thai movie King of the ring / สิงห์สยาม was released in year 1992. The Filmark version, released under VHS format, lasts around 1h22mn. Thai boxing fightings festival is happening in local subdistrict. Ken Kiat is joining and accepts to face The Duke, the defending champion. Ryan (Panna Rittikrai) is his trainer. A sponsor believing in Ken pays the 2000 USD fee. Despite a difficult beginning, Ken defeats The Duke. The sponsor impressed by Ken suggests him to join a real Thai boxing school led by master Hunger. The Duke's trainer called Charles sends ruffians to beat them and to get back his money but to no avail. Ken meets Nancy by bumping in her bicycle. Ryan meets singer Ann thanks to Krissanapong Rachata's (กฤษณพงษ์ ราชธา) introduction. Ryan likes drinking alcohol. As another ruffian leader sends his men to kidnap Ann, Ryan is helping her. Ken wins 10 consecutive fights so causing Charles to lose a lot of money. Charles contacts a tall foreigner (Christoph Klüppel) and asks him to find a good fighter. He finds Chiba, a Japanese fighter. Charles claims that best Thai boxing fighters are now found overseas. To save Thai boxing honor, Ken accepts to fight against him. One day before the match, Charles' ruffians beat Ken on the head. Ken asks Nancy to keep this secret as he believes it is minor. But Ken is wiped out by Chiba and falls unconscious. Ryan wishes to get revenge immediately so master Hunger has to calm him down. While Ken is recovering, Ryan decides to get heavily trained to become a fighter in order to revenge Ken and to defeat Chiba. Ryan challenges Chiba. Charles accepts and he believes there is easy money to gain. Ryan finally defeats Chiba after an epic fight.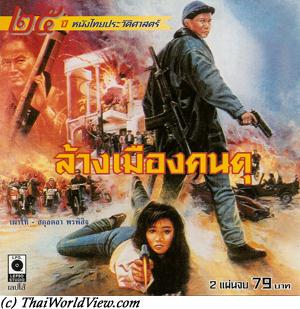 Year

: 1992



Thai title

:

ล้างเมืองคนดุ




English title

: Dangercity



Rating

: 2/5


Director

:



Main actor

: Panna Rittikrai


Main actress

:
Rise and fall of a local Thai mafia chief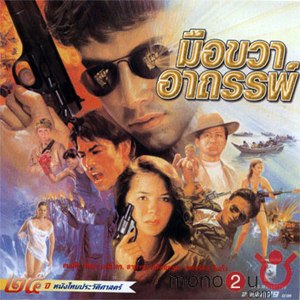 Year

: 1991



Thai title

:

มือขวาอาถรรพ์




English title

: Gold Fist



Rating

: 2/5


Director

:



Main actor

: Sombat Methanee,Panna Rittikrai,Sompop Wong Ko


Main actress

: Phetrat Srikaew



Buy now

:

Thai movie มือขวาอาถรรพ์ / Gold Fist was released in year 1991. Pan (Panna Rittikrai) and Wan (Sompop Wong Ko - สมภพ วงศ์ก่อ) are waiting and armed with guns. A trap is prepared to catch an armed convoy. A man with a gold fist (Sombat Methanee) wishes to get a special jewel transported. Ann's father is killed while protecting the jewel against robbery. Sombat needs to gather two emeralds (มรกต) to get special power. Ann wishes to revenge her father. Meanwhile ruffians attack a village where a traditional dance performance is happening. A young girl is kidnapped. During a pagan ceremony, she is stabbed by the leader Sombat to get her pure blood. Policewoman (Phetrat Srikaew) and ผู้คง Ton are sent to investigate on this case. Ann and her team are also looking for people having a gold fist. Being attacked, Ann gets help from Ton. Having located Pan and Wan, June and Denise play the silly tourists in order to be brought to Kanchanaburi. Champ (สามารถ พยัคฆ์อรุณ), a Thai boxer, is joining the group. The leader needs virgins (สาวพรหมจารี) to have pure blood and release the power from the two emeralds. Their attack to kidnap a young lady fails so they capture the policewoman by default. The two foreigners June and Denise are also kidnapped. Denise succeeds to escape and join other teammates chasing the ruffians. The ceremony (ทำพิธี) shall happen soon so the group has to rush in order to release June before she is stabbed by the leader with a gold fist...This movie features Thai actors / actresses (Panna Rittikrai, Sombat Methanee, สามารถ พยัคฆ์อรุณ, Phetrat Srikaew, เวย์น ฟอลโคเนอร์) and also American actors / actresses (Bobby Sands, Josette Prevost, Leslie Horan, Nancy Black, Corrine Foster) so certainly to appeal to both Thai domestic market and overseas market. It was Miss Thailand Phetrat Srikaew (เพชรรัตน์ ศรีแก้ว) 's first movie.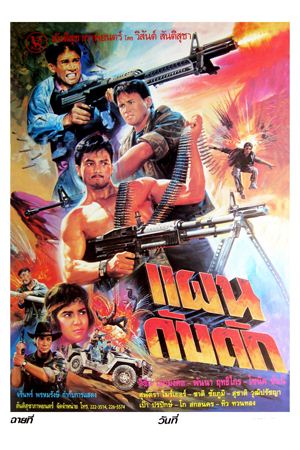 Year

: 1991



Thai title

:

แผนกับดัก




English title

:



Rating

: 2/5


Director

:



Main actor

: Likit Eakmongkol,Panna Rittikrai


Main actress

:
Thai full action movie แผนกับดัก was released in year 1991 and lasts 1h26mn. The movie is also called หักเหลี่ยมพระกาฬ. Two groups of ruffians meet to exchange drugs and money. Phayut, seconded by Chat (Panna Rittikrai), decides to betray his partner in order to keep the money and drugs. The partner's son, Keng, and daughter, Nat, wish to revenge their father's death but fail as there are only two. Phayut uses one of his men as a bait to fool the police. As his man is arrested, Phayut asks police inspector (สารวัตร) Likit (Likit Eakmongkol) to release the accused (ผู้ต้องหา) but Likit refuses. During the prisoner transfer, ruffians kill policemen and Phayut shots himself his man causing Chat's disapproval. A lady calls Likit as she wishes to provide information to him. This is a trap to accuse him to receive dirty money (รับสินบน). Likit has to leave Police temporarily in order to clean his name. Likit, Nat and Keng decide to unite against Phayut. Asulaman, a Philippines citizen, is looking for drugs but the deal fails to succeed. Chat warns Phayut that he doesn't like his way of working anymore (ไม่ชอบคนหากหลัง) and leaves the team. Phayut hires a hitman (โซนิค ซันนี่) to get rid of Chat and Likit. The hitman fails and finally joins Likit's team. Phayut kidnaps Asulaman to show him he is not as bad as rumours said (อย่าเล่นสกปรกอีกก็แล้วกัน). Chat and Likit guess it is another trick. Shootings happen but Phayut succeeds to flee. The hitman is captured but a policeman (หมวด) comes to help also. The team prepares a plan against Phayut (แผนกับดัก). Phayut ask support from other ruffians (โจรป่า). Shootings involving heavy machine gun happen but final fights are one to one fightings. Nat revenges her father by taking care directly of Phayut. Ruffians are defeated. Likit is finally reintegrated in the police. It is a low budget movie. Likit Eakmongkol is the main actor but all main fighting scenes are featured by Panna Rittikrai. Such movie has no direct sound recorded but the film was dubbed after. Additional funny words especially for second roles are added during post production and are a reminder of the famous dubbers activities in 1960s and 1970s. So for such 1990s production there was no more live dubbing but post dubbing.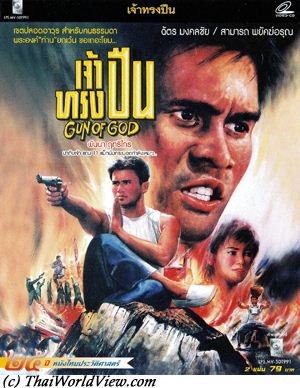 Year

: 1991



Thai title

:

เจ้าทรงปืน




English title

: Gun of god



Rating

: 2/5


Director

:



Main actor

: Panna Rittikrai,Chat Mongkolchai,Pao Porapak


Main actress

:



Buy now

:

Thai movie เจ้าทรงปืน was released in year 1991 and lasts 1h30mn. Hitman Tom (Pao Porapak) kills a man but then he is chased by people wishing to kill him. His boss is เจ้านาย Somkit (Chat Mongkolchai). Tom always supported Jao (Panna Rittikrai), a young mechanic (ช่างเทวดา). Following a killing where a child dies, Tom decides to stop being a hitman (มือปืน) and announced it to Somkit, who asks him to think again about it. Internal fightings happen between some local ruffians to control the area. Mongkol wishes to revenge against Somkit. Tom dies while protecting Somkit a last time. Jao arrives just when Tom is about to die. Before dying, Tom recommends Jao to take refuge in one of his friends' home. Masked killers get rid of Somkit's opponents including Mongkol. They stop by the restaurant to shoot Tom's friend and chase after Jao. Jao is shot but the bullets don't enter thanks to a holy Buddhist amulet provided by Tom before his death. He is rescued by Lung, who explained Tom's past to him. Jao decides to chase Somkit. This one assures him he is innocent but masked men capture Jao. The mastermind is indeed Somkit. The movie ends up with multiple fights involving Jao and his friends versus Somkit and his ruffians. This movie mixes action and comic sequences including low level jokes such as flatulence noise, gay fighter...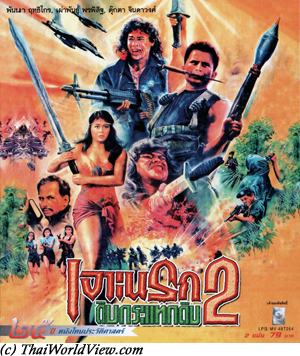 Year

: 1991



Thai title

:

เจาะนรก 2 ตอน ดิบกระแทกดิบ




English title

: Angel of death part 2



Rating

: 3/5


Director

:



Main actor

: Panna Rittikrai,Chat Mongkolchai


Main actress

:
เจาะนรก 2 ตอน ดิบกระแทกดิบ (Angel of death part 2) movie was released on a VCD manufactured by Thai company Lepso. It is coming from a VHS copy. The image is not sharp and the sound is weak. It is lasting 1h24mn. A man is followed up by a group of heavily armed thugs wishing to kill him. They seem invulnerable. He gets defeated and his sword is left behind in a cave. Panna (Panna Rittikrai) is a police inspector (ผู้กอง). Three thugs attack an hospital. They have big tattoos on the body. They also don't die when got shot. So Panna has to use a car to smash them. After investigation, the thugs were officially dead for one week already... In the jungle, Supree (Chat Mongkolchai) is leading a team attacked by some ruffians as Supree gave orders to warn the police regarding those invulnerable men. Some amazones are playing in a river. They are attacked but saved by Supree. Panna follows up bank robbers and defeats them again with difficulty and discovers that the robbers are dead since one month. A colleague suggest they are zombies (ผีดิบ). A legend mentions a village near the border where shamans have special powers. Panna decides to go at the border to this village. Supree's grandfather made this potion but it is now used in a wrong way. Supree and his amazones including his daughter get attacked by the zombies. Panna helps Supree's daughter. Supree is injured and captured. While fleeing the zombies in a cave, Panna finds the special sword. Only Supree knows the special herbs (ยาสมุนไพร) and refuses to disclose the secret despite being beaten by the zombies leader. The leader wishes to use the potion in a wrong way to become rich. Panna helps to release Supree. Police is coming to help and planes are bombing the ghosts. Panna defeats their leader through a final sword fight. Supree and his daughter are reunited. Panna Rittikrai's movies are always full of action. Some fights or ideas were reused later in famous "Ong Bak" movie. It is a low cost movie with stunts jumping just after the explosions but it is still quite well done.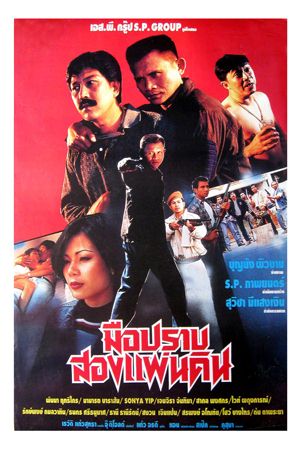 Year

: 1991



Thai title

:

มือปราบสองแผ่นดิน




English title

:



Rating

: 3/5


Director

:



Main actor

: Panna Rittikrai,White Padungkan,Akara Amarttayakul


Main actress

:
Thai movie มือปราบสองแผ่นดิน was released in year 1991 and lasts 1h25mn. This movie is typical action movie from decade 1990s directed by Panna Rittikrai. Such kind of movies were mainly released in Thai provinces, where action movies remained popular. In Bangkok, teen movies were booming. Main actors and actresses are พันนา ฤทธิไกร, มามารถ บาราสัน, Sonya Yip, เจนจิรา จันทิมา, รักษ์พงษ์ กมลวาทิน, White Padungkan, Akara Amarttayakul. Subdistrict headman Priu and village leader are threatened by ruffian leader Prasan and his men (including White Padungkan and Akara Amarttayakul). Meanwhile subdistrict headman Sing stops some robbers. Rit (Panna Rittikrai), being alcoholic, is attacked by two men and gets rid of them. Rit is living with Praew but there is no happiness. Ruffian So wishes to revenge (คิดบัญชี) against Sing as he spent many years in jail. Rit loved young lady Pim before but Sing won her heart, so he gets drunk often since that time. Akara Amarttayakul from movie ไชยา. Prasan and his men move to another jurisdiction to escape to subdistrict headman Sing. As this one becomes chief district officer, they fall back under his jurisdiction and they have to get rid of him. So, tries to kidnap Pim but he fails. Praew quits Rit for White as she is fed up that he is a drunkard. Seeing Rit beaten heavily and insulted (ตัวเมีย) by White and his teammates, she has pity of him and gets back to him. As he has alcohol crisis, she takes care of him. Sing and his friends including Pim and Praew decide to storm the ruffians' den (บ้านเมืองจะเป็นสุข). Heavy fighting occurs but Prasan and his men are all killed. Sing loses a man during the fightings.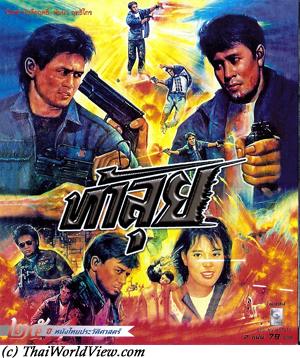 Year

: 1991



Thai title

:

ท้าลุย




English title

:



Rating

: 3/5


Director

:



Main actor

: Bin Banleurit,Panna Rittikrai,Lak Apichat


Main actress

:
Two ruffians leaders, Seua and Kachon, meet. A competition between the two mafia leaders is organized by recruiting expert hitmen (มือปืน). Various hitmen characters are depicted. An expert likes to use female make up before killing. Another expert needs to be drunk (ขี้เมา) before shooting accurately. Another one is selling sweets with his son. Another one is Han having great guns. Who will win (ใครเป็นหนึ่งคนเดียว)? Thanong (Bin Banleurit) is a former policeman who quit following a wrong shooting (เลิกวงการ). There is 10M baht for the winner. Seua wants to force Thanong to participate. The vendor finally meets the drunkard as his son is sick. He helps him. Kachon encourages six hitmen to support each other and fight against Han and Thanong as they have no chance in one to one duel. Seua kidnaps Thanong's pregnant wife to force him to participate to the hitmen contest. 100 hitmen gather for the contest including a Kathoey (กะเทย) and a glutton (กินก่อนยิ่ง) characters. Thanong warns his policeman friend Phan (Panna Rittikrai) to come to the contest with policemen. Han, knowing he was used as a toy, kills the two contest organizers. He even releases Thanong's wife but he is not interested in 10M baht. All he wants to be is to be the hitman number 1. As Thanong refuses to fight, he kills his wife to force him. Both Han and Thanong finally shoot each other. All other hitmen also die. The sweet seller with the support of the drunkard dies while protecting his son. Being a hitman is death guarantee at 99.99%. This B grade action movie is part of the numerous movies Panna Rittikrai has played in.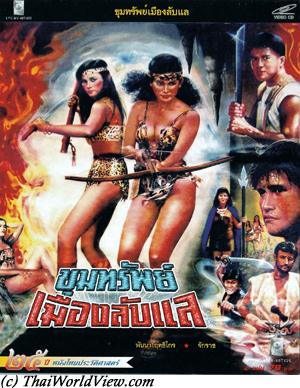 Year

: 1990



Thai title

:

ขุมทรัพย์เมืองลับแล




English title

:



Rating

: 2/5


Director

:



Main actor

: Panna Rittikrai,Chaiyan Sorakrai


Main actress

: Vivian Rawee



Buy now

:

Thai movie ขุมทรัพย์เมืองลับแล was released in year 1990 and the VCD lasts 1h23mn. A group of men including Panna Rittikrai are progressing in the jungle. They arrive in a village and their leader Tanin is looking for Pho Tao, who could guide them to the mysterious city of women (เมืองลับแล). Another group is following them a few hours behind. They are looking for a treasure (สมบัติ). While entering deep in the forest, they are attacked by men using spades and spikes. Their leader is Ah Mooyan (Chaiyan Sorakrai). A group of amazons helps them. They should have been killed for trespassing here but as they helped one amazon attacked by the men, their lives are spared. Some amazons start to quarrel as one of them called Vivian (วิเวียน ระวี) is fond of Tanin so she is accused to abandon the Amazon queen (เจ้าแม่). Some men are protecting the kingdom and cannot enter where the amazons are living. The second group lies about the first group's intention and unites with Ah Mooyan to grab the treasure. Ah Mooyan wishes to keep Vivian for him. The first group is attacked by a bunch of strong men and they are all captured. Despite a fierce resistance, Panna is left as dead. Vivian succeeds to release them by claiming the Amazon queen wishes to meet them. Then they are just attacked by the second group and Ah Mooyan's men but succeed to flee. Vivian and Tanin become lovers. Tanin and Panna are captured by Ah Mooyan and his men. Vivian comes to help with her amazons. Bloody and fierceful fightings happen between the amazons, Ah Mooyan's soldiers and Tanin's team. Ah Mooyan is finally defeated and killed. The second group attacks the Amazon Queen and uses a mystical statue able to send deadly laser shots. All ruffians are killed but the kingdom is almost destroyed as the Amazon queen and most of the amazons are dead. Her younger sister asks Vivian to follow her life and to go with Tanin. Part of the movie is probably cut to fit in a commercial VCD. This movie reminds a bit of movie แม่งู (1972) with similar amazons.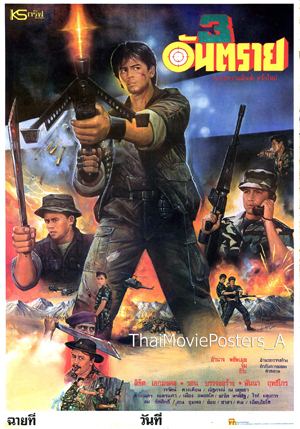 Year

: 1990



Thai title

:

3 อันตราย เดนสงคราม




English title

:



Rating

: 2/5


Director

:



Main actor

: Likit Eakmongkol,Panna Rittikrai


Main actress

:
Thai movie 3 อันตราย เดนสงคราม was released in year 1990. It lasts 1h25mn. It is a nationalist trend movie. Officer Mongkol (Likit Eakmongkol) has nightmares about war but he accepts a dangerous task to protect the country. His friend Seua joins him. While discussing with young ladies (สาว), there are attacked by three men, who assail them. The three men are shot by Krit (Panna Rittikrai) and Mongkol. Krit is a former friend met during Vietnam war. Young lady Duang Deuan and Mongkol like each other. Mongkol and his two friends accept their superior's mission to get rid of the ennemies (งานเสี่ยงอันตราย). Those enemies (ศัตรูเก่า) are not waiting and already try to kill Mongkol. Mongkol starts to recruit additional men. They are now nine. They train them very hard. Duang Deuan calls Mongkol as she is worried that some men watch after her house. It is a trick to attract Mongkol. Duang Deuan is even part of the ruffians team. Mongkol is captured and tortured by his old enemy. Their leader wishes to capture the two other officers also to get revenge to be a stateless man. The eight other Thai soldiers enter the forest to find Mongkol. Fightings happen. Panna's skills are well shown. The ruffians leader's girlfriend is used as a bait to kill some of the soldiers. Mongkol is tortured again. Duang Deuan asks the ruffians to kill him instead of torturing him. The ruffians leader Nai Ephon wishes to have Duang Deuan becoming his wife also! Disappointed by Nai Ephon, Duang Deuan releases Mongkol. For the nation, for the religion, for the King, they fight! Mongkol and his team attack the camp on two sides. Finally the ruffians get defeated but many soldiers have lost their lives. Only four are left. Duang Deuan even dies while protecting Mongkol.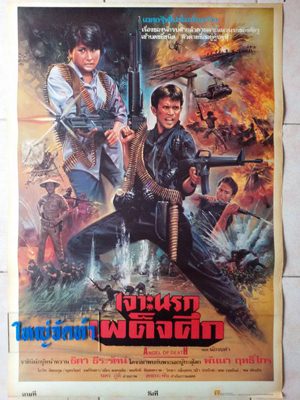 Year

: 1990



Thai title

:

เจาะนรกเผด็จศึก




English title

:



Rating

: 3/5


Director

: คงกะพัน



Main actor

: Panna Rittikrai,Chat Mongkolchai,Kowit Wattanakul,Somsak Chaisongkram,Pao Porapak


Main actress

: Thida Thidarat
Thai movie เจาะนรกเผด็จศึก was released in year 1990 and lasts 1h28mn. It was released under VCD format by Lepso company. Movie director is คงกะพัน. Captain (ผู้กอง) Suripon (Panna Rittikrai) leads some Thai rangers including Kowit Wattanakul to the Thai border. Heavy fightings occur but enemies are defeated. Tired Thai soldiers go home but they face various issues back home. Lom and another teammate face argument while eating in a market. A teacher, named Lin Thong, gets aggressed by three ruffians. Her students help her but it is not enough. Luckily Suripon, นักรบ, helps her. Other ruffians try to buy land title but the mother refuses. They kidnap the daughter. Luckily Kowit is around and helps the young lady. Phi Lom and his wife Naree can enjoy family time. Break is short as a new mission occurs. Vietnamese soldiers led by Chat Mongkolchai and Somsak Chaisongkram attack a village and kill all inhabitants. Vietnamese soldiers attack another village but Mayom (Thida Thidarat) and Pao Porapakfight back. Suripon and his men are sent in the same area. They discover that the village is empty. They face Vietnamese soldiers but push them back. Mayom and Pao follow the Thai rangers and are unsure if they are good or bad guys. For the nation and to protect Thai citizen, Thai soldiers are ready to sacrifice their lives and so their family happiness. Thai soldiers fall in ambush set up by Vietnamese soldiers. Many Thai soldiers die despite additional support of Mayom and Pao. Remaining Thai soldiers are looking for revenge (ล้างแค้น). Multiple grenade explosions occur. Suripon is getting a heavy machine gun to get rid of multiple opponents. Getting seriously injured, he uses a motorbike as a battering ram to defeat Somsak and have the whole camp to be destroyed. Only Mayom survives.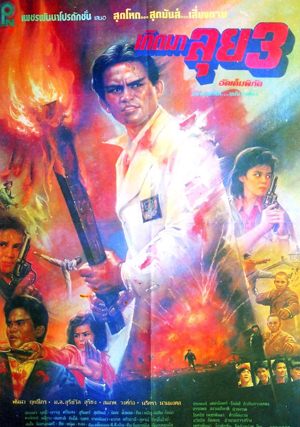 Year

: 1990



Thai title

:

เกิดมาลุย 3




English title

:



Rating

: 3/5


Director

: Panna Rittikrai



Main actor

: Panna Rittikrai,Sompop Wong Ko,Krissanapong Rachata,Jai Juntamooltree


Main actress

: Suriwan Suriyong
Thai movie เกิดมาลุย 3 was released in year 1990. It lasts 1h24mn. The first four minutes start with Panna Rittikrai presenting all actors and actresses in his movie. Panna kills a lawyer as he refuses to give him a testament. Afong (Suriwan Suriyong) is back from Hong Kong where she worked as lawyer assistant. Her former boss is dead and she gets death threats as she refused to forge a testament. 80% of the heritage goes to the daughter called Naen. Her former boss' new wife called Yen Feui wishes to get the whole heritage instead of only 20%. Wassana is the mother's name but she died already. A relative, subdistrict headman Jaem, brought the daughter to Tha Bo in Nong Khai province. Ruffians from Hong Kong led by Panna Rittikrai and accompanied by two tough bald guys are also looking for the lost daughter. All those people including local ruffians meet in Tha Bo. Subdistrict headman Jaem is upset with Vinai, local ruffian leader. The local ruffians led by Vinai decide to kidnap Naen (หลาน) to pressure him to sell his land. Panna and his two bodyguards interrupt as they are looking for the daughter also. Of course multiple fightings happen between all of the three groups as they have different interest. Afong's four friends take care of the two bald bodyguards and defeat them. Afong herself faces Panna Rittikrai through a fighting in white costume. She gets defeated. The four friends face Panna but gets defeated also. United, they finally defeat Panna through a daring final. The original movie features "Beat It" song from Michael Jackson but finally replaced by another music in the VCD certainly due to copyright issue. The movie ends up with some failed action sequences similar to Jackie Chan's movies. เกิดมาลุย movie franchise is a full action movies series. Other actors are สมภพ วงศ์ก่อ (Sompop Wong Ko), นริศรา, บรรลุ, สุรินทร์, น้อย, กิม.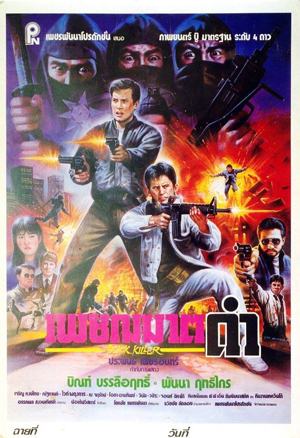 Year

: 1990



Thai title

:

เพชฌฆาตดำ




English title

: Black Killer



Rating

: 3/5


Director

:



Main actor

: Panna Rittikrai,Bin Banleurit,Tony Jaa


Main actress

:



Buy now

:

Thai full packed action movie เพชฌฆาตดำ (Black killer) was released in year 1990. The movie lasts 1h30mn. A young lady Candy is looking for uncle Chiem (เรื่องสำคัญ). Her parents have been killed in Japan. Three Thai ninjas are looking for documents showing corporate wrongdoing so are trying to catch Candy. Thanoo (Bin Banleurit) is a hitman hired to kill people but he is still having a good heart such as helping people who borrow money (กู้เงิน) at excessive rate. He normally kills only sinful people. Two Interpol policemen (ตำรวจสกล) are also looking for the young lady. Dam (Panna Rittikrai) is the leader of a small ruffians gang. Dam's team steals Candy' s bag containing important documents. Thanoo has been hired to shoot uncle Chiem. Uncle Chiem refused to sell his land to businessmen wishing to build a factory. Thanoo was lied to kill uncle Chiem presented as a corrupted village headman (กำนันอิทธิพล). Seua Leu has been hired to kill Thanoo once he completes the job. Seua Leu and Thanoo have a duel won by Thanoo but he is severely injured. Dam accepts to give the envelope against 100 000 baht. Finally all parties meet and final fightings involve the three ninjas and their boss versus Thanoo, Dam and Interpol officers. They finally win despite injuries. Seua Leu beats Thanoo in the final duel but loses to his kindness (แพ้น้ำใจ).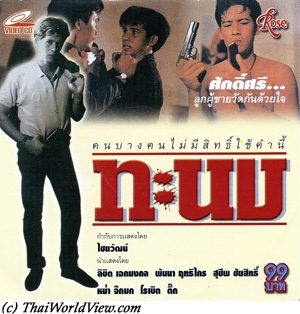 Year

: 1988



Thai title

:

ทะนง




English title

: The Pride



Rating

: 3/5


Director

:



Main actor

: Likit Eakmongkol,Mum Jokmok,Panna Rittikrai


Main actress

:
A soldier is coming back to the slum where he lived when he was younger. He learnt that his mother and sister have died during a fire. His father told him that a local influencial man is responsible of the fire in order to drive out people from the slum. His father is seen as a drunk man so the police doesn't believe him. The father is finally killed by a gunman. Having lost faith in police and in justice of the rich towards the poor, the soldier decides to enquiry by him-self. A traitor policeman is helping the influencial man.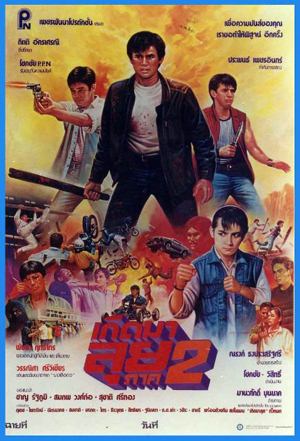 Year

: 1987



Thai title

:

เกิดมาลุย 2




English title

:



Rating

: 3/5


Director

:



Main actor

: Panna Rittikrai,Sompop Wong Ko


Main actress

: Vanessa Sriwichien
Thai movie เกิดมาลุย 2 was released in year 1987. Only 54 minutes and a 3 minutes trailer are left to be seen. Lung Saen Fong (ทนาย) and Panna Rittikrai go to Bangkok by bus. Lung (ลุง) Saen Fong has some important documents to give to Panna. He also gives him a watch. The bus is attacked on the way. Lung Saen Fong is kidnapped and Panna beaten. As Lung refuses to speak, they believe the documents should be with Panna. Three ruffians defeat Panna to steal the documents. Looking for Lung Saen Fong, Panna sells the watch to buy some food as his wallet was stolen by the ruffians. Lung is from Hong Kong and speaks Thai. His daughter is looking for him. Panna gets an additional colleague (Sompop Wong Ko) to work on this case as his boss is not so happy of his performance. In a club, Saen Fong's daughter and his friends show Saen Fong's picture in case something remembers him. On the following day, one of the friend is attacked by ruffians but policemen (ตำรวจสกล) Panna and Sompop chase them away. Meanwhile the ruffians decide to drug Saen Fong and to transport him away. A chase happens in tuk tuk and cart but they fail to catch the ruffians. Later on, Lung Saen Fong escapes while a ruffian is sleeping. This is trick to find where the real documents are hidden. Ruffians defeat again Panna and Sompop. They also kidnap Saen Fong's daughter called Anna (วรรณิศา ศรีวิเชียร). They have 3 days to provide them the documents. The documents are stored in a microfilm hidden in the watch. But Panna sold it to a dwarf before. He gave it to his father, who is not willing to sell the watch below 10000 baht! Following fights with the thugs, Panna and Sompop get the watch back. Finally final epic fightings happen between Panna / Sompop and the strong ruffians in order to release Anna.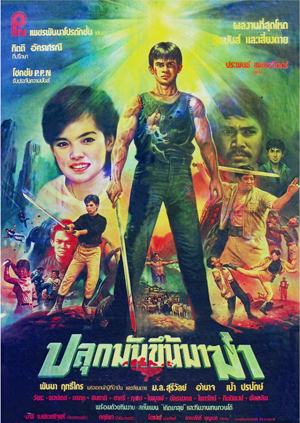 Year

: 1987



Thai title

:

ปลุกมันขึ้นมาฆ่า




English title

:



Rating

: 4/5


Director

:



Main actor

: Panna Rittikrai,Pao Porapak


Main actress

: Suriwan Suriyong
Thai movie ปลุกมันขึ้นมาฆ่า was released in year 1987 and lasts 1h35mn. It was released under VCD format. Four episodes were released, i.e. in year 1987, 1989, 1990, 1994. Panna Rittikrai had small budget for his movies but the result was extraordinary as Panna always made his movies through true feelings and dedication. Villagers capture Duang, an expert in black magic, who caused many troubles in the village. About to be lynched, they finally attach him to decide about his fate the next day. During the night, Duang succeeds to flee. Five years have passed. A group of travelling villagers is facing a weird young man played by Panna Rittikrai. He assaults them and kills most of them through extraordinary fighting skills. The village leader is worried as a group of Japanese visitors is coming to the village to see a sacred item. A group of Chinese visitors is also coming to the village for the sacred item, but they face Panna. Most of them are killed by Panna. The group of Japanese visitors, led by Suriwan Suriyong, faces ruffians (โจรร้าย) led by Pao Porapak. Ruffians are defeated. Learning that the Japanese group has arrived, the village leader sends his best two men to neutralise Panna. They also fail. All groups (Thai, Japanese, Chinese) gather to defeat Panna but they fail as he is like a ghost (blades don't hurt him). The village leader informs villagers and they decide to quit the village afraid to be killed by Panna. Duang, the former expert in black magic (หมอผี), enters the village. He was chased by the village leader five years ago and created fighter Panna through black magic incantations to take his revenge. Panna enters the village to chase the three groups. They cannot find any weak point. The black magic expert enters in the village again to see their defeat. The three groups try to defeat him in order to neutralize Panna. He seems also invincible (ฆ่าไม่ตาย). Only when he receives by accident a sarong (ผ้าถุง), feminine object, on his head then spike and blade can enter in his body, so he dies. Panna falls dead at the same time but then resurrects again. Only when a white magic expert gives holy weapons to Suriwan, then Panna can be defeated.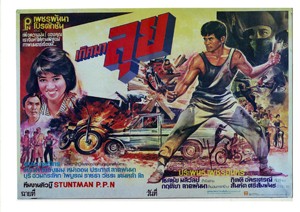 Year

: 1986



Thai title

:

เกิดมาลุย




English title

: Born to Fight



Rating

: 3/5


Director

: Panna Rittikrai



Main actor

: Panna Rittikrai,Krissanapong Rachata


Main actress

:



Buy now

:

Thai movie เกิดมาลุย / Born to Fight was released in year 1986. It lasts 94 minutes. It is first movie directed by Panna Rittikrai. This movie was released under VCD format (unfortunately in 4:3 to match old TV format and not 16:9) in Thailand and blu-ray format in USA in 2016. Panna sold his home to finance his first movie เกิดมาลุย shot in years 1985~1986. Other actors have to pay also to be part of this movie! At the beginning, main actor was supposed to be Toon Hiransap and the main actress was supposed to be Suriwan Suriyong but finally Isan actors were used! Panna Rittikrai's first movie เกิดมาลุย was not successful in Bangkok. Sieng Fong is a Hong Kong lawyer fleeing from Hong Kong to Thailand as he has got important papers showing the corruption of his boss. He takes refuge in uncle Kosi's home. Five ninjas are chasing him and storm uncle Kosi's home. Two young teens, seen later in Panna movies (Krissanapong Rachata and yyy), are getting an art martial training from Thong (Panna Rittikrai). Five masked men come to defy Thong and to check his skills. Thong defeats them and is hired by a Hong Kong policeman to find back Sieng Fong. Sieng Fong and uncle Kosi's daughter are gone to Nong Khai. Uncle Jaem helps Thong to find them. Multiple fights and motorbike chases are featured as ruffians try to block Thong. A final fight again the five ninjas shows many skills (sword fighting, martial art...) and ideas (action sequence replayed a second time with a different angle, action sequence shown at slower speed...) that were reused in other famous Panna's movies including Ong Bak and Tom Yam Goong. Panna's movies remain famous for their action scenes genuineness.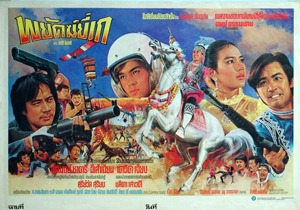 Year

: 1983



Thai title

:

พยัคฆ์ยี่เก




English title

: The Opera Hero



Rating

: 5/5


Director

: Kom Akadej



Main actor

: Sorapong Chatree,Sor Asanajinda,Manop Aussawathep,Pipop Pupinyo,Panna Rittikrai,Somsak Chaisongkram,Kom Akadej,Note Chernyim,Supakorn Srisawat,Chat Mongkolchai,Rith Luecha


Main actress

: Suriwan Suriyong,Piathip Kumwong
Thai movie พยัคฆ์ยี่เก was released in year 1983 and last 1h50mn. It was released under VHS format. A Hong Kong version, also released under VHS format, lasts 1h30mn. The movie is directed by Kom Akadej. Two Hong Kong actors are featured, i.e. David Chiang and Norman Chu. On the movie poster released in Hong Kong, they are of course shown preeminently. A Likay (Thai folk traditional theater) troupe led by teacher Pong (ครู) (Sor Asanajinda) performs in Sukhothai. The main Likay actor is played by Tuan Tong (Sorapong Chatree) and gets a lot of flowers offered especially by ladies including Piathip Kumwong, wife of the village leader (ผู้ใหญ่). It makes the village leader (Manop Aussawathep) to be very upset so he storms the Likay theater with his ruffians (Pipop Pupinyo, Panna Rittikrai and Somsak Chaisongkram) to fight with Tuan Tong as he cannot accept that his wife (แม่ตัวดี) spends money on a Likay handsome actor. Both end up at the police station but the police head (Kom Akadej) finally releases Tuan Tong as he did nothing wrong. Back to the Likay theater, Tuan Tong is beaten by ruffians. A local doctor, called Thongdee, always gives free health care to the Likay troupe. Chased again by the ruffians, Tuan Tong and Note Chernyim have to steal David Chiang's jeep to flee. David Chiang, Suriwan Suriyong and Supakorn Srisawat (ดี๋ ดอกมะดัน) are brothers and sisters. Getting back his jeep, David meets Chompoo, Tuan Tong's sister, (ชลิดา เสาวดี) so he even learns Likay skills as he is enamoured. Suriwan is expert in deltaplane. A jewellery money exchange turns badly between Manop and Sothon (โสธร รุ่งเรือง). Sothon is shot by Chat Mongkolchai but he succeeds to flee. He hides the jewellery inside the Likay theater. David is also looking for Sothon so it creates a misunderstanding between Tuan Tong and David. Sothon is killed by ruffians using a deltaplane shooting harpoons but they are still looking for the missed jewellery. They burnt the Likay theater as retaliation. Teacher Pong sells one diamond to rebuild the theater. He has hidden the real jewellery through the fake jewels used in Likay costumes. As Chat failed to capture Pong and is even shot by David, he is replaced by โดม สิงโมฬี. Ruffians storm the Likay theater again during a performance. Teacher Pong is shot by the ruffians with harpoons and killed. Chompoo is captured as she is wearing half of the real jewellery. The ruffians are led by Norman Chu, doctor Thongdee (ชาลี อินทรวิจิตร) and Rith Luecha. David and others Likay male actors (Note Chernyim...) are also captured. Tuan Tong and Suriwan storm the campment. Multiple fightings and shootings happen. Most of the protagonists die except Tuan Tong, Suriwan and his sister.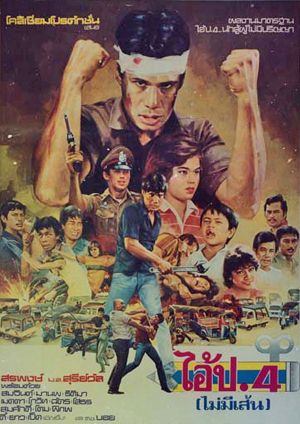 Year

: 1983



Thai title

:

ไอ้ ป.4 (ไม่มีเส้น)




English title

:



Rating

: 4/5


Director

:



Main actor

: Sorapong Chatree,Pipop Pupinyo,Kowit Wattanakul,Panna Rittikrai,Note Chernyim,Manop Aussawathep,Chat Mongkolchai,Somsak Chaisongkram


Main actress

: Suriwan Suriyong,Metta Roongrat,Sarinthip Siriwan,Thitima Sangkapitak
Leu (Sorapong Chatree) is a poor Tuk Tuk (สามล้อ) driver and has difficulties to find money to pay his son Tawan school fees. The headmaster (Sarinthip Siriwan) has limited understanding. One day fightings erupt with ruffians asking for protection fee to a Tuk Tuk driver. Leu and his friends (Panna Rittikrai, Note Chernyim) help. Leu hits violently Pipop Pupinyo. Yot (Manop Aussawathep) is head of ruffians. Kowit is a policeman but he cannot help that much. Wan (Thitima Sangkapitak) is owning a street restaurant, where Tuk Tuk drivers always eat. Tuk Tuk needs to pay a parking fee despite it is a public road. Leu is aggressed again while driving his Tuk Tuk so he is late at school to pick up his son. Teacher Panit (Suriwan Suriyong) sends his son back home. The teacher Panit complains on Leu not taking care enough of his son. Fighting erupts with ruffians looking for troubles with the teacher Panit but she has good fighting skills also. Panit is in fact the daughter of Yot. Ruffians fight again with the Tuk Tuk drivers as they refuse to pay extortion fee. They all end up in police station. Thanks to bad influence (อิทธิพล) of gangster Sia Boon Mak, ruffians are released first. The owner of Tuk Tuk cars pay finally for the release fee as the drivers are just renting the cars so they have no money. Leu is very late picking up his son so he meets the teacher again at his home. Sia Boon Mak (นักเลงใหญ่) forces Yot to work with him as he threatens his daughter. Brakes are damaged on Leu's Tuk Tuk as a warning. Tawan's mother, former teacher, died many years ago in a bus accident. Both Leu and Yot ended their studies at ป.4 level. Panit would like her father Yot to stop his dirty ways to do business (วิธีการสกปรก) by exploiting other poor people. Yot argues he had no choice as the society doesn't give a lot of opportunity to succeed for people ending their studies at low level (ป.4). Following his daughter pressure and wishing to change his life, he agrees to stop. Meanwhile Sia Boon Mak's ruffians cause Leu's Tuk Tuk to have an accident and his son dies. Leu promises to revenge and refuses to see Panit anymore. Panit proves him that her father is not involved in his son's death. Yot is now on Leu's side. Leu fails to kill Sia Boon Mak but injures him. As revenge Yot is shot and killed. Wan is kidnapped and killed by Sia Boon Mak. It is too much and Leu assisted by Panit and an army of Tuk Tuk drivers storm Sia Boon Mak's den. Police led by Kowit finally arrives. Leu doesn't perform self justice and lets police to arrest Sia Boon Mak. Justice will be performed but Leu has to lose his son for this justice to happen… Movie director is มนู วรรณายก. This movie was released in VHS format but never in VCD or DVD formats.
---
---