DOKDIN KANYAMAN
Increase or decrease font size for easier reading : A+ A-
Dokdin Kanyaman was the first Thai director whose films made over 1 million baht. He coined the popular phrase "It's a million!" (ล้านแล้วจ้า), whenever box-office takings hit the 1 million baht mark. At that time cinema tickets cost 7 baht. Dokdin played also a relief comic character in many Thai movies.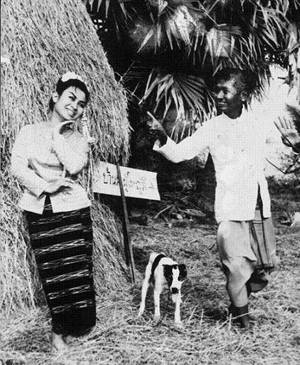 Dokdin Kanyaman was born in year 1924. He came from a poor family. He studied until ป.4 . He worked in a troupe

สวดคฤหัสถ์

for funerals, i.e. a troupe playing stories. He started to play at 11 years old.
In year 1932 Siam became Thailand. Business was not so good in funerals as Thailand had only 12M people so his troupe changed to comedy (ตลก). Dokdin played in ละครย่อย.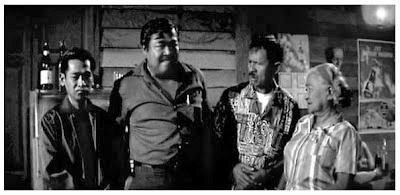 The first cinema opened in Thailand in year 1933 and was called Sala Chalermkrung. Dokdin had played in ละครเร่ (theater with songs). In year 1939 some jobs became forbidden to Chinese residents such as selling noodle soups (

ก๋วยเตี๋ยว

) so his family tried this business. During all those years Dokdin learnt the basis of the comedy, directing and songs.
During World War 2, no US movies arrived in Thailand due to embargo so stageplays (ละครเวที) were very popular and played in movies theaters. Some famous actors were Lortok (ล้อต๊อก), Sor Asanajinda (ส. อาสนจินดา), future movies actors and directors.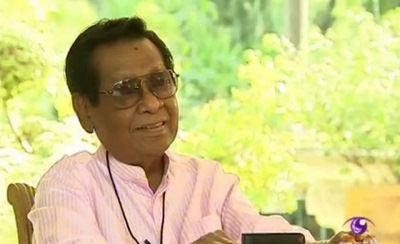 Stageplay remained popular eight years until cinema was back in 1949 with 16mm movies. It was easier to release immediately 16mm movies and initial investment was smaller than 35mm format movies.
Dokdin started to be involved in cinema industry. He first helped on dubbing (บทพากย์) then started to study scripts. Often changing stories in Lakorn Rae (ละคร) helped Dokdin to create stories for Thai cinema. Dokdin learnt script writing by checking scripts from US movies.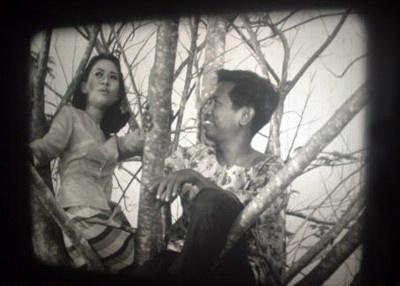 Dokdin had the vision to see stageplays to be replaced by cinema. His first 16mm comic movie was

"ขาวดำ"

with Lortok. Dokdin had to borrow to match the 40,000 baht budget but the movie was finally a success.
His third movie was a color movie called เจ้าสาวชาวไร่ (1954) mixing drama and comedy. His first movies were similar to stageplays (ละครเวที) put on screen.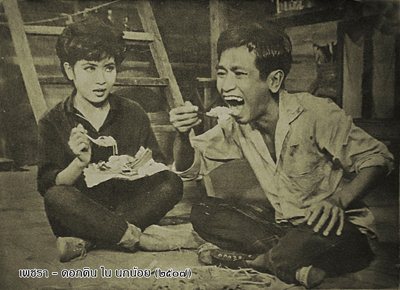 Dokdin was the one to give her name to Thai legendary actress Petchara Chaowarat (

เพชรา เชาวราษฏร์

). Dokdin then decided to do two movies, including

แพนน้อย

(1963), with Thai most popular actor Mitr Chaibancha (

มิตร

) as he was very good for action movies.
Dokdin then directed movie "ฝนแรก" (1963) with Thai actor Chaiya Suriyun (ไชยา) as he was very good for romantic movies. Petchara Chaowarat played in both movies. Dokdin was also friend with Charin Nantanakorn (คุณชรินทร์), who was a famous singer and compositer.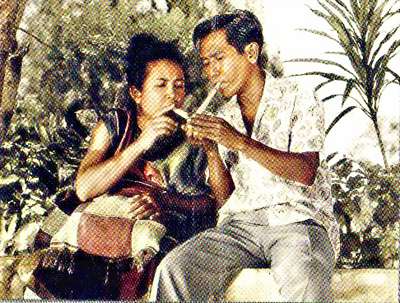 Dokdin decided to choose Mitr Chaibancha as main actor for his future movies as he was always on time for work on the opposite of Chaiya Suriyun who was often late.
Next movie was "นกน้อย" (1964) in which Dokdin got authorization to use a Royal song. Movie "นกน้อย" was a success reaching 1M baht (tickets were sold 10 baht). Dokdin then mentioned his famous sentence "It's a million!"(ล้านแล้วจ้า) for the first time!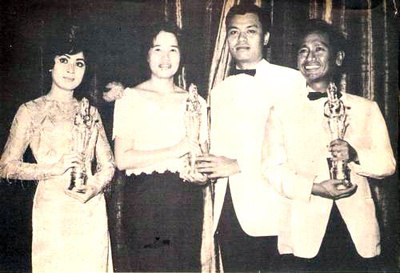 The movie was even projected inside the Royal palace. It was a great achievement for a former poor kid to be received by the Royal couple! The next movie on the queue

"ละอองดาว"

couldn't be projected as Dokdin's movie was so successful. Petchara and Dokdin got rewards for this movie.
Dokdin appreciated Mitr Chaibancha a lot as he was always at full capability (เต็มที่) when playing movies. Following the success of his movies, Dokdin only worked with Mitr and Petchara. Success was really together. In 1960s no movie was below two hours.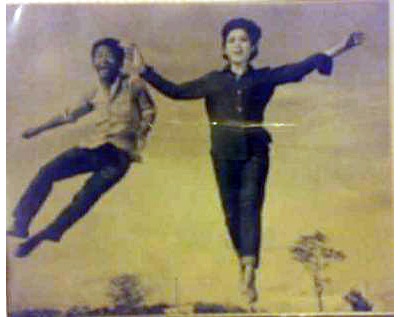 In year 2012, Dokdin Kanyaman was still looking for his movie

"นกน้อย"

and offering up to 20 000 baht per reel as it was "stolen". He said "

หนังขายยาเอาหนังนกน้อยของดอกดินเอาไป. ไม่ได้คืน. เก็บไหว้คนเดียว. คนประเทศต้องการดู. ใครช่วยได้ครับ?

".
Dokdin organised meetings with dubbers to get their feedback on his movies and the spectators' reaction. He wished to know their expectations and listened to them, read letters and took their comments into consideration. One story said he changed his main actor from Mitr Chaibancha to Sombat Methanee after reading letters from fans. Fans believed Mitr couldn't play an helicopter sequence in ไทยน้อย so it made Mitr very upset so he refused to play in Dokdin's next movie. He played an helicopter sequence in อินทรีทอง and it ended up tragically... Another story said that Mitr was upset with Dokdin for a wrong reason and so Mitr refused to play in Dokdin's new coming movie so Dokdin had no choice but to use Sombat as there were only two stars at that time. Some people say that big stars accepted all movies whatever the script in order to prevent the raise of new stars...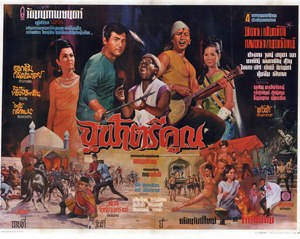 His movie Chula Tree Koon (

จุฬาตรีคูณ

) had a Songkran festival partly shot in Chiang Mai with real elephants.

จุฬาตรีคูณ

(1967) is the second movie featuring both stars Mitr Chaibancha and Sombat Methanee. Dokdin was always playing relief comic character and was always present on his movies posters.
Mitr Chaibancha asked 60 000 baht per movie. Movie จุฬาตรีคูณ was developed in Hong Kong. It was a 16mm format movie. When songs were featured, then the movie was shot in 35mm! Movie จุฬาตรีคูณ reaped more than 1M baht revenue and not includ ng revenue from songs! Chula tree koon (จุฬาตรีคูณ) still remains a famous song nowadays.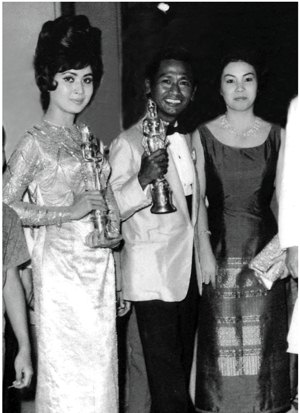 During 16mm period, dubbers (

พากย์

) were sometimes more important than actors. Famous sentences from Dokdin were

ล้านแล้วจ้า ล้านแล้วจ้า

and

กำลังฉายที่โรงหนังใกลบ้านท่าน

.
As Mitr Chaibancha died in year 1970 by falling from an helicopter during a movie scene, Dokdin then had to find another magic couple. It was Sombat Methanee and Petchara Chaowarat for his movies.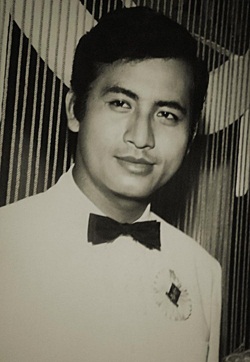 ลมเหนือ

(1969) was the last movie involving Mitr Chaibancha and Dokdin Kanyaman. Unfortunately in 1970 Mitr Chaibancha was too busy to work again with Dokdin and finally died before they could collaborate again. Mitr Chaibancha was the best to work with as he was always on time, easy going, no star caprice. The last years he was really too busy as all directors wanted him. He didn't rest properly. Dokdin's movies had a story and used properly actors.
As Mitr Chaibancha was too nice, he sometimes played in movies without real scenario and limited to shooting and action scenes. Mitr Chaibancha never said no to friends so finally never rested as he was always playing in many movies. For movie ไทยใหญ่ (1970) with Sombat Methanee, extra precaution was taken to avoid same tragic incident, which happened before with Mitr Chaibancha. As Mitr Chaibancha died, Dokdin used Sombat instead as his favorite main actor.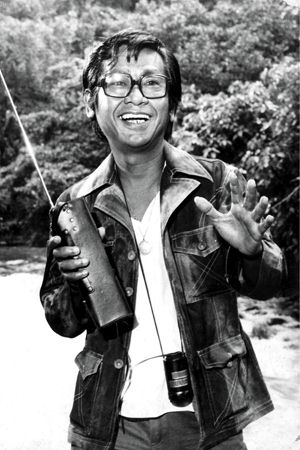 Movie

ไอ้ทุย

in 1971 was Dokdin's first 35mm movie. Movie

ไก่นา

in 1971 was Dokdin's last 16mm movie. Four copies only were done in order to be played all over Thailand. It still beat other Thai or foreign movies shot in 35mm.
Petchara remained his only actress during 1963 to 1973 for 18 movies as she was very capable. Mitr Chaibancha and Petchara Chaowarat only played in movies and never in TV series or never involved as full singers.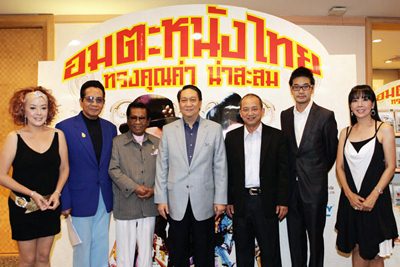 The most sad romantic movies from Dokdin were

นกน้อย

(1964) and

แสงเทียน

(1966).

สายฝน

(1973) was Dokdin's last movie with Petchara as she was also busy with her husband Charin Nantanakorn's movies. Some movies titles shot during 1970s decade include "Kung Nang" (

กุ้งนาง

) (1976), "Mam Jaa" (

แหม่มจ๋า

) (1975), "Sing Sum-oy" (

สิงห์สำออย

) (1977) and "Khon Kin Mia" (

คนกินเมีย

) (1974).
Petchara was getting older and less popular as she was married. Thai fan movies wanted a "fresh" new actress (นางเอกโสด).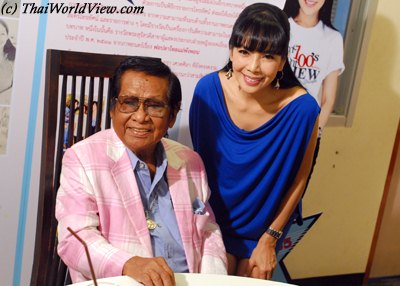 In movie

คนกินเมีย

(1974), actress Wandee Sritrang (

วันดี ศรีตรัง

) was used only a single time as she died in year 1975. Then the real replacement of Petchara was Mayura Thanabutr (

มยุรา ธนะบุตร

). With Mayura, Dokdin went from one movie a year to two movies a year.
With Mayura, sad movies could not be directed as she didn't how to cry (ทะลึ่ง). Other directors were famous in 1970s were คุณาวุฌิ and รังสี ทัศนพยัคฆ์.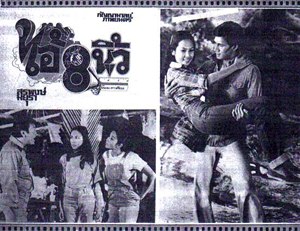 In year 1979 Dokdin changed his main actor from Sombat Methanee to Sorapong Chatree as Sombat was too busy being a movie director. Dokdin changed his main actress from Mayura to Naowarat Yooktanun because Mayura had a serious car accident.
Dokdin directed around 30 movies and had done 14 movies for others. He had even done a remake of his favorite movie (นกน้อย) with actor Sorapong Chatree.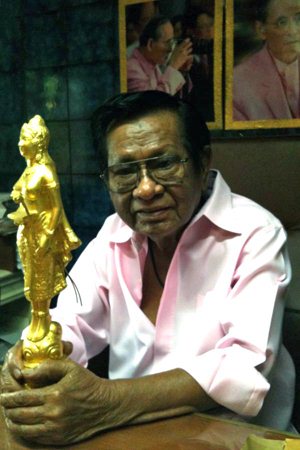 Due to serious heart problem, Dokdin Kanyaman had to stop directing movies in year 1983.
From the movie "Nok Noi" (นกน้อย) to his last movie, each of his 26 movies made at least 1M baht revenue!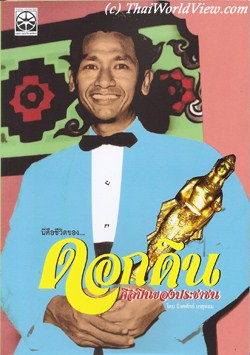 Thai Film Archives has released a book about Dokdin Kanyaman's life written by Engkasak Kethom.
Dokdin Kanyaman's movies remain famous as there are family movies mixing humor, romance and drama. Dokdin applied theater recipes (ละครเร) and mixed songs, comedy with drama to make good and popular movies.
---
Dokdin Kanyaman (1924) - ดอกดิน กัญญามาลย์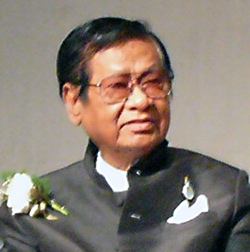 Dokdin Kanyaman has directed 33 movies. He was the first Thai director whose films made over 1 million baht. He coined the popular phrase "It's a million!" (ล้านแล้วจ้า), whenever box-office takings hit the 1 million baht mark. At that time cinema tickets cost 7 baht. Dokdin's film casts consist of a hero, a heroine, assistant heroes, assistant heroines, ruffians, sexy stars and comic relief characters. Dokdin played also a relief character in all his movies
This Dokdin Kanyaman movie page contains 21 records.
---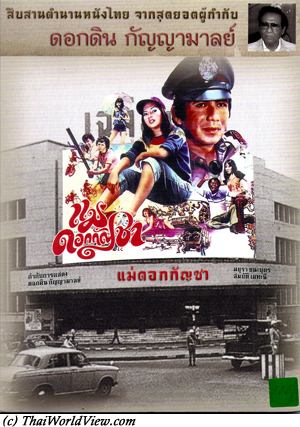 Year

: 1977



Thai title

:

แม่ดอกกัญชา




English title

:



Rating

: 4/5


Director

: Dokdin Kanyaman



Main actor

: Sombat Methanee,Dokdin Kanyaman,Choomporn Theppitak,Prachuap Ruekyamdee,Lak Apichat,Suriya Chinaphan


Main actress

: Mayura Thanabutr



Buy now

:

Yuak (Dokdin Kanyaman) is involved in a shooting with police. He is part of a drug gang selling cannabis (กัญชา) hidden in garlands sold by kids. Yuak is finally arrested and spends 6 years in jail. His release happens just during Songkran period. His relative has taken care of his now grown-up niece, Klong (Mayura Thanabutr) (เด็กสลัม). Local policeman warns Yuak (หม้าว้ด) to beware of any misconduct if he doesn't want to go to jail again. Klong's mother Kae Son has left and stopped sending money to her. The mother went to live with a ruffian called Rot (Choomporn Theppitak). He is a violent man stealing Klong's school fee. Rot is now involved in cannabis traffic also and has a new wife. While Yuak, Klong and Songthai (Suriya Chinaphan) are playing music, police arrests some drug traffickers nearby. Afraid of police, Yuak flees in front of inspector Pheung's (Sombat Methanee) despite being innocent. They are arrested and then released but Pheung gets scolded by Klong. Prachuap (Prachuap Ruekyamdee) is a doctor fighting drug usage. He is the father of one of Klong's best friend, Phanit. Pheung is Phanit's brother. Pheung's girlfriend, Chat, dislikes immediately Klong as she is having a famous family name (สกุล) which is improbable as being a poor girl from slum (สลัม). Klong and Yai have issues with Rot and it ends up at the police station but Rot flees before as he is involved in narcotics. Yai is severely sick. Klong has no money to cure her so one of her friends in the slum sacrifices herself with men to find the money. Following an advice from Yuak, it is discovered that Chaiyut (Lak Apichat), Chat's secret lover, is involved in drug trafficking with Rot. Following gunfight with Pheung, Rot is shot. Chatchai, Phanit's boyfriend, is also involved in the traffic. Songthai helps Phanit to flee from Chatchai. Phanit and her friends are addicted so a detoxification is needed with special herbs tea by Yuak. Prachuap hits Songthai believing he mistreated his daughter. It is a weird situation as despite having a father fighting against drug usage, a policeman brother fighting against traffickers, Phanit is still a drug addict. Prachuap finds that Klong is the lost granddaughter (หลาน) of a rich heiress. Romance starts between Klong and Pheung. The old lady caused Klong's parents to split up as she couldn't accept a poor maiden for her son. So knowing this, Klong leaves her being very angry. Pheung understands Klong's kindness versus Chat's selfishness. Meanwhile Chat organises the kidnapping of the old lady. Klong and Pheung help on different side to neutralize Chaiyut and his team. The old lady is freed. Ruffians are shot by Pheung. Happiness can resume in the family. Dokdin's movie แม่ดอกกัญชา is a high criticism of usage of cannabis in Thai society, either in poor neighborhood or either high society. Cannabis sinners are shown on a torn tree (Buddhist symbolism). Dokdin's movie highlights drug traffic, prostitution and drug taking in slums. As usual, Dokdin movie mixes comedy, romance and action.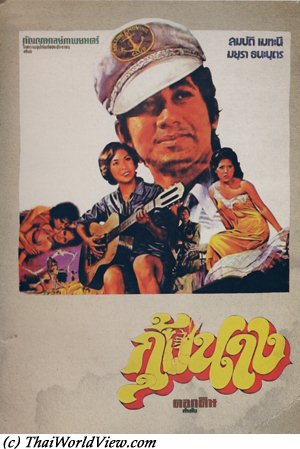 Year

: 1976



Thai title

:

กุ้งนาง




English title

:



Rating

: 3/5


Director

: Dokdin Kanyaman



Main actor

: Sombat Methanee,Dokdin Kanyaman,Prachuap Ruekyamdee,Sayan Chantaravi​boon,Choomporn Theppitak,Lak Apichat


Main actress

: Mayura Thanabutr



Buy now

:

Thai movie กุ้งนาง was released in year 1976 and lasts 2h22mn. It is directed by Dokdin Kanyaman. A group of people is stranded on remote island. Their boat is out of petrol. Doctor (หมอ) Niran (Sombat Methanee) is engaged with So but it is arranged by parents so there is no real love between them. His friends include Wetit (Sayan Chantaraviboon) and Cheut (Choomporn Theppitak). They get help from young lad (น้องชาย) Kung (Mayura Thanabutr) seen as กะเทยใจดี. On (Dokdin Kanyaman) helps reluctantly. ตา Prachuap Ruekyamdee is very upset that they helped strangers. Kung is 17 years old and has never quit the island. To avoid similar issue as the mother dumped by a man 17 years ago, Prachuap tries to avoid any contact between Kung and external world so he even lies to her about her sexe genre. Dao, a widowed lady, asks help from doctor Niran as the clinic, launched by her former husband, is not doing well. Niran hesitates as he works for public hospital only. Cheut organises a plan so that Dao and Niran can be together alone. He organises a beach party where Niran drinks a lot. Dao and Niran become lovers. Niran accepts to work for Dao's clinic. Man (Lak Apichat) and another ruffian threaten Prachuap regarding sales of coconuts. Prachuap refuses to sell to them as he has already a contract with another company. Prachuap gets sick and ends up in hospital. Doctor Niran takes good care of him to thanks him and Kung to have helped him before. Kung stays in Niran's house to be close to the grandfather. Kung realizes that On and the grandfather lie to her regarding the differences between a boy and a girl. She realizes that she is a girl! Meanwhile Dao starts to be more and more demanding and very jealous. Niran is upset as Dao thinks about money only and is not generous with patients. Niran brings Kung to a brothel to teach him boy's life (ครู). Niran treats Kung as a male mate so many hilarious sequences occur. Prachuap goes back to his island with Kung. Niran follows them a few days later to announce to Kung that Prachuap has a final stage cancer. Meanwhile Man and his ruffians kidnap Kung. On is also captured. Finally Kung is released by the ruffians as he accepted to marry the ruffians' leader sister, who is pregnant. Niran is back with Dao and Kung has to take care of the pregnant lady. Always looking for easy money, Dao is now involved in illegal business with Cheut. Diamond exchange fails as police intervenes. Dao flees but a ruffian chases her. As same time, Kung brings the pregnant lady to doctor Niran for baby delivery. Dao is shot dead by the ruffian. Kung is injured but succeeds to shoot the ruffian. Finally Kung confesses to Niran that she is a girl. Niran knows it since a long time! Romance can finally happen between them.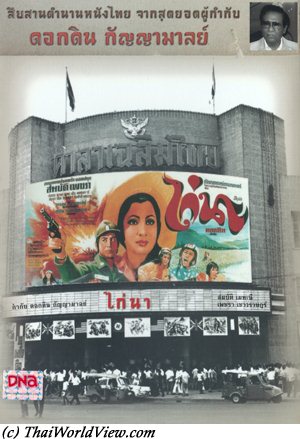 Year

: 1971



Thai title

:

ไก่นา




English title

:



Rating

: 3/5


Director

: Dokdin Kanyaman



Main actor

: Sombat Methanee,Sawin Sawangrat,Prachuap Ruekyamdee,Choomporn Theppitak,Dokdin Kanyaman


Main actress

: Petchara Chaowarat,Orasa Isarangkul,Juree Osiri,Khomapat Attaya,Chadaporn Wachirapranee
Thai movie ไก่นา was released in year 1971 and lasts 2h15mn. The movie was released under DVD format by company Happy Home Entertainment. The DVD features a red picture as the film found was very old. The movie is directed by Dokdin Kanyaman. Jae (Dokdin Kanyaman) and Kai Na (Petchara Chaowarat) sell goods but have issues with policeman Tawan (Sombat Methanee) currently chasing ruffians. Kai Na is a former nurse. She helps an injured man called Chat (Sawin Sawangrat), who claims he was chased by ruffians. After recovery, he flees away and leaves a letter behind. Kai Na brings the letter to the recipient in Bangkok. She meets Mae Nuan (Juree Osiri) and her domestic helper Orasa Isarangkul. The husband Prachuap Ruekyamdee wishes to know where Chat is located now. Prachuap is Chat's old friend. Mae Praem has 20 000 baht debt with Chadaporn Wachirapranee. Her daughter Pan is played by Khomapat Attaya and her bodyguard is Choomporn Theppitak. Prachuap helps Mae Praem with her debt. Prachuap wishes Kai Na to marry his son per Chat's request. Prachupap's son is Tawan! Kai Na accepts as she feels indebted to Prachuap's kindness. As Tawan refuses to marry an unknown lady, he convinces his brother Teewa (จีระศักดิ์ ปิ่นสุวรรณ) to marry her. He secretly loves Kai Na. During the wedding ceremony, Tawan realises that the bride is Kai Na herself! He keeps drinking alcohol to forget his mistake. Teewa was promised to Pan already so her family brings a mess during the wedding party. Pan is already pregnant with Teewa. Teewa announces the news to Kai Na and cancels the wedding. Tawan meets finally Chat, who had been chased by weapons traffickers. Tawan has to go at the Thai border in the North of Thailand. Government official announced that Tawan has disappeared in the forest. To forget her pain, Kai Na and others decide to go helping hill tribes. They give medicine, food and also King / Queen images to them. Teewa is hiding in the mountains as a hill tribe villager as he is chasing some weapons traffickers. Two small parts of the movie are in damaged state and are in fact former songs filmed in 35mm format. In 1960s, movies were shot in 16mm format and had to be dubbed. Songs were shot in 35mm format to have image and sound together. The original movie included 7 songs but only 2 are left. The traffickers storm the hospital where Kai Na is working. The movie ends up happily as Tawan defeats the ruffians. Choomporn is shot. While being in the mountain, Tawan got another wife (a sexy actress - ดาวยั่ว - as usual in Dokdin's movies). Other actors and actresses are พงษ์ลดา พิมลพรรณ, ธัญญา ธัญญรักษ์, สิงห์ มิลินทราศัย, ดลนภา โสภี. Dokdin Kanyaman's movies always include many different tastes (action, romance, comic, a bit of light erotism) in order to please the whole family.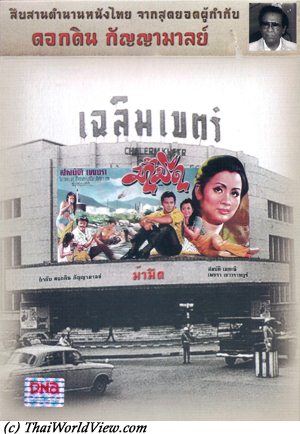 Year

: 1970



Thai title

:

ม้ามืด




English title

:



Rating

: 3/5


Director

: Dokdin Kanyaman



Main actor

: Sombat Methanee,Sawin Sawangrat,Prachuap Ruekyamdee,Choomporn Theppitak,Dokdin Kanyaman,Lor Tok


Main actress

: Petchara Chaowarat,Orasa Isarangkul,Wilaiwan Watthanaphanit,Juree Osiri,Khomapat Attaya,Chadaporn Wachirapranee
Thai movie ม้ามืด was released in year 1970. The movie lasts 2h35mn. It is former 16mm format film featuring three songs in 35mm format. Robbers (โจร) are chasing a caravan driven by Kaew (Sawin Sawangrat). Kaew lets a lady called Raya (Wilaiwan Watthanaphanit) to go down first with two young children. Sawin and Raya's husband die later as the caravan falls in a ravine causing a forest fire. During the fire, one of the children disappears (หลานสาว). Sai (Juree Osiri), the husband's mother, accuses Raya to be responsible of those deaths. Prachuap Ruekyamdee, one of the villagers, finally takes care of Raya and her remaining son. Years have passed. The son Chaichan is now an adult and played by Sombat Methanee. He is back from overseas and is supposed to marry but the fiancee Taem Duang changes her mind. He needs to find a solution to avoid his parents losing face (ขายหน้า) in front of the villagers. He helps Meut, a young girl, agressed by ruffians. As a reward for his help, he asks to marry her temporary. The district officer performing the wedding is played by Lor Tok. Keng (Orasa Isarangkul) is Meut (Petchara Chaowarat)'s friend. After the wedding, Meut flees with Keng. In a village, they meet a crazy man who looks like Kaew. They meet also Dokdin Kanyaman. In fact, Meut and Keng have come here to look for petrol. Meanwhile Taem Duang (Khomapat Attaya) and her mother Rasee (Chadaporn Wachirapranee) are gossiping (นินทา) on Chaichan as they believe he was a fake rich guy from countryside. Meut was in fact adopted by Rasee's old husband. Meut wishes to buy a plot of land belonging to Prachuap as it contains petrol. Once Prachuap knows Meut has married his son through a fake wedding, he refuses to sell the land anymore (เขตป่าไม้). Choomporn Theppitak is used by Rasee to perform dirty jobs. Knowing that Meut failed to buy the land, Rasee wants to use her daughter's charms towards Chaichan. Meut recalls from an old grandma that she was brought by her to a rich family when she was young. Chaichan try to stop ruffians led by Choomporn burning the forest (ไฟไม้ป่า). Kaew helps him but gets beaten on the head. His memory is back. Prachuap revels that Kaew is real father of Chaichan, his former associate. Father and son are back together. Bua, a local villager, is pushed by Choomporn and Rasee as granddaughter in order to get heritage but it fails. Finally Rasee, who ordered kidnapping of Meut, shows her real face and tries to force her older husband to transfer heritage to her. Meut and Chaichan stop her on time. It is revealed that Meut is Raya's lost daughter. Meut and Chaichan can now find happiness.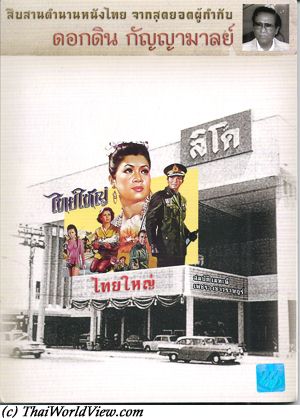 Year

: 1970



Thai title

:

ไทยใหญ่




English title

:



Rating

: 3/5


Director

: Dokdin Kanyaman



Main actor

: Sombat Methanee,Man Teeraphol,Dokdin Kanyaman,Choomporn Theppitak,Sawin Sawangrat,Adul Dulyarat


Main actress

: Petchara Chaowarat,Metta Roongrat,Chadaporn Wachirapranee,Jomchai Jarintorn



Buy now

:

Tanoi (Sombat Methanee) is a prince (ฟ้าชาย) living in a small kingdom at the Thai border. Some insurgents try to kill him. It is a putsch handled by Saenfa (Man Teeraphol). Tanoi has to flee by helicopter. Metta (Metta Roongrat), Koi (Petchara Chaowarat) and Tua (Dokdin Kanyaman) are three friends always together. As usual Metta and Dokdin are playing supporting roles (ตัวประกอบ) so bringing additional fun. The helicopter crashes but Tanoi has time to escape. Tua catches him in his fish net. Tanoi, despite being mistaken as a thief, finally becomes friend with Koi, Tua and Metta. A romance starts between Koi and Tanoi. Tanoi doesn't disclose his royal origin and is happy to stay in remote village (บ้านป้า). Yanee (Jomchai Jarintorn) through Choomporn (Choomporn Theppitak) wishes to buy Koi's land. Fond of Tanoi, she wishes to hire him but he refuses. Tanoi finally succeeds to contact his army thanks to the radio left in the helicopter. Choomporn is hired by Saenfa's team to catch Tanoi. The village becomes too dangerous for Tanoi so he leaves for Bangkok. Yanee and Koi have different mothers but same father, ie Sawin (Sawin Sawangrat). Yanee expulses Koi from her land. Koi, Tua and Metta go to Bangkok to live in the father's house but they are chased away by Chadaporn Wachirapranee. Aran (Adul Dulyarat) is protecting Tanoi. Per his advice, Tanoi has to wear a moustache and ignore his old friends to avoid any risk being identified by Saenfa. Koi, Tua and Metta identify him in a restaurant terrace but are disappointed when Tanoi claims he doesn't know them. Koi and his friends are sheltered by a nice lady, who in fact Tanoi's mother! Sawin makes alliance with Saenfa. Tanoi shall be captured or killed. During a dinner between Tanoi and Aran, Koi and his friends disguise to know more about Tanoi. Ruffians try to kill him. Yanee just puts sleeping medicine instead of poison as she loves secretly Tanoi. So Koi and his friends can rescue Tanoi on time. Yukol, Tanoi's younger brother, also loves Koi. In Mae Sai, Pa discloses to Koi that Tanoi is her son. Meanwhile Tanoi tries to regain power. Sawin is killed. Despite strong resistance, Saenfa's soldiers are defeated. Finally Tanoi marries Koi after a last minute suspense and misunderstanding as she believes she is not high ranking enough for a prince. The DVD is based on different sets of movie reels. The 16mm part is in very good condition and is still colorful. The movie features a few songs recorded in 35mm format but the damaged image is in red color only. But it is still original songs despite some cracking in the sound. Two movies were released by Dokdin Kanyaman, ie ไทยใหญ่ in 1970 and ไทยน้อย in 1969. For movie ไทยใหญ่ featuring Sombat Methanee hanging to a rope attached to a helicopter, extra precaution were taken to avoid same tragic accident as Mitr Chaibancha. As Mitr Chaibancha died, director Dokdin Kanyaman started to use Sombat Methanee as main favorite actor.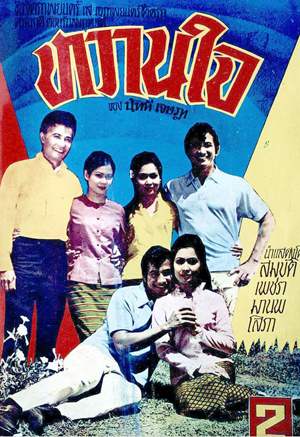 Year

: 1970



Thai title

:

หวานใจ




English title

:



Rating

: 3/5


Director

: Sor Asanajinda



Main actor

: Sombat Methanee,Manop Aussawathep,Charin Nantanakorn,Dokdin Kanyaman,Pramin Jarujareet


Main actress

: Petchara Chaowarat,Sopha Sataporn,Metta Roongrat,Sulaleewan Suwanthat,Namgneun Boonnak
Thai movie หวานใจ was released in year 1970. Sombat Methanee and Manop Aussawathep are playing the main actors. Petchara Chaowarat and Sopha Sataporn are playing the main actresses. Manop Aussawathep is playing one of his first roles. The movie is lost in Thailand but a 2mn30s trailer remains to be seen. Other actors are Charin Nantanakorn, Dokdin Kanyaman, Metta Roongrat, Pramin Jarujareet, Sulaleewan Suwanthat, Namgneun Boonnak, เทิด. Movie director is Sor Asanajinda. A movie summary extracted from Thai stars magazines is still available to be read. Five songs are featured in the movie. Three ladies (Sopha, Petchara, Metta) seem to love Sombat. As usual with 1960s and early 1970s movies, there is a mix of multiple tastes (หนังครบรส) in Thai movies, i.e. romance, action, comedy. Manop gets beaten by ruffians.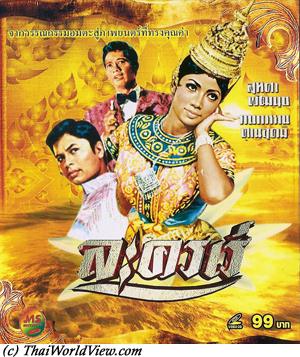 Year

: 1969



Thai title

:

ละครเร่




English title

:



Rating

: 5/5


Director

: Prince Bhanu Yukol



Main actor

: Manop Aussawathep,Dokdin Kanyaman,Charin Nantanakorn,Sompong Phonmitr


Main actress

: Suthisa Putnuch
A local troop plays traditional theater (เล่นละคร) in front of a pleased audience. The actors sing and dance well (รำดีดี). Middle age women give flower garlands (ดอกมาลัย) to the handsome main actor. Manager (ผู้จัดการ) Thongdam supervises the troop. Thongdam is fond of a young dancer called Maram but the love is not reciprocal. An old master is always teaching constantly the dancers and singers to look for perfection. Before representations actors pay respect to their master and spirits (ไหว้ครู). The two leading actors are handsome actor Boon Ek (พระเอก) and young lady Kathin (นางเอก). A high society young woman from Bangkok, called Waew, likes the handsome actor (เสียงดี - รูปหล่อ). She has a fiance called Prachalin already. Waew's father wishes to take Boon Ek to Bangkok to become a famous singer in nightclubs. Boon Ek refuses as he cannot leave his master but he falls under Waew's charm (ถูกเสน่ห์). It is the opposite of standard scenario as this time the rich lady seduces the poor man. The troop (โรงละคร) always moves from one temple to another. Beautiful representations with colorful costumes are shown. Manora (โนราห์) dance is like a bird dance. Waew brings Boon Ek to old style nightclub with singers and couples dancing. There is an opposition between traditional arts and modern songs, between Lakorn (ละคร) actors and Bangkok singers. A few beautiful 1960s romantic songs are featured in this two hours movie. Following a trip to Bangkok Boon Ek comes back drunk. He never missed a performance. His performance is a disaster (คนอะไร!) as he is too drunk. He has big hope (มีหวัง) for a career (ดารานักร้อง) in Bangkok and wishes for good money. Katin gives back to him her fiancee ring. The old master is very sick. Almost no spectators are paying to view the theather performances since Boon Ek left. The troop is out of cash. Vaew's heart balances between two men, her fiance and Boon Ek. The old teacher will not ask Boon Ek to come back (ยอมตายดีกว่า). Waew's fiancee, Prachalin, is a former singer and compositor. He prefers to lose Waew than a good singer! Thongdam is selling his own gold jewelry to simulate customers renting the troop. He even takes a life insurance (ประกันชีวิต) as he knows he is very sick. Waew doesn't love Boon Ek as he is a countryside guy. She is just having fun. Thongdam dies. He legates his money to the troop. To thank him, Malam decides to learn to dance to try to replace Boon Ek. Boon Ek is now a TV star (ดารา tv) and comes back to his province for singing. He declares his love again to Kathin through a song while she is the audience. She leaves the concert crying. He comes back during a lakorn representation and promises not to leave again. The Bangkok buzz is not for him. This is veteran actor Manop Aussawathep's first movie. It has a few similitudes with Cherd Songsri's movie Nora (โนห์รา) regarding traditional arts protection and conservation. It still features a very nice color picture for a 40 years old Thai movie. This movie was directed by the General Major His Royal Highness Prince Bhanu Yukol, a pioneering Thai filmmaker. He is the uncle of famous director Prince ChatriChalerm Yukol.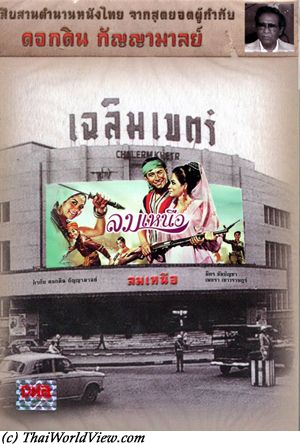 Year

: 1969



Thai title

:

ลมเหนือ




English title

:



Rating

: 3/5


Director

: Dokdin Kanyaman



Main actor

: Mitr Chaibancha,Dokdin Kanyaman,Adul Dulyarat,Man Teeraphol


Main actress

: Petchara Chaowarat,Metta Roongrat,Chadaporn Wachirapranee
Kata (Mitr Chaibancha) is a former policeman inspector (สารวัตร). He is always accompanied by his close friend O - โอ (Dokdin Kanyaman). A new job in Chiang Mai area is proposed to Kata by Sathorn (Adul Dulyarat). They have to travel up to Salween river and reach a remote small kingdom with an ethnicity called Pu Luang (ชาวปูลวง). Kata meets Liboo (Metta Roongrat) on the way. Kata is recruited as military instructor (ฝึก). Soldiers are women (ทหารหญิง). This small kingdom is between Thailand and Burma. Nonsa (Petchara Chaowarat) is the leader of the kingdom as her father is deeply sick since three years. Her step sister (ลูกบุญธรรม) called Yanee (Chadaporn Wachirapranee) is looking to take power (ผู้ร้าย). Tapo and Kata are competitors for Nonsa's heart. A duel between Tapo and Kata ends with Kata's victory. Jealous of Kata's love over Nonsa, Liboo tries to hurt Nonsa. O takes the blame of this. Tapo (Man Teeraphol) is also a traitor and tries to convince Liboo to join them (ชาวผู้ร้าย). Kata and O are also captured but succeed to flee thanks to Liboo. Gun fights happen between the two groups. Yanee and Nonsa injure each other. Kata brings Nonsa to a Chiang Mai hospital. Taking advantage that Nonsa is not here, Yanee's army tries to attack Pu Luang base but they are pushed back thanks to Sawin, Nonsa's brother, and Liboo. Nonsa is recovering from her arm injury with Kata but rushes back to her kingdom when learning the bad news. Tapo shoots Liboo in the back. Pu Luang base is finally defeated. Nonsa and Kata succeed to wake up the father as he was sleeping since three years. Nonsa finally shoots deadly Yanee. Kata is discovered to be a spy but he refuses to disclose for who. Facing the firing squad, he only says to Nonsa that he loves her (ผมรักคุณ). Finally he is forgiven as love is reciprocate. Kata is working for Thai government. He needs to go back to Thailand. Will he choose between love or duty? Nonsa asks him to choose duty (นาที) first. Finally Sawin takes the responsibility of Pu Luang kingdom in order to let his sister leave with Kata. This movie directed by Dokdin Kanyaman is part of Happy Home new DVD releases. There is a mix of action, romance and comedy with Dokdin Kanyaman as relief character. ลมเหนือ (1969) is a 2h23mn movie but the original version should be longer as some parts are missing. Dokdin Kanyaman is called 'black' (ดำ) due to his skin complexion! The first actor to wear a machine gun with ammunitions on the arm was not Silvester Stallone but Mitr Chaibancha!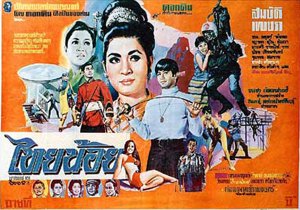 Year

: 1969



Thai title

:

ไทยน้อย




English title

:



Rating

: 3/5


Director

: Dokdin Kanyaman



Main actor

: Sombat Methanee,Dokdin Kanyaman,Sawin Sawangrat,Chana Sriubon


Main actress

: Petchara Chaowarat,Orasa Isarangkul,Chadaporn Wachirapranee
ไทยน้อย is a Thai movie directed by Dokdin Kanyaman and released in year 1969. A 4mn30 mute trailer, shot in 16mm format, is still remaining. Another sequence of 3mn30 can be found on internet also. So parts of the original movie seem to be still available. Sombat Methanee and Petchara Chaowarat are the main actors in this movie. Dokdin Kanyaman and Orasa Isarangkul are playing supporting roles (ตัวประกอบ) so bringing additional fun. As usual, Dokdin's movie features songs and beautiful ladies (Chadaporn Wachirapranee and a veteran sexy actress mixed Thai and foreigner - ลูกครึ่ง). A bit of action is present with a few fist fights involving Sombat Methanee. Sombat and Chana Sriubon also cross swords. Movie ไทยน้อย (Thai Noi) was released in 1969 and movie ไทยใหญ่ (Thai Jai) was released in 1970. Sombat and Petchara are wearing prince / princess clothes in both movies. Despite information is lacking on movie ไทยน้อย (Thai Noi), it is guessed that both movies ไทยน้อย (Thai Noi) and ไทยใหญ่ (Thai Jai) are linked together. Thanks to her unique sweet eyes and face, Thai people loved actress Petchara Chaowarat so much. She got nickname as นางเอกนัยน์ตาหยาดน้ำผึ้ง (honey eyes) or เพชรน้ำหนึ่งราชินีจอเงิน. The other 3mn30s sequence is still colorful and quite sharp. Petchara is selling fruits in a train station and sells to customers in the train when it halts temporary in the station. Petchara plays two roles in the movie. Orasa kidnaps the fruit vendor for Petchara to replace her. Certainly she is chased by some ruffians. Dokdin is selling also fruits in the train station and finds that her behavior has changed. On the way to be recognized by a ruffian, Petchara forcibly feeds Sombat with fruits to create diversion.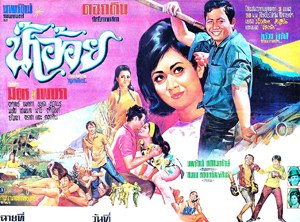 Year

: 1968



Thai title

:

น้ำอ้อย




English title

:



Rating

: 3/5


Director

: Dokdin Kanyaman



Main actor

: Mitr Chaibancha,Dokdin Kanyaman,Adul Dulyarat,Sawin Sawangrat


Main actress

: Petchara Chaowarat,Boosara Narumit,Chadaporn Wachirapranee,Metta Roongrat,Manee Maneewan
Thai movie น้ำอ้อย was released in year 1968. It features Mitr Chaibancha as main actor and Petchara Chaowarat as main actress. The movie is lost in Thailand but a sequences of 3 minutes remains left to be seen. The sequence left is showing Mitr and Petchara through 2 songs in 35mm format. Main other actors and actresses are Dokdin Kanyaman, Adul Dulyarat, Boosara Narumit, Chadaporn Wachirapranee, Metta Roongrat, Sawin Sawangrat. Director is Dokdin Kanyaman. Two movies cameras were used for such movies, i.e. one in 16mm format requiring later live dubbing (no sound is recorded in 16mm format) and one in 35mm format to record the songs.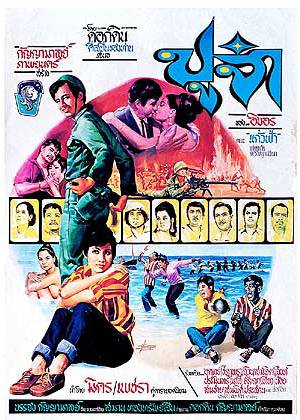 Year

: 1967



Thai title

:

ปูจ๋า




English title

:



Rating

: 3/5


Director

: Dokdin Kanyaman



Main actor

: Mitr Chaibancha,Adul Dulyarat,Prachuap Ruekyamdee,Sawin Sawangrat,Dokdin Kanyaman


Main actress

: Petchara Chaowarat,Chadaporn Wachirapranee,Orasa Isarangkul,Malee Wetpraseri,Somjit Sapsamruey
ปูจ๋า or Pu Ja is a 1967 Thai movie directed by Dokdin Kanyaman. 47 minutes only are left. Normally Thai 16mm movies from decade 1960s used to be made of 4 to 5 reels. One reel lasts around 40 minutes. There is no sound available for this movie as 16mm movies are always dubbed. So understanding the whole movie is quite difficult. Petchara Chaowarat (ปู) is a young lady. Her close friends are Dokdin Kanyaman and Orasa Isarangkul. Sawin Sawangrat, Petchara's father, is a fisherman. Petchara and Dokdin are caught in a military exercise including a beach landing. They meet Mitr Chaibancha, who is an officer. Petchara and Mitr appreciate each other. Mitr rescues a young lady who is about to be drowned. Later on Mitr and his friend Adul mingle (จู๋จี๋) with those two ladies (Chadaporn Wachirapranee and another veteran actress). Petchara, aware of this, is disappointed by Mitr. Petchara's blind grandmother is played by veteran actress Malee Wetpraseri. It is Petchara's birthday. Adul changes the content of a gift offered by Mitr. It is a trick to spoil love between Mitr and Petchara as it starts to emerge. He then offers a proper gift to Petchara. Sawin prevents both of them to fight and asks Petchara to go back home. It seems that Chadaporn is unhappy with Sawin and asks him to push Petchara away from Mitr. Following a fishing trip, Sawin falls in the sea during a storm. Petchara and Dokdin need to find a job and then work as coolie in a construction site. Police officer Adul looks for them as it is found that Petchara is a descendant of a rich family. Sawin isn't dead. it seems he will cause issue to Petchara but love with Mitr will of course succeed. In this 1967 period, Petchara Chaowarat had short haircut. As usual with Dokdin Kanyaman's movies, there is humour, action, romance and good feelings (happy ending).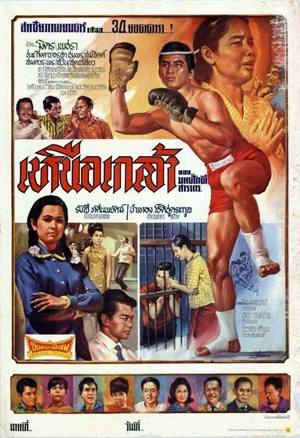 Year

: 1967



Thai title

:

เหนือเกล้า




English title

:



Rating

: 3/5


Director

:



Main actor

: Mitr Chaibancha,Chana Sriubon,Choomporn Theppitak,Somkuan Krajangsat,Lor Tok,Sukon Koewliam,Sompong Phonmitr,Adinan Singhiran,Dokdin Kanyaman,Preuhat Boonlong,Op Boonthit


Main actress

: Petchara Chaowarat,Somjit Sapsamruey,Kingdao Daranee,Orasa Isarangkul
Thai movie เหนือเกล้า was released in year 1967. It is in mute mode as the film is in 16mm format so requesting live dubbing. 1h33mn is left to be seen. It still has a colorful image but the film is partially damaged. Somjit (Somjit Sapsamruey) is working as food street vendor (แม่ค้า). Her husband (Somkuan Krajangsat) is often drunk and violent. They have three kids. They have always financial problems as the father drinks a lot. Years have passed and children have grown up. One of them is Mitr Chaibancha. The others are Chana Sriubon and Choomporn Theppitak. Sompong Phonmitr is head of Thai boxing training centre. Lor Tok is his assistant. One day as the drunkard father asks for money, he becomes violent again and Somjit has to protect herself with scissors. Through an accident, the father receives a fatal injury. Somjit ends up in jail. Mitr, Sompong and Lor Tok leave and look for job to find money to pay for Somjit's bail. Mitr is recruited as Thai boxer. A first match versus Adinan Singhiran happens. Petchara Chaowarat and Dokdin Kanyaman are part of spectators. Mitr finally wins the match despite being told to lose it as he needs money to help his mother. As the match maker refuses to pay, it ends up in another fighting. Preuhat Boonlong decides to hire the three men to working in an outdoor mine. They got troubles with two men in the mine. Fed up the three friends wish to quit the job but Preuhat Boonlong convinces them to stay. The mine is attacked. Mitr pushes back the aggressors but is injured so getting the sympathy from Petchara. The mother is finally released from prison. Kingdao recruits her as domestic helper. Her boyfriend is Choomporn. Finally the mother is also reunited with Mitr. Another attack happens on the mine and Mitr is accused of murder. It ends up to trial. Scolded by his mother, Chana finally gives information that Mitr is not guilty. Ruffians wishing to take revenge on Chana and try to shoot him. The mother interposes herself and gets shot. Mitr and his brothers catch the ruffians. Movie ends up with everybody around the mother's bed at hospital. 34 stars are announced on the movie poster!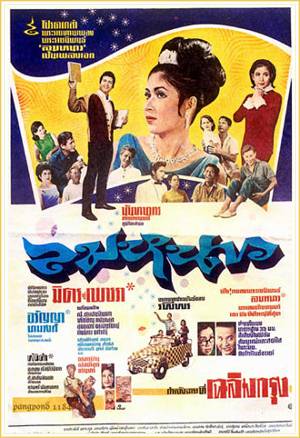 Year

: 1966



Thai title

:

ลมหนาว




English title

:



Rating

: 3/5


Director

: Phan Kam



Main actor

: Mitr Chaibancha,Sor Asanajinda,Taksin Jampol,Adul Dulyarat,Dokdin Kanyaman,Lor Tok,Charin Nantanakorn,Anucha Ratanaman


Main actress

: Petchara Chaowarat,Aranya Namwong,Preeya Roongrueng,Kingdao Daranee,Sarinthip Siriwan
Lom Nao - ลมหนาว (1966) is a lost movie. Only the poster and the movie song are left. Luckily there are still 13 minutes 'behind the scene' sequences in black and white to be seen. Movie director is Phan Kam. It is a movie in which many famous Thai actors and actresses played, i.e. Mitr Chaibancha, Petchara Chaowarat, Aranya Namwong, Sor Asanajinda, Taksin Jampol, Adul Dulyarat, Dokdin Kanyaman, Lor Tok, Preeya Roongrueng, Kingdao Daranee. It was Aranya Namwong's first movie. She was just awarded during a recent Miss Thailand beauty contest. An orchestra was used for the movie theme sung by Aranya Namwong. 16mm movies used a single camera for the shooting. Various sequences can be seen, i.e. Charin and Lor Tok helping Mitr Chaibancha and Taksin Jampol engaged in a fight with ruffians. Another sequence is involving Petchara Chaowarat wearing a beautiful dress and featuring the movie theme song. It is the dress that can be seen on the movie poster. A sequence of Charin and Aranya Namwong can be seen. Those sequences were recorded in 35mm format so that the original song was together with the movie reel. Other sequences are recorded in 16mm format so requesting a live dubbing. Other sequences feature Mitr Chaibancha and Petchara Chaowarat together on a small boat. A funny sequence with Dokdin Kanyaman singing can also be seen. Worth to notice that in real life Mitr Chaibancha and Kingdao Daranee were married. Petchara Chaowarat and Charin Nantanakorn married later in year 1975.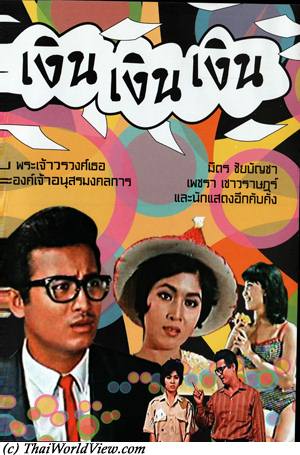 Year

: 1965



Thai title

:

เงิน เงิน เงิน




English title

: Money Money Money



Rating

: 5/5


Director

: Prince Anusorn Mongkolkarn



Main actor

: Mitr Chaibancha,Charin Nantanakorn,Lor Tok,Sukon Koewliam,Adul Dulyarat,Sawin Sawangrat,Daonoi Duangjai,Dokdin Kanyaman,Man Teeraphol,Ruj Ronnapop,Thuam Thoranong,Banglae


Main actress

: Petchara Chaowarat,Wilaiwan Watthanaphanit,Orasa Isarangkul,Chadaporn Wachirapranee,Mom Chan Phuangwan,Chosri Misommon,Sulaleewan Suwanthat



Buy now

:

The movie starts by a small introduction highlighting that everybody fights for money (เงิน เงิน เงิน). This introduction features many actors or actresses with cameo role such as Daonoi Duangjai, Dokdin Kanyaman, Man Teeraphol, Chadaporn Wachirapranee. Tu (Mitr Chaibancha) comes back to Thailand after overseas studies in USA. Tum (สุมาลี ทองหล่อ) is his sister. They are orphans. Their uncle Hirun is a creditor. Mom (Mom Chan Phuangwan) is Hirun's assistant. For Hirun, money is work and work is money. He has no feelings for his customers personal problems. Tu's uncle wants him to take over his duty but Tu doesn't like such job bringing suffering to people (สงสาร) so that is why he has done artistic studies as it can bring happiness to people. He meets Kingkaew (Petchara Chaowarat), a vagabond. Wishing to help poor people and teased by Kingkaew, he proposes to bring the A-ram boys band (เด็กวัด) in Bangkok to play music in a nightclub. His uncle chases him away as he cancelled all debt contracts. Tum is chased also. Teacher (ครู) Rangsun (Charin Nantanakorn) will help writing songs for the band. There is a crazy lady (Wilaiwan Watthanaphanit) in Hirun's house looking for her children. Tum wonders if she is her mother or not. They arrive in Bangkok but have little money. They met a restaurant owner's daughter (Chosri Misommon), willing to join them as a singer. Pa (Sulaleewan Suwanthat) is their house owner. They borrow 300 000 baht from Pa but Tu has to promise to marry her daughter (Orasa Isarangkul) Nataya. Pa knows that Tu is a potential rich heir. Lor Tok proposes ideas for their nightclub promotion. Tu's concept is that art belongs to everybody. Hirun wants to be sure his nephews will fail so he hires ruffians to destroy their nightclub. The ruffians steal their money so Tu and his friends decide to serve and cook by themselves. Hirun comes on the opening day with a bunch of tough ruffians to make noise and also kidnap the performing girls. Indian actor Banglae (บังเละ) is acting as nightclub guard. Kingkaew always find solutions to problems occurring. The ruffians drunk the cook and waiters to delay orders. Hirun takes the teacher (ครู) Rangsun's piano as he didn't pay his rent due to sickness. Adul Dulyarat is a doctor trying to save the teacher Rangsun. Hirun sends his ruffians to create a brawl in order to destroy the nightclub. Artist should be protected. The Thai King giving cinema awards inspires them not to stop fighting (ศีลปินไม่เคยตาย). By hazard, Tum and her friends have chance to release the crazy woman called Nat. Another uncle of Tu called Sompong is released from prison after twenty years. He narrates to Tu the story of his father betrayed by his own brother Hirun and who finally committed suicide. Nat is reunited with her two children, Tu and Tum. All the money of Hirun is coming from the one million baht that the father gave him to raise his children. They promise to take revenge on his 60th birthday coming soon. Hirun has to face the truth on his birthday turning to be a nightmare for him. He finally lost his whole fortune. The nightclub featuring arts becomes a huge success. This movie features 14 songs. A double DVD (3h20mn) including the 35mm movie fully restored was released by Thai Film Archives. The whole movie should even be a bit longer as the song หญ้าโลมดิน sung by Mitr and Petchara is missing. It is present on the VHS version and on a 16mm version left. Another movie version was released in year 1983. Two TV series were released in years 1997 and 2007. The producer is Prince หม่อมอุบล ยุคล. This movie includes more than 60 Thai actors, actresses and singers. Petchara got a Thai cinema reward for this movie. This movie is part of the second 25 films heritage list announced on October 4 2012, which is Thai Movies Conservation Day.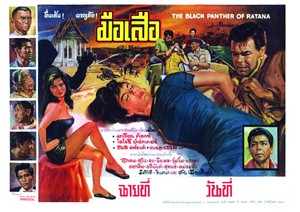 Year

: 1963



Thai title

:

มือสือ




English title

: The Black Panther of Ratana



Rating

: 3/5


Director

: Tae Prakardwutthisan



Main actor

: Sawin Sawangrat,Sukon Koewliam, Dokdin Kanyaman, Adinan Singhiran,Op Boonthit,Phirapon Piyawan


Main actress

: Mom Chan Phuangwan
LaRoche and two Thai men steal a diamond encrusted in a sacred Buddha statue head. LaRoche betrays the Thai men and leaves them to their fate while keeping the diamond for himself. During the troupe review army day by the King of Thailand, Bradberry, mine expert, is asked to go to South of Thailand. Mr Chang (Op Boonthit), owner of a mine in South Thailand, wishes to retire. Larry Flinch, working in the mine, is a drunkard and is fired by Mr Chang. Very soon, Mr Chang seems to have been attacked by a panther and dies. Roller is the new chief of operations. Monk (Sawin Sawangrat) has arguments with Larry. Monk and Larry shall meet in Silver Moon bar. Larry meets there a sexy lady called Eva and a fight erupts. Monk is found dead being killed by a black panther also. Jack Roller plans to sell the tin mine to go back to Europe so the buyer is sending an inspector, Mr Bradberry. Nicole Anderson is a doctor in a Catholic mission led by Father Antonio. Madeleine is Jack's girlfriend and had introduced him to Mr Chang. A Thai man, the second complice in the burglary is also killed. Father Antonio is also killed. Bradberry and Nicole believe those four murders are linked. Who is the killer? Larry? Roller? After his tests, the mine purity is deemed not so good so Bradberry refuses to sign the buying contract. Veteran actor Thai Akom Mokaranondha is also playing in this movie. Roller kidnaps Nicole to force Bradberry to sign the papers. Roller and LaRoche are in fact the same man. Larry helps them but LaRoche succeeds to flee. Finally LaRoche is arrested by the police led by Eva while trying to pocket the mine selling. The Black Panther of Ratana (มือสือ) is a Thai co production with Germany and was released in year 1963. It was a joint effort between Tae Prakardwutthisan and German Hans Berthel. For the release in Thailand a special scene was added in the movie, i.e. around 16 minutes of songs and featuring a few famous singers and comic actors in Thailand (Sukon Koewliam, Dokdin Kanyaman, Adinan Singhiran, Mom Chan - หม่อมชั้น). Movie is lasting 1h27mn and the additional Thai sequence is 16mn37s. It is a lost movie in Thailand but it can still be purchased overseas.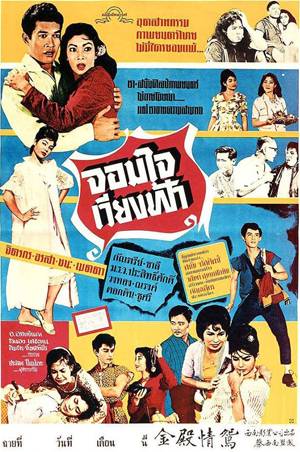 Year

: 1962



Thai title

:

จอมใจเวียงฟ้า




English title

:



Rating

: 3/5


Director

:



Main actor

: Chana Sriubon,Dokdin Kanyaman


Main actress

: Metta Roongrat,Chosri Misommon
Thai movie จอมใจเวียงฟ้า was released in year 1962. The movie is lost in Thailand but a very damaged sequence of four minutes remain to be seen. It looks like a drama with murders. Actors and actresses seen in the left sequence include Dokdin Kanyaman, Metta Roongrat, Chana Sriubon, Chosri Misommon, จิตรกร, อรสา, กัณฑรีย์, ชาลี, มรว.ประสิทธิศักดิ์, วงทอง, ณรงค์.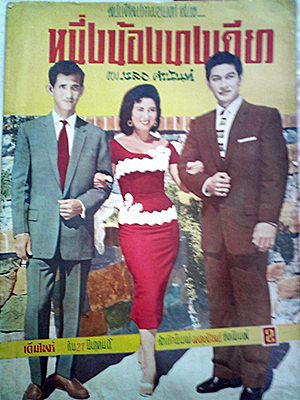 Year

: 1959



Thai title

:

หนึ่งน้องนางเดียว




English title

:



Rating

: 3/5


Director

:



Main actor

: Chana Sriubon,Taksin Jampol,Dokdin Kanyaman


Main actress

: Amara Asavananda
Thai movie หนึ่งน้องนางเดียว was released in year 1959. The movie is lost in Thailand but luckily a sequence of 1h06mn30s remains to be seen. Main actor Chana Sriubon is and main actress is Amara Asavananda. This is a movie in 16mm format so requiring live dubbing so the left sequence is in mute state. The remaining sequence is still colorful. Amara Asavananda and her hunchbacked brother (Taksin Jampol) are living in the forest. They find Chana Sriubon, who is injured. Dokdin Kanyaman is looking for Chana. Amara takes care of Chana while he is sick. Love emerges between Amara and Chana. Fighting happens with the hunchbacked brother as he doesn't trust Bangkok people. Chana finally leaves but promises to come back. Amara has now a child from him but Chana is not yet back. They visit Chana in Bangkok but are chased away as he is already married or engaged. They move to South of Thailand. Amara finds a treasure full of expensive jewels. While visiting South of Thailand, Chana meets a beautiful lady but he doesn't recognise she is Amara. Amara starts to create remorses about his previous behavior and Chana has nightmares. A local shaman (หมอผี) is used by the hunchbacked brother. Chana flees his house and takes refuge in Amara's place. Amara falls again for Chana and this makes Taksin upset. He is looking for revenge. Taksin has no more hunch. They have moved to a new beautiful house. The hunchbacked brother brought chance. Is Chana dreaming as he cannot believe that the previous people from the forest are now rich people? He is confused. The remaining sequence stops here. A remake was released in year 1980. It was featuring Sombat Methanee and Pissamai Wilaisak. It is still available on VCD format. The story is very similar.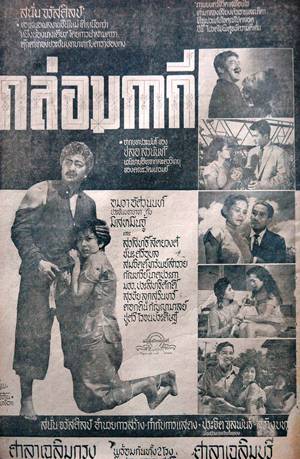 Year

: 1959



Thai title

:

กล่อมกากี




English title

:



Rating

: 3/5


Director

:



Main actor

: Chana Sriubon,Surasit Sattayawong,Dokdin Kanyaman


Main actress

: Amara Asavananda,Somjit Sapsamruey,Chosri Misommon,Sulaleewan Suwanthat
Thai movie กล่อมกากี was released in year 1959. It features Amara Asavananda as main actress and Chana Sriubon as main actor. Thong (Surasit Sattayawong) helps a pregnant woman called Yinfa (Somjit Sapsamruey). She is going to jump from a bridge. He saves her life. Her born daughter is called Buakim (Amara Asavananda) and is raised by Thong. Being adult, Buakim finds a job in an office but issues happen. Chana (Chana Sriubon), the staff manager, solves the issues. As uncle Thong is sick, Buakim asks for a three days off and salary advance to the boss (เป็นพิเศษ). Buakim ends up being domestic helper (แม่บ้าน) for Chana's family. Chana doesn't have any mother. Buakim doesn't have any father. So they have a common understanding. Buakim is poor (ยากจน / พบแค่ความทุกข์). She is accused of having stolen money in the house. It is in fact a plan by the younger wife of the boss asking Mae Nim (Sulaleewan Suwanthat) to play trick to Buakim. When Chana finishes his university degree, he wishes to marry with Buakim. Buakim is reluctant as she is only a domestic helper. Thong warns the boss' wife to stop harassing Buakim. Yinfa realises that Chana is her lost son so she asks Buakim to stop seeing Chana. Upset Chana feels betrayed and slaps Buakim. Thong protects Buakim. Chana understands the truth and visits his lost mother. Finally they are all reunited thanks to Thong. Chana loses a wife but gains a mother and sister. Part of the movie is dubbed as it was released earlier in video tape format. It was never released in another format as the movie was not successful enough in VHS format. It lasts around 1h30mn. A Hong Kong actress is also involved, i.e. Miss Minchoo (หมิ่นจู้).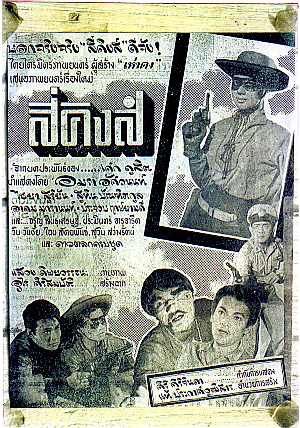 Year

: 1959



Thai title

:

สี่คิงส์




English title

:



Rating

: 3/5


Director

: Tae Prakardwutthisan



Main actor

: Chaiya Suriyun,Dokdin Kanyaman,Prachuap Ruekyamdee,Sompong Phonmitr,Sawin Sawangrat,Lor Tok


Main actress

: Amara Asavananda,Chosri Misommon
สี่คิงส์ or "See King" is a Thai crime movie produced by Tae Prakardwutthisan. The 1959 movie is lost in Thailand but hopefully a 16mm "behind the screen" sequence of 10 minutes is still available. It was given by Tae Prakardwutthisan himself in year 1988 to the Thai Film Archives. Despite using same actors as "Hao Dong" (1956), "See King" movie was not a commercial success. The sequence shows the actors and actresses during the first projection in year 1959. Those actors are Amara Asavananda, Chaiya Suriyun, Dokdin Kanyaman, Prachuap Ruekyamdee, Sompong Phonmitr, Sawin Sawangrat, Lor Tok. The movie trailer is also included. A few fights are featured with Chaiya. Dokdin Kanyaman is acting as a journalist. Somphong and veteran comic actress Chosri Misommon (ชูศรี มีสมมนต์) are featured together. Both the main actor and main actress are nice outlaws. Similar as in movie "Hao Dong", Amara is wearing a mask. The sequence is coming from a DVD that can be bought at Thai Film Archives. The movie advertisement song radio is set as soundtrack (เพลงโฆษณาหนัง) and highlight it is a good movie (สี่คิงส์ หนังดี สี่คิงส์ ยิ่งใหญ่ เด็ดจริง ถึงใจ ใช่ใคร สี่คิงส์). A remake version was released in year 1982 featuring Sorapong Chatree and Naowarat Yooktanun. It was not also a great commercial success.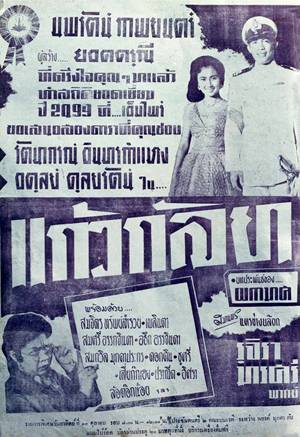 Year

: 1958



Thai title

:

แก้วกัลยา




English title

:



Rating

: 3/5


Director

:



Main actor

: Adul Dulyarat,Lor Tok Noi,Banglae,Dokdin Kanyaman,Banglae


Main actress

: Ratanaporn Intarakamhaeng,Chosri Misommon,Somjit Sapsamruey
Thai movie แก้วกัลยา was released in year 1958. It features Adul Dulyarat as main actor and Ratanaporn Intarakamhaeng as main actress. The movie is lost in Thailand but a damaged sequence of five minutes remain to be seen. Adul is playing an officer. In 1958 he was still a main actor. Other actors include Lor Tok Noi, Banglae (บังเละ) playing the comic Indian guy as usual, Dokdin Kanyaman playing a mariner, Chosri Misommon, Somjit Sapsamruey. A middle age lady makes Ratanaporn crying. The middle age lady is using her as a servant. Ratanaporn is working later on boats.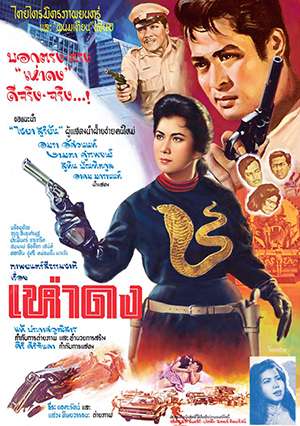 Year

: 1958



Thai title

:

เห่าดง




English title

: Hao Dong



Rating

: 3/5


Director

: Tae Prakardwutthisan



Main actor

: Chaiya Suriyun,Lor Tok,Dokdin Kanyaman,Sompong Phonmitr


Main actress

: Amara Asavananda,Chosri Misommon,Marasri Bangchang
เห่าดง (Hao Dong) is a 1958 Thai movie by director Thae Pragartvuthisarn. It features famous Thai actor Chaiya Surin (his first movie) and actress Amara Asavananda. Other actors include Lor Tok, Dokdin Kanyaman, Sompong Phonmitr, Chosri Misommon. A remake was released in year 1983 with Sorapong Chatree and Suriwan Suriyong. No extract of the movie is left anymore. But there is still a short 1mn22s sequence from 1958 Thai news showing a huge crowd waiting to see Hao Dong movie. A few still pictures are still available showing Amara Asavananda wearing color Hao Dong costume. It was a big commercial success thanks also to great advertisements including radio, TV, huge billboards up to 12 meters (คัทเอาต์ขนาดยักษ์) of actress Amara Asavananda in popular areas of Bangkok. Three gangs of robbers are bringing trouble in Bangkok. Hao Dong works alone. Hao Dong is a former military (ทหารม้า). He is not a ruthless gangster like the two other groups. Feeling betrayed, the other groups (เล็บเหล็ก, แสงเทียน) wish to get rid of Hao Dong. As he dies, his daughter (Amara Asavananda) takes over. Chaiya is playing a policeman and love will emerge with Amara. The success of movie Hao Dong is due to the presence of 3 famous Thai comic stars (Lor Tok, Dokdin Kanyaman, Sompong Phonmitr). Tae Prakardwutthisan had also the good idea to make a simple but entertaining song to be diffused on radios for movie promotion. It mentions Dokdin as ตัวดำๆ. A movie as that time was always a financial risk due to potential military coup d'etat as it could ruin all investments on a movie. Hao Dong generated 1.3M baht revenue.
---
---
comments powered by

Disqus
---