PLANE
Increase or decrease font size for easier reading : A+ A-
Thai Airways aircrafts are always blessed by senior monks. All planes have a Thai name written under the cockpit. For the 72nd birthday of the King Rama 9, many Thai Airways planes were decorated with beautiful paintings.
Thai Airways's key advertisement says "Smooth as silk". Thai Airways uses Airbus planes and Boeing planes. Thai Airways is known as a safe company. Last accident was in 1998 when a plane crashed during rainy season in Surat Thani.
The Thai major and national company is Thai Airways, the airways company with a lotus drawn on the planes. Air hostesses are always dressed in beautiful Thai clothes.
Prime Minister Thaksin Shinawatra said Thai Airways International is living on its reputation and is now among the worst of its breed. In year 2001 he said that "If I were not a public figure, I wouldn't fly with THAI. It sucks. Business class on other airlines is better than THAI's first class. Our fares are also higher. If THAI flights are unavailable and I must take other airlines, I am very happy.". He said the airline is uncompetitive and will have to dilute its shares before it goes public!
Thai Airways became the 9th carrier to launch the Airbus A380. They ordered six planes. There is Airbus A380 flight once a day between Hong Kong and Bangkok.
---
Another company is Bangkok Airways, a local and international (Asia only) company on some destinations such as Koh Samui, Luang Prabang, Siam Reap. In year 2003, low cost airlines companies (Nok Air, Air Asia, Orient Thai) appear.
Company like Nok Air offer less service (no food during flight...) but give a cheaper price.
Nok Air airline created a

2013

calendar half-clothed Maxim models in front of their airplanes in order to promote its low cost flights within Thailand.
It created controversy as Thai Ministry of Culture was not so happy about it. They claimed the campaign focused on the country's bad reputation regarding sex services.
---
Airline Smile was created in year

2012

. It is owned subsidiary of Thai Airways. It is Thai Airways' answer to low cost airlines competition.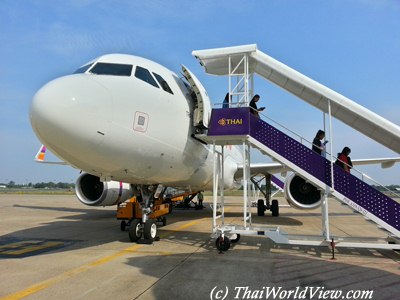 The first-ever Smile Lounge was opened at the Ubon Ratchathani Airport in year

2016

. Thai Smile became a full-scale airline.
---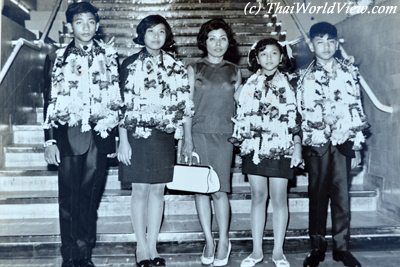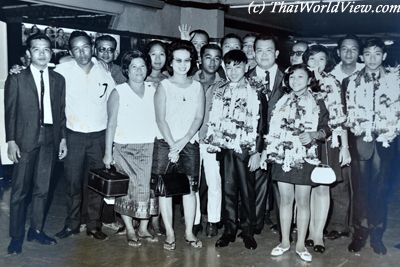 ---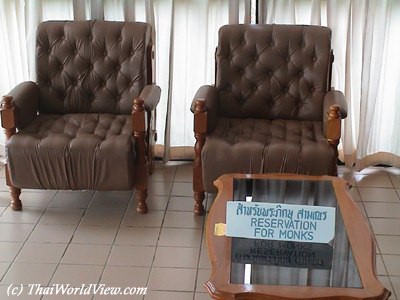 In Thai airports, there are even areas reserved for monks. In Bangkok International airport, those areas are surrounded by orchids.
Bangkok's international airport or Suvarnabhumi airport was opened in year 2006. The plan was to expand the new airport to enable it to process 45 million passengers annually.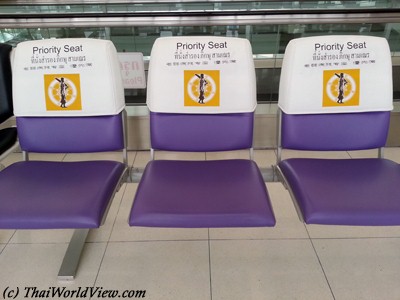 Those are modern monks seats (priority seats) in Suvarnabhumi airport, Bangkok.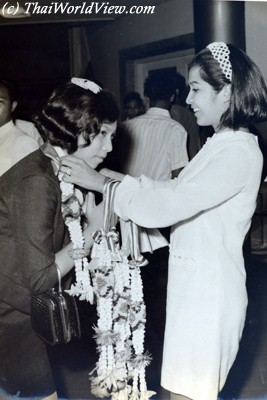 50 years ago, taking plane was a complex affair and people had to wear suits.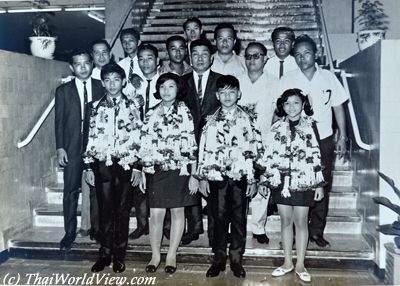 As taking plane was very seldom, travellers were sometimes receiving garlands at airport.
---
There was a Airplane Flea Market located in Nakhon Pathom. It opened in year

2016

.
Thai name was

ตลาดนัดเครื่องบิน

. Nowadays it is closed.
---
---