POOR ISAN
Isan is the poorest area of Thailand. This is due to bad climatic conditions (often hot and not enough rain). The south part of "ISAN" area (Buriram, Surin, Si saket, Ubon Ratchatani) and also the area around Khon Kaen are really poor areas. Those areas are really dry with less rain than in other Isan area.
In year 2000 there were 20.8M inhabitants in Isan. 68% of the people have completed less than 7 years of formal education. 1998 GDP per capita was 35% of the national average so making Isan a poor area to live.
| | |
| --- | --- |
| Sometimes in those areas, soil can be so dry that nothing can grow. Sometimes there are floods because it rains too much. Often the government warned farmers to brace for severe water shortages during the dry season. | |
| | Dry soil |
Many northeasterners struggle to earn a living from farming and make ends meet during the dry season, which normally lasts from November to July. Some areas are affected by drought for the whole year. Some areas even have not seen a drop of rain for years, causing poverty and hardship to local families .

Northeastern farmers
| | |
| --- | --- |
| Because of the long-term drought, some farmers slipped into heavy debt, borrowed over the years from the one-million baht village fund of the Thaksin Shinawatra government and the Bank for Agriculture and Agricultural Cooperatives of Thailand. | |
| | Northeastern farmer |
When the end of the year arrives those farmers need to borrow money from loan sharks to pay off interest to the government's village fund and the bank.
To borrow money, local farmers need guarantees and also a middleman, who receives a fee. The costs of a 1000 baht debt can be up to 30%. So farmers have too much difficulty to get out of the debt trap.

Northeastern farmer
Northeastern farmers have really big debt problems. They often are in debt with banks or brokers. As soon as the harvest has started they have to sell all their rice. If they wait too long, interests increase and it is impossible to pay back the loan. The rice mills arguing that rice isn't dry enough can ask for small price like less than 7 Bath a kilo (7,000 baht a tonne). If Thai farmers could wait to sell their rice, they could sell it to 10 Bath per kilo.
Export prices for Thai rice hit a record high in

year 2008

. Thanks to the shortfall in rice production worldwide due to natural disasters, the domestic and export prices of Thai rice skyrocketed to unprecedented levels. Government price guarantees for jasmine paddy at 19,000 - 20,000 baht a tonne and regular grade paddy at 14,000 baht a tonne.

Northeastern farmers
Another problem is that many areas were cleared exclusively for monocultural farming. Cash crop such as rice, soya beans, tobacco, maize are pushed by the government.

Isan farmers
When prices are going up, all parties are happy. When prices are going down, then debt reimbursement is problematic.
| | |
| --- | --- |
| In many cases, the debt increased so much that farmers have to sell their land, house and cattles. Many farmers left the village to find paid work in order to pay back their debt. | |
| | Northeastern farmers |
One of the major change of the modern Thai society in the rural world is the diminishing value of the community. Before all farmers help each other when it was time to harvest. Now as many young people have gone to Bangkok, farmers has to hire workers which results in higher costs.
Many Isan people, who have no more job in the paddy fields, went to Bangkok to work on buildings construction. Some say that Bangkok middle class use the back of the Isan poor farmers to become richer.

Isan farmers
Many "ISAN" workers are leaving their home after the current rice harvest is over and come back before the next farming season (from may to november). They are going to Bangkok in order to work as construction workers, hotel maids, taxi drivers and some girls as sex workers.
| | |
| --- | --- |
| Every dry season sons and daughter-in-laws leave villages to work in Bangkok and leave their children with grandparents to feed. | |
| | Northeastern farmer |
In many Bangkok factories, workers are often women from Isan. Working there, they are not sure to receive their salary at the end of the month. Two millions Isan people are working in Bangkok. They don't have always enough money for all family members and children cannot study as high as it could have been possible.
There are even bogus monks and nuns played by some Isan migrants. Luring donations from pious Buddhists by posing as fake monks and nuns has become a way of life for some Isan men and women. The root cause is the need to overcome hunger and poverty.

Northeastern farmer
Some "ISAN" people take their chance outside of Thailand hoping to get jobs with higher wages. Some go to Singapore, Hong Kong, Taiwan, Saudi Arabia, Europe, Israel. Beginning of 1980s, there were some 400 000 Thai workers in the Middle East. They work as housekeeper, hair dresser, waitress, workers, sewers, prostitutes. Some women become hired wives ("MIA CHAO" - เมียเช่า).
| | |
| --- | --- |
| `You lose the farm when you go abroad, and you lose the wife when you come home.' This popular saying has long been a warning to Thai men seeking jobs in foreign countries. Many husbands return home just once a year to see their family. | |
| | Thai workers |
Many overseas Thai workers have been cheated by a job placement company. Many job-seekers have been duped into selling their farms to pay high brokerage fees charged by job placement companies. Many arrive in a foreign land only to find that there is no job waiting for them, and others are forced to do jobs not stated in the contract. Some Thai associations propose new system under which workers would have easy access to capital without having to sell their assets. A fund would be established to guarantee the money paid by the job-seekers to job placement companies.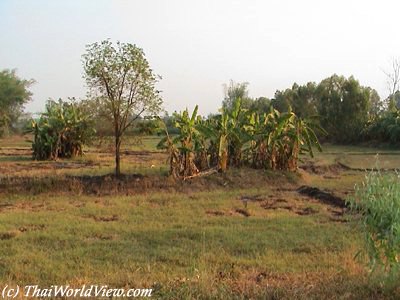 Isan people are often seen as farmer people. Bangkok people refuse to marry their sons to Isan girls because they are seen like upcountry people (
ไอ้ ลาว
) or seen like poor people.
Empty rice fields during dry season
In Bangkok, "ISAN" people speak Thai central language to avoid being recognised, to avoid being denigrated by others. But back in Isan, Laotian language is used. In Khorat or Nakhon Ratchasima area people speak Thai language but also a dialect called Khorat language. In the other Isan districts, Laotian language is used. People, who have always stayed in Isan, are more fluent in Laotian language than in Thai language. In Isan schools both spoken Thai and Laotian languages are used by teachers.
| | |
| --- | --- |
| In October, fields are colored in yellow and gold. Harvest is going to begin soon. | |
| | Yellow rice fields |
Some Isan people left because of bad climatic conditions, poor life but also some due to the actions of rich and powerful men. For example some industrialists have built salt farms in Isan. The salt is pouring in the neighbouring fields, going in other fields through rivers. In few years nothing can grow. Farmers have to sell their land at low prices to these salt farms. Some farmers move to another piece of land, others go to the capital to make bigger Bangkok's slums.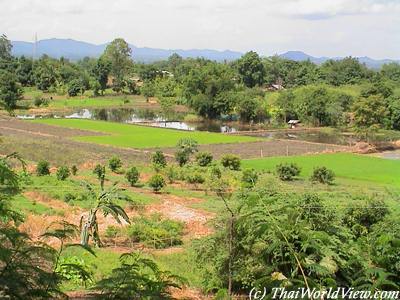 Some has rent some lands encroached to forests believing that these lands were private possessions. Later the Forest Ministry has expelled them saying that they were encroaching protected forests. Then later on these forests were declared degraded by the Forest Ministry.
Isan landscape
The degraded forests were then given to influential and powerful people, who were working for reforestation, did plant eucalyptus trees. These trees grow very fast and are used by paper factories but these trees spoil the soil by diminishing its quality.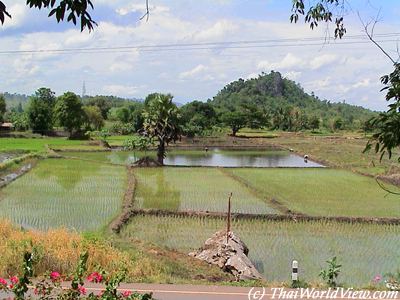 Isan landscape
---
FORUM OF THE POOR
Forum of the poor was created in 1995. Several organisations gather northeaster farmers but the Forum of the poor is the most well-known. In the previous years Forum of the poor has often organised rallies in front of the Government House in order to solve Thai farmers problems.
During 1992 and 1996 demonstrations were organised in the front of the Government House. They stayed in the front of it until they complaints were taken into account. During 1986-1996 the economy grew with rates at 2 digits but Thai farmers in Isan didn't make profit of it. So they rallied to ask the government to take actions over big problems as deforestation, rice prices going down, poor peasants with debts, development problems about dams, roads (they are never listened in such big projects).

Major Thai farmers complaints supported by the Forum of the poor are :
environment problems


( constructions of dams, pollution, dams gestions - i.e. fish, trees in water, level of water in dams ). Often factories that pollute rivers, fields are not condemned to fines.

Farmers cheated by people linked to Forestry department


For example when constructions of dams are decided, farmers have to leave their lands. Knowing that some lands will be flooded due to the constructions of dams, people linked with the Forestry department told the poor farmers that their land has no value. So they bought it at a low price and told the farmer that they will plant orchards in order to get a higher price from the Forestry department. In fact they didn't do anything with the land and got a high price from the selling of the land to the Forestry Department. They have cheated the poor farmers.

Encroachment on forestry reserves


Sometimes farmers goes on land where there is forest, cut all the trees in order to make arable area. Some poor farmers without land hope to get land behaving this way. Some of these farmers are in fact paid by influential people to act like this. The forest is then declared degraded and those influential people can buy it and plant eucalyptus trees. Ecological bad impact of eucalyptus is well known.

Prices of goods are falling

(rice, tapioca)

Compensation for new lands


After being expelled from lands, they have to find new lands to cultivate. Being poor they have no money to buy the land. They have to make loans. Banks don't give big loans to farmers so they have to go to brokers who have 5 % rate each month. For a loan of 80000 Bath, they have to pay 4000 Baht each month only for the interest ! Some Isan people make loan in order to have a sum of money to pay an intermediate in order to go working in foreign countries. Both conditions of work can be bad there. And they got caught in a whirlpool. Some of them mortgage their land and got a sum of money. After a few years if they cannot give back the money, they lose their land. Life is already hard for Thai farmers but peasant life without owning a land is harder. They have to rent a land and often give half of the harvest to the owner of land. Some work as labourer, helping when there is job to do in the fields, for about 100 Baht a day.

Talks with Forestry Department and Irrigation Department


Peasants association asks for studies about environment, about validity before building dams (Pak Moon Dam - Moon River) that will flood big piece of lands and force to move whole villages.

Threats


Building dams involve money, involve politics. Some villagers refusing dams have been threatened to death, accused of being communist, accused of producing drugs.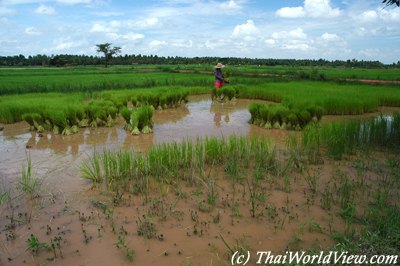 Northeastern farmers
Members of the Forum of the Poor were in conflict with the Thai administration about the construction of dams. The Forum of the poor reproached to the administration not to listen to them about consequences of the dam constructions. So they threatened to give up their Thai identity and to get Laotian identity. On their way to Laotian border in year 1999, they were welcomed by Laotian policemen that threatened to open fire if they tried to cross the border.
---
---
| | | | |
| --- | --- | --- | --- |
| Click to see more pictures | | | |
---
comments powered by
---