THE MEKONG
The Mekong ("MAE NAM KHONG" - แม่น้ำ่โขง) source starts from Tibet in China and then it flows through Myanmar (ex Burma), Thailand, Laos, Cambodia and Vietnam. Impressive rapids near Pakse in Laos prevent any further navigation to Cambodia and Vietnam.
After the rainy season, the mekong level starts to decrease. The Mekong shores are then covered with fertile alluvium. Thai and Laotian people cultivate vegetables, fruits.

The Mekong
During hot season, the rice fields are empty and dry. So farmers cannot expect any income from their rice fields. For those who haven't left to Bangkok or aren't relying on mixed cultures, these temporary fields allow them getting an extra income.
| | |
| --- | --- |
| During the hot and dry season, the Mekong soil is dry. Some small ponds are a paradise for thousands of small toads. | |
| | The Mekong |
In many Thai towns such as Sri Chiang Mai, Nong Khai, Nakhon Phanom, the Mekong shores have been upgraded with pavements. It allows visitors and local people to enjoy the view. Many street restaurants offer nice views over the Mekong and it is possible to enjoy grilled Mekong fishes.
The pumps motor noise can be heard from far away. These pumps swallow the Mekong water in order to irrigate the temporary fields on islets.

The Mekong
The feast "BANG FAI PHAJANAK" in Nong Khai district happens just after the end of the rain retreat season. This feast is similar to the "BUN BANG FAI" feast in Yasothon. But the rockets fly from under the Mekong river instead of the soil.
| | |
| --- | --- |
| During the hot and dry season, Laos seems very close to Thailand. But any travel is forbidden. At night time, it is possible to heard music from Laos during temples fairs. | |
| | The Mekong |
Thai people also breed fishes in paddocks set in Mekong river. Then those fishes are sold in Thai or Laotian markets.
Fish breeding is becoming popular in "ISAN" area. Small fishes are placed inside empty cages. Fishes are fed until they have grown enough to be sold. They are sold on Thai markets, sold to factories that freeze the fishes for export or sold in Laos.

The Mekong
---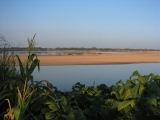 ---
comments powered by
---