TOURISM
Increase or decrease font size for easier reading : A+ A-
Most foreign tourists don't visit "ISAN" (อีสาน) area in the Northeast of Thailand. It is a pity because there are many things to do and visit.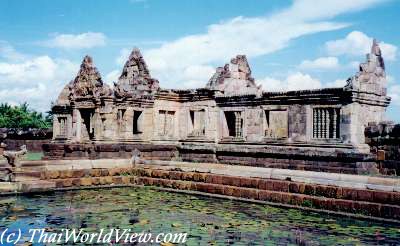 First this area has a double cultural heritage : Khmer and Laotian. In the south of Isan area, many Khmer temples can be visited. The most famous are "PRASAT PHIMAI", "PRASAT HIN KHAO PHANOM RUNG", "PRASAT HIN MEUANG TAM", "KHAO PHRA WIHAN" just beyond the Kampuchea border.


Fly there with Google Earth
Many people of Khmer ethnicity live in the south part of "ISAN" area.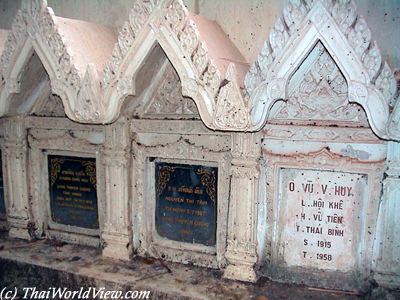 There are also significant groups of Chinese and Vietnamese migrants in "ISAN" area. It is frequent to see Vietnamese graves around Nongkhai province.

In other sites of Isan region, many Buddhist temples with Laotian characteristics can be seen. One of the most famous is "WAT THAT PHRA PHANOM" in That Phanom. Tourists like to visit the "WAT PHRA THAT PHANOM" (

วัดพระธาตุพนม

) and the market in order to eat Isan food and to enjoy its calm. For big festivals, even Laotian people cross the border and visit this Buddhist temple.


Fly there with Google Earth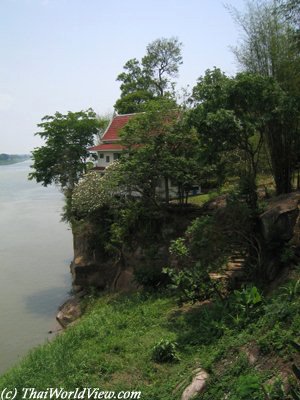 In Isan region, many Buddhist temples can be found such as famous forest temples ("WAT PA" -

วัดป่า

). Some monks decided to live in the forest in order to be far away from human beings. They seek for peace, tranquillity in order to study Dhamma and meditation. The forest way is a way of life coming from the Isan area. The monks living in the forest are called "PHRA THUDONG" (

พระธุดงค์

).


Fly there with Google Earth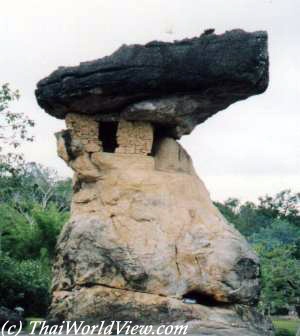 History has a deep impact on Isan area. In Udon Thani area, a park "PHU PHRA BAT" with old paintings, drawn before Buddhist era, can be visited. Inside this park, there are strange rocks used by prehistoric people and then by Buddhist monks during the 10th century.


Fly there with Google Earth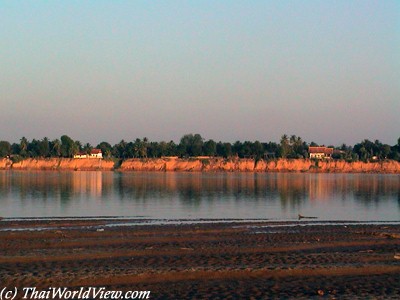 The natural border with Laos is the famous Mekong river ("MAE NAM KHONG" -

แม่น้ำโขง

). The Mekong river is the border between Laos and Thailand in Isan area. Tourists like to enjoy the sunset with a view over Laos, have a boat trip or cross the river to visit Laos in two actual check-points in Isan : NongKhai and near Ubon Rachathani.


Fly there with Google Earth
---
Isan region is also well known for its arts and crafts skills. The famous triangular cushions ("MOON KHIT KO KWAI" - หมอน) come from Isan and the most beautiful come from Roi-Et. The famous silk "MATMEE" come also from Isan and the most beautiful come from Khon Kaen and Nong Khai. Typical souvenirs are the reed organ ("KAEN" - แคน) used in "MOLAM" orchestra and the small baskets ("KRATIT KHAO" - กระติกข้าว) to keep hot the sticky rice ("KHAO NIO" - ข้าวเหนียว).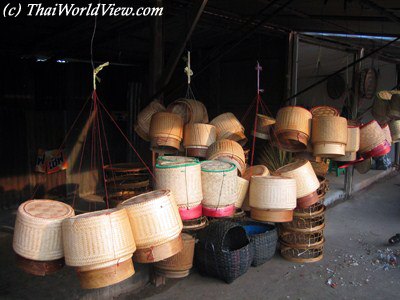 Some cultural differences with other areas of Thailand are:
Customs


One well-known dance is the bamboo dance in which dancers shall avoid bamboo sticks.

Ceremonies


Some ceremonies like "PHITI BAI SRI SU KWAN" (พิธีบ่ายศรีสู่ขวัญ) are typical from "ISAN" area and North of Thailand. This ceremony is held before a long trip, after a long trip, during marriage or during monk ordination. The aim is to fix the "KWAN" (kind of soul in Thai language) to the human body. It can be done to welcome visitors also.

Two persons may decide to enter into a special relationship with a "PHUK SIAO" ceremony. In this ceremony they become more than friends, becoming blood sisters or brothers, witnessed by the whole community, the elders and the sacred powers.

Feasts


"BUN BANG FAI" and "PHI TA KHON" festivals happen only in Isan area.

Music


"MOLAM" (หมอลำ) is the typical Isan music.

Food


Some famous dishes include the spicy salad ("SOMTAM" - ส้มตำ), the grilled chicken ("KAI YANG" - ไก่ย่าง), the sticky rice ("KHAO NIO" - ข้าวเหนียว). Dishes are often more spicy than in other areas.

Language


Lao language is as important as Thai language in Isan area.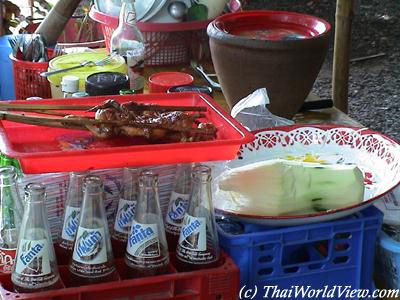 ---
---
---