WAT TAI WAI
Increase or decrease font size for easier reading : A+ A-
Tai Wai is an area in Hong Kong. It is the largest part of the Sha Tin District. In Tai Wai area, a Chinese Thai temple can be found. It is called Ku Au Tseng Yuen by Chinese people or Wat Tai Wai by Thai people.
Set back from the road, Ku Au Tseng Yuen temple is just a short walk east from the Che Kung Temple.



Fly there with Google Earth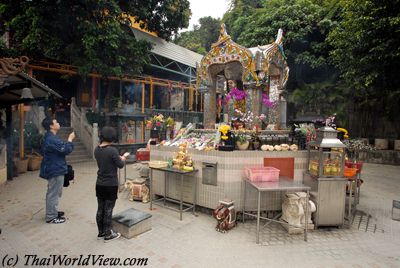 At the centre of the shrine is the handsome Brahma golden god. He has four faces and eight hands. The first three right hands hold a chakra, a staff and a pot. The fourth is placed on the chest. The four left hands hold a sceptre, Hindu scriptures, a conch shell and a string of beads.
Beyond the entrance there are the miscellaneous objects for worshipping. Wood elephants, Buddha statues, Nang Kwak, Brahma god statues can be sold / rent.
In this temple, there are many objects from Thailand such as wood elephants, Thai dancers given as offerings to Lord Brahma.
Devotees offer elephants made of teak wood. The size of wooden elephants varies according to the extent of devotion shown by the devotee and according to what he can afford.
There is a four-face Brahma set under a glittering pagoda-like structure.
The God of Wealth is holding a golden ingot. It is often placed at the house entrance to bring fortune to the occupants.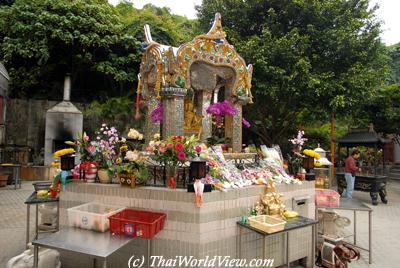 This magnificent image of the Lord Brahma is called "THAN TAO MAHAPROM" (

ท่านท้าวมหาพรหม

).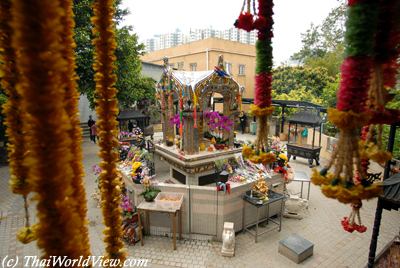 The Brahma shrine shape in Wat Tai Wai is similar to the Erawan shrine in Bangkok. It is is consecrated to Lord Brahma, the creator. This shrine is very sacred to the Thai Buddhists and the deity is known to have wish-fulling and boon-giving powers.
In Thailand many passengers passing by Erawan Shrine by bus, skytrain or taxi always greet the Lord Brahma by doing a "WAI" gesture (ไหว้) with folded hands to express their reverence and devotion to the deity.
In Thailand, the Lord Brahma images are displayed in many places and are highly venerated by Buddhists. Brahma is known for his great boon-giving power.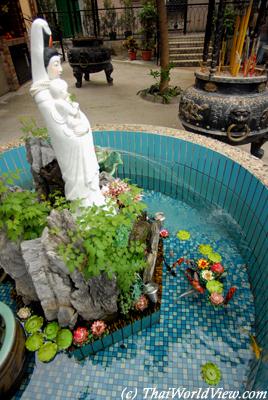 KWAN YIM" or

เจ้าแม่กวนอิม

is the Goddess of Compassion. Kwan Yim is much venerated by Thais of Chinese ancestory. In her right hand is a flask from which issues an endless stream of compassion and mercy. In her left hand she holds a willow branch, symbol of fertility.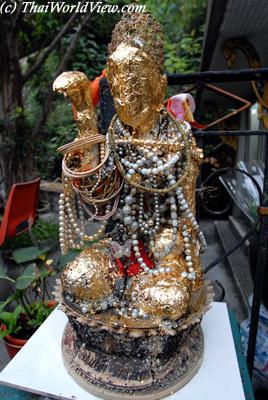 A few

นางกวัก

or "NANG KWAK" statues can be found in the temple. The "NANG KWAK" is a spirit supposed to bring money in the household. Its statue represents a woman in Thai traditional clothes, sitting on her knees with the right hand up and the hand making the gesture to bring money to herself. Thai people like to have this statue in their home or their shop.
---
---
comments powered by

Disqus
---