KOWLOON CITY
Increase or decrease font size for easier reading : A+ A-
Due to the large number of restaurants and shops run by Thais, the Kowloon City district of Hong Kong is known as Little Thailand.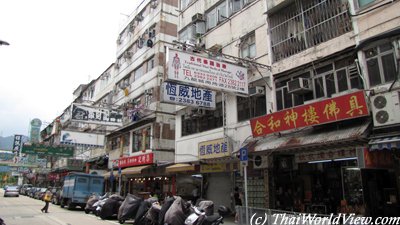 Thai people are used to call Kowloon city district as Kowloon Sing (

เกาลูน สิง

).
Thai migrant workers in Hong Kong are a significant minority and about half of them are domestic workers. 2016 population of foreign domestic helpers in Hong Kong indicate there are 2529 Thai people (2501 women, 28 men). There are 151 996 domestic helpers from Indonesia and 185 673 domestic helpers from Philippines.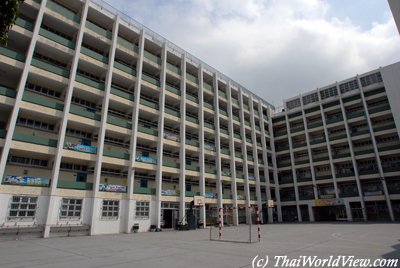 Thai Regional Alliance in Hong Kong (

สมาคมรวมไทยในฮ่องกง

) provides English lessons for Thai people living in Hong Kong. Every sunday during two hours, a teacher (

อาจารย์

) explains the basis of English language to a dozen of students. Their website can be visited here.
Hong Kong's Thai population is around 30 000.
---
SHOPS
Hong Kong's Thai neighborhood used to be in Central but redevelopment pushed it out in decade 1990s. Kowloon City became the new Little Thailand because it is affordable, centrally located and close to old airport Kai Tak.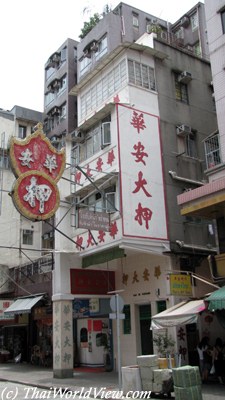 Some shops were selling some original old Thai movies but now unfortunately they now only focus on recent Thai movies. VCD is still a popular format for bad cheap copies with an ugly printed cover.
In Kowloon City, on two blocks, there are more than 30-40 Thai restaurants and shops. It is close to old Kai Tak airport.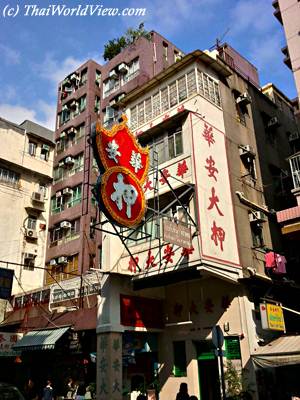 A few pawnshops can be found in Kowloon City district. This one targets Thai people.
Looking for Thai products such as newspapers, magazines, VCDs, DVDs and CDs, Kowloon City is the right place.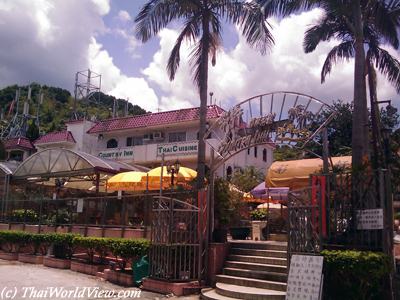 Most Thai businesses are located in the eastern part of the neighborhood (near the corner of South Wall Road and Nga Tsin Wai Road).



Fly there with Google Earth
On Sundays or public holidays, many Thai maids enjoy their day off by sitting in public Gardens around Little Thailand area.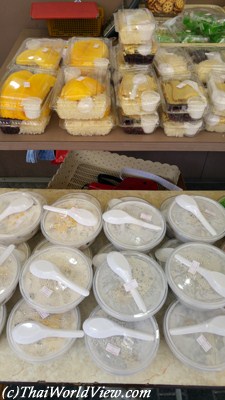 Many Thai shops sell prepared food such as delicious Thai sweets including mango sticky rice.
If a lady is seen using a small portable inhalant ("YA DOM" - ยาดม) every five minutes, she is 95% a Thai lady.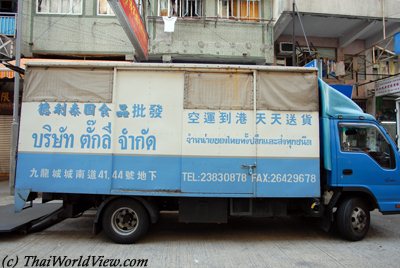 Local grocery stores sell fresh food from Thailand including limes, lemongrass, chilies and Thai herbs. Along with food, large sections of the stores are dedicated to soap, shampoo and beauty products imported from Thailand.
In Hong Kong, Thai boxing clubs are also very popular especially for ladies. Ladies can learn self-defense skills.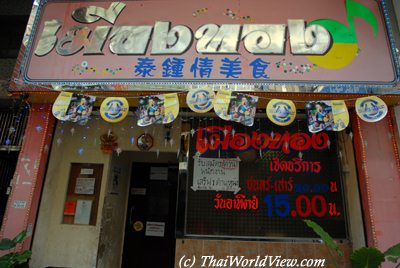 Officers from the anti-gambling squad raided an underground casino in Kowloon City which catered for Thai nationals in Hong Kong.
Kowloon City offers a big concentration of Thai businesses, i.e. snack stalls, video stores, beauty salons and grocery stores.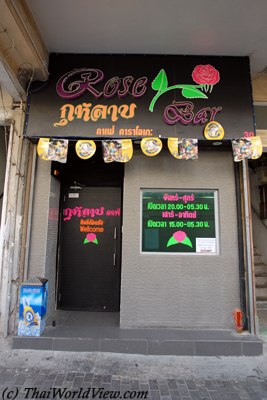 A side industry has developed in Kowloon city in which there are handsome young Thai men available for 'friendship' with women and gay men. Since these shops cater only to regular customers or Thai nationals, the Hong Kong police had difficulty in collecting evidence
Normally all Thai shops in Kowloon City district are opened every day including on Sunday.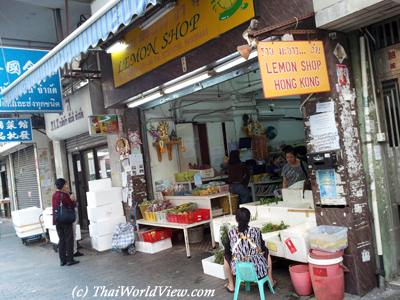 The Lemon shop sells many Thai products including fresh Thai vegetables, fruits and desserts.
It is easy to go to Kowloon City as it is well served by buses and minibuses. From Hong Kong island, buses 101 and 111 stop by Kowloon City.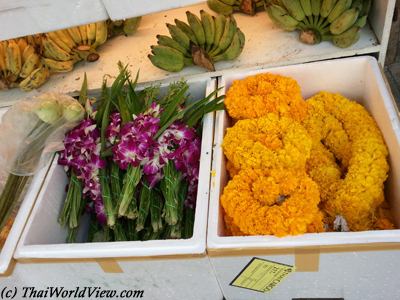 Fresh Thai goods are coming directly from Thailand through Thai Airways cargo boxes. Kowloon City is a district close to old Kai Tak airport.
---
RESTAURANTS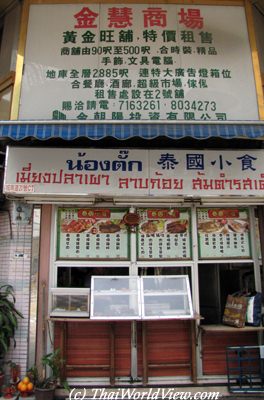 Many Thai people are domestic helpers while some others are Thai-speaking ethnic Chinese who came to Hong Kong in decades 1980s and 1990s. Most restaurants in Kowloon city have menus in Thai, Chinese and English.
Website openrice.com website lists 623 Thai restaurants in Hong Kong. Thai food is so popular here.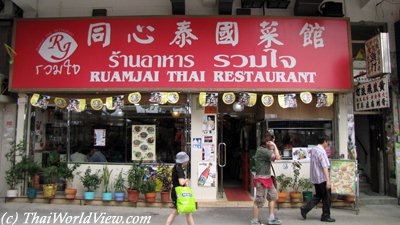 Thai food in Kowloon city can be made spicy for Thai people or mild as Hong Kong people prefer their food less spicy.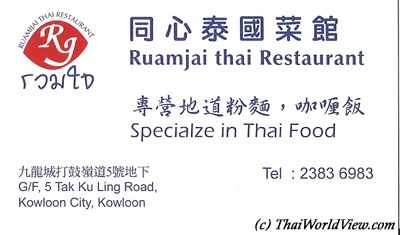 Thai noodle soup in restaurant Ruamjai (

ร่วมใจ

) in Kowloon City district are one of the best in town.
Such small Thai eateries are numerous in Kowloon City. On week-end, many Thai maids have their lunch there as prices are cheaper than higher scale Thai restaurants targeting local Chinese people.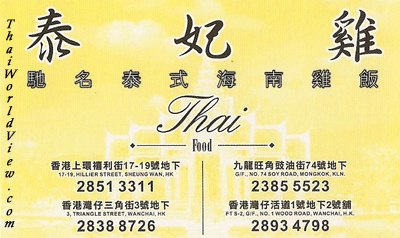 Diner in restaurant "SAEB-E-HLEE LUB PED" on 27-29 Nam Kok Road is highly recommended especially the "LUP PED" (

ลาบเป็ด

) dish.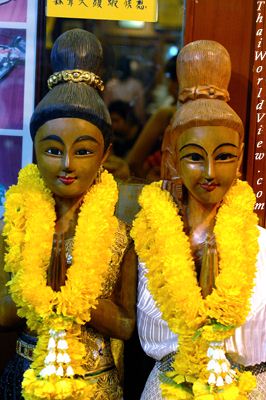 Delicious Thai sweets can be found in Kowloon City. Favourite as banana fritters, sweet lotus root rice wrapped in banana leaf, mango sticky rice and so on...
Kowloon City district is a good place for a Thai lunch. Menus are written in Chinese, Thai and English.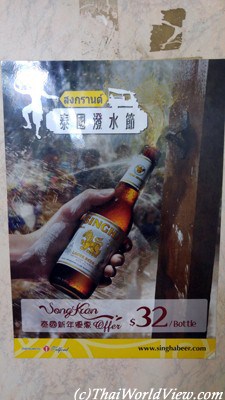 Singha beer is one of the most famous Thai beer. It is available in all Thai restaurants. A special commercial offer is happening during Songkran festival.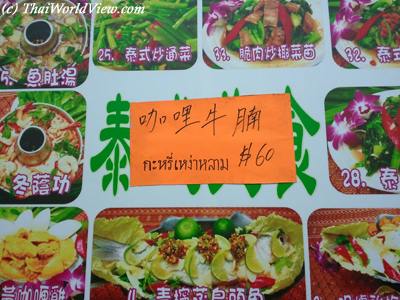 Thai restaurant "Saeb e hlee" is one of the best choice around Kowloon City with its spiced minced duck salad (

ลาปเป็ด

).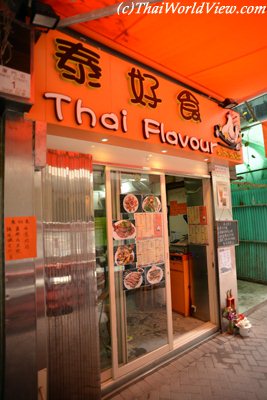 The street is very busy on Sundays when Thai-Chinese families and Thai maids gather here to buy genuine Thai food and gossip on various topics.
---
RELIGION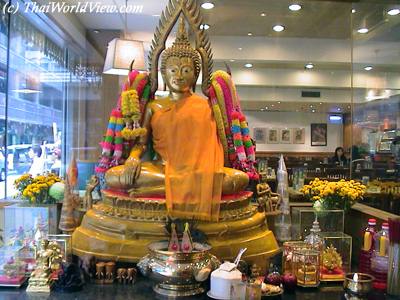 Some Thai restaurants feature a prominent altar with a big Buddha effigy.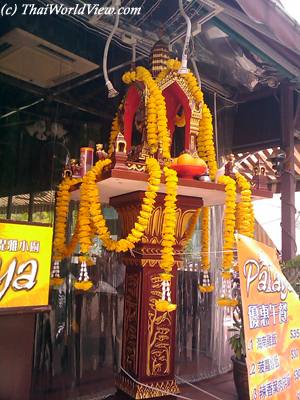 In front of many Thai restaurants in Kowloon City, offerings are placed in front of Thai altars.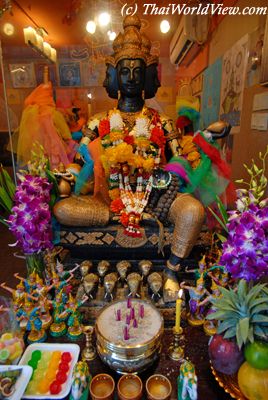 Many shops have both Thai Buddhist altars and traditional Chinese altars. Brahma is recognised by his four heads. Brahma is known for his great boon-giving power.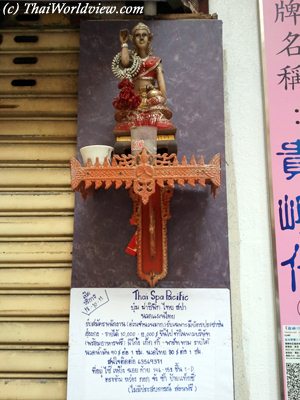 The "NANG KWAK" (

นางกวัก

) is a spirit supposed to bring money in the household. Its statue represents a woman in Thai traditional clothes, sitting on her knees with the right hand up and the hand making the gesture to bring money to herself. Thai people like to have this statue in their home or in front of their shop.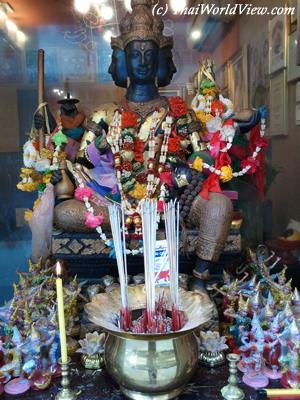 There is even a shop selling every kind of sacred items in Kowloon City such as Mae Nak, tiger masks, "PALAT KLIK" (

ปลัดขลิก

)...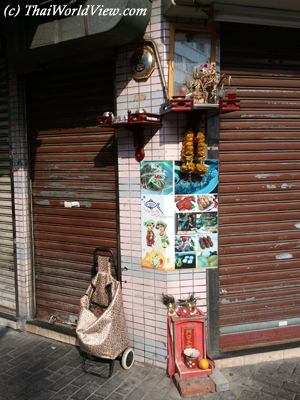 The Thai altar is on the upper part and the Chinese altar is on the bottom part.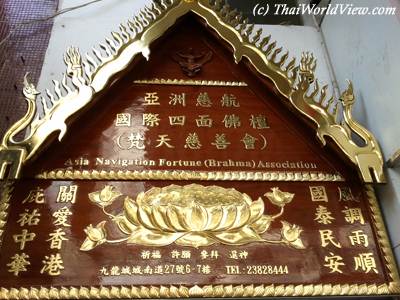 Kowloon City district also features a few Buddhist religious associations.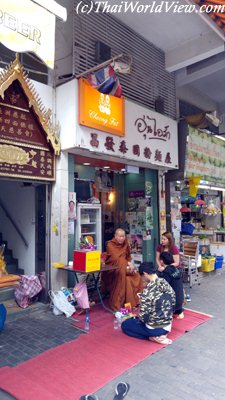 Some Thai monks can be found on Sunday morning in Kowloon City. Some Thai people might be too busy to go to the remote Thai Buddhist temples. So some monks come to Kowloon City offering the possibility to Thai people to perform good deed duties.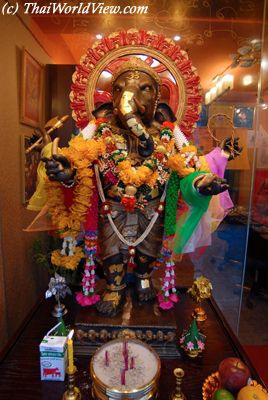 In Kowloon City, the Chinese altars that are common throughout Hong Kong are replaced by Thai Buddhist or Brahminic altars adorned with colored flowers. Ganesh is recognised by his elephant head and pot belly. He is also believed to be the god of good fortune, and revered by businessmen who wish for success in their ventures.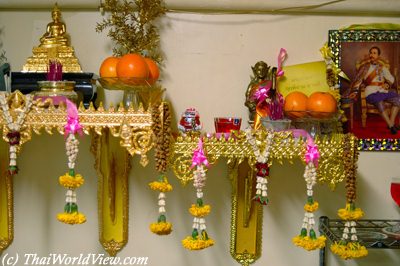 Portraits of current Thai King Rama IV or Thai King Rama V can be seen in any Thai owned business.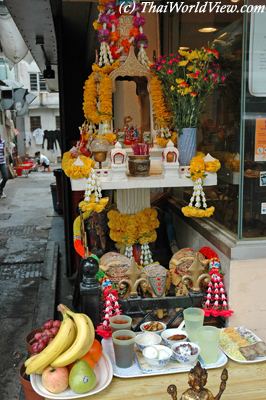 Food offerings are placed in front of this Thai Buddhist altar located at a Thai restaurant entrance.
In Kowloon City, a few shops sell Thai Buddhist amulets.
---
---
comments powered by

Disqus
---