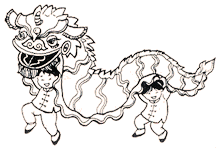 CHINESE OPERA
In Hong Kong, traditional Chinese opera and cultural shows are very popular.
Cantonese opera is a fine art including graceful body movements and facial expressions. The drama is linked with flamboyant costumes, delicate wigs and colourful make-up worn by the performers.

Cantonese opera actors
Besides the gleaming costumes, stunning headdress and ornaments, there are also gracefulness in gestures, poetic phrases and melodious songs.
| | |
| --- | --- |
| Opera stories are based on Chinese history and famous Chinese classics. It includes moral values such as loyalty, filial piety, patriotism and faithfulness. | |
| | Cantonese opera actor |
Plots usually dramatize legends and historical events and glorify loyalty, filial piety and righteousness.
The use of musical instruments in Cantonese opera ranges from traditional Chinese instruments to the use of western saxophones.

Cantonese opera actor
Chinese opera is informal. Spectators can arrive late or leave early. A spectator when spotting relatives can make his way through the audience for a casual chat.
| | |
| --- | --- |
| This actor wears a gown with a vertical collar called "pei". It is a long robe with wide sleeves. It has symmetrical fronts with a vertical collar. The character is either a high official or belongs to the upperclass. | |
| | Cantonese opera actor |
Opera costumes are meant to portray the status and character of different roles.

Cantonese opera actors
| | |
| --- | --- |
| A red face indicates courage and virtue, black means uprightness, white means treachery, blue means wild temperament and yellow shows bravery and strength. | |
| | Cantonese opera actor |
---
---